April 2015
National AgrAbility Project News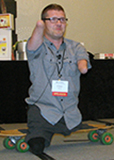 Many thanks to all who made the 2015 NTW a success, especially the planning committee! More
Look for more photos and information about the NTW coming soon.
The NAP is conducting its Annual Staff Needs Assessment. This is your opportunity to provide feedback and suggestions for program improvement. If you did not complete a paper copy of the survey at the NTW, contact Bob Aherin raherin@illinois.edu.

Mark your calendars! August 24-27 in Knoxville, Tennessee, ARTHRITIS/AGRABILITY CONFERENCE! More
The www.arthritis-ag.org website is currently under construction as a new website is being prepared for publishing. Keep an eye on your email for the announcement of the new website with updated resources, monthly blog, and more!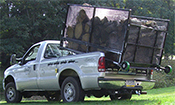 Toolbox Spotlight: the PowerDeck can simplify the task of putting heavy loads into a pickup truck.
Click here for the schedule of upcoming Community of Interest and Standing Committee call information.
State and Regional AgrAbility Project News
California
CalAgrAbility, along with an enthusiastic group of middle school students who formed the United for Cause Dream Team and donated over $500 dollars for a consumer to purchase a seeder, is helping consumers meet their goals.
CalAgrAbility connected a farmer-veteran with an artificial insemination (A.I.) expert, Martin R. Dally (Oregon), so that he could receive A.I. Certification. Plans are now underway for Mr. Dally to train the farmer-veteran in A.I. techniques for sheep in California.
Joyce Mansfield, assistant editor of the Farm Bureau's bimonthly California Bountiful magazine, spoke with CalAgrAbility staff about consumers' stories. More
CalAgrAbility conducts educational workshops such as "California AgrAbility Project: History and New Opportunities", which was presented at the Western Center Agricultural Health and Safety (WCAHS), one of nine ag health and safety centers in the US. More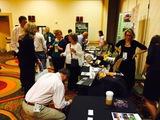 The CA Small Farms Conference booth in San Diego provided an opportunity for staff to speak with over 200 people; some with rheumatoid arthritis, lower mobility problems, amputations, lower back pain and polyneuropathy. More
CalAgrAbility's partner, Ability Tools, reached out to the disability community to share AgrAbility's services at the "Abilities Expo AT Showcase" in LA. More
In their Weekly Blog, Ability Tools zeroed in on Farmworker Awareness Week by sharing CalAgrAbility's work. View the Ability Tools Weekly blog featuring a picture of a CalAgrAbility consumer here: http://www.ducttapemarketing.com/blog/2009/11/09/5-reasons-to-use-new-the-twitter-list-feature/.
CalAgrAbility celebrated Farmworker Awareness Week by attending a Farmworker Conference in Esparto, and the UC Global Health Institute Meeting in Sacramento. More
CalAgrAbility published PSAs in Spanish and English about dental care with help from the Agriculture and Natural Resources Bilingual Media Services. More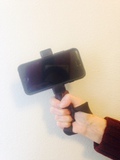 A senior CA State Legislator spoke with CalAgrAbility at the Marketing Meeting for Non-Profit Leaders in Winters, CA, about the SHOULDERPOD, an AT device to stabilize the hand when taking pictures. More
The annual Inter-agency Meeting of Migrant Centers was held to coordinate outreach efforts among organizations in Solano and Yolo Counties. More
CalAgrAbility is excited about a new collaboration with Farm to Mouth Project (FMP) in Yolo County, giving farming jobs to folks with mental disabilities. More
CalAgrAbility is attending the Georgia AgrAbility webinar with our partner Ability Tools.
CalAgrAbility Continues to mass-mail and Tweet. Follow us at https://twitter.com/calagrability.
Colorado
Colorado AgrAbility Project (CAP) is now a member of the United Veterans Committee of Colorado, an organization made up of over 75,501(c)(19) veterans service clubs. This allows CAP media as well as face-to-face access to something in excess of 40,000 veterans in Colorado.
The American Legion Department of Colorado and AgrAbility have partnered to bring the message of AgrAbility to the state's veterans. More
CAP has opened discussions with the dean of engineering at Colorado State University Pueblo (CSU) to discuss a cooperative venture to utilize engineering students and faculty to assist in the design of AT. Both CAP and CSU are excited about the possibilities for the future.
CSU Fort Collins and CAP have a memorandum of understanding (MOU) permitting occupational therapy students to intern at CAP.
As a result of a meeting with the governor of Colorado, CAP has now been given access to the county veteran service officers in each county of the state. There are 64 CVSO'S who will hopefully be on the front lines in identifying disabled veterans in agriculture throughout Colorado.
CAP has met with the director of the state Office of Rural Health and is now contributing to its monthly newsletter. CAP will also have a table at their upcoming conference and training and will be on the program for a future presentation.
Indiana
Indiana AgrAbility exhibited at the 3rd Annual Indiana Small Farms Conference at the conference center in Danville, Indiana. More
Dr. Bill Field presented in two breakout sessions at the 3rd Annual Indiana Small Farms Conference. More
Indiana AgrAbility and Life Essentials presented a training session for the Purdue community during Disability Awareness Month. More
Indiana AgrAbility has been busy in southern Indiana this month. Linda Tarr participated in the Indiana Farm Bureau Spring Conference with a booth at the trade show. With the help of Kathy Smith, she also gave a presentation on caregivers called "Caring for Your Loved Ones."
Linda participated in the annual Land of Limestone Master Gardeners lawn and garden show called "Blooms A Busting", the Orange County Cattlemen and Soil and Water Conservation District annual meeting, and Farm Bureau district and county annual meetings.
Amber Wolfe, SRAP partner at the Arthritis Foundation, facilitated a call on March 10th with the Indiana Soybean Alliance regarding co-authoring blog posts for the new Arthritis and Ag web page, and the blogs for the soybean, corn, and beef Associations. More
Kansas
March was a busy month for Kansas AgrAbility. Project staff presented sessions at the State Conservation Commission Spring Workshops, the Kansas Dairy Association Annual Meeting, and the National Agriculture Day Workshop at the Soldiers and Family Assistance Center. More
Kansas AgrAbility also staffed exhibits at the National Farmers Union Convention and the 50th Mid America Farm Exposition. More
Maine
Maine AgrAbility was busy this month with information and displays at several of the ag commodity annual conferences. More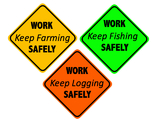 Maine AgrAbility has modified their tractor safety decal to reach an increased target audience, which now includes fishermen and forestry workers. The new decals are designed to remind agricultural workers to think safety, teach safety, and practice safety. The Project brought these decals to the NTW to share!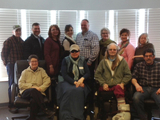 During March, Maine AgrAbility had its quarterly advisory council meeting - What a great crew of farmers and professionals they have to support the program!
The Northeastern engineering students Maine AgrAbility worked with last fall at a one of its client's farms is moving forward with their Farm Arm design. More
Maine AgrAbility is very proud to be selected by a Maine farmer and Allagash Brewing company to receive an almost $10,000 donation to assist AgrAbility clients. More
Richard Brzozowski has recently published "Why Poultry Might Be a Suitable Enterprise for Persons with Disabilities". Richard will be presenting this topic at the NTW in Rochester NY. Publication 2215
Michigan
Michigan AgrAbility extends a heartfelt THANK YOU to TRI-TOWN 4-H CLUB for supporting farmers with disabilities! This great club hosts a sheep and goat show every year to raise money for their 4-H club and to donate to others. In 2014, Tri-Town 4-H raised $2,000 to donate to Michigan AgrAbility.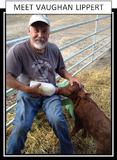 Vaughan Lippert was using a wheelchair for longer distances and was recovering some movement in his legs following a stroke when he called Michigan AgrAbility to find out how he could continue farming. More
Michigan AgrAbility has a Pinterest page! More
Missouri
Karen Funkenbusch attended the quarterly Missouri Arthritis Advisory (MAAB) Board meeting. More
Karen Funkenbusch and Cody Waters, a military war veteran, presented to the Wellsville-Middletown Beginning Farmers about the Missouri AgrAbility Program. More
Karen Funkenbusch and Sherry Nelson, Missouri AgrAbility Project staff, presented a workshop session on the Missouri and National AgrAbility Project to social workers at the 2015 Symposium for National Association of Social Workers - Missouri Chapter (NASW-MO). More
Joseph Brajdich, Farm Worker Evaluator and Coordinator, Assistive Technology Services, presented at the 2015 Brain Injury Association of Missouri (BIA-MO) Survivor and Family Regional Seminar in Springfield, MO on March 21, 2015. More
March is Brain Injury Month and was featured in Missouri with the Brain Injury Fact of the Day. The Brain Injury Fact of the Day statements were added to the Brain Injury Association (BIA)-MO website (www.biamo.org) daily along with additional information and links to resources, including AgrAbility. More
The BIA-MO Survivor and Family Seminar was held in Springfield, Missouri, on March 21. More
Maureen Cunningham with the Brain Injury Association of Missouri shared information about AgrAbility with military personnel, including officers, as well as veterans organization representatives at two events in March 2015. More
Dr. Kelly Cochran, PharmD, BCPS, provided AgrAbility flyers to Missouri farmer(s) in an internal medicine clinic and educated three physicians about AgrAbility resources.
Several University of Missouri staff members received an Association for Communication Excellence bronze award for the AgrAbility "Back in the Saddle" video news story. More
North Carolina
NC AgrAbility Project Coordinator Michele Proctor, in collaboration with NC Assistive Technology Program Executive Director Tammy Koger and NCDHHS Division of Vocational Rehabilitation Engineer Steve Brink, presented a new lecture session to NC State University first-year engineering students entitled "Rehabilitation Engineering, Assistive Technology and NC AgrAbility". More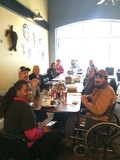 NC AgrAbility hosted the spring Eastern Peer Farmer Lunch at Grub Brother's Eatery in Little Washington on March 19th. The group enjoyed meeting other AgrAbility farmers, including a new AgrAbility family, and heard updates about state and national AgrAbility news and events. More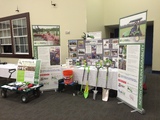 Michele Proctor participated in the 2015 North Carolina Small Farms Week Curbside Consulting, hosted by North Carolina A&T State University in Greensboro on March 24, 2015. More
Project Coordinator Michele Proctor presented the 'AgrAbility' session at the 2015 NC Agricultural Medicine Core Course at the NC Research Campus in Kannapolis, NC, on March 26, 2015. More
Nebraska
"Chili and Change," an AgrAbility Awareness event featuring Dave Goeller speaking on succession in farming, was held March 2nd. More
Rural Rehabilitation Specialist Emily Freudenburg staffed a booth at the Nebraska Occupational Therapy Association (NOTA) Conference in Omaha, presenting Nebraska AgrAbility to occupational therapists, OTAs, and students. More
Sharry Nielsen received word this month that the AgrAbility request for continuing the NAP evaluation project has been approved. The Nebraska project will revise their surveys to meet current data collection and continue to survey clients for the McGill and Quality of Life data.
Ohio
By invitation from the Ohio Department of Veterans Services, Ohio AgrAbility staff shared the Ohio AgrAbility message with military veterans and friends who attended the induction of two Adamsville, Ohio, veterans into the Homegrown by Heroes program. More
Homegrown by Heroes is a new recognition program between the state's Ohio Proud marketing program and the Farmer Veteran Coalition that certifies Ohio agricultural products from Ohio farmers who have served or still are serving in any branch of the U.S. military.
Ohio AgrAbility staff attended a meeting with Ohio's 2nd district Congressman, Brad Wenstrup, hosted by East End Veterans Memorial Garden and Ohio AgrAbility and East End Veterans Memorial Garden founder Joe Corcoran. More
Utah
AgrAbility of Utah sponsored a booth at the Utah FFA Association State Convention March 12-14 in Richfield, Utah. The convention brought students from FFA chapters throughout the state for education and competition. AgrAbility staff also helped to judge some of the student speaking contests.
Anne Brown-Reither represented AgrAbility of Utah at the 2015 Utah State Dairy Convention March 11-13 in Logan, Utah. The exhibit included an AgrAbility tabletop display and outreach materials.
Wisconsin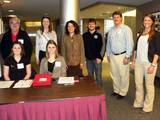 The month of March was a big one for AgrAbility of Wisconsin! Participation in three farm shows, two conferences, and eight newspaper appearances, coupled with the success of the 2015 AgrAbility of Wisconsin Summit, led to a record-breaking 28 new and re-opened clients. More
West Virginia
Representatives from West Virginia State University, WV Veterans to Agriculture/West Virginia Department of Agriculture, the Veterans Workforce, and WV AgrAbility staff met to develop a plan to receive referrals and provide services to veterans interested in pursuing an agricultural enterprise. More
WV AgrAbility staff attended the 2015 Appalachian Grazing Conference and sponsored an AgrAbility display. More
WV AgrAbility staff spoke on the topic of, "Working Smarter - Not Harder" to the WV Randolph County Farm Bureau. More
WV AgrAbility staff conducted a farm site assessment in Harrison County. WV AgrAbility staff is working with the farm producer in securing a "quick attach hitch" and an "ag camera" system.
WV AgrAbility staff attended the 2015 Farm Opportunities Day and provided a display. More
WV AgrAbility staff is working with a client in making an appeal through the WV Division of Rehabilitation Services system. Ongoing advocacy on behalf of the client to ensure needed services through WVDRS is being provided by WV AgrAbility staff.
WV AgrAbility staff met with an AgrAbility client who recently received equipment and modifications purchased by West Virginia Division of Rehabilitation Services. More
WV AgrAbility staff conducted a farm site assessment for a veteran vegetable producer in McDowell County. More
Staff Changes
Missouri
Sandra (Zaring) Beasley, who had worked with the Missouri AgrAbility Project since 1994, died on February 27, 2015, at the age of 60. Read the online obituary from the Columbia Daily Tribune.
Dr. Kelly Cochran, PharmD, BCPS, reviewed numerous applications of University of Missouri-Kansas City pharmacy students with rural backgrounds and plans to return to their rural communities upon graduation. Lauren Aversman and Olivia Schwaller were selected to spend July 2015 of their 4th year clinical electives on the rural pharmacy practice experience Pharm to Farm where they will partner with Missouri AgrAbility Project to provide on-site farmstead medication assessments.
AgrAbility in the News
Click here for news stories featuring AgrAbility projects.
AgrAbility helps Sharon farmer stay in business
New technologies reduce physical strain for farmers
Programs help farmers with challenges
Volunteer digs deep – helping and farming
Maine orchard's cherries flavor new beer
2005 Michigan AgrAbility Introduction Video - Espanol
AgrAbility Comes to Clyde Public Library
About - AgrAbility PA
Organization helps Sharon farmer with adaptive equipment
Other News
Click here for other news of interest to AgrAbility staff members.
Students design 'farm arm' to help operate machinery
This Inspirational Dad Invented Beeping Eggs So Visually Impaired Kids Could Enjoy Easter
R2D2 is in your barn, milking your cows
Upcoming Events
Click here for professional development events related to AgrAbility
.
Problems? Contact Clifford Racz, National AgrAbility Project, racz@purdue.edu