December 2015
National AgrAbility Project News
AgrAbility All-Staff Meeting. Save the date for Tuesday, February 2 at 3:00 p.m. EST. Watch your email for details.
Presentations from the 2015 AgrAbility Virtual NTW have been archived at http://agrability.org/Online-Training/virtualntw/index.cfm. A total of 80 people participated in the six webinars for a total combined attendance of 194.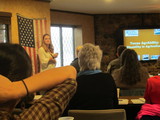 NAP Farmer Veteran AgrAbility Coordinator Cindy Chastain attended Texas AgrAbility's Battleground to Breaking Ground workshop for veterans on Nov 7th. More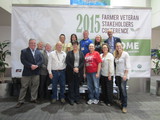 NAP's Bill Field and Cindy Chastain attended the second annual Farmer Veteran Coalition Stakeholder Conference in Sacramento, CA, Nov 16-19. More
Cindy Chastain did a presentation at the Farm-A-Palouse-A pre-conference for the Tilth Producers of Washington Annual Conference. This was part of a veterans' track of sessions scheduled for November 13th in Spokane, WA.

Toolbox Spotlight: Designed to fit atop a 5-gallon bucket or 55-gallon drum (depending on model), this Battery-Powered Bucket-Top Sprayer is designed to dispense liquids in about half the time as a hand-pumped sprayer.
Click here for the schedule of upcoming Community of Interest and Standing Committee call information.
State and Regional AgrAbility Project News
California
CalAgrAbility attended the WCAHS (Western Center for Agricultural Health and Safety) seminar, Important Issues for Safety and Health on the Farm, presented by Bryan Little (Farm Bureau). Mr. Little presented on how safety is handled before it reaches OSHA, primarily between the farmer and farmworker.
CalAgrAbility attended the Latino Farmer Conference in Fresno, CA, on November 3. More
CalAgrAbility staff member Cody Thao attended Mental Health First Aid Training in Woodland, CA, on November 4 and 5. More
Cody Thao attended SAFE Talk Training in Woodland, CA, on November 6. More
CalAgrAbility attended the Farmworker, Women's Health, Safety, Employment, Education and Environment Conference in Visalia, CA, on November 6. More
CalAgrAbility staffed a booth at the Farmer Veteran Stakeholder's Conference in Sacramento, CA on November 17, 18, and 19. More
CalAgrAbility attended the RISE Inc. monthly meeting in Esparto, CA, on November 20 to present CalAgrAbility's Collaborative Outreach Calendar. This calendar will serve as a dynamic platform where all California agencies can access and input outreach events that they know of, or will be attending.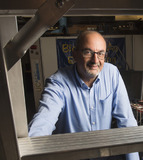 CalAgrAbility Director, Fadi Fathallah, was spotlighted in UC Davis's One of a Kind Campaign. See the video here; https://youtu.be/7ePFWIKW6YM?list=PLslgisHe5tBOuw-r8-3fQmHG7K_ew5Qa1.
CalAgrAbility continues to tweet. https://twitter.com/CalAgrAbility
Colorado
The Colorado AgrAbility Project has completed two of its eight Winter Workshops, offering education to farmers, ranchers, veterans, and professionals, in rural Colorado.
CO AgrAbility was asked by Farm Bureau to attend their annual meeting and had the opportunity to speak about AgrAbility with some 220 Farm Bureau agents and staff.
The Veterans Helping Veterans organization invited Colorado AgrAbility to attend their first annual gala. Some 65 individuals who were interested in veteran employment in agriculture were in attendance.

Georgia
Occupational therapy students at Brenau University enjoyed a three-hour program learning about assistive technology. More
Georgia AgrAbility welcomed a new board member from the Georgia Cattleman's Association. The board met on November 5, 2015, and is made up of commodity leaders in the state as well as farmers that have been served by AgrAbility.
Indiana
Steve Swain and Cindy Chastain were both presenters at Purdue's Beginning Farmer/Rancher Development Program's Extension educator training on Nov 11th at Turkey Run Inn, Marshall, IN. More
Southern Indiana coordinator Linda Tarr coordinated with the IU School of Public Health and the Indiana Rural Health Association for a hearing pilot program for farmers. She also attended the Indiana Farm Bureau Convention and the Indiana Woodland Owners conference, and had a booth at their trade shows.
Amber Wolfe, Arthritis Foundation partner, presented at the Marion County Master Gardener Association meeting on Nov. 9th in Indianapolis, as well as at several other events during November. More

Kansas
At its Stakeholders Conference, Nov. 17-19 in Sacramento, CA, the Farmer Veteran Coalition announced the official approval of the first four state FVC chapters. Farmer Veteran Coalition of Kansas is one of those chapters. More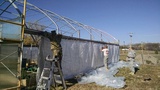 Kansas AgrAbility continues to work directly with the Soldiers and Family Assistance Center (SFAC) and the Warrior Transition Battalion (WTB) at Fort Riley, Kansas, to complete a 30' X 42' high tunnel for use by transitioning soldiers and their therapists.
Kansas AgrAbility exhibited at the 3i Show in Dodge City, Kansas, Oct. 8-10, and at the 2015 Kansas Rural Center Farm and Food Conference in Manhattan, Kansas, Nov. 13-14.
Kentucky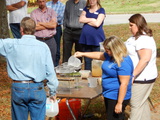 KY AgrAbility ends the year with a busy schedule of events. The November events had staff everywhere from Kentucky to California. More
The Farmer Veteran Coalition Stakeholders Conference in Sacramento, CA, was one of the most informative workshops for veteran farmers that KY AgrAbility has had a chance to attend. More
Final year-end reviews of work done with KY AgrAbility partners are in progress as well as making preparations for 2016. More
Maine
Maine AgrAbility is proud and excited to announce the finalization of the Farmer Veteran Coalition of Maine (FVC-ME). Project coordinator Lani Carlson has been appointed to the board of directors and will also serve as co-chair of the FVC-ME advisory council. More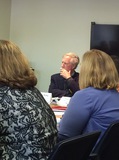 This month, Project Director Richard Brzozowksi took part in a roundtable discussion with U.S. Senator Angus King on how to help Mainers with disabilities enter the workforce. Read more: http://umaine.edu/agrability/?p=2234
Maine AgrAbility has been busy reviewing and closing client cases, sending out post-AgrAbility service surveys for the quality of life evaluation, and gathering feedback on the program's effectiveness. More
Maine AgrAbility specialists with their NPO partner, Alpha One, attended the Maine Association for Community Service Providers workshop, "The Future is Now: Technology for Inclusiveness and Excellence", on November 4-5, 2015, in Auburn, Maine. More
Maine AgrAbility shared this document in Maine with service providers in the Beginning Farmers Resource Network (BFRN) and the ag educators within the university system. More
Michigan
AgrAbility staff will host a booth during the Great Lakes Fruit, Vegetable, and Farm Market EXPO and the Michigan Greenhouse Growers EXPO December 8-10. More
Ned Stoller from Michigan AgrAbility co-presented "Carpal Tunnel Syndrome and Arthritis: Overworking the #1 Tool in a Farmer's Toolbox" on December 3 during the AgrAbility Virtual National Training Workshop.
Michigan State mechanical engineering students are helping AgrAbility through a capstone project. More
Missouri
AgrAbility education on accommodating disability in Agriculture and avoiding secondary injury for Missouri AgrAbility clients with disabilities was presented by AgrAbility staff members to MU graduate and doctoral students during their November graduate seminar. More
Willard Downs and Karen Funkenbusch facilitated an AgrAbility long-term sustainability meeting in Columbia, Missouri, on November 10, 2015. More
Danielle Skouby, agricultural systems management graduate teaching assistant, and Karen Funkenbusch, AgrAbility staff member, improved capacity of both new and existing Vocational Rehabilitation case managers by providing education within the context of production agriculture where the learning objectives focused on accommodating disabilities and avoiding secondary injuries in farmers with disabilities. More
AgrAbility staff members met in mid-Missouri with ten community-based social service agencies and local church groups to discuss their programmatic services that meet the rural needs of recently returning veterans who are proactively looking for ways in which agriculture can be used to support their immediate and long-term employment goals.
AgrAbility staff members attended the 2015 Rural Health Conference at the Hilton Garden Inn in Columbia on November 18, 2015. More
Julie Harker, reporter for Brownfield Ag News for America and its parent company, Learfield Communications, was presented the Service Excellence Award - Public Relations 2015 from the Brain Injury Association of Missouri during the BIA-MO Annual Award Luncheon held in October 2015. More
AgrAbility was a featured topic with support groups offered in cooperation with the Brain Injury Association of Missouri. More
The Brain Injury Association of America held its Annual Leadership Conference in November 2015. More
North Carolina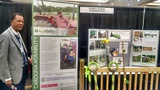 The North Carolina AgrAbility Partnership (NCAP) participated in the Global Rehabilitation Enhanced with Assistive Technology (GREAT) conference in Raleigh, North Carolina, from November 4-6, 2015. More
Nebraska
Serving veterans and their families was the focus of two trainings attended by Nebraska AgrAbility staff in November. More
Emily Freudenburg, ESN rural rehabilitation specialist, attended the Farmer Veteran Coalition Stakeholder Conference in Sacramento, California, November 17-19th. More
Nebraska's Ag-Ceptional Women's Conference was held November 20th in Norfolk, NE, with nearly 300 women attending despite a sudden northern Nebraska snowstorm! More
"Safety with hand tools" was the topic for a monthly news release and TV spot written and presented by Sharry Nielsen. More
Pennsylvania
AgrAbility for Pennsylvanians participated in an assistive technology awareness day hosted by the DuBois district Office of Vocational Rehabilitation (OVR) on November 12. More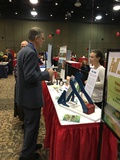 The Pennsylvania Farm Bureau invited AgrAbility for Pennsylvanians to participate in their 17th annual Health & Safety Fair on November 17. More
Despite setbacks, Ryan Frye is continuing to live his dream of working on his family's dairy farm - started by his grandfather in 1978 - thanks to the assistance of AgrAbility for Pennsylvanians and PA's Office of Vocational Rehabilitation (OVR). More
Congratulations to AgrAbility for Pennsylvanians Project Director, Dr. Connie Baggett, for his recognition on Veteran's Day (Nov. 11) by the Pennsylvania Department of Agriculture. More
Tennessee
TN AgrAbility was grateful for its many blessing in November and was especially thankful for veterans. TAP helped produce a video highlighting one of its local wounded U.S. veterans turned farmer. More
TN AgrAbility was proud to host the first TN Older Farmer Farm Safety and Health Dinner Theatre in Sullivan County with Dr. Deborah Reed and the University of Kentucky Nursing department. More
TN AgrAbility attended the Livability Summit: Making Communities Livable for All Ages, All Abilities. More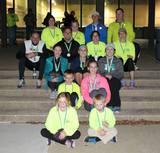 The 2nd annual TN Ag RUN Ability GLO RUN was held in November. More
The 1st Annual Obion Co. Young Farmers and Ranchers AG Career Day was held at the Obion Co. Central High School. More
Joetta White represented TN AgrAbility at the 2nd FVC Stakeholders Conference and was encouraged about farmer veteran resources available through FVC.
Texas
On November 7, 2015, Texas AgrAbility conducted the Battleground to Breaking Ground workshop in Desoto, TX. More
Erin Kimbrough attended and spoke at the National Farmer Veteran Coalition Stakeholders Conference on behalf of Texas AgrAbility and the Battleground to Breaking Ground program.
Utah
Darlene Carlisle and Anne Brown-Reither staffed a booth at the Utah Farm Bureau Annual Convention on November 19 in Layton, Utah. More
Wisconsin
The 2015 Cooperative Extension State Conference was held at the Monona Terrace in Madison, Wisconsin, November 11-13. More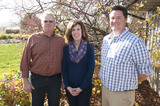 The AgrAbility of Wisconsin advisory council met on Wednesday, November 4th. Larry Wathke, a client from Fall Creek, WI, gave a presentation and expressed his gratitude for AgrAbility's assistance. More
West Virginia
Throughout the month of November 2015, WV AgrAbility was represented by participating staff on the National Training Workshop planning committee.
WV AgrAbility was represented by staff attending the 96th Annual WV Farm Bureau Statewide Meeting. More
WV AgrAbility continues to provide information and resources to WV farmers requesting assistance. More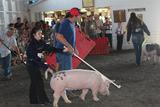 A student at the WV School for the Deaf and the Blind reached out for assistance from WV AgrAbility. Delilah Willis, a member of the FFA, was the first student from the WV School for the Deaf and the Blind to participate in the Hampshire County Fair by showing an animal. More

Staff Changes
Georgia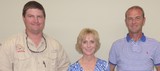 At the fall board meeting of AgrAbility in Georgia on November 5, 2015, three previous staff members were recognized for their meritorious service to AgrAbility. Andy Carter, Cathy Walters, and Dewayne Dales, made significant contributions to AgrAbility in Georgia that created the momentum for the current success of the program.
Ohio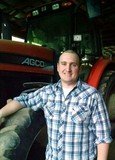 Ohio AgrAbility welcomes Charlie Landis, who is the newer of two rural rehabilitation coordinators for Easter Seals Tri-State and Ohio AgrAbility. Charlie grew up on his family's dairy farm in Knox County, Ohio. The family milked 120 head of Holstein dairy cattle and grew hay, corn, and soybeans. He participated in all aspects of the farming operation while living on the farm, and still helps to various degrees throughout the year.
About a year after high school, Charlie joined the U.S. Army where he served on active duty for over six years. He was stationed in Fort Hood, Texas, where he served as a Howitzer driver, then was promoted to gunner, and then to section chief. During this time he completed two year-long deployments to Iraq in support of Operation Iraqi Freedom. Charlie concluded his duties in the Army as a recruiter in Newark, Ohio. He was honorably discharged as a staff sergeant.
Charlie completed his Bachelor's degree in religion from Liberty University. He then worked as a property claims adjuster for a major insurance company for four years. He is currently working on his master's degree in clinical mental health counseling. Charlie serves as a deacon at Narrow Road Community Church, and lives in Heath, Ohio, with his wife and their five young children.
AgrAbility in the News
Click here for news stories featuring AgrAbility projects.
AgrAbility to celebrate 25 years in 2016
Turning Swords into Plowshares
2015 Sunbelt Agricultural Exposition
Maine veterans carving out new careers in farming
AgrAbility program helps Wathke keep farming
Injured Veterans Turned Farmers Get Help
Young Farmers work to prepare mowers for spring
Local Extension Educator Shares Dangers of Hand Tools; How to be Safe
Despite Setbacks - A Young Farmer Continues to Live his Dream
Brzozowski represents Maine AgrAbility in roundtable with Sen. King
St. James cattle producer learns 'new normal' through AgrAbility program
Eau Claire farmer regains efficiency after AgrAbility steps in
Disabilities not an obstacle
AgrAbility still on track in Wisconsin
For the Love of Farming
Farm Accidents Happen: One Farmer Shares His Story
in the field
From the Source: Take Time to Heal After a Farm Accident
Helping farmers to be farmers
Helping the farmers who put food on the Thanksgiving table
Other News
Click here for other news of interest to AgrAbility staff members.
GRIT looking for demo sites for their Freedom Chair wheelchair
Future farming: hi-tech project growing hydroponic herbs and fish unveiled near Sydney
AFT helps new farmers with land access
Facing farm transition planning
Massive acquisition to hurt family farmers
Chicago bee farm offers help to ex-inmates, and a model for US
What does "organic" actually mean?
Fall prep can lead to healthier pastures
Cute Self-Watering Animal Planters
Consider applying for organic grant
NFU extols "RFS' Unqualified Success"
No really. This pencil grows into a tomato
Open-sourced food production - the future of urban diets?
USDA Vows To Help Young Farmers, But Will It Be Enough?
Value-added business grants
USDA connects schools with farmers
In Florida's tomato fields, a fight for ethical farm labor grows
Indiana Hydroponic Farm Grows People and Produce
Scientists Are Using Lasers to Teach RoboBees to See
USDA invests $350 million to protect farmlands, grasslands and wetlands
Family Designs Glass Greenhouse To Wrap Around Home And Warm It Naturally
Swapping The Street For The Orchard, City Dwellers Take Their Pick Of Fruit
Upcoming Events
Click here for professional development events related to AgrAbility
.
Problems? Contact Clifford Racz, National AgrAbility Project, racz@purdue.edu