March 2012
National AgrAbility Project News
AgrAbility All-Staff Call, April 19 at 3:00 EDT, 2:00 CDT, 1:00 MDT, 12:00 PDT. Join us at 866-803-2444 for an update on AgrAbility activities and a discussion of rural mental/behavioral health issues with Mike Rosmann of AgriWellness.
Please consider participating in the upcoming workshop, "AgrAbility: Creating Opportunities for Veterans and Other Agriculture Workers with Disabilities." more
The AgrAbility webinar, Cold Work Injuries in Agriculture - Strategies for Prevention and Rehabilitation, has been archived at http://agrability.org/ Online-Training/archived/index.cfm.
A new arthritis resource, The ABCs of Arthritis is a 30"x40" laminated poster that explains the basics of the types of arthritis, symptoms, management techniques, etc. more
A "Therapeutic Gardening" article has been added to the www.arthritis-ag.org website.
Amber Wolfe will be participating in the 2012 Women in Agriculture Educators National Conference in Memphis, Tennessee, March 28-29. more
Dates have been set for two state "Arthritis and Agriculture" workshops. more
The National AgrAbility Project and Indiana AgrAbility staffed a display at the 2012 National Farm Machinery Show in Louisville, Kentucky, February 15-18. more
Click here for the schedule of upcoming Community of Interest and Standing Committee call information.
The Marketing Committee will have their next call on Tuesday, March 20 at 1:00 pm EDT, featuring a discussion on social media with a focus on Facebook and Twitter. more
The Mental/Behavioral Health COI will discuss rural mental health stigma with Mike Rosmann on Thursday, March 29 at 3:00 p.m. EDT.
Toolbox Spotlight
See what's new in The Toolbox online this month. New solutions include snow-melting traction mats, hydroponic garden systems, and an amputee crutch adapter.
State and Regional AgrAbility Project News
California
CalAgrAbility staff members continue to assist the Hearing Loss Association of America Yolo County Chapter, serving as board members and authors of the farm injury guide for the prevention of hearing loss. more
Six "Get Moving" arthritis prevention exercise classes were conducted at Clinic Tepati at the University of California Medical Center in Sacramento. more
As part of the project's chronic disease focus, CalAg also participated in the U.S. Border Health Commission workshop, an opportunity for American Heart Month (February). more
Three staff members have been CPR certified this month as part of the Get Moving program. more
CalAgrAbility has a high percentage of consumers suffering the effects of diabetes. more
Another new partner is Giant Steps Therapeutic Equestrian Center, the only year-round premier accredited therapeutic riding program in the North Bay Area. more
Colorado
Colorado AgrAbility Project (CAP) staff became impromptu guests of honor at a special event held at the Center for American Values in Pueblo, Colorado. more
Indiana
Amber Wolfe staffed an exhibit at the Midwest Women in Agriculture Conference in Shipshewana, Indiana, February 29-March 1.
The Arthritis Foundation - Indiana hosted an educational display at the St. Vincent Minority Health Fair in Indianapolis on March 3. more
Carl Jenkins set up displays and spoke at the Crawford County and Harrison County Soil and Water Conservation Annual Meetings.
WMMG 93.5 FM radio program Edgewise, broadcasted to Indiana and Kentucky, interviewed Carl Jenkins about the AgrAbility Program.
Maine
Maine AgrAbility's PI put together a short video about the ways in which farming is a great career choice for someone who has a disability: Is Farming for Me? Check it out on YouTube: www.youtube.com/watch? v=WeNYMe270as.
Annette Marin, who attended the NTW and is a Maine AgrAbility client, made the news for starting up her new restaurant called Gone Loco! more
In January, Maine AgrAbility participated in the Maine Agricultural Trades Show. more
Maine AgrAbility gave an AgrAbility 101 presentation to the Department of Veterans' Affairs Vocational Rehabilitation counselors. more
Minnesota
Minnesota AgrAbility Project will be hosting the Annual Fence Line Conference March 18-19th, 2012 at the Holiday Inn & Suites, St. Cloud, Minnesota. more
Missouri
Many of you already know that Russell Ramsey, a longtime supporter and team member of the Missouri AgrAbility Project, passed away in December. Several have already contacted us wondering if a charity had been identified by the family to receive contributions in his honor. more
Using Adobe Connect web conferencing, Willard Downs, University of Missouri Extension, provided this month's AgrAbility updates to CAFNR agricultural systems management and MU regional extension faculty members.
Missouri continues to hold monthly AgrAbility teleconferences with all core team members. more
This month, Missouri officially launched a statewide AgrAbility programmatic database. more
The MO CDC Arthritis Program provided an arthritis training workshop via LiveMeeting for Regional Arthritis Centers, Arthritis Foundation, University of Missouri, and community based stakeholders. more
As a core partner to Missouri's AgrAbility Program, the MO Rehabilitation Services for the Blind printed the programmatic AgrAbility brochures, Farming with Low Vision tip sheets, and other relevant resource materials into Braille for FREE.
The MO CDC Arthritis Program provided an arthritis training workshop via LiveMeeting for Regional Arthritis Centers, Arthritis Foundation, University of Missouri, and community based stakeholders. more
Jackie Allenbrand, MERIL, attended several meetings. She participated in the NW Regional Extension meeting with University of Missouri Extension regional specialists. more
University of Missouri Extension provided many AgrAbility lectures/presentations during the month of February. more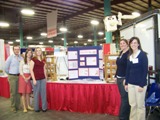 Core AgrAbility staff members exhibited AgrAbility at the Health and Safety Area during the 2012 Western Farm Show. more
Volunteer master gardeners continue their outreach efforts by presenting the AgrAbility Gardens for Every Body Program small acre program throughout rural agricultural Missouri. more
North Carolina
NC AgrAbility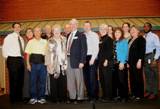 established its Advisory Board with representatives from farming, commodity organizations, disability advocates, public and migrant health, the Arthritis Foundation, and Farm Bureau. NC AgrAbility thanks NC Farm Bureau for sponsoring lunch for the first meeting.
NC AgrAbility also presented at the Duplin County Cattlemen's Continuing Education program on February 21 in Kenansville, North Carolina.
Nebraska
Rod Peterson staffed a booth jointly with Nebraska Department of Agriculture at the Buffalo Bill Farm & Ranch Expo in North Platte. more
The Nebraska AgrAbility Advisory Committee met, with Del Ficke spearheading the discussion. more
Women in Ag, a major conference for farm women in Nebraska, was the setting for an exhibit staffed by Sharry Nielsen. more
Oklahoma
OK AgrAbility held professional core training for fourteen Oklahoma Cooperative Extension educators. more
Staff presented talks and lessons on the OK AgrAbility Project at the following venues: Therapeutic Recreation Association of Oklahoma, Disabled Veteran Entrepreneurs, OSU College of Osteopathic Medicine, and on "Gardening with Ease" at a Five State Women in Ag conferences.
Arthritis Foundation exercise classes were held by OK Cooperative Extension educators in Pittsburg, Jefferson, and Seminole counties, reaching 75 participants.
OK AgrAbility held a promotional booth at the American Farmers and Ranchers Convention.
Vermont
February was busy: the sugar makers have been making maple syrup, the skunks are out, eagles are making nests, and the male bears have ceased their short hibernation.
Gail Lapierre, Margaret Gilman, and Tom Younkman attended various meetings and conferences in Vermont, some of which were the: St Albans Coop annual meeting, the Northeast Organic Farmers Conference and the Sheraton Dairy Farmers meeting. Janis Moore passed the Agricultural Medicine exams and is still striving to find more farmers in the southern parts of the state that need AgrAbility services.
Staff Changes
Missouri
Please welcome our newest partners to the Missouri AgrAbility Project:
Jim Brinkmann
Rehabilitation Services For the Blind (RSB)
615 Howerton Ct
Jefferson City, MO 65102
Phone: 573.751.3434
Fax: 573.751.4984
James.d.brinkmann@dss.mo.gov
Kelly A. Cochran, Pharm.D., BCPS
Clinical Assistant Professor
Division of Pharmacy Practice & Administration
UMKC School of Pharmacy at MU
817 Lewis Hall
University of Missouri
Columbia, MO 65211-4530
Phone: 573.884.9673
Fax: 573.884.2166
cochranke@umkc.edu
James D. Stowe, MS
Coordinator, Trauma Injury Prevention and Outreach Education
Frank L. Mitchell Jr., MD Trauma Center
One Hospital Drive
DC024.00 McHaney 207
University of Missouri Hospital
Columbia, MO 65212
JStowe@mizzou.edu
Wyoming
Wyoming AgrAbility is pleased to announce that Chelsea Hampton is the new project coordinator in charge of the daily operation of AgrAbility. She will also manage the AgrAbility blog and Facebook page. Chelsea was born in Rock Springs, Wyoming and has lived in several Wyoming communities. She has an advanced degree in social work and has worked as a job coach for persons with disability. She can be reached at: champto4@uwyo.edu or (307) 766-3052. Welcome Chelsea!
AgrAbility in the News
Click here for news stories featuring AgrAbility projects.
AgrAbility Grants Awarded to Help Disabled Americans
AgrAbility: Helping Farmers With Disabilities
Karl Guenther Column: AgrAbility
Program Helps Keep Farmers on the Job
AgrAbility Project Gives Hope
Local Farmer Gets Helping Hand
Farm Women's Symposium Announces Plans for 2012
Other News
Click here for other news of interest to AgrAbility staff members.
Study Gets Major Boost to Probe Toxin's Role in Spinal Injury, Potential Treatment
Hearing Survey for Farmers
Burton Blatt Institute and Eastern Washington University Partner to Promote Entrepreneurship for People with Disabilities in Ghana
Upcoming Events
Click here for professional development events related to AgrAbility.
Problems? Contact Clifford Racz, National AgrAbility Project, racz@purdue.edu