August 2012
National AgrAbility Project News
AgrAbility Webinar Series--Veterans in Agriculture: Military 101. August 30, 2012, 3:00 p.m. EST; 2:00 p.m. CST; 1:00 p.m. MST; 12:00 p.m. PST. Be sure to register by Friday, August 24. more
Amber Wolfe continues to participate as the NAP representative to the Osteoarthritis Action Alliance as a member in both the Self-Management Education and Injury Prevention groups. more
Goodwill Industries International joined Goodwill Industries of the Finger Lakes (Rochester, NY) in representing AgrAbility at the Empire Farm Days in Seneca Falls, NY on August 7-9. 2012. more
Join the Mental/Behavioral Health COI for a discussion of minority mental health with Sergio Aguilar-Gaxiola, M.D., Ph.D., Professor of Clinical Internal Medicine, University of California, Davis, School of Medicine, on September 13 at 2:00 p.m. EDT.
Click here for the schedule of upcoming Community of Interest and Standing Committee call information.
Toolbox Spotlight
See what's new in the Toolbox online this month. Included are several bale handling devices and large-scale vegetable production aids.
State and Regional AgrAbility Project News
California
Focusing on California's returning veterans, CalAgrAbility staff participated in the first Farmer Veteran Coalition Women's Conference for women veterans interested in beginning a new agriculture career or currently working in agriculture. more
Commodity festivals are in full swing in California and CalAg is taking advantage by being represented at special health and safety events in the region. more
CalAgrAbility's bilingual training staff continues to conduct several self-help arthritis and exercise workshops per month. more
Colorado
CO AgrAbility staff members have participated in many educational advertising tactics this month to prepare for county fairs that began the first week of August. more
CO AgrAbility intern, Katheryn Ernst, has had two radio interviews that have reached many farmers and ranchers across the state. more
Georgia
AgrAbility in Georgia has been filming to capture farmer stories from around the State. more
AgrAbility in Georgia continues to offer a wide array of workshops to continue to build the capacity of others to serve the agricultural population. more
Please check us out on Facebook to stay abreast of our activities and recent fabrications: http://www.facebook.com/agrabilityinga.
Indiana
Indiana AgrAbility has launched its new website at www.breakingnewground.info. The site features an updated design and pages dedicated to news, resources, and information on such topics as available services, eligibility, and project partners.
Indiana AgrAbility is planning the workshop, "Veterans and Agriculture: Opportunities for Employment, Entrepreneurship, and Enrichment," November 7-8 at the Beck Agricultural Center in West Lafayette. more
Indiana AgrAbility staff and volunteers are spending seventeen days working two shifts per day at the Indiana State Fair. more
Amber Wolfe staffed an exhibit at the Red Gold Growers' Field Day on July 25 at the Red Gold facility in Geneva, Indiana. more
Amber Wolfe has also made several visits and has given short speaking presentations on AgrAbility and the Breaking New Ground Resource Center at several Indiana county fairs throughout the month of July.
Despite the hot, humid weather, Carl Jenkins has attended and set up a display for Indiana AgrAbility/Breaking New Ground at the Perry County Fair and Crawford County Fair, and he plans to attend Scott County Fair, Harrison County Fair, and Jackson County Fair.
Linda Tarr has been working at local fairs in Southern Indiana to raise awareness for the AgrAbility program.
Kansas
Kansas AgrAbility and Kansas Farmers Union hosted farm tours for veterans on June 30 in Lyon County and July 31 in Johnson and Douglas Counties. The tours are part of a multi-state collaboration with the Center for Rural Affairs in Nebraska, Farmers Union organizations, and AgrAbility projects in Nebraska, Kansas, Colorado, and Missouri.
Kansas AgrAbility exhibited at the 3i Farm Show in Dodge City, Kansas, July 12-14 with K-State's College of Agriculture and at the Four State Farm Show in Pittsburg, Kansas, July 20-22 with Southeast Kansas Independent Living and Assistive Technology for Kansans.
Missouri
University of Missouri Extension AgrAbility staff members met biweekly with the MO Department of Agriculture, MO Department of Labor, and Cooperative Electric to discuss cooperative ways in which these organizations can proactively assist with ImProving Health Amongst Rural Missourians (IPHARM). more
It's county fair time across Missouri, and AgrAbility materials are being passed out to fairgoers and hands-on interactive displays showcased by University of MO Extension specialists, students from the University of Missouri School of Pharmacy, and girls' cross country runners from Rock Bridge High School. more
Using Adobe Connect web conferencing, Willard Downs and Karen Funkenbusch, University of Missouri Extension, provided an AgrAbility update to CAFNR agricultural systems management and MU regional extension faculty members.
Jackie Allenbrand, AgrAbility rural outreach specialist at MERIL, made a presentation to the Benton Lions Club in St. Joseph, Missouri about services provided by MO AgrAbility Project, PHARM® Dog, and MERIL. more
Missouri schools are gearing up to start in a couple of weeks and with that said the Missouri FFA Executive Secretary sent an email on behalf of the Missouri AgrAbility Program to all Missouri FFA Advisors alerting them about potential uses of the National AgrAbility DVD, AgrAbility: It's About Hope.
Programmatic materials from the MO AgrAbility Gardens for Every Program were requested. more
AgrAbility staff members at the University of Missouri Extension are excited to have the Mizzou FFA Alumni Association volunteer their time to work for the MO AgrAbility Program. more
Ohio
Ohio AgrAbility is beginning work with Safe Haven Farms in southwest Ohio. more
An Ohio AgrAbility member was recently appointed, by Ohio Governor Kasich, to the Ohio Statewide Independent Living Council (SILC). more
Ohio AgrAbility is beginning collaboration with Susan Havercamp of the Ohio State University, College of Medicine. more
Oklahoma
Doctor of Physical Therapy students at Langston University participated in a two-day course presented by Oklahoma AgrAbility staff focused on supporting farmers and ranchers during their rehabilitation process and on the identification of appropriate assistive technology devices and work modifications.
Oklahoma AgrAbility staff attended the 2012 RESNA Conference in Baltimore, Maryland.
An OCES Extension Educator and state AgrAbility staff taught workshops at State 4-H Roundup on how to create service learning and public speaking opportunities for 4-H members in their communities.
Oklahoma AgrAbility also had a presence at the OSU Animal Science Big 3 Field Days, the OK Career Tech Family & Consumer Sciences New Teacher Training, and the State Oklahoma Home and Community Education meeting.
Oklahoma AgrAbility submitted junior and senior level 4-H Judging Kits for the 2012 State 4-H Consumer Judging competition.
Arthritis Foundation exercise classes were held by OK Cooperative Extension Educators (OCES) and AgrAbility staff in Payne, Jefferson, and Seminole Counties, reaching over 100 participants.
Vermont
UVM Extension Maple Specialist George Cook and colleagues were happy to participate in the Campus and Community: Public and Land-Grant Universities program at the 46th annual Smithsonian Folklife Festival in Washington, D.C. more
VT AgrAbility Project was featured in the summer issue of Vermont's Local Banquet, a quarterly magazine that illuminates the connections between local food and Vermont communities. more
Janis Moore attended the UVM Youth Safety Camp, held on the University of Vermont campus, as a guest instructor. more
Vermont AgrAbility PI George Cook accepted the president's gavel for the International Society for Agricultural Safety & Health (ISASH)  for the coming year.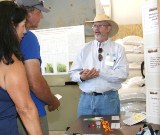 Wyoming
Wyoming AgrAbility shared information on reducing hearing loss in ranchers and farmers at the University of Wyoming's Agricultural Experiment Station field days in July.
Staff Changes
Ohio
AgrAbility of Ohio is pleased to introduce a new staff member: Suzanna Windon is our new program assistant. Suzanna will be working on program marketing and daily office operations.
Oklahoma
Julie York resigned as Oklahoma AgrAbility program coordinator. She is returning to the classroom to teach Family & Consumer Sciences to 8th-12th grade students.
AgrAbility in the News
Click here for news stories featuring AgrAbility projects.
AgrAbility Helps Farmers Continue Working
With AgrAbility, Disabled Farmers Get Help To Stay On The Job
Farming Without Harm
Greenhouse Opened to Help Wounded Fort Riley Soldiers
Inside the Colorado AgrAbility Project With Katheryn Ernst
Colorado AgrAbility
Workshop, Tours Set for Vets Who Want to Farm or Ranch
Other News
Click here for other news of interest to AgrAbility staff members.
Oscar Pistorius, an Inspiration and a Question
Deaf Girl's Family Sues Scouts for Disbanding Troop
Upcoming Events
Click here for professional development events related to AgrAbility
.
Problems? Contact Clifford Racz, National AgrAbility Project, racz@purdue.edu