September 2013
National AgrAbility Project News
Register now for AgrAbility Regional Workshops scheduled in Jacksonville Florida and Yuma Arizona. more
AgrAbility Webinar: Fiscal Sustainability and AgrAbility Projects, Monday, September 23 at 3:00 p.m. EDT. Register here by September 18. more
Several webinar sessions have been confirmed for the 2013 AgrAbility Virtual NTW, including one on the Affordable Care Act for rural residents. more
The National AgrAbility Project and the Illinois AgrAbility Unlimited staff had displays in the health and safety tent at the 2013 Farm Progress Show in Decatur, Illinois. more
Amber Wolfe hosted a full-day "Arthritis and Agriculture" workshop at the Carnegie Library in Marion, IL on August 20. more
NAP staff had a conference call with Greg Alleyne, a supervisor with the Veterans Administration's Vocational Rehabilitation and Employment Service, to discuss expanded AgrAbility outreach to veterans.
Amber Wolfe presented a three hour "Arthritis and Agriculture" workshop to occupational therapists, Extension educators, and KY AgrAbility staff on Monday, August 26 at the Cardinal Hill Rehabilitation Hospital in Lexington, KY.
The National AgrAbility Project Advisory Team had their fall conference call with NAP staff on September 13 to receive updates and provide feedback on project activities.
The Arthritis Community of Interest (COI) group held its 26th call on August 27 at 2:00 PM EDT. more
Click here for the schedule of upcoming Community of Interest and Standing Committee call information.
Toolbox Spotlight
As summer is almost over, many farmers could benefit from some of the larger machines and tools recently added to the Toolbox. more
State and Regional AgrAbility Project News
California
CalAgrAbility continues to conduct Get Moving: Prevention and Pain Management Exercise Program classes at Clinica Tepati in Sacramento. more
CalAg was represented at the Tomato Festivals in Woodland and in Fairfield. more
CalAg collaborated with Agricultural Industries Transportation Services (AITS) to provide CalVans, farm worker transportation van pools, and educational resources to each of their vans in Napa, Sonoma, and Yolo County. more
CalAgrAbility continues to use twitter as a networking method, with 125 followers. Follow us at twitter.com/calagrability.
Indiana
Indiana AgrAbility staffed a display in the FFA Pavilion at the Indiana State Fair. more
Indiana AgrAbility was represented at the INDATA AT Palooza by Steve Swain, the project's assistive technology specialist. more
The Andersons Grain Group held the first annual Charity Golf Outing to Benefit Indiana AgrAbility at the Tippecanoe Country Club in Monticello, IN. more
Amber Wolfe coordinated a booth for Indiana AgrAbility and the Arthritis Foundation at the Indiana Rural Health Association annual conference, Indianapolis, August 7-8. more
Kentucky
KY AgrAbility is looking forward to hosting the 2014 NTW. The staff has been busy talking to local and state organizations so that everyone has a chance to experience Bluegrass hospitality. more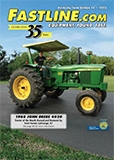 Kentucky AgrAbility client Trent Hunter was featured by Fastline Kentucky with his Cover Tractor of the Month. article on page 80
KY AgrAbility helped host the Summer Assistive Technology Workshop at Kentucky State University and was able to supply several speakers from partners and members. Once again the event surpassed the previous year's total for attendees.
John Hancock attended the National Association for Driver Rehabilitation Specialists conference in Columbus, OH in July, along with several representatives from Kentucky's vocational rehabilitation office.
KY AgrAbility has a full slate of events for this fall. Coming up is the KARRN Conference held for the second year at Eastern KY University in Richmond, KY on September 25. more
Maine
Maine AgrAbility has developed an information and referral (I&R) note pad to use at events. more
Maine AgrAbility participated in the 2013 Maine Farm Days in Clinton. Staff conducted a survey on arthritis to start conversation with over a hundred farmers and gardeners during the two-day event.
Maine AgrAbility has also started a Pinterest page for farmers to check out AT ideas. Check us out, make suggestions and follow us!
Missouri
On August 7, Bob Eisenkramer from Enhanced Vision provided an outstanding hands-on demonstration of the newest technology available for people with low vision. more
August 8 through August 18, University of Missouri Extension AgrAbility staff members went to the State Fair with the Missouri Department of Agriculture, Missouri Department of Labor, and Missouri Farm Bureau. more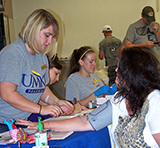 University of Missouri Health Care, MU School of Medicine, and Missouri AgrAbility Project also sponsored several community health events and interactive displays at the Missouri State Fair, including free skin cancer screenings of exposed skin. more
On August 11, the UMKC School of Pharmacy on the MU campus participated in the Mizzou Central area of the MO-Ag Theatre with the University of Missouri, College of Agriculture, and Missouri AgrAbility Project at the Missouri State Fair. more
Missouri AgrAbility updated their statewide AgrAbility Project: a Client Demographic Database. more
North Carolina
Summer student projects wrapped up at the beginning of August with an IRB-approved survey and evaluation of Garden Scooter 1.0. more
The Garden Scooter as well as last year's NC AgrAbility senior design awards have been published in the NCSU CALS newsletter, website, and the College's Perspectives Magazine. more
NC AgrAbility recently completed three new informational resources that will be available in September 2013. more
As fall sets in and temperatures cool, North Carolina's show season is already heating up. more
Ohio
On August 16, Ohio AgrAbility and Growing Warriors met to discuss the Dayton VA greenhouse project. more
Ohio AgrAbility has joined forces with several partners on a Growers Workforce Development Project. more
Vermont
Vermont AgrAbility staff members Gail Lapierre and Bill Snow assisted in the launching of the new Accessibility Center at Empire Farm Days in Seneca Falls, New York. more
West Virginia
AgrAbility and USDA Youth Safety Grant Family Program Highlighted at WV State Fair. more
On August 24 at the "Jane Lew Safety Day" event in Jane Lew, WV, Inetta Fluharty discussed Farm Safety pertaining to youth and adults, WV AgrAbility, and the use of ergonomic gardening tools to avoid the over-use of joints.
WV AgrAbility staff attended the People First of West Virginia Conference September 4-6. more
Staff Changes
Nebraska
Please welcome Kelly Gewecke to the Nebraska AgrAbility Team. Kelly will handle management details for the project, as well as providing expertise on work incentives.
AgrAbility in the News
Click here for news stories featuring AgrAbility projects.
Still Farming, Despite Disability
USDA Funds Will Aid Returning Veterans
CALS Students Work With AgrAbility to Help Create Hallelujah Moments
Circle Lot 1211 On Must Visit List
FFA Chapters Earn Prizes for Community Service Projects
Help in the Heartland
From Ideas to Impact: Students Advance Agromedicine
Other News
Click here for other news of interest to AgrAbility staff members.
CinemAbility Documentary
Number of Women Farmers on the Rise in Greater Cleveland and Around the Country
Assistive Wheelchair Tray Could Help People With Disabilities Use iPads, Other Mobile Devices More Easily
Small Farmers: Food Safety Rules Could Halt Local Food Trend
Young Farmers Break The Bank Before They Get To The Field
New Commissioner of Rehabilitation Services Administration at Department of Education Confirmed
The Independence Fund
To Grow Sweeter Produce, California Farmers Turn Off The Water
The US Professionals Quitting the Rat Race to Become Farmers
Hollister Ordered to Make Faux Surf Shacks Wheelchair Accessible
Scrapie Disease Information
Upcoming Events
Click here for professional development events related to AgrAbility.
Problems? Contact Clifford Racz, National AgrAbility Project, racz@purdue.edu