November 2013
National AgrAbility Project News
Registration closes today for the AgrAbility webinar Osteoarthritis, Joint Stress, and Injury Prevention in Livestock Production. more
Register now for the 2013 AgrAbility Virtual NTW scheduled for December 10-12. Join us for six great webinars. more
Save the date for the next AgrAbility all staff call/web meeting on Tuesday, December 17 at 3:00 p.m. EST via 866-803-2444.
The NAP is currently accepting proposals for breakout presentations, unconferencing sessions, and posters for the 2014 National Training Workshop in Lexington, Kentucky. more
NTW farmer/rancher travel stipend applications have been sent out to all of the SRAPs and previous NTW travel stipend recipients. more
The 2014 National Training Workshop website is live. more
The NAP is pleased to welcome Mike Brogioli as the new executive director of RESNA, one the the NAP's collaborating partners. more
The National AgrAbility Project staffed a display at the National FFA Convention in Louisville, Kentucky October 30-November 1. more
Click here for the schedule of upcoming Community of Interest and Standing Committee call information.
Toolbox Spotlight
The Toolbox features nineteen new solutions added this week, including several mentioned in this month's Toolbox Spotlight. more
State and Regional AgrAbility Project News
Arkansas
Podcasts are available regarding suicide and the elderly on the Arkansas AgrAbility website.
Arkansas AgrAbility participated in the Arkansas State Fair.
The new Endless Gardening Magazine is available to order. After entering a zip code, search for "Endless Gardening."
California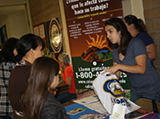 CalAgrAbility continues to conduct Get Moving: Prevention and Pain Management Exercise Program classes at Clinica Tepati in Sacramento. more
Staff attended several Bi-National Health Month events in Sacramento, Solano, and Yolo counties. more
CalAgrAbility continues to use twitter as a networking method, with 126 followers. Follow us here.
Indiana
Amber Wolfe was the opening speaker at the Purdue Area 7 Extension Living Well Conference, held in Muncie, IN on October 8. more
Hoosier Uplands helped with the National FFA convention held in Louisville, KY. more
Kentucky
Kentucky is gearing up for the 2014 NTW, and in the meantime the staff has attended several conferences and meetings.
The annual Extension Agent Update conferences were held in Owensboro, KY and Winchester, KY. more
Staff members were on hand for the video and interview of one of the clients in eastern Kentucky. more
The National FFA conference was held in Louisville October 30-November 1. more
In mid-November, AgrAbility will be attending and presenting at the 2nd Annual Empowering Women Veterans Conference being held in Louisville.
Two staff members will be traveling to Yuma, AZ to attend the AgrAbility Regional Workshop in early December.
Earlier this fall, KY AgrAbility was contacted immediately after an accident in LaRue County, KY. more
Maine
To promote workplace safety, Maine AgrAbility developed a brightly colored decal to be applied to tractor fenders, dashboards, and windshields.
Missouri
Curtis Hoeft, NRCS Soil Conservationist and Disability Emphasis program manager, presented an AgrAbility seminar to seventy NRCS Area 3 employees during their Employee Civil Rights Training.
AgrAbility staff set up an awareness display and disseminated educational materials in Jefferson City, Fulton, and Columbia, Missouri for Breast Cancer Awareness Month.
The Brain Injury Association of Missouri, Missouri's nonprofit disability collaborative AgrAbility partner, hosted the 9th Annual Statewide Conference in Saint Charles, Missouri in October. more
AgrAbility partners Maureen Cunningham, Brain Injury Association of Missouri, and Jon Sabala, Missouri Department of Mental Health, attended the Missouri Behavioral Health Alliance (MOBHA) meeting. more
In October of 2013 the Road Map to Military Resources, A guide to Missouri Resources for Military Service Members and Their Families was released. more
In January of 2014, the Missouri School of Law will launch a free Veterans Clinic to help veterans seeking disability benefits in appellate court. more
Karen Funkenbusch continues to serve on the National Center Farmworker Health conference planning committee. more
North Carolina
NC AgrAbility hosted the Eastern Fall AgrAbility Farmer Lunch on October 4 in Greenville, NC. more
NC AgrAbility team member Dr. Mary Hildebrand and five M.S. OT students presented a 1.5 hour educational session at the NCOTA 2013 Fall Conference "Advancing Occupational Therapy" in Raleigh, NC. more
NC AgrAbility was invited by the NC State University College of Agriculture and Life Sciences to join them in a booth called "Agriculture of Today" at the 2013 North Carolina State Fair in Raleigh, NC. more
NC AgrAbility published several articles this month as well as releasing CD and printed copies of disability-specific Toolbox packages. more
Nebraska
Nebraska AgrAbility met with several organizations interested in initiating a state chapter of Farmer Veteran Coalition. more
Arthritis and Agriculture was the theme for the exhibit staffed by Sharry Nielsen at the Franklin County Health Fair. more
Preventive measures for recognizing and handling chemicals was the topic at the Adams County Safety Day for 4-6 grade students. more
Ohio
In an effort to reduce injuries and help aging farmers remain productive in agriculture, Ohio AgrAbility will be conducting "I'm not as young as I used to be!" farming and gardening workshops throughout Ohio. more
Utah
Anne Brown-Reither and Darlene Carlisle have been making presentations to all Utah Vocational Rehabilitation districts. The presentations are designed to increase understanding of the AgrAbility program and educate counselors about Utah VR's new farm and ranch policy for working with AgrAbility clients.
West Virginia
At West Virginia University Extension's annual meeting in November, WV AgrAbility staff will present during the Programs of Excellence Poster Session. more
Staff Changes
To best serve AgrAbility clients, please confirm the project contacts list on the NAP website is correct with your project's most current information. Email any changes to
Paul Jones
.
AgrAbility in the News
Click here for news stories featuring AgrAbility projects.
Disabled Farmer Gets New Tractor
Like a Rock
Meet Donnie Appelman
Arthritis One of Toughest Ailments for Farmers
Ag Workers Can Take These Steps to Prevent Noise-Induced Hearing Loss
A Helpful Harvest Reminder on Farm Safety
Webinar to Help Livestock Producers Cope With Arthritis
October is Protect Your Hearing Month
Come to the Fair!
Make Farming with Arthritis Easier
Other News
Click here for other news of interest to AgrAbility staff members.
Ground Operations: Battlefields to Farmfields Documentary
Beyond a Gadget: Google Glass is a Boon to Disabled
Annie's Sustainable Agriculture Scholarship
Workers Urged to Protect Hearing From Farm Clatter
Baseball Card Features Batboy With Down Syndrome
Missouri Facebook
Upcoming Events
Click here for professional development events related to AgrAbility.
Problems? Contact Clifford Racz, National AgrAbility Project, racz@purdue.edu