January 2014
National AgrAbility Project News
The NAP is still accepting applications for the Farmer Veteran AgrAbility Coordinator position. Click here to access the job posting.
Remember to send in your proposals for presentations, unconferencing sessions, or posters by Friday, January 17 for the 2014 National Training Workshop. more
NTW farmer/rancher travel stipend applications are due by January 31. more
Remember to submit your proposals to host the 2015 National Training Workshop. more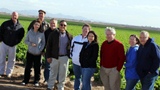 The Southwestern AgrAbility Regional Workshop, coordinated by Goodwill of the Finger Lakes, provided a unique experience. more
Check out the latest What AgrAbility Means to Me client success video: Dustin Franklin from Colorado. view
Click here for the schedule of upcoming Community of Interest and Standing Committee call information.
Toolbox Spotlight
Rethink the way the project is done with these items from the Toolbox: more
State and Regional AgrAbility Project News
California
CalAg's regularly-scheduled arthritis exercise workshops will continue at Clinca Tepati, RISE Inc. in Esparto and Winters, and for the Fibro Friends Fibromyalgia Group. more
CalAg staff have renewed their CPR training to continue leading the exercise classes and attended local workshops and training on the Affordable Health Care Act as well as Covered California. more
Staff also participated in the webinar, "Women in Agricultural Work: Are They Different?" sponsored by AgriSafe. more
CalAgrAbility attended the three days of the Virtual National Training Workshop on December 10-12, 2013.
CalAgrAbility continues to use twitter as a networking method, with 129 followers. Follow at twitter.com/calagrability.
Georgia
AgrAbility in Georgia had a booth at the Sun Belt Expo in October. The expo is one of the largest agricultural expos in the south.
Vocational Rehabilitation in Georgia's freeze on cases this past year has been lifted. more
AgrAbility in Georgia recently received $8,000 from a foundation to support the project.
Newly added to the program's website is the new farmer story of Randy and Jo at www.farmagain.com/stories.
Staff recently taught a class for freshman at UGA called Geeks with a Cause. more
Indiana
The Indiana AgrAbility Project exhibited at the 2013 Indiana-Illinois Power Machinery Show at the Indiana State Fairgrounds in Indianapolis December 17-19. more
Linda Tarr, Indiana AgrAbility, staffed a booth at the Governor's Council for People with Disabilities annual conference, Indiana Farm Bureau annual convention, and the Indiana/Illinois Farm Show. She also presented and had a booth at the Agribusiness Seminar at Rockport.
Maine
Maine AgrAbility has been accepted into the partnership of the Maine Beginning Farmers Resource Network (MBFRN), a coalition of Maine agriculture agencies and organizations working together to connect aspiring, beginning, and transitioning farmers to resources for farm business success.
AgrAbility staff and advisory council members are preparing for the 73rd Annual Agricultural Trades Show held at the Augusta Civic Center January 7-9, 2014. more
Minnesota
The Minnesota AgrAbility Project staff is busy making preparations for the 2014 Fence Line Conference being held March 16-17 2014, at the Holiday Inn and Suites, St. Cloud, Minnesota. more
Nebraska
Rod Peterson and Sharry Nielsen staffed an exhibit at the Nebraska Farmers Union state convention, greeting several former clients and introducing AgrAbility to FU members. more
Another partner working with NE AgrAbility is Nebraska Farm Bureau, which also held its annual meeting and conference in December. more
Danielle DeTour, an OT student from Rockhurst University, spent a week with NE AgrAbility, learning about the program and how occupational therapy programs and AgrAbility complement each other. more
North Carolina
The 2013 Southeastern Strawberry Expo in Durham, NC was a great way to round out the year of activities for NC AgrAbility. more
On December 2, Project Coordinator Michele Proctor worked with Dr. Gary Roberson of NCSU Bio & Ag Engineering to present a one-hour session to Bio & Ag students on understanding and utilizing the AgrAbility AT Assessment Tool for Secondary Injuries created by the National AgrAbility Project.
NCSU senior design teams working on AgrAbility design projects presented mid-way presentations on December 5, 2013.
NC AgrAbility would like to thank all of the farmers and community partners for helping the project make 2013 another successful year and wish everyone a safe and prosperous 2014.
Ohio
Ohio AgrAbility looks forward to a new year in 2014. more
Pennsylvania
Pennsylvania was fortunate enough to be funded again after a three-year hiatus. more
Tennessee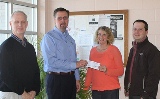 Joetta T. White, UT area specialist for the Tennessee AgrAbility program, proudly accepted a donation to the program from Farm Credit Mid-America. more

Vermont
Vermont AgrAbility will again be teaming up with the Vermont Rebates for Roll Bars program, sharing a booth at the annual Vermont Farm Show January 28-30. more
Staff Changes
California
CalAgrAbility welcomes new staff at the program's partner the Arthritis Foundation Pacific Region-Greater Sacramento and Central Valley Chapter. We welcome new executive director, Brian Jones, and program director, Mireya Chaffee. We are excited to kick off 2014 and look forward to our work with them.
Pennsylvania
AgrAbility is pleased to welcome the new team from the recently funded Pennsylvania AgrAbility Project:
Connie Baggett, project director
Dennis Murphy, co-project director
Erica Bobbitt, project associate and case manager
Linda Fetzer, project manager
Susan Tachau, non-profit project director
Tracy Beck, non-profit assistant project director
Michael Freeman, non-profit project outreach coordinator
Read more about the team here.
Vermont
Kenny Smith will be working with Vermont Center for Independent Living as an AgrAbility specialist.
AgrAbility in the News
Click here for news stories featuring AgrAbility projects.
Proper Lighting, Footwear Key in Lessening Risk of Injuries
Technology Helps Farmers Deal With Health Risks
AgrAbility Program Helps Ag Workers With Disabilities
'Battleground to Breaking Ground' Agricultural Workshop for Vets Slated for Jan. 25 in Edinburg
Gardening Class Sat. Jan 11, Think Spring!
Community Agriculture Alliance: Colorado AgrAbility Offers Free Workshop in Steamboat
Other News
Click here for other news of interest to AgrAbility staff members.
FDA to Make Food Safety Rules More Farmer-Friendly
Should You Quit Your Job and Become a Farmer?
An Organic Greenhouse Run by Farmers With Autism
Here's How Young Farmers Looking For Land Are Getting Creative
Availability of Value-Added Producer Grants Announced
Upcoming Events
Click here for professional development events related to AgrAbility
.
Problems? Contact Clifford Racz, National AgrAbility Project, racz@purdue.edu