December 2014
National AgrAbility Project News
The 2014 Virtual NTW had a combined session attendance of approximately 200. Many thanks to our presenters and participants. Presentations and PowerPoints are archived at www.agrability.org/Online-Training/virtualntw.
January 16 is the deadline for proposals for session presentations, unconferencing sessions, and posters for the 2015 National Training Workshop in Rochester, New York. More
January 31 is the deadline for NTW farmer/rancher travel stipend applications, which have been sent out to all of the SRAPs and previous NTW travel stipend recipients. More
The NAP is starting a community of interest on veterans in agriculture. Click here for a Doodle poll to set the first conference call.
Bill Field and Cindy Chastain participated in the Farmer Veteran Coalition's first National Stakeholder Conference in Des Moines, IA, Nov 14-15. More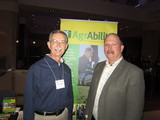 Chuck Baldwin attended the FALCON (First Americans Land Grant Consortium) conference November 8-10 in Minneapolis, MN. More


Toolbox Spotlight: The most visited solution in The Toolbox Assistive Technology Database last month was the Lend-A-Hand Forearm Assistive Device.

Click here for the schedule of upcoming Community of Interest and Standing Committee call information.
State and Regional AgrAbility Project News
California
CalAgrAbility attended its partner's webinar featuring VR services. More
CalAgrAbility welcomes a new collaborator, Vets for Pets, the NorCal Chapter. More
CalAgrAbility collaborates with LensCrafters OneSight Program. This month three consumers in Chico, CA, received free eye exams and glasses. More
CalAgrAbility staff led workshops on diabetes, focusing on Type 2, for the Northern Valley Indian Health Clinic in Willows and Woodland, CA. More
CalAgrA Staff led an arthritis exercise class at the ACOMI Conference in Salinas, CA. Over 150 rural ag families attended. The conference included workshops on being successful in college as a family, health care and insurance, community safety, and how to manage stress.
UC Davis Extension ANR reporter Alberto Hauffen interviewed CalAg about diabetes in the agricultural community. The PSA was released in Spanish during World Diabetes Day. http://ucanr.edu/sites/Spanish/noticias/?uid=6090&ds=199
CalAgrA continues to Tweet. Follow us at https://twitter.com/calagrability
Colorado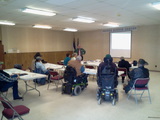 Colorado AgrAbility project manager with Goodwill Industries Denver, Candy Leathers, and Dr. Norm Dalsted, project director at CSU Extension, have a good start on the 2014-2015 Winter Workshops being conducted across the state. More
Indiana
Indiana AgrAbility staffed a display at the 2014 Woodland Owner Conference at Turkey Run State Park. The display featured Indiana AgrAbility brochures and information on arthritis in agriculture, back impairments The Tool Box Assistive Technology Database, and the AgrAbility "It's About Hope" video.
The Purdue Cooperative Extension Health and Human Sciences educators conducted their annual training session in West Lafayette, Indiana. More
Indiana AgrAbility collaborator, the Rehabilitation Hospital of Indiana, invited the Indiana AgrAbility rural rehabilitation specialist Steve Swain to conduct an in-service training for their therapy staff. More
Consultant Carl Jenkins attended a cover crop workshop at Orleans, IN, in November.
Kansas
Kansas AgrAbility has added four new farmer videos to its web site. The videos share the story of one family's journey with AgrAbility. Access the new videos at: http://agrability.bae.ksu.edu/farm-mod-videos
Kentucky
Kentucky AgrAbility staff are finally back in the office after traveling much of the fall, and are ready to stay in the office for a while. More
In mid-November KY AgrAbility attended the National FFA Conference in Louisville, KY. They had a record number of attendees, 64,409. The young people at the conference were eager to learn about AgrAbility and see some of the client videos that showed the assistive technology implemented on our clients' farms.
KY AgrAbility will be meeting with KARRN, KY Rural Rehabilitation Network, for their holiday meeting/luncheon the first of December. More
Also, in the first week of December is the KY Farm Bureau Annual Meeting in Louisville at the Galt House. This is always a good gathering at which to meet potential clients and talk to people from all over the state.
January 2015 KY AgrAbility staff will be on the move again; this time to Owensboro for the KY Cattlemen's Conference January 16 and 17. Prior to that is the meeting of the KY Fruit and Vegetable Conference in Lexington. This is followed by the National Farm Machinery Show in Louisville in early February.
KY AgrAbility has a few more events scheduled and will also be attending the NTW in Rochester in April. See you there.
Maine
Maine AgrAbility was excited to share the news of its successful award from the USDA for funding to continue its AgrAbility program through 2018. More
Project coordinator Lani Carlson spoke with State Senator Tom Saviello on his Talkin' Maine TV show about the AgrAbility program. She shared information specifically about the AgrAbility team within the state, its professional networks, and the projects' goals to assist Maine farmers, loggers, and fisherman.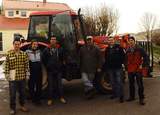 AgrAbility staff worked with a team of undergraduate engineering students from Northeastern University who are focusing specifically on improving the quality of life for upper extremity amputee farmers through the innovation of a mechanical solution. More
Michigan
Michigan State University Extension in partnership with Easter Seals Michigan was recently awarded a USDA AgrAbility grant to expand both the numbers of individuals served and to provide educational outreach for the existing Michigan AgrAbility program previously supported solely by Easter Seals Michigan. More
Missouri
David Middleton, farm outreach specialist from the southwest region representing Lincoln University Cooperative Extension and Missouri's new AgrAbility partnership, presented AgrAbility at several events in November. More
Nahshon Bishop, small farm specialist representing Lincoln University Cooperative Extension as Missouri's new AgrAbility partner, expressed an interest in attending the spring 2015 National Training Workshop. More
New AgrAbility partner Maureen Cunningham, director, Brain Injury Association of Missouri, and Jon Sabala, veteran services director, Department of Mental Health, participated in the monthly MOBHA Alliance teleconference. More
Karen Funkenbusch and Joseph Brajdich, intern with the Missouri AgrAbility Project, were selected to present their poster titled Missouri AgrAbility Program: Self-employment opportunities in agriculture for farmers and ranchers with disabilities at the Extension Connection: Lunch with us! "Broaden your research Impact with an Extension Connection".
Joseph Brajdich and members of the North Carolina AgrAbility direct services team participated in a conference call with professionals from other states involved in AgrAbility services and working with minority farmers with disabilities to strategize improved outreach and overcome barriers to services in coordination with NC Vocational Rehabilitation. More
Kelly Cochran, PharmD, BCPS, presented "Pharm Safety=Farm Safety: Know Your Medications" to 70 farm women at the Pearls of Production: Women in Agriculture conference on Nov 7, 2014. More
North Carolina
Members of the NC AgrAbility direct services team participated in a conference call with professionals from other states involved in AgrAbility services and/or targeted projects with minority farmers with disabilities to strategize improved outreach and overcome barriers to services in coordination with NC Vocational Rehabilitation. More
Michele Proctor and Dr. Gary Roberson were featured in a video showcasing NC AgrAbility student design projects at the 2014 NCSU Ag & Biotechnology Conference at the NC Biotechnology Center in Durham NC on November 18 & 19, 2014. Watch it here: http://youtu.be/6FnCpgcLAt8
NC AgrAbility client Neil Whitfield hosted Dr. Mary Hildebrand and the 2015 class of ECU Masters of Occupational Therapy class for a farm assessment training in Pink Hill, NC. More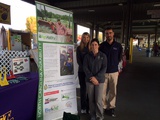 Dr. Mary Hildebrand and her team of MSOT students have been visiting NC farmers markets with educational displays and assistive tools to show to farmers as well as recruiting participation in several ongoing NC AgrAbility surveys. More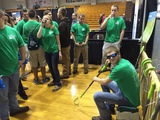 Despite a stormy start to the day, Michele Proctor, NC AgrAbility project coordinator, participated in the 2014 Beaufort County Ag Expo at Northside High School in Washington, NC. More
Nebraska
Rae Zabokrtsky, OT graduate student, and Sharry Nielsen, Extension educator, staffed a display at Nebraska Extension Fall Conference, highlighting Nebraska and National AgrAbility and prevention of back pain/injury. Several marketing and educational brochures were handed to participants at the conference.
The Midwest Rural Ag Safety and Health (MRASH) Conference was held in Ankeny, IA, this month. Rae Zabokrtsky and Sharry Nielsen attended the conference, and shared "Managing and Preventing Back Pain/Injury in Agriculture" educational brochures with attendees.
Ohio
Ohio AgrAbility staff met with an Ohio AgrAbility member and Viet Nam veteran at the Cincinnati VA hospital. More
AgrAbility Program Advisory Board member and client, Bill Wilkins, received Easter Seals TriState' s Brighter Futures Award for his continuous outreach to the community and his contributions to those who are in need of his experience and good council. More
Pennsylvania
AgrAbility for Pennsylvanians worked with PA Office of Vocational Rehabilitation to provide a multi-day training to the F.A.R.M. Coordinators for each VR district office. The training helped VR counselors better understand production agriculture, AT for farm operations, and alternative funding opportunities.
Tennessee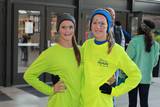 Tennessee AgrAbility had a very busy November! Tennessee Ag RUN Ability 5K Glo Run/1 mile Fun Run had a turnout of 37 runners/walkers on a very, very, very cold Tennessee November 1st. More
UT Extension held their state conference in Nashville. Tennessee AgrAbility set up an exhibit focusing on the AgrAbility program.
Since the Tennessee AgrAbility staff was at the state conference in Nashville, Murray State University OHSA graduate students took over the annual Calloway County Safety Expo for middle and high school students in KY. More
Tim Prather attended the FVC National Stakeholders Conference and came back excited about working to expand services to help veteran disabled farmers in TN.
Utah
Darlene Carlisle and Anne Brown-Reither staffed a booth at the Utah Farm Bureau Annual Convention on November 20 in Layton, Utah. More
Anne Brown-Reither presented about the AgrAbility program to the Cache Interagency Council (CIC) on November 19 in Logan. More
Vermont
Tom Younkman and Kenny Smith of VT AgrAbility attended the Farmer Veteran Coalition's National Stakeholders Conference in Des Moines, Iowa, where national leaders in the movement gathered to network, share experiences, and expand the cause. More
Wisconsin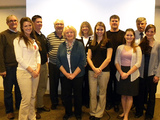 AgrAbility of Wisconsin held their annual Advisory Council meeting on Thursday, November 6th. More
West Virginia
To provide training, educational, and assessment services, WV AgrAbility personnel conducted several farm visits during November 2014. More
For marketing and educational purposes, various meetings and conferences were attended by WV AgrAbility personnel. More
WV AgrAbility personnel are administering the Green Thumbs, Healthy Joints mini-grants. More
Staff Changes
USDA/NIFA

Mrs. Lelan Dixon has recently joined NIFA's AgrAbility team as a new Program Specialist. Lelan has a B.S. in Agricultural Sciences/Plant Science from Southern University A&M College and an M.S. in Plant Science from Florida A&M University, thesis: Pedigree Analysis of 'Cynthiana' and 'Norton' Grape by DNA Microsatellite Markers. She was an Extension Agent -Commercial Horticulture, University of Florida and Soil Conservationist with NRCS in Georgia and Maryland. She also was a training specialist with the University of Hawaii-National Disaster Preparedness Center. Lelan will be providing primary program specialist support for NIFA's AgrAbility program, Sustainable Agriculture Research and Education Program, and other programs to be determined. Lelan can be reached at (202) 401-6950 and at Lelan.D.Dixon@nifa.usda.gov.
Kansas
Kansas AgrAbility welcomes Nancy Stork as a new assistive technology ag specialist for north central and northeast Kansas. Nancy is based at OCCK in Salina, Kansas. We also bid farewell to Galen Seehafer and Janice Fouard who have retired.
Wisconsin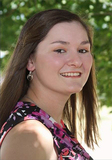 AgrAbility welcomes Abigail Jensen to the team. She is a student at UW-Madison majoring in animal science and life sciences communication. Abi is working part-time through the school year, and will take on a full-time role during the summer months. Abi will be working on newsletters, social media, website development, client intake, correspondence, and record keeping.
AgrAbility in the News
Click here for news stories featuring AgrAbility projects.
AgrAbility Project helping Michigan agriculture
US Prof's Efforts to Empower Disabled Farmers Bear Fruit in 'Field'
Maine AgrAbility Awarded Grant to Assist Farmers with Disabilities, MPBN Reports
AgrAbility helps farmers stay in business
USDA's AgrAbility workshops help Weld County, state's farmers help themselves
USDA Awards MSUE a $720,000 AgrAbility grant to help farm operators and workers with disabilities
Careful planning, rest breaks can prevent back pain with farm work
Pharm to Farm: The Next Generation of Pharmacists Learns to Work with Rural Communities
Wisconsin AgrAbility the most active in US
AgrAbility Participates in POTA Conference
Missouri AgrAbility Project funded for four more years
USDA Awards AgrAbility Grants to Expand Access to Farming
SEEDS
NCAT Coordinates Armed to Farm session at Small Farms Conference
Mosinee farmer tells his story of perseverance
Vermont AgrAbility Project Helps Westfield Farmer Keep Farming
USDA Grant Funds AgrAbility of Wisconsin for Four More Years
Latest News
P.H.A.R.M. Dog Puts Service Dogs on Farms
Other News
Click here for other news of interest to AgrAbility staff members.
USDA announces $9.7 million in dedicated outreach and technical assistance to diversify American agriculture
Farm accidents decrease as safety awareness grows
USU's Irrepressible Amberley Snyder: Powering through Life's No-Excuse Option
Upcoming Events
Click here for professional development events related to AgrAbility
.
Problems? Contact Clifford Racz, National AgrAbility Project, racz@purdue.edu