October 2015
National AgrAbility Project News
AgrAbility All-Staff Meeting: Wednesday, October 21 at 3:00 p.m. EDT. Watch for the preliminary agenda and call-in information.
USDA announces results of the 2015 SRAP grant competition. Read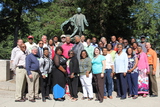 Bill Field and Chuck Baldwin helped out with the Tuskegee University 1890s AgrAbility workshop held October 7-8 in Tuskegee, Alabama, where more than 50 people from six states attended. More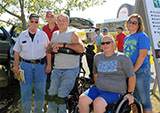 The NAP joined with Ohio AgrAbility at the Ohio Farm Science Review. JoBeth Rath of Goodwill of the Finger Lakes represented the NAP at the event.
Email polls will be sent soon to all SRAP staff and partners to obtain ideas for call topics for the Arthritis Community of Interest and the Rural Arthritis Coalition groups.
Chuck Baldwin represented the NAP at the World Dairy Expo in collaboration with Wisconsin AgrAbility. See Wisconsin's entry for photos from this event.
Amber Wolfe, Arthritis Foundation partner, did a live radio interview with RFD TV Radio on 9/29 on arthritis, AgrAbility, and rural education.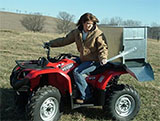 Toolbox Spotlight: Gravity-fed, 200-, 400-, and auger fed 600-pound-capacity Stull ATV/UTV-Mounted Feeders are designed to fit on almost any ATV and UTV.
Click here for the schedule of upcoming Community of Interest and Standing Committee call information.
State and Regional AgrAbility Project News
California
In celebration of National Farm Safety Week, Esmeralda Mandujano of CalAgrAbility participated in the webinar "Finding Solutions to Farm Safely and Independently with the Department of Vocational Rehabilitation, California AgrAbility, and Ability Tools," on September 23. More
Fadi Fathallah, director of CalAgrAbility, presented "Agricultural Ergonomics Research and Outreach in California," at the International Congress on Rural Health and IV International Conference, Ragusa SHWA 2015 in Lodi, Italy, from September 8-11. More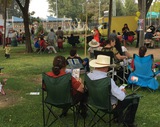 CalAgrAbility participated in the Binational Health Celebration by attending the following fairs: the Yolo County Binational Health Fair in Woodland, CA, on September 12; the Dia del trabajador agricola Fair in Yuba City, CA, on September 13; and the Celebration on Central in Lodi, CA, on September 27. More
CalAgrAbility staffed booths at the Tools for Living Abilities Expo in Roseville, CA, on September 9 and the Disability AT Resource Fair in Modesto, CA, on September 25. More
CalAgrAbility gave general program presentations to the Gold County Amputee Support Group in Auburn, CA, on September 3 and to the Home Base Program of Fresno EOC in Kerman, CA, on September 14.
CalAgrAbility's Cody Thao is now a certified arthritis leader! This month he became CPR certified to complete AF training requirements. He will be taking CalAgrAbility's Get Moving Arthritis Self-Help trainings to ag communities which continue to request this useful service in California.
Events from October 5th - October 15th: CalAgrAbility will be at the Bi-national Health Fair at the Mexican Consulate in Sacramento, CA.
Colorado
The Colorado AgrAbility Project has finalized the schedules for eight winter workshops to commence in Steam Boat Springs, CO, on October 30.
The Colorado AgrAbility Project team was invited by Dr. Ananda Paudel to make a presentation to his senior engineering design class. More
Jim Craig of the Colorado AgrAbility Project attended the annual general membership meeting and board meeting of the Paralyzed Veterans of America Rocky Mountain. More
Georgia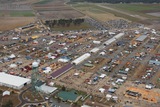 AgrAbility in Georgia staff are busy helping plan for the Sun Belt Expo in Moultrie, Georgia. More
Paige Tidwell, AgrAbility vocational specialist, is the president of the Georgia Rehabilitation Association (GRA). Paige is heading their statewide conference being held September 1-4 in Augusta, GA. More
Paige has also been attending a 3-tiered training program for licensed clinicians who serve service members and veterans. More
Students in the interior design program at UGA are working with several AgrAbility customers to design a more accessible home for them. The ultimate goal is that VR will pay for some of the modifications that the students recommend.
Staff are working with Fort Valley University (1890) vocational rehabilitation students as part of their internship requirements. More
Staff welcomed eight new AgrAbility customers in the month of August, seven of whom were veterans. Many of the new customers are also new to farming. More
Indiana
Indiana AgrAbility was pleased to receive another four-year USDA/NIFA grant.
Indiana AgrAbility staff made presentations during the Indiana State Farm Service Agency (FSA) lender meetings. More
Indiana rural rehabilitation specialist Steve Swain presented a session titled Practical Assistive Technology Assessments to a class of Purdue graduate students for Dr. Brad Duerstock. More
Indiana coordinator Linda Tarr had a booth at the Orange County Farm Bureau farmer's breakfast and the Hoosier Uplands Area 15 Agency on Aging Senior Games. More
Carl Jenkins worked field days in Washington County and Crawford County. Both of these events were very well-attended and informative.
Amber Wolfe, Arthritis Foundation, staffed a booth at the Brown County Farm Expo in Nashville, IN, on 9/7/15 and the Johnson County Farm Fest in Franklin, IN, on 9/12/15.
Amber Wolfe planned and implemented a community health event in Clinton County (Frankfort, IN) with external grant funding from the Arthritis Foundation. More
The Arthritis Foundation staff coordinated with the Indiana Farm Service Agency (FSA) to have an AgrAbility presentation at each of the four lender meetings around the state during the month of September. More
Amber Wolfe presented on the topic of "Gardening and Arthritis" to the Hendricks County Garden Club in Avon, IN, on 9/23/15. She followed that with a webinar on "Arthritis and Agriculture" for the Purdue Women in Agriculture group on 9/24/15.
Maine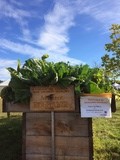 Maine AgrAbility attended the three-day Common Ground Fair in Unity, ME, with a booth featuring accessible gardening. More
Maine AgrAbility visited the Cultivation Works project in Saco this month helping to assess their microgreens production. More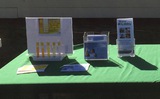 AgrAbility had a display at the week-long Farmington Fair. Lani Carlson was involved during ag education day at the fair with more than 1,000 students, teachers, and chaperones, from five counties participating in the event. More
Through the work of the California-based Farmer Veteran Coalition, a national organization, Maine is poised to become the first state chapter in the nation when it files the paperwork in October, according to Michael O'Gorman, founder and executive director of the Farmer Veteran Coalition. More
One of the Maine AgrAbility partners, Alpha One, had a booth at the Maine Summit on Aging in Augusta. More
Michigan
Michigan AgrAbility posted several new YouTube videos under the heading "Orchards" that highlight an electric hand trimmer and battery-powered hand trimmer that reduce gripping forces on the hand.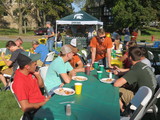 A shout out of THANKS to Alpha Gamma Rho at MSU for hosting a hog roast on Friday, September 25, to benefit Michigan AgrAbility! Great food! Great fraternity, whose ongoing support is greatly appreciated!
Missouri
Joseph Brajdich participated in two ag health and safety days and used hands-on demonstrations to aid in the prevention of secondary injuries. More
During the Missouri Cattleman's Association Farm College Safety Academy at the MU Beef Research Farm, Joseph demonstrated the dangers of flowing grain while showing the proper use of health and safety equipment. More
Missouri AgrAbility received IRB authorization to administer the McGill Quality of Life AgrAbility Pre and Post-Survey.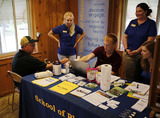 Information on the Missouri AgrAbility Project and Pharm to Farm health and safety outreach was provided at the MU Southwest Missouri Research Center Field Day in Mt. Vernon, MO, on Sept 11. More
University of Missouri-Kansas City student pharmacists Christine Giesing and Michael Loesing presented an educational seminar titled Traumatic Brain Injury and Drugs Treating Memory and Cognition for a Missouri AgrAbility partner, the Brain Injury Association of Missouri, support group in St. Louis on September 15.
The Brain Injury Association of Missouri (BIA-MO) 11th Annual Statewide Conference is to be held October 15 - 17, 2015. AgrAbility is the featured veterans track sponsor with the keynote session entitled "The Impact of Blast Exposure and Signs of Early Aging in Brains of Troops". More
Nebraska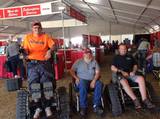 Husker Harvest Days, the nation's largest farm and ranch expo, was held September 15-17 near Grand Island and was sponsored by Farm Progress. Nebraska AgrAbility staffed a booth in the Nebraska Farmer Hospitality Tent with about 22 other health and safety organizations. More
Emily Freudenburg, rehabilitation specialist, presented information about the Nebraska project to the Neligh Hospital board, letting them know how they can refer clients and be part of patients returning to farming and ranching.
Sharry Nielsen, Nebraska Extension educator, did a regional TV spot about the National Farm Safety and Health Week and activities people could take part in. More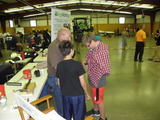 Disability awareness for youth was the topic of a session presented by Rod Peterson at the Kearney County "Carnival of Safety". Over 300 middle-schoolers and teachers attended the sessions, learning what it means to farm or ranch with a disability.
Sharry Nielsen presented a lesson on preventing hearing loss at the Franklin "Safety Day at School" as part of a study being done by Michigan University. Fourth grade students will be involved in follow-up questionnaires in the coming months.
Trainings to improve skills and network with other professionals were on tap this month. Emily Freudenburg attended the No Wrong Door Training & Networking, learning about working with veterans with PTSD and TBIs. More
Nancy Frecks, Nebraska Extension educator, presented information about the project to the Southwest Advisory Council in Nebraska, resulting in one person contacting her about NE AgrAbility's temporary lift for use by his grain cart driver.
NE AgrAbility reached 855 people with two new posts this month on Facebook thanks to Nancy Frecks. Of those 130 were engagements. The site has 141 friends and would welcome others to share.
Ohio
The Ohio AgrAbility Project had another successful display at the Ohio Farm Science Review again this year. More
Pennsylvania
Pennsylvania AgrAbility and UCP Central PA staff displayed AgrAbility information at the All-American Dairy Show in Harrisburg, PA, September 11-17. More
Tennessee
Happy fall and harvest seasons are here! September finished up fair time in TN after TN AgrAbility exhibited at the 96th annual Tennessee Valley Fair.
TN AgrAbility promoted AgrAbility and talked about assistive technology and farm safety with over 1500 children as part of the Farm Bureau Farm Days in Knox, Loudon, Blount, and Decatur Counties.
Tennessee AgrAbility staff listened to the webinar by USDA/Department of Defense and the exciting announcement about the Transition Assistance Program to help soldiers transitioning from the military to civilian life.
TN AgrAbility is proud of Tennessee State University for their Tennessee New Farmer Academy, which is listed as a resource on the USDA website for veterans and new farmers. More
Utah
AgrAbility of Utah participated in the third annual Assistive Technology Fair at Salt Lake Community College (SLCC) on September 16. More
Vermont
Vermont is continuing its AgrAbility project, in spite of losing USDA funding. More
Wisconsin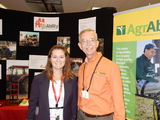 Wisconsin partnered with the National AgrAbility Project to exhibit at World Dairy Expo in Madison, Wisconsin, September 29-October 3. More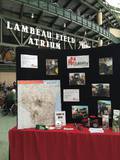 Wisconsin staff attended an assistive technology resource fair hosted by Options for Independent Living in Green Bay on September 23. More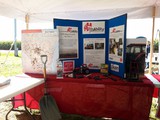 AgrAbility of Wisconsin staff traveled to Chippewa Falls, Wisconsin, to educate non-farm families about disabilities and assistive technology in agriculture. This event also featured farm tours in partnership with local technical school students, a petting zoo, and a kiddie tractor pull.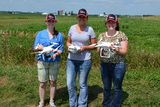 In August, AgrAbility of Wisconsin co-director Brian Luck took staff to a farm to demonstrate the potential uses of unmanned aerial vehicles (UAV's, commonly known as "drones") for farmers with disabilities. More
West Virginia
During the month of September, West Virginia AgrAbility conducted one farm site assessment and worked with the WV Division of Rehabilitation Services on securing funding for agricultural modifications. They also continued to provide information and resources to farmers requesting assistance.
WV AgrAbility helped individuals with intellectual and developmental disabilities learn how to supplement their food budget by growing their own produce. WV AgrAbility provided training to attendees during the 22nd annual "People First of WV" Self-Advocacy State Conference held at Jackson's Mill in Jane Lew, WV. More
WV AgrAbility provided disability awareness and farm culture training to fifty-four service providers at the statewide institute on children's safety. More
The second annual WV Urban Agriculture Conference was held on the campus of West Virginia State University in Institute, WV. More
WV AgrAbility provided training on the topics of disability awareness, farm culture, and abuse/ neglect at the Integrated Behavioral Health Conference in Charleston, WV. Workers from WV DHHR Adult and Child Protective Services attended the session. More
WV AgrAbility participated in National Farm Safety and Health Week by sending public service announcements (PSAs) to all newspapers and radio stations in WV. More
Staff Changes
California
CalAgrAbility welcomes Sara Wat to the team! She is a fourth year UC Davis student majoring in biological systems engineering and is interested in pursuing career choices in physical therapy. Sara participated in a research study to design a heat vest that is lightweight and affordable. She will be supporting staff in outreach and in the office.
Illinois
AgrAbility welcomes Illinois AgrAbility Unlimited in its return as a funded project.
Indiana
Cara Knoy spent nearly three months as an intern for Amber Wolfe, Arthritis Foundation, and was instrumental in planning and conducting the Arthritis, AgrAbility, and Rural Health Conference in Knoxville, TN, in August. Cara has graduated from Purdue University with a B.S. degree in agribusiness, and is currently on the search for a job. Good luck, Cara!
Missouri
Thank you, Joseph Brajdich, for everything you have done for the Missouri AgrAbility program! Your contributions to AgrAbility and support of the program during your health internship and farm worker evaluations are appreciated. We are excited that Joseph completed his undergraduate health degree in May of 2105 and is following his dream of full-time employment as an occupational or environmental health and safety specialist. We at the University of Missouri wish Joseph continued success with his future endeavors!
Nebraska
Congratulations to Emily Freudenburg: Emily received word that she is the recipient of a scholarship to attend the Farmer Veteran's Coalition meeting in November in California. She will attend the conference to learn more about how we can assist our clients who are veterans as well as beginning farmer and rancher veterans.
Ohio
Ohio AgrAbility would like to welcome Randy Joseph as the new rural rehabilitation coordinator for Easter Seals Tri-State and Ohio AgrAbility. Randy is beginning his first year with Ohio AgrAbility. He was formerly the lead job coach and developer for Project SEARCH. Randy has shared Project SEARCH's unique program at conferences and training seminars. He has worked in the area of special needs for over six years.

Randy attended Miami University for three years, studying in the area of communications. Randy ended his education due to operating the family business. His mother-in-law was diagnosed with brain cancer, so he moved into managing the company for 21 years before selling the business. Randy managed the day-to-day operations of the company, pursued new clients, and negotiated contracts with businesses.
Vermont
We would like to say goodbye to Gail LaPierre, who served Vermont AgrAbility project for many years, as well as the national program. Gail is retiring and has a huge retirement bucket list that she's anxious to get started on. She will be sorely missed. We wish Gail and Claude many more years of happiness.
Wisconsin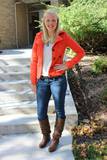 AgrAbility of Wisconsin welcomed Anna Gries to the staff as a school-year intern. Anna is the daughter of Greg Gries and Lori Edwards and is currently a junior at UW-Madison majoring in nursing. On campus she is involved in Colleges Against Cancer and the Aspiring Nurses Association. She also brings experience from her reign as the 2014 Manitowoc County Fairest of the Fair. Growing up on her family's dairy farm in rural Manitowoc, her passion for agriculture started at a young age. She is excited to join the AgrAbility staff and use her passion to help farmers continue farming.
AgrAbility in the News
Click here for news stories featuring AgrAbility projects.
AgrAbility helps farmers, fishermen, lumberjacks grow businesses despite pain, amputations, disabilities
Program helps farmers work with disabilities
The Country Life: Colorado AgrAbility helps keep farmers, ranchers on the job despite disabilities
The Nation Existence: Colorado AgrAbility assists in keeping maqui berry farmers, ranchers at work...
AgrAbility for Pennsylvanians
Tragic Harvest: Scot Collier's return to farming
A Job for Life, and Death
Other News
Click here for other news of interest to AgrAbility staff members.
Assistive Technology (AT) Emergency Solution: CARE Medical Health Bracelet
Commentary: Returning troops find opportunities in agriculture
Veteran Farmers, In Their Own Voice
Vertical Farms: The Future of Agriculture?
$300,000 in ag education grants
Challenges Facing Beginning Farmers
Minority winemakers look to change industry's stereotypes
This ex-Black Panther started an urban farm to create jobs for ex-inmates
Why immigration reform matters to agriculture
Ugly Produce Becomes a Life Line for Food Banks
How Community Gardens Connect Seniors to Fresh Food and to Their Pasts
Study confirms bats' value in combating crop pests
Homeless People Planted A Massive Organic Garden To Provide Food For An Entire Shelter
Upcoming Events
Click here for professional development events related to AgrAbility
.
Problems? Contact Clifford Racz, National AgrAbility Project, racz@purdue.edu