January 2016
National AgrAbility Project News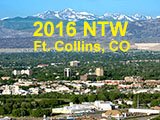 Make sure your clients get their NTW travel stipend applications in to Kylie Hendress, khendres@purdue.edu, by January 31. Application forms are posted on the NTW website www.agrability.org/ntw/2016/scholarships.html
AgrAbility All-Staff Meeting: Tuesday, February 2 at 3:00 p.m. One topic will be financial sustainability for SRAPs. Please contact Paul Jones jonesp@purdue.edu if you have sustainability ideas you'd like to share.
Amber Wolfe of the Arthritis Foundation Heartland Region had a presence in several events throughout the month of December. More

Toolbox Spotlight: All-Terrain Tracked Transporters are self-propelled, rubber-tracked vehicles designed to carry materials, supplies, logs, debris, etc. to and/or from remote locations where heavy equipment, tractors, and other vehicles can't go.
Click here for the schedule of upcoming Community of Interest and Standing Committee call information.
State and Regional AgrAbility Project News
California
CalAgrAbility and the Western Center for Agricultural Health and Safety (WCAHS) discussed target populations, workshops, promotional brochures, and how CalAgrAbility can distribute the brochures.
Staff attended the WCAHS Seminar, "Robot Automation: Mechanization in Specialty Crops" presented by Nathan Dorn on December 7.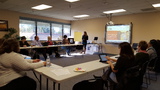 CalAgrAbility attended the Ability Tools Northern Regional Training in Sacramento, CA on December 15. Jamie Crum, Communication Technology Education Center, presented about Augmentative and Alternative Communication (ACC). ACC is the use of personalized methods to increase a person's ability to communicate. Nettie Fisher, ATP, reviewed computer software, digital device applications, and extension options.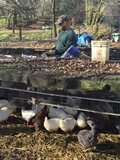 CalAgrAbility had a site visit to a rabbit farm in Penryn, CA, on December 18.
Staff attended the Biological and Agricultural Engineering Field Safety Training in Davis, CA on December 15. Victor Duraj, UC Davis, discussed field safety practices and safe operating procedures.
CalAgrAbility attended the AgrAbility Virtual National Training Workshop on December 2 and 3.
CalAgrAbility continues to stay active on Twitter.
Indiana
Indiana AgrAbility staffed a display at the 2015 Indiana-Illinois Farm and Outdoor Power Equipment Show in Indianapolis. The display included AgrAbility publications, veteran and beginning farmer resources, and a Life Essentials truck lift, Journeyman scooter, and Action Trackchair.
Steve Swain, the Indiana AgrAbility rural rehabilitation specialist, presented AgrAbility and rural assistive technology to an agricultural power class at North Montgomery High School.
Linda Tarr, southern Indiana coordinator, staffed booths at the Governor's Council for People with Disabilities Annual Conference and the Southwest Indiana Vegetable Growers Association meeting. She also did a presentation for the Knox County FSA board and staff in Vincennes and attended Ag Outlook meetings in Orange, Washington, and Harrison counties.
The Indiana Rural Health Association and AgrAbility collaborated with the Indiana University School of Public Health to facilitate another research study concerning hearing health in rural Indiana using Orange County participants.
Kentucky
Happy New Year!!! KY AgrAbility is hoping for a good year and wishes the same for all of you.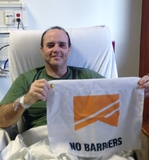 As you have heard, John Hancock, our PI, was in a tractor accident the end of last year. He wants to thank you all for your concern, prayers, emails, and texts. He will be out of the office for a while, and in the meantime the staff is keeping him informed on the clients and other aspects of the AgrAbility project.
Lexington will host the Southern Sustainable Agriculture Working Group (SSAWG) workshop the end of January and KY AgrAbility will be there with displays and information. More
The next big event for us will be the National Farm Machinery Show at the Kentucky Exposition Center in Louisville, KY on February 10 - 13, 2016. Over 850 exhibitors, 1.2 million square feet of space, and more than 300,000 visitors makes this the largest indoor farm machinery show in North America. More
The KY AgrAbility veteran workshop is coming together, and the Project will have more information shortly.
Maine
Maine AgrAbility Project Manager Lani Carlson has been involved in several activities with the newly formed Farmer Veteran Coalition of Maine (FVC-ME). More
As 2015 ended and 2016 starts, Maine AgrAbility was part of two farmer health articles serving as reminders to be mindful in your physical activities, remain healthy in the off-season, and don't forget to cultivate your mind!
Wishing everyone a happy and healthy New Year from Maine AgrAbility!
Michigan
The brothers of Alpha Gamma Rho are hosting the 2016 Beef Preview Show on Jan 22-24. All proceeds are earmarked for Michigan AgrAbility. THANK YOU Alpha Gamma Rho for your continued support. More information on the AGR Beef Preview Show can be found here.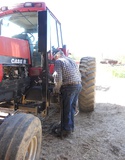 Michigan State University engineering students are required to complete a capstone project before leaving the world of academia and heading into the real world of work. One group of mechanical engineers took on the everyday mobility issues of a Michigan AgrAbility client. Read about the project here.
Michigan AgrAbility is a board member of the newly formed Farmer Veteran Coalition of Michigan chapter! In November 2015, Michigan became one of four states currently to have a chapter. More about the Michigan FVC may be found on their Facebook page here.
Missouri
Kimberly Keller, Rebecca Mott, and Karen Funkenbusch had their PhotoVoice abstract submission accepted to the 2016 Annual meeting of the Society for Applied Anthropology (SfAA) in Vancouver, BC, Canada, March 29-April 2nd. More
Chris Allen, Missouri Barn Builder, presented at the BIA-MO support group meeting in Kirksville, Missouri. He shared his experiences of working with the Missouri AgrAbility Project, Mo Division of Vocational Rehabilitation, and being a survivor. More
Physical therapy students at the University of Missouri participated in case study of an older, senior farmer with chronic disease. More
AgrAbility's collaborative partners from the University of Missouri Extension, Lincoln University Cooperative Extension, and Brain Injury Association of Missouri, presented the Missouri Barn Builders Chris Allen, Paul E. Brown, Jeff Haaheim, Lee Howerton, Steve Reisenbichler, Mike Singleton, Travis Tucker, Bruce Trammell, Bob Vannoy, Denny Vehige, and David Williams, with certificates of appreciation on December 11th.
On December 22nd, caregivers Sara Howerton, Sherry Nelson, Pamela Osborn, and Linda Trammell were presented with the Missouri Barn Builders Certificate of Appreciation from AgrAbility's collaborative partners from the MU Extension, LU Extension, and BIA-MO.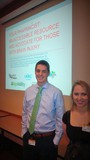 University of Missouri-Kansas City School of Pharmacy at MU is a cooperative partner with Missouri AgrAbility Project. Doctoral pharmacy students Alex Schmuke and Alicyn Magruder presented to the Brain Injury Association of Missouri Support Group in Independence, Missouri on January 5, 2016. More
Patricia Hysong, Wyoming AgrAbility Project, on December 10th blogged the University of Missouri Extension "AgrAbility at Work" story, "Cattle producer learns 'new normal' through MU Extension's AgrAbility program." More
North Carolina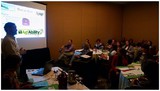 The North Carolina AgrAbility Partnership (NCAP) participated in a workshop "Integrating Agromedicine into Agriculture, Youth, Food, and Family Programs" at the annual conference for North Carolina Cooperative Extension agents on December 9, 2015, in Raleigh, North Carolina. More
Nebraska
Rod Peterson and Emily Freudenburg, Easter Seals Nebraska rehabilitation specialists, presented information on cattle equipment during the NAP assistive technology community of interest call. If you are not part of that committee or missed the call and would like their information, please contact Rod (rpeterson@ne.easterseals.com) or Emily (efreudenburg@ne.easterseals.com).
Emily Freudenburg has been networking with VetSet with the goal of putting together a conference for veterans and those who work with vets in Nebraska, a type of veterans' information chain. We will keep folks posted on the outcome and this networking potential.
Ohio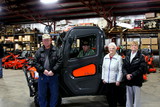 For most people, the Christmas season brings forth the spirit of giving and helping others. On December 17th, Ohio AgrAbility staff had the privilege of presenting a new Kubota RTV-X1100 utility vehicle to Guernsey County cattle farmer Wells Collins. More
Pennsylvania
AgrAbility for Pennsylvanians spent time networking with women farmers at an event hosted by the Pennsylvania Women's Agricultural Network. The keynote speaker at the event was Natasha Bowens, author of "The Color of Food: Stories of Race, Resilience and Farming." More
Tennessee
Happy New Year from Tennessee!
Tennessee AgrAbility closed out 2015 with end of year reporting and planning for a great 2016! More
TN AgrAbility is proud to help a retired Roane County FFA teacher who now raises beef cattle and farms full-time with heart conditions, arthritis, and diabetes. He modified his own tractor steps after staff showed him some ideas. More
East TN Technology Access Center, a a TN AgrAbility partner, hosted their annual Toy Tech drive. Toy Tech is an annual holiday party for children with disabilities and their family and friends. More
TN AgrAbility received a New Year's Eve present (the email was actually sent on New Year's Eve) from Tennessee Vocational Rehabilitation that a customer in Rutherford Co. was approved for a new tractor lift and canopy for his tractor. TN AgrAbility has been working since July 2014 for this approval.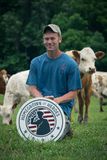 Charley Jordan of Circle J Ranch is working to try to get a Farmer Veteran Coalition chapter in TN. He says, "FVC is a great organization that has given me inspiration and motivation to continue my agricultural endeavors. More
Dates for the 2016 Tennessee New Farmer Academy were set (and information is listed in Upcoming Events. This is a six month certificate program designed for those with an interest in becoming agricultural entrepreneurs. More
Vermont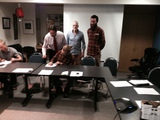 The Vermont AgrAbility project is pleased to announce that Vermont is one of four states to receive Farmer Veteran Coalition state chapter. The photo shows the board of directors of the Farmer Veteran Coalition of Vermont signing the chaptering papers. Members include Chairman Jon Turner, Treasurer Chris O'Keefe, plus Frank Hill and Kenny Smith.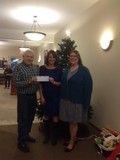 Vermont is also making good strides in funding their non-funded state project. Pictured is VCIL's executive director and Tom Younkman receiving a very nice grant from Heather Bradley of the Community National Bank in appreciation for all the work AgrAbility has been doing in the Northeast kingdom of Vermont.
West Virginia
In the interest of WV State University veteran and minority farmers, WV AgrAbility attended the Professional Agriculture Workers Conference at Tuskegee University, December 6-8, 2015. More
WV AgrAbility visited a WV farm site location where the owner is an individual who wants to begin her agricultural business. WV AgrAbility assisted the farmer as she began working on a business plan to present to the WV DRS as part of her "school to adult life" transition plan. More
In ongoing discussions, WV AgrAbility worked with a bee hive supplier from Kentucky who has agreed to provide demonstrations of an accessible bee hive at the Welch National Guard Armory incubator site as well as for an individual farmer. More
WV AgrAbility is working to prepare the Cold Storage Initiative Classes for start-up, including development of promotional materials. A program goals are (1) to bring the WV AgrAbility instructional efforts into various locations to provide future assistance to participants who may not realize that opportunities exist to simplify transitional efforts from non-agricultural to agricultural endeavors, and (2) to allow the efforts to be more easily facilitated.
WV AgrAbility is developing a Beginning Farmer/Rancher Development Program grant proposal which, if funded, would extend educational opportunities provided to agricultural workers. More
AgrAbility in the News
Click here for news stories featuring AgrAbility projects.
Spartan students assist a farmer with mobility issues
Ag4Life: A Resource for Oklahoma Farm and Ranch Families
Learning a new normal
In winter, Maine farmers sow relief for the aches and pains that grow all year
This winter, growers should cultivate their minds
Michigan Members Help Farmers
Colorado's AgrAbility Project's Effects on KASA and Practice Changes with Agricultural Producers and Professionals
PHARM Dog USA
Other News
Click here for other news of interest to AgrAbility staff members.
PHARM Dog News
The Rising Tide of Female Farmers
Planting New Farmers for the Future of Food
High-Five for NIFA-Funded Projects at Historically Black Colleges and Universities
USDA Safety Net Coverage in 2016
Who's Keeping Organic Food Honest?
The world wastes a shocking amount of food. This could change that
Vegetables Under Glass: Greenhouses Could Bring Us Better Winter Produce
Training farmers to do better business
Carbon Farming Gets A Nod At Paris Climate Conference
Agriculture jobs may be plentiful, but new grads are scarce
Students benefit from Zoetis program
New book helps NRCS go organic
Robotic Automation Meets Agriculture
America's Diverse Family Farms
15 Minutes with Agriculture Secretary Tom Vilsack
Collaboration will help farmers access data
A #HighFive for Farmers
Care prevents silage avalanches
It's Like Uber, But for Farmers' Markets
Upcoming Events
Click here for professional development events related to AgrAbility
.
Problems? Contact Clifford Racz, National AgrAbility Project, racz@purdue.edu