October 2018
National AgrAbility Project News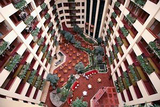 The AgrAbility National Training Workshop will take place in Lincoln, NE, March 25-28, 2019, at the Embassy Suites -Downtown Lincoln. The conference website is now live at www.agrability.org/ntw. More
Upcoming AgrAbility Regional Events
Albuquerque, NM, November 8-9, 2018, at the Hilton Garden Inn Albuquerque Uptown. Registration is open! The cost for the two-day event is $100. This event has been approved by the New Mexico licensure boards for PT and OT, and participants can earn up to 13 CEUs at this event. Click HERE to register. Click HERE to reserve your room. More


Mt. Vernon, WA, December 5-6, 2018, at the WSU Northwestern Washington Research & Extension Center. Registration is open! The cost for this two-day event is $25. Click HERE to register. You can click HERE to reserve a hotel room at the Holiday Inn Express in Burlington, WA.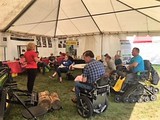 The National AgrAbility Project's assistive technology specialist, Steve Swain, exhibited as a guest of Ohio AgrAbility at the 2018 Ohio Farm Science Review near London, Ohio. More
The National AgrAbility Project (NAP) will be participating in a collaborative Introduction to AgrAbility workshop on the Pine Ridge Reservation in South Dakota on October 29-30. More
Chuck Baldwin of the National AgrAbility Project joined Abi Jensen and others from AgrAbility of Wisconsin to staff an AgrAbility booth at the World Dairy Expo (WDE) October 2-6, in Madison, Wisconsin. More
The NAP is scheduled to participate in the 2018 Farmer Veteran Stakeholders Conference, sponsored by NAP collaborating partner, the Farmer Veteran Coalition, on November 15-17 at the InterContinental hotel in Kansas City, Missouri. More information is available at www.farmvetco.org/kansascity.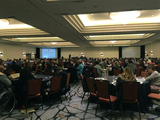 Paul Jones was joined by Candiss Leathers of Colorado AgrAbility, Sierra Royster of APRIL, and Gracie Franklin (daughter of Colorado AgrAbility client Dusty Franklin) for an AgrAbility presentation at the APRIL 2018 Conference in Denver. More
The AgrAbility webinar "New and Improved Methods of Accessing Large Off-Road Machinery for People with Mobility Limitations," along with presentation materials, is now archived at www.agrability.org/online-training/archived.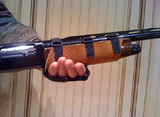 Toolbox Spotlight: Hunting is important to many farmers and ranchers, and the Shot-Strap Rifle Holder is designed for those who have lost dexterity in their hands. It's a thick, hand-stitched pad with three straps that run over the top of the barrel and strap attached to the underside of the pad to accommodate one hand or wrist.

State and Regional AgrAbility Project News
California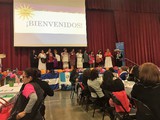 California AgrAbility attended the 11th Annual Northern California Promotores Conference held at the Berkeley Adult School. In an effort to maximize resources, staff attended jointly with Dignity Health, Winters Healthcare, and Yolo County promotores. More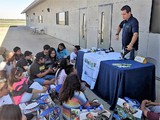 California AgrAbility conducted outreach to K-6th grades at the Nutrition, Health and Safety Fair at Westwood Elementary. Around 200 students attended this fair and learned about farming and gardening safety. More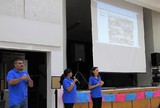 California AgrAbility was invited to present at the annual Migrant Parent Institute of Williams, Pierce, and Colusa schools, held at Williams Upper Elementary School. More
Colorado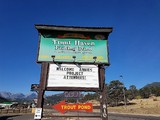 The Colorado AgrAbility Project (CAP) had a wonderful opportunity this month to spread the AgrAbility message to a new audience. Candy was able to attend the Annie's Project Retreat and training held in Estes Park, CO, at the Trout Haven Resort. More
October 7, Candy Leathers co-presented on AgrAbility along with NAP's Paul Jones, Gracie Franklin (the daughter of one of CAP's clients), and APRIL's Sierra Royster at the 2018 APRIL Conference in Denver. More
Georgia
Staff attended "Urban Armed to Farm: Sustainable Agriculture Training for Military Veterans" hosted by the National Center for Appropriate Technology in Washington,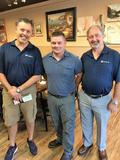 D.C. More
Staff attended the VetBuds Atlanta chapter monthly meeting. VetBuds is a nonprofit group where the members share a common bond of military service and the desire to provide assistance to veterans. More
Illinois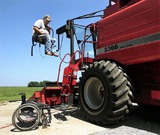 The AgrAbility Unlimited IL staff is extremely excited to announce that RD Elder, a previous client of the program, was recently featured in the Herald & Review. More
The staff members attended the Illinois State Fair in late August to promote the organization's services with the local community. More
Jim Williams, AgrAbility IL's field coordinator, attended Agronomy Day at the University of Illinois in September. More
The AgrAbility IL's physical therapy consultant, Steve Beasley, recently attended the Illinois Occupational Therapy Association (ILOTA) Conference on behalf of AgrAbility. More
Indiana
Steve Swain, Indiana AgrAbility rural rehabilitation specialist, was a guest lecturer for the Assistive Technology Practice graduate level class for Dr. Brad Duerstock. The presentation was titled "Practical AT User Assessments." More
Linda Tarr participated in the Orange County Farm Bureau farmer's breakfast and candidate meet-and-greet held at Paoli. A Twilight Tour was held at Felden Farm in Bedford and a Conservation Farm Tour was hosted by the Orange, Washington, and Crawford counties' Beef Cattlemen Associations.
Kentucky
Welcome to fall and hopefully a relief from the heat wave of summer. Kentucky AgrAbility has finished a whirlwind of activities during September and is heading into a season of workshops and conferences in October.
The KY AgrAbility project will be featured in The Bridge magazine, a product of the University of Kentucky Center of Excellence in Rural Health and the Kentucky Office of Rural Health. More
During September, OVR and KY AgrAbility were able to take several farmers to the KY State University research farm for driver evaluations using the Ride N Drive course, the demonstration tractor, and the Kubota UTV. More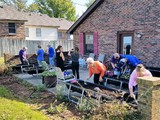 The accessible garden project at the Beacon Apartments for seniors and the disabled is moving along. More
September was a time to reconnect with the KY Congress on Spinal Cord Injury for the 6th annual conference. Several clients of KY AgrAbility were in attendance, as were several of the KY AgrAbility advisory board.
October opens with Mike Lewis conducting a session at the Farm Start Workshop in northeastern Kentucky. Linda Bokros will be in Louisville for the Kentucky Farm Bureau Safety Committee meeting. More
On October 15th, KY AgrAbility will host the Farmer Veteran Coalition stakeholder meeting at the KSU Research Farm south of Frankfort, KY. More
October 24-25, the annual Extension agent training will take place for the western part of the state. More
November events include Mike Lewis speaking at the National Black Farmer Conference in Shreveport, Louisiana. His session will be on veterans in agriculture.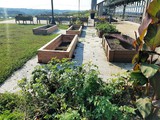 The Small Farm Conference is November 12-15 at the KSU Research Farm near Frankfort. More
The end of November will hold the 97th Annual KY Farm Bureau Convention. More
Maine
On September 11, Ellen Gibson presented a "Gardening Forever" talk to the Blue Hill Garden Club in Farmington. Ellen gave excellent suggestions and got rave reviews from the audience.
On September 12, Ellen Gibson and Lani Carlson attended the Wisdom Summit hosted by the Maine Council on Aging in Augusta. More
Lani Carlson participated in a professional development training supported by USDA NRCS and presented by the Women, Food and Agriculture Network on September 18. More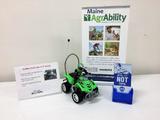 On September 17, Project Coordinator, Lani Carlson staffed an ATV safety educational display and demonstration at the Franklin County Soil Water Conservation District's Agricultural-Environmental Education Day. More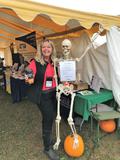 AgrAbility staff and former clients exhibited project information at the three-day Common Ground Fair in Unity (September 21-23). More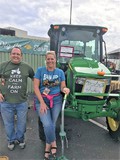 Lani Carlson represented AgrAbility programs across the United States at the 2018 FarmAid concert in Hartford, CT, on September 22. More
On September 28, Lani Carlson presented Maine AgrAbility project information to UMaine employees and Cooperative Extension stakeholders as part of a Zoom event called the Extension Showcase for a UMaine Extension Dean candidate. More
Michigan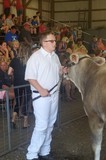 Michigan AgrAbility is always proud of the accomplishments of their clients... take Wyatt for example... Wyatt has limited sensations in his hands, but just won the beef showmanship class at his county fair! More
One way in which Michigan AgrAbility supports Michigan farmers is by supporting efforts to highlight farm hazards and hazard prevention opportunities so injuries and illnesses can be prevented. More
Michigan AgrAbility staff outreach to college occupational therapy and physical therapy students continues! More
Michigan AgrAbility is always appreciative of the fundraising efforts of MSU's Alpha Gamma Rho fraternity... their tastiest one was on October 5, MSU's homecoming weekend. More
Missouri
The Missouri Assistive Technology Show Me Technology program is going to offer a new assistive technology financing option to AgrAbility clients in Missouri. More
Missouri was awarded USDA NIFA grant to launch a Beginning Farmers and Ranchers Development Program (BFRDP). More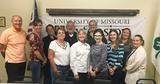 Missouri AgrAbility staff and four AgrAbility beginning veteran farmers participated in the free Ag Seminar for Young, Beginning Farmers sponsored by FCS Financial. More
Missouri AgrAbility staff and AgrAbility clients participated in the Missouri Assistive Technology four-hour hands-on exploration of AT devices hosted by Rural Advocates for Independent Living (RAIL). More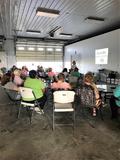 AgrAbility staff participated in the 2018 Down on the Farm Training sponsored by the Missouri Division of Vocational Rehabilitation. More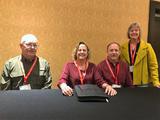 Karen Funkenbusch moderated an AgrAbility session at the 2018 Beginning Farmers and Ranchers Development Project (BFRDP) directors' meeting in Albuquerque, New Mexico. More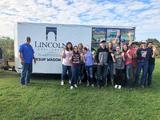 Lincoln University's Innovative Small Farm Program (ISFOP) participated in an educational field day at the University of Missouri's Southwest Research Center (SWRC) in Mt. Vernon, MO, on Thursday September 13, 2018. More
Lincoln University's Innovative Small Farmers Outreach Program (ISFOP) in collaboration with the Webb City Farmers' Market held an educational twilight high tunnel. More
Lincoln University's Small Farm Program's (ISFOP) Susan Jaster, a farm outreach worker (FOW) in Missouri's west central region, led an educational twilight pasture walk workshop. More
The Brain Injury Association of Missouri (BIA-MO) 14th Annual Statewide Conference marketing outreach, conducted throughout September 2018, featured the Missouri AgrAbility Project as the rural track sponsor. More
Maureen Cunningham, executive director of BIA-MO, shared information about the Missouri AgrAbility Project with a marketing exhibit at the Kansas City VA Summit on September 12. More
Nebraska
Staff attended the Nebraska Social Workers Conference in Omaha, representing Easterseals Nebraska and discussing the AgrAbility program.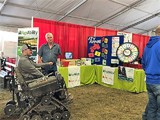 The team came together for Husker Harvest Days to educate about ATV safety and Nebraska AgrAbility. More
Staff attended the Assistive Technology Partnership Board meeting in Lincoln. More
AgrAbility was represented at the Columbus Community Health fair, where staff educated about ATV safety and the Nebraska AgrAbility program.
Approximately 335 middle school participants at the Minden Progressive Ag Safety Day learned about living with a disability and ATV safety, with Nebraska AgrAbility staff using wheelchairs to negotiate an obstacle course, and the ATV simulator to teach safe behaviors and Nebraska laws.

Staff meetings have taken place to talk about the NTW and what Nebraska can do to make the conference great. There are also plans to attend several upcoming conferences and promote the NTW at these events.
North Carolina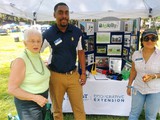 Celebrating Agriculture is an annual event hosted by Surry County Cooperative Extension that seeks to promote local agriculture and salute farmers in the county. More
NC AgrAbility staff participated at the NC Farmworker Health Program board members' retreat on September 27. in Chapel Hill, NC. More
Ohio
The Ohio AgrAbility Program welcomed OAP farmers, visitors, and vendors, at the 2018 Farm Science Review (FSR) September 18-20. Steve Swain represented National AgrAbility and Breaking New Ground/Indiana AgrAbility at the Farm Science Review. More
Pennsylvania
AgrAbility Pennsylvania project staff took time in September to hold an in-person team meeting between Penn State and UCP Central PA. The team spent a full day reviewing grant objectives and goals, and evaluating their successes and challenges from the past year. More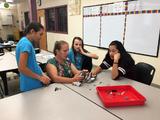 Project Assistant Abbie Spackman had an exciting day at Big Spring Middle School working with students in an agricultural and technology class! More

South Dakota
South Dakota just started its AgrAbility project! This AgrAbility project is focused on the Pine Ridge Reservation in South Dakota and has a heavy focus on mental and behavioral health.
Tennessee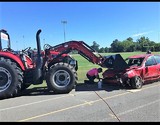 TNAP promoted National Farm Health and Safety (NFHS) Week and webinars. One example: Stressed heifer? Under-performing crops? You have solutions for that... Be sure to also have solutions for when YOU are stressed. For one place to start, click here.

TNAP hosted two Progressive Agriculture Safety Days in Knoxville and Carter County to help reach over 1500 folks to bring safety and health information to the farming communities. Other Tennessee counties hosted events around NFHS week.
TNAP staff attended the Graves County Ag Safety Day Program and Pep Rally hosted by the Graves County High School FFA Chapter. More
TNAP presented at the Ag and Natural Resources, East TN Regional Meeting about TN AgrAbility and beginning farmer classes with UT and TSU Extension.
Staff attended the project directors meeting for the Beginning Farmer grant and AgrAbility was well represented.
The Trosts, owners of Pokeadot Hops and Garden, had help from USDA/NRCS to start the installation of their greenhouse. More
"Together We Grow Extension" - Thank you to Lauren Vath and UTIA for the amazing video and featuring our programs! Together, we can impact tomorrow. More
Utah
AgrAbility of Utah participated in the sixth annual Assistive Technology Fair at Salt Lake Community College (SLCC) on September 18. More
Staff Changes and Recognition
Kansas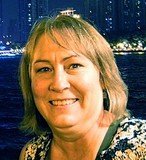 Kansas: KAP staff are so sorry to lose Kerri Ebert as KAP coordinator. After 16 years of guiding activities and building relationships, Kerri chose to take advantage of an opportunity to use her communications expertise to promote horticulture at Johnson County K-State Research and Extension. For a sample of the amazing work Kerri did at KAP, please read the article about KAP's work with the Warrior Transition Battalion at Fort Riley by clicking here. We wish Kerri well and every success in her new endeavors!
South Dakota
Staff are just getting started in South Dakota on the Pine Ridge Reservation! Project directors are Jason Schoch and Patricia Hammond. We have two AmeriCorps VISTA volunteers assisting the project in year one: Nick Ciaramitaro and Jackie Solano. Other South Dakota State University faculty and Extension staff are: Dr. Rhoda Burrows, Dr. Andrea Bjornestad, and Leacey Brown. Partners are: Black Hills Works, Oglala Lakota Cultural & Economic Revitalization Initiative (OLCERI), SD Vocational Rehabilitation, DakotaLink, Goodwill of the Great Plains, All-Nation's Center, Re-Member, Aspen Spring Consulting, Oglala Lakota Nation Vocational Rehabilitation Agency, and A Warrior's Garden.
AgrAbility in the News
Click here for news stories featuring AgrAbility projects.
Black farmers honor project
Garden expert supports Soldiers in transition
Continuing to Farm Despite Injuries and Aging
VIDEO: Blue Mound farmer talks about overcoming disability
Garden expert supports Soldiers in transition
Rangelands From A to Z: AgrAbility to Zeedyk
Farm Tour, agriculture program slated Oct. 19-20 in San Angelo area
AgrAbility Client Mike Halpin Featured in ACES@Illinois
Health & Wellness Resources
AgrAbility - Helping rural Coloradans stay employed
Other News
Click here for other news of interest to AgrAbility staff members.
P.H.A.R.M. Dog USA: Providing A Howling Helper To Farmers.
Tool helps rural areas address opioid crisis
Group health plan requirements
New VitTellus Soil Health test now available
Farmers use buried underwear to test soil health
Farm bill holds hope for hemp farmers
Farmers on the front lines
Rural America's Moonshot
Meet the farmers of the future: Robots
Dairy linked to lower rates of cardiovascular disease
NFU celebrates National Cooperative Month
Proven IoT solution offers farmers new options
Upcoming Events
Click here for professional development events related to AgrAbility
.
Problems? Contact Chuck Baldwin, National AgrAbility Project, baldwi19@purdue.edu