December 2018
National AgrAbility Project News
The Farm Bill (Agriculture Improvement Act of 2018) was passed by both the Senate and House of Representatives last week with AgrAbility included. The president is expected to sign the bill this week. More
Workshop Updates
The AgrAbility National Training Workshop will take place in Lincoln, NE, March 25-28, 2019, at the Embassy Suites -Downtown Lincoln. Planning is coming along; vendor and sponsor applications are available. Registration should be open at the beginning of January. More
The 2019 AgrAbility Virtual National Training Workshop is still scheduled for January 29-31. Topics include shoulder injuries in agriculture, accessible farm shops, a virtual AT show-and-tell, and an update from NIFA, among others. Look for registration information soon.
Washington Regional Training Workshop. Mt. Vernon, WA, served as the backdrop for a Regional Training Workshop December 5th and 6th. A group of professionals from Extension, occupational therapy, assistive technology, public health, WA Department of Veterans Affairs, WA Department of Natural Resources, Purdue, Goodwill of the Finger Lakes, and Alaska AgrAbility gathered to network and learn about AgrAbility... More
AgrAbility staff from several states attended the Farmer Veteran Coalition Stakeholders Conference in Kansas City, MO, November 14-17. The exhibit table was hosted by Kansas AgrAbility, with NAP and Missouri AgrAbility providing materials and support. More
National AgrAbility Project's web page for veterans and beginning farmers has just undergone a major remodeling. It now contains more than 100 resources/links for farmer veterans, any veteran, beginning farmers, and more. www.agrability.org/resources/veterans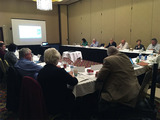 The National AgrAbility Advisory Team gathered in Indianapolis last week for its annual face-to-face meeting. Twenty advisors, staff members, and AgrAbility's NIFA national project leader, Aida Balsano, discussed numerous issues related to the NAP and SRAPs. See www.agrability.org/about/nap-advisory for a list of the advisory team members.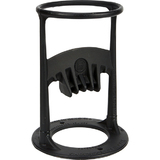 Toolbox Spotlight: Just in time for roasting chestnuts on your open fire, The cast iron Kindling Cracker Firewood Splitter, which has neither moving parts nor sharp projections to cause injury, is designed to provide a safe, quick way to make kindling.
State and Regional AgrAbility Project News
Colorado
Last year the Southeast Colorado Water Symposium invited Colorado AgrAbility (CAP) to attend as an exhibitor. Staff did, and their impact seemed to be rather minimal. So, imagine their surprise when they were asked to return. More
The Colorado section of the Society for Range Management fall workshop invited CAP to attend their November 6-8, 2018, session held at the Wine Country Inn in Palisade CO. More
Each year, Goodwill Industries of Denver hosts a major fundraising event called the Power of Work luncheon. Some 800 to 900 people are in attendance. More
The Colorado State University Extension/AgrAbility Winter Workshops are coming January and February 2019! To see the flyer with further information, venues, and dates, click here.
Georgia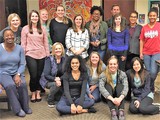 November 2, staff members hosted a four-hour workshop at Brenau University for occupational therapy students. Students learned about assistive technology and how it is used in farming applications.

Georgia AgrAbility staff member Rebecca Brightwell presented at the Southern Region Integrated Produce Safety Conference held in Atlanta, Georgia, November 13-14. Brightwell's presentation discussed military veterans who are interested in agriculture.
Illinois
Illinois AgrAbility Unlimited's communications coordinator, Kelly Gagnon, and program director, Bob Aherin, attended the Local-Regional Foods Conference sponsored by the Illinois Farm Bureau. More
As AgrAbility Unlimited is working to renew their contract with the USDA, Bob is planning to coordinate meetings with the program's current partners Illinois Assistive Technology Program and the Community Health Partnership of Illinois. More
In addition to the new proposal development, the University of Illinois College of ACES Fund Development Office plans on launching their fundraising efforts this month for the AgrAbility IL program with a goal of raising two million dollars over the next 4 to 5 years... More
Indiana
The primary objective of Indiana AgrAbility is to provide services to farmers, ranchers, and agricultural workers and their families with disabilities. November has been spent providing direct services thru on-farm visits to nine farmers with disabilities and their families. More
Linda Tarr had a booth at the Indiana Woodland Owners Conference held at Brown County State Park. She also attended the Indiana AgrAbility Advisory Team meeting held at Purdue.
Kansas
Kansas AgrAbility was honored to participate as an exhibitor and to serve on the planning committee for the 2018 Farmer Veteran Stakeholders Conference in Kansas City. More
Kentucky
Kentucky AgrAbility is still going strong this fall...The final Extension agent trainings were held at the beginning of the month with about one hundred and fifty agents attending. More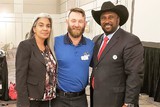 Mike Lewis traveled to Shreveport, LA, for the National Black Farmers
Association conference on November 2. He shared a presentation time with Chuck Baldwin from the National AgrAbility Project. More
The Kentucky State University's Small Farm Conference was held at the KSU Benson Research Farm in Frankfort, KY, November 13 -15. More
The 100th Anniversary of the KY Farm Bureau Convention was held November 27-December 1 at the Galt House in Louisville. Linda Bokros hosted the exhibit table on Thursday in the exhibitors hall. More
December will allow time to catch up with clients and to look at new ways to go forward in the effort to help farm families in Kentucky.
Maine
Maine AgrAbility Specialist Brie Weisman, OT, exhibited project information at the 2018 Maine State Occupational Therapy Fall conference in Fairfield on November 3. More
On November 9, Lani Carlson presented Maine AgrAbility project updates and events to the Beginning Farmer Resource Network Leadership Council. More
The Maine Farm Bureau held its annual meeting in Caribou on November 10 and 11. AgrAbility brochures were included with the conference materials.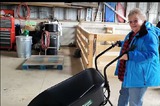 Anne Devin, Maine's veteran outreach specialist, hosted a successful Veteran Farmer Field Day at Chase Stream Farm that was sponsored by the National Center for Appropriate Technology and United Farmer Veterans of Maine. More

Michigan
Michigan AgrAbility mailing address change! The new mailing address is: Michigan AgrAbility, 4065 East Hills Court SE, Kentwood, MI 49546.
Ned Stoller was an interviewee on Michigan's Farm-to-Family Radio program, where he discussed the Michigan AgrAbility program. You can listen to his interview here.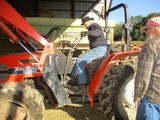 In June, farmer John Reilly was injured when he was hit by a tractor. The accident pulverized his hips and damaged his organs. More
Ned Stoller (Michigan AgrAbility) and Curt Bishop, PT (Hulst Jepsen Physical Therapy), presented "Farming With A Shoulder Injury" at the Great Lakes Grower's Expo on December 4. More
Like to work in the shop? Raise or lower your shop drill press for a worker standing up or a worker using a wheelchair. A low-profile transmission jack powered by cordless drill does the lifting! More
Missouri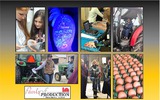 Karen Funkenbusch and Susan Jaster were invited to present at the 6th Annual Pearls of Production conference November 2-3 in Columbia, Missouri. More
Karen Funkenbusch, Shon Bishop, and Debi Kelly attended National Field School 2018 National Incubator Farm Training Initiative (NIFTI) in Boulder, Colorado, November 5 - 8, 2018. More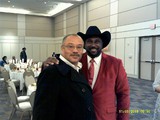 Webster David, Missouri AgrAbility ambassador and veteran farmer represented Missouri AgrAbility at the 28th Annual 2018 National Black Farmers Conference, November 2 - 3, in Shreveport, Louisiana. More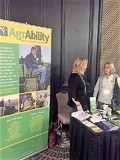 Karen Funkenbusch, David Middleton from Lincoln University, and Webster Davis - veteran farmer and MO AgrAbility ambassador, also attended the 2018 Farmer Veteran Coalition Stakeholders Conference November 14 -16 in Kansas City, Missouri. More
Karen Funkenbusch...along with Alyssa Grese and Maureen Cunningham of the Brain Injury Association of Missouri, presented to beginning farmers, among whom were five recently-returned-from-war veterans (both male and female), at the Missouri Beginning Farmers and Ranchers kick-off meeting held November 26. More
Karen Funkenbusch and Kathy Dothage, both of University of Missouri Extension, attended the 17th Annual MRASH conference in Council Bluff, Iowa.
Lincoln University's Innovative Small Farmers Outreach Program (ISFOP), in collaboration with the University of Missouri, has been busy throughout the month of November! More
Alyssa Grese, BIA-MO program associate, attended the St. Louis AgriBusiness Club networking meeting which focused on future AgrAbility clients of Generation Z farmers and how to connect with young farmers.
Maureen Cunningham with the Brain Injury Association of Missouri represented the Missouri AgrAbility Project at a support group in Columbia, Missouri. The topic was the benefits of equestrian therapy to help farmers regain balance to continue their farm operations.
The Missouri AgrAbility Project was a topic of discussion among disability related professionals at the Missouri Association of Rehabilitation Facilities November meeting and at the Employment Summit held November 15, 2018, in Mid-Missouri.
Nebraska
FFA chapters from all over the state converged to learn about potential careers in ag at the FFA Pathway to Careers conference in Grand Island, Nebraska. More
Another meeting about veterans in Northeast Nebraska was held to discuss more on how to connect veterans with all the resources in their area. More
Nebraska AgrAbility was featured at a booth for the FarmHer Conference in Lincoln. This conference spotlights young women farmers ages 16-21. More
Two staff members attended the Ag-Ceptional Women's Conference in Norfolk. There were over 400 women farmers and ranchers from around the state present. More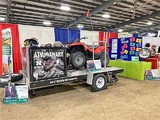 Other staff members featured ATV Aware education and the simulator experience at the McCook Farm and Ranch Expo in McCook.
Yet another staff member was present at the Gateway Farm and Ranch Expo in Kearney on the same day. Many passers-by at these events were unaware of what AgrAbility is but left with knowledge and information about the program.
The Nebraska Team is busy preparing for NTW behind the scenes. They can't wait to see everyone in March!
New Mexico
New Mexico AgrAbility staff were able to participate in the National AgrAbility Project Regional Training Workshop held in Albuquerque, New Mexico, on November 8-9. More
North Carolina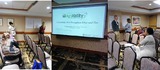 NC AgrAbility actively participated as an exhibitor in the 2018 NC Rehabilitation Association Conference on November 8, 2018. More
November 9- 11, NC AgrAbility participated in the Sustainable Agriculture Conference at Durham, NC, exhibiting the ergonomic tools, explaining about the program, and allowing people to sign up for the program's listserv to keep informed about topics related to agriculture and disabilities. More
November 13-16, Dr. Janine Parker with the assistance of Betty Rodriguez and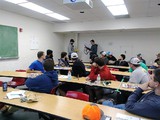 Kristoff Minus presented at the NC State Extension Office in Raleigh, NC. More
Betty Rodriguez presented a lecture "How to Prevent Injuries in Farming" to the NCSU Bio Engineering safety class students November 30 in Raleigh, NC.

Ohio
Ohio AgrAbility staff exhibited at two McCormick Vision Fairs at Goodwill/Easterseals Greater Miami Valley. More
Ohio AgrAbility's advisory committee meeting was not deterred by bad weather - staff and Committee members met via Zoom (web conferencing) and reviewed the activities of the past year and plans for the upcoming year. More
OAP will be holding a workshop focused on employment opportunities for individuals with developmental and intellectual disabilities. More
Pennsylvania
AgrAbility PA staff provided hands-on assistive technology demonstrations during the annual Penn State DuBois Assistive Technology Fair. More
Staff member Abbie Spackman provided an AgrAbility educational session during a critical access hospital meeting hosted by the Pennsylvania Office of Rural Health. More
AgrAbility PA team members Marci Walborn and Jackie Wardle met with students in Central Penn College's occupational therapy assistant (OTA) program to talk about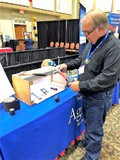 assistive technology. More
AgrAbility staff members participated in the Pennsylvania Farm Bureau's 20th Annual Health and Safety Fair in Hershey, PA. AgrAbility provided information and hands-on assistive technology demonstrations to attendees. More

South Dakota
Tatanka Ki Owetu, the AgrAbility Project focused on the Pine Ridge Reservation in South Dakota, hosted the National AgrAbility Project at its first-ever "Introduction to AgrAbility" workshop on the Pine Ridge Reservation at the end of October. More
Recently, SD AgrAbility staff received a hands-on, low-cost assistive technology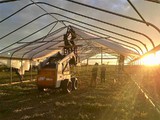 training from their partner, Black Hills Works.
Staff have begun to do site visits and assessments and will soon be starting their Mental Health First Aid train-the-trainer events (dates TBD). More

Tennessee
In honor of Veterans Day, the Tennessee AgrAbility Project (TNAP) highlighted some of its networking this year with veterans impacted by disability. More
Horticultural therapy was highlighted when TNAP staff worked on the Survivor Outreach Services house with the Montgomery County Master Gardeners Association. More
TNAP staff presented AgrAbility and talked about The Next Mission: Breaking Down Barriers for Veterans in Agriculture to the TN Field School in upper Northeast TN. It was part of another great USDA Beginning Farmer Program in TN. More
Charley Jordan and Ron Bridges represented TN AgrAbility and the Beginning Farmer Outreach Project at the 2018 Farmer Veteran Stakeholders Conference in Kansas City. More
Farm Credit hosted farmer veterans from across the country in July to join them in Washington, D.C. Charley Jordan, of Farmer Veteran Coalition of TN and TN AgrAbility, was honored to be part of the ceremony on the floor of the Senate Agriculture Committee hearing room on Capitol Hill... More
November is a time to be thankful for everything one has. TNAP is thankful for the support from NAP and all the SRAPs! Staff hope everyone enjoyed some time off for Thanksgiving with family and friends!
Utah
November 15, Darlene Carlisle and Connor Dyreng presented at the Natural Resources Conservation Service (NRCS) area meeting in Richfield, Utah. More
West Virginia
West Virginia AgrAbility staff trained agriculture workers in respiratory protection at the WV Department of Agriculture's Ag Safety Days. For more information, click here.
Wisconsin
This November, over 20 agriculture organizations and industry leaders met to discuss and plan AgrAbility of Wisconsin's next year. More
Staff Changes and Recognition
Missouri
Missouri is excited to announce our newest AgrAbility staff members. Please welcome Rebecca Mott who serves as program evaluator; Tevin Uthlaut, coordinator of social media outreach activities; and Levi Sherman who will provide graphic designer support - all from the University of Missouri Extension.
Also, from Brain Injury Association of Missouri, please welcome Alyssa Weissman who will assist with professional education during the BIA-MO annual conference, facilitation of direct assistance for potential AgrAbility customers, and marketing activities for survivors of brain injury and their families. Courtney Stevens, BIA-MO office administrator, will spend time working on Missouri AgrAbility-related activities utilizing BIA-MO members of the speakers bureau for education and marketing, implementing the "Brain Injury Fact of the Day" media campaign, and facilitating office support for activities.
New Mexico
Hello and ¡Hola! The New Mexico AgrAbility Project would like to introduce the principal investigators from New Mexico State University-Cooperative Extension, Dr. Sonja Koukel and Dr. Paul Gutierrez, who are leading the project. Dr. Koukel holds the position of community and environmental health specialist with New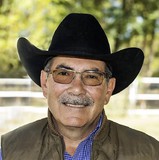 Mexico State University Cooperative Extension Service. More
Dr. Paul Gutierrez is currently professor and Extension agricultural and business management specialist. He serves on the Hispanic Graduation Workgroup at NMSU and the Ocotillo Institute for Social Justice. More

Utah
AgrAbility of Utah is pleased to welcome Michael Porter to the AgrAbility team. Michael brings a lifetime of experience in agriculture and several years of work in social service to his new role. As an AgrAbility resource facilitator, Michael will serve clients in southern Utah.
AgrAbility in the News
Click here for news stories featuring AgrAbility projects.
A Farmer and Veteran Serving His Fellow Man
What occupational and physical therapists know about farmers' health
Kentucky AgrAbility program evolving to meet new needs
11-13-18 Colorado AgrAbility Project: Roberta Schweitzer, Preventing Farmer Suicide and Opioid Misuse
Battleground to Breaking Ground Entrepreneurial Training Project now taking applications
Changes in DVR policy may cause fewer disabled farmers to seek assistance from AgrAbility
Other News
Click here for other news of interest to AgrAbility staff members.
Organizations comment on passage of farm bill
Janie Simms Hipp to Lead Native American Agriculture Fund
USDA investments support military veterans
The fight for equal rights in agriculture
Sustainability grants available to small farms
USDA announces funds for fruit, vegetable growers
RMA announces new crop insurance option
Probation agency utilizes gardening program
A Texas cotton farmer is battling cancer and couldn't harvest his crop. So his neighbors did it for him
Upcoming Events
Click here for professional development events related to AgrAbility
.
Problems? Contact Chuck Baldwin, National AgrAbility Project, baldwi19@purdue.edu