June 2019
National AgrAbility Project News
Join AgrAbility for the webinar "Advocacy: Working Together for Change," Tuesday, July 2; 12:00 - 1:00 p.m. ET. Sierra Royster from APRIL, Ketra Crosson of Maine AgrAbility, and Emily Freudenburg from Nebraska AgrAbility will present this session on learning how to promote the interests or cause of someone or a group of people. See http://www.agrability.org/online-training/upcoming/.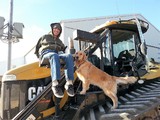 Save the Date for NTW 2020!
The AgrAbility National Training Workshop will take place in Madison, WI, March 23-26, 2020.
The NTW Planning Committee has had its first planning call and plans are getting started. If you are interested in being on the planning committee, it is not too late, just let Tess or JoBeth know.
As you are out and about in these summer months visiting clients, it isn't too early to consider stopping in at a local business to solicit auction donations and sponsorship dollars.
As always, your input and feedback are welcome to make NTW 2020 the best yet!
Two AgrAbility Regional Training events are in the planning stages. One will be in State College, PA, October 8-9, 2020. Considerations are being given to hosting the second in CA in December. Watch your emails for more information on both regionals coming soon.

Contact JoBeth or Tess anytime at: - JoBeth Rath - jbrath@goodwillfingerlakes.org 585.402.2059 and Tess McKeel - tmckeel@goodwillfingerlakes.org - 585.447.9015
The NAP maintains at least one SRAP staff member and one client on its Advisory Team. Look for an email soon about new members for 2019-20 if you would like to be considered for this group or have a client that might be.
The AgrAbility Marketing and Media Community of Interest is scheduled for a teleconference June 25 at 11:00 a.m. ET. Contact Paul Jones jonesp@purdue.edu if you are not a member of this COI but would like to be.
The AgrAbility all-staff meeting of June 11 has been archived at http://www.agrability.org/extranet/staff-resources/.
The NAP had another conference call with the Council of State Administrators of Vocational Rehabilitation (CSAVR) to address AgrAbility/VR issues. It has been proposed that AgrAbility provide training to VR counselors through the Workforce Innovation Technical Assistance Center (WINTAC) at San Diego State University.
Paul Jones presented a webinar to occupational therapists on AgrAbility and disability in agriculture on June 6 via occupationaltherapy.com, which provides continuing education to OTs.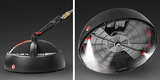 Toolbox Spotlight: The Pressure Washer Surface Scrubber Attachment is a long-handled circular device with twin rotating jets inside its protective housing that eject water under high pressure to remove dirt, debris, grease/oil, etc. from any flat surface (e.g., concrete floor, sidewalk, deck, patio). Some scrubbers also include rotating brushes.
State and Regional AgrAbility Project News
California
Ability Tools, California AgrAbility partner, staffed the Disability & Aging Capitol Action Day in Sacramento. More
California AgrAbility staffed a both at the local Migrant Center Health Fair events at the Davis, Dixon, and Madison centers. More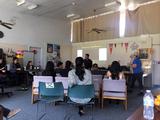 California AgrAbility presented at the River Delta Migrant Education Workshop for California migrant workers who are continuing school during the evenings. More
Colorado
Jim Craig from the Colorado AgrAbility Project was invited by tribal leaders to speak at a ceremony honoring tribal veterans at the Southern Ute Reservation in Ignacio, CO. More
Read the Colorado AgrAbility Spring/Summer 2019 Newsletter here.
Georgia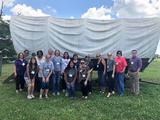 Georgia AgrAbility sponsored a Rehabilitating Farmers and Ranchers with Disabilities workshop for occupational and physical therapists at The Rock Ranch in The Rock, Georgia, May 21-22. More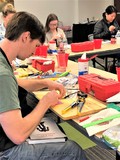 May 14, Georgia AgrAbility held a Rapid Fabrication workshop for physical and occupational therapists. This "make and take" workshop explored different fabrication tools and materials that can be used to create hundreds of assistive technology solutions in minutes. More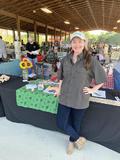 Georgia AgrAbility staff participated in the Spring Harvest Festival, May 4, at Farmview Market in Madison, Georgia. More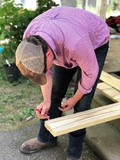 Georgia AgrAbility staff installed a ramp at a Georgia AgrAbility client's home in Crandall, Georgia. This was made possible by a partnership with the Northwest Georgia Center for Independent Living.
Illinois
The AgrAbility Unlimited staff is happy to share that they have again partnered with the Farm Progress Show taking place in Decatur, IL, August 27-29, to coordinate the Health and Safety Tent. More
The AgrAbility staff assisted the Farm Progress team for the 2017 show and is looking forward to sharing this excellent marketing opportunity with nonprofits again this year. More
Indiana
Indiana staff participated in the annual Orange County farmer's breakfast at Paoli. They also continue to work on the inclusive garden project in Mitchell.
Kansas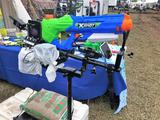 Kansas and Missouri AgrAbility braved the early May mud to participate in the Four State Farm Show in Pittsburg, KS. More
KAP Staff participated in SAVE Farm tours to a 20-acre farm that raises chickens, bees, pigs, goats, sheep and Scottish Highland Long Hair Cattle, complete with a Great Pyrenees pair guarding all of the livestock. More
Progressive Agriculture Safety Days are in full swing and KAP Staff participated to expose first thru fifth graders to accessible agriculture through interactive demonstrations of hand tools and devices.
Maine

On April 30, Ketra Crosson, one of the Alpha One AgrAbility specialists, met with 60 OTs at Androscoggin Home Health Services in Lewiston to talk about AgrAbility as well as Alpha One programs and services.
On May 8, Project Coordinator Lani Carlson had an AgrAbility 101 exhibit at the Western Maine Department of Transportation (DOT) safety awareness day in Farmington. There were about 215 DOT employees in attendance.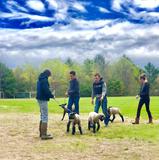 May 9, Sally Farrell, UMaine Cooperative Extension 4-H professional working with the youth pre-employment and peer mentoring program, attended the parents night at Massbessic High School and met with parents and students involved in the summer work program. More
Lani Carlson participated in the AgrAbility Youth/APRIL conference call on May15 with other SRAPs, sharing the progress on working with this demographic.
Maine AgrAbility's veteran outreach coordinator, Anne Devin, and Kelley Smith, ATP and AgrAbility specialist, met with the Extension marketing team on May 15 to launch the marketing campaign for the upcoming Educate-2-Cultivate symposium this Fall. More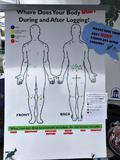 Lani Carlson exhibited LogAbility information May 17-18 at the Northeastern Forest Products Equipment Exposition (Loggers' Expo), sharing space with the Northeast Center (NEC). More
Maine AgrAbility's Ellen Gibson presented an adaptive gardening class for the Gorham Garden club on April 30. More
Michigan
Did you know that Michigan has a multi-source, state-wide surveillance system for non-fatal work-related farm injuries? On May 2, 2019, the Journal of Agromedicine published the results of a 2-year study: Multisource surveillance for non-fatal work-related agricultural injuries... More
Missouri

Missouri AgrAbility launched its social media profiles (Facebook, Twitter & Instagram (MOAgrAbility)) on February 1, 2019. More
In May, staff collaborated with the Great Plains Center for Agriculture Health (GPCAH) to promote Mental Health awareness month, with the focus on raising awareness, providing resources, and helping cure the stigma of mental health specific to farmers and farm families.
Karen Funkenbusch, Director, Missouri AgrAbility at the University of Missouri Extension (UME) presented Missouri AgrAbility at the Youth & Families spring meeting in Columbia, Missouri. More
UME Missouri AgrAbility staff formed a partnership with the University of Missouri Division of Applied Social Services (DASS) / University of Missouri School of Social Work / and UME to discuss and address mental health issues specific to rural farm families in Missouri.
Missouri AgrAbility had an interactive hands-on display and disseminated resources at the Safety Stars of Howard County resulting in over 500 farm families learning about Missouri AgrAbility and 10 farm families calling the program to request assistance.
Missouri also hosted a one-day workshop for 15 farmers with disabilities that included socially disadvantaged, limited resource women, veterans, and beginning farmers. More
UME Missouri AgrAbility staff continue to serve on the UME opioid task force and attend monthly task force meetings to discuss and address opioid issues specific to rural farm families in Missouri.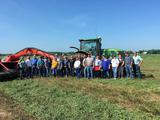 Missouri AgrAbility co-sponsored the 2019 Explore Missouri Tour in Southwest Missouri. Southwest Missouri highlighted the diversity of the region with farm visits that included beef, dairy, forages, specialty crops, and agriculture innovations. More
David Middleton with Innovative Small Farmer's Outreach Program (ISFOP) participated with Kansas AgrAbility at the Four- State Farm Show in Pittsburgh, KS, May 3-4.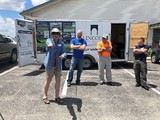 Lincoln University's Innovative Small Farmer's Outreach Program (ISFOP) accepted an invitation to present at the Missouri Tomato School in Jefferson City, Missouri, at Lincoln University's Carver Farm on May 30-31, 2019. More
Additional educational outreach venues with the Jesup Wagon 2.0 included: More
Brain Injury Association of Missouri (BIA-MO) Speakers Bureau volunteers shared information about the Missouri AgrAbility Project at an exhibit during the Mercy
St. Louis Health Fair for community on May 10. More
The BIA-MO Networking Coffee for Professionals in Springfield, Missouri, included distribution of the newly produced Missouri AgrAbility brochure for referrals of survivors of brain injury and their family members as potential AgrAbility clients.
Nebraska
Check out the story about the 2019 NTW in Lincoln on Market Journal TV here!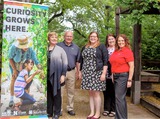 On behalf of the attendees of the March NTW event in Nebraska who contributed to the #NebraskaStrong Flood Relief, Nebraska AgrAbility staff members Rod Peterson, Angie Howell, and Emily Freudenburg shared this photo of the receiving charitable organization, Nebraska 4-H Foundation. More
Nebraska staff are working with the Veteran's Education Group to create a resource fair for August. More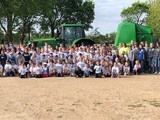 Two NE staff members presented information to children from Fillmore County grade schools concerning disability awareness. More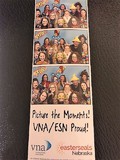 The Visiting Nurses Association/Easterseals Nebraska held their staff appreciation in May. Staff members were given awards for service and also educational courses achieved. More
Susan earned certification in Psychological First Aid (separate from Mental Health First Aid, the Nebraska Psychological First Aid curriculum is an adaptation of "Community-Based Psychological Support" developed by the International Red Cross. This program teaches paraprofessional volunteers skills to provide needed support to others in a crisis). Most all participation in farm and ranch expo booths for 2019 will involve rural mental well-being and recovery.
Some Nebraska staff are helping to plan NTW 2020.
North Carolina
May 1, North Carolina Agromedicine presented at the American Farm Bureau Health and Safety Conference on addressing farm stress through partnership and collaboration. 30 participants attended the event.
Dr. Kyle and NC Agromedicine staff presented at the Minority Agricultural Enhancement Project for veterans and socially disadvantaged farmers May 25. The presentations were related to needs of farmers with disabilities, farm health and farm safety. The event was attended by 19 participants.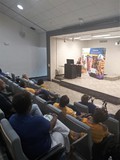 NC AgrAbility presented about the services available to farmers with disabilities in North Carolina at the NC State Extension Program Meeting on May 29. About 75 NC Cooperative Extension personnel attended the event.
Ohio
OAP staff have been busy presenting Gardening and Farming with Arthritis to Master Gardener volunteer and community groups throughout Ohio and have had the opportunity to consult with farm and arboretum managers on designing accessible greenhouses and public spaces for farmers and visitors.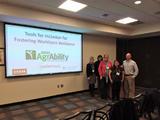 OAP continues to work with OSU Extension educators, state and county disability services providers, and farm managers, to develop training guides and resources for individuals with intellectual disabilities who want to work in agriculture and horticulture.

Pennsylvania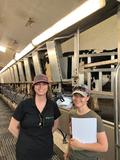 AgrAbility PA staff members spent a day touring dairy farms and learning about automation, assistive technology, and other advances in the dairy industry - from animal comfort to production to robotic and technological support. More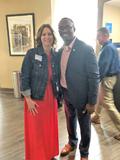 FACT: Pennsylvania has nearly one million veterans living within their communities; this is the fourth largest Veterans population in the country. More
Mr. Lifty (a back-health demonstration tool) and AgrAbility PA staff member Abbie Spackman spent the day providing back health and safety information to Penn State University employees during a safety expo. More
South Dakota
Tatanka Ki Owetu, the Renewal, AgrAbility Project on Pine Ridge, is working with 18 tribal clients on the Pine Ridge Reservation in South Dakota, as well as connecting seen non-tribal clients with partner resources. More
The South Dakota team is in the planning stages of offering their first Mental Health First Aid trainings on Pine Ridge for this summer and plan to do so during a two-day retreat with cultural advisory partners All-Nations Gathering Center and third-party Native American evaluator.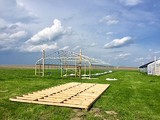 In addition, two of the three planned AgrAbility incubator hubs for beginning farmers with disabilities are established, each with an outdoor teaching garden. More
Tennessee
On Memorial Day, Tennessee AgrAbility remembered the fallen heroes who gave the ultimate sacrifice as staff celebrated their freedoms!
TNAP helped a seventh-generation farmer raising beef cattle and hay on 100 acres of a Century farm with his dad. The Bedford County farmer has retinitis pigmentosa (RP) that has reduced his vision over the years... More
Congratulations to Dr. Deborah Reed for her first interview with O, The Oprah Magazine in May 2019 in "Role of Lifetime" about her farm health and safety theater! More
TNAP staff participated in the 2019 TN Association of Agricultural Agents and Specialists state conference. More
Pokedot Hops and Garden welcomed the East TN New Farmer Academy for its 2nd class. The Trosts continue to share their story and give hope to wounded warriors and beginning farmers. More
TNAP participated in the following AgriSafe webinars: "Ergonomic Safety For Women", and "Farm Stronger: Improving the Health of Farm Veterans". More
Farmer Veteran Coalition Fellowship Fund awarded eight TN farmer veterans. More
TNAP participated in the Haywood County Safety Day for 3rd graders. There were 200 students who participated in disability awareness activities.
240 6th graders attended the Calloway County Middle School Career Day. They learned about the AgrAbility program. More
Utah
AgrAbility of Utah participated in the Ability Festival in Salt Lake City on May 30. The annual Ability Festival welcomes individuals with disabilities as well as their families, friends, caregivers, health professionals, and students. More
Wisconsin
AgrAbility staff participated in the local county Rural Safety Days, events designed to encourage youth throughout the area to learn safety practices on the farm. More
This month is crazy in Wisconsin as farmers and dairy enthusiasts show their Wisconsin dairy pride! More
AgrAbility staff attended the WI State FFA Convention to talk with students, teachers, and FFA advisors, about the opportunity with the agricultural career exploration course taught by AgrAbility's partner, Easterseals Wisconsin's Ami Cooper. More
Staff Changes and Recognition
Ohio
Ohio AgrAbility is excited to welcome a new staff member. Rachel Jarman is joining the team as the new Rural Rehabilitation Coordinator. She is a graduate of the Ohio State University and comes with a diverse agriculture background of eight years in the field. Rachel, her husband, and 1.5-year-old daughter live south of Jamestown on a farm where they raise cattle, sheep, hogs, and pastured chickens for meat production. Rachel enjoys spending time on the farm, selling her farm-raised meat at farmers markets, exercising at the gym, and spending summer days at the pool.

Wisconsin
Thank you, Abi!
June marks Abi Jensen's last day with AgrAbility of Wisconsin as she moves to Milwaukee, WI, and starts a new position with UW- Milwaukee Alumni Association. The AgrAbility staff appreciates all of her contributions over the last few years and will miss her winning personality. Abi will stay connected to AgrAbility, especially throughout the 2020 NTW planning process and WI's volunteer-based events.
AgrAbility in the News
Click here for news stories featuring AgrAbility projects.
2019 NTW on Market Journal TV
AgrAbility – A Critical Service for PA's Agricultural Community
Fruits of the Backyard Field Day is June 11
Maine AgrAbility Helps Military Vets Continue Farming
USDA Grant Awarded to NMSU Cooperative Extension
Every day, Missouri farmers face hazardous work conditions and potential injury
Newsradio WGAN guests talk about Maine AgrAbility and the 4-H Experience
Workshops and tours designed for veteran farmers
Other News
Click here for other news of interest to AgrAbility staff members.
Stoic, resourceful - and at risk for suicide
New benefits available for military veteran farmers
Aid announced for farmers impacted by tariffs
New Dairy Margin Coverage signup begins
Late planting with sorghum provides opportunity
Training the next generation of farmers & ranchers
When Colorblindness Almost Cost This Student Her Career, Her Classmates Rallied to Help
Atlanta is Transforming an Abandoned Plot of Land into the Largest Public Food Forest in the US
An entire school started learning sign language to welcome a deaf kindergartener
Above and beyond: Sunnyvale officers rebuild wheelchair ramp for elderly couple
Upcoming Events
Click here for professional development events related to AgrAbility
.
Problems? Contact Chuck Baldwin, National AgrAbility Project, baldwi19@purdue.edu