February 2012
National AgrAbility Project News
President Obama's proposed budget to Congress has included funding for AgrAbility! more
Join AgrAbility for the webinar, Cold Work Injuries in Agriculture: Strategies for Prevention and Rehabilitation. The registration deadline is Friday, February 17. more
Goodwill will be hosting an informational booth at the 21st Annual Western Migrant Stream Forum, February 15-17, in Portland Oregon. more
The NAP has sent a copy of the AgrAbility: It's About Hope DVD to every FFA Chapter in the U.S. This is a good time to network with your state FFA chapter to leverage this awareness opportunity.
Amber Wolfe, AgrAbility Coordinator for the Arthritis Foundation, spent five days in Chicago as an exhibitor at the American Physical Therapy Association's Combined Sections Meeting. more 
An audio file of the January 27 AgrAbility all-staff call is available at ftp://ftp.ecn.purdue.edu/bng/.
Bill Field, Paul Jones, and Cory McGregor participated in an APRIL IL Conversations conference call on January 25. more
Click here for the schedule of upcoming Community of Interest and Standing Committee call information.
The Marketing Committee will have their next call on Tuesday, February 21 at 1:00 pm EST, when they will look at the foundations of the Marketing Plan that has already been written and discuss ideas and goals for the coming years. Feel free to join the call at 866-803-2444.
Toolbox Spotlight
The NAP is in the process of revising several Toolbox categories. See what's new in The Toolbox online this month.
State and Regional AgrAbility Project News
California
CalAgrAbility started off the new year conducting Rehabilitating Farmers workshops for the California VR office in Elk Grove, California and the Yolo Master Gardeners, who also requested a workshop, Taking the Reins: Arthritis. more
January was productive for CalAgrAbility as the program now has three CPR certified staffers. more
Colorado
The Colorado AgrAbility Project (CAP) networked with state FFA leaders at the National Western Stock Show. more
Colorado State University's College of Agricultural Sciences invited CAP to share booth space at the recent Colorado Farm Show in Greeley. more
CAP was interviewed for a story on an upcoming episode of Successful Farming Radio Magazine. more
Georgia
AgrAbility in Georgia has been featured in several articles in area publications, including AgGeorgia Leader magazine. more
Indiana
Steve Swain, rural rehabilitation specialist, staffed an exhibit at the Indiana Horticulture Congress. more
Paul Jones, project manager, represented Indiana AgrAbility at the Indiana Rural Health Public Policy Forum, which brings together leaders in rural health, rehabilitation, and government to discuss emerging issues related to the health of rural Hoosiers.
The Indiana AgrAbility Project exhibited at the 2012 Fort Wayne Farm Show on January 17-19. more
Linda Tarr gave an AgrAbility presentation for Indiana Area 15 Agency on Aging case managers and information and referral staff.
Missouri
The PHARM Dog program answered questions from Alabama and several in state calls from people wanting to donate dogs.
The Missouri FFA executive secretary will send a prepared email on behalf of the Missouri AgrAbility Program to all Missouri FFA advisers alerting them to the NAP preparing to mail the DVD AgrAbility: It 's About Hope to all FFA chapters in the U.S. more
MO AgrAbility Gardens for Every Body resource materials were requested and mailed to the Chardon Healthcare Center, a rehabilitation facility in Chardon, Ohio. more
Chris Davis, University of Missouri-Columbia bioengineering graduate assistant working with the MO AgrAbility Project, and his advisors developed an AgrAbility, Ergonomics, & Agriculture tools display and resource materials. more
The MO AgrAbility Program displayed and distributed AgrAbility information and answered questions at the Great Plains Grower's Conference held at the Fulkerson Conference Center, Missouri Western State University, in St. Joseph, Missouri. more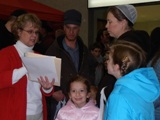 Wanda Ramsey, Missouri farmer volunteer, and Karen Funkenbusch, University of Missouri Extension, showcased the Missouri AgrAbility Program at the Ag Expo 2012 in Poplar Bluff, Missouri. more
Jackie Allenbrand, MERIL AgrAbility Outreach  Specialist, attended the MERIL leadership meeting to provide an AgrAbility and PHARM Dog update about activities happening in the NW Region.
As part of their University of Missouri - Columbia course projects, four graduate human development students and three doctoral agricultural education students are busy developing educational materials for the MO AgrAbility Program. more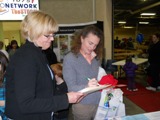 Jackie Allenbrand attended the annual Maryville, Missouri Chamber of Commerce event where over 40 organizations were in attendance. more
An AgrAbility booth was showcased at the KQTV Ag & Rural Lifestyle Show in St. Joseph, Missouri. more
Jackie Allenbrand attended a speaking engagement featuring U.S. Secretary of Agriculture Tom Vilsack, in St. Joseph, Missouri. more
North Carolina
NC AgrAbility was featured on an episode of Speak Up, Speak Out, a Raleigh local TV show focused on independent living and disability advocacy within the community. more
NC AgrAbility exhibited at the 2012 Southern Farm Show in Raleigh, North Carolina February 1-3, and also will be exhibiting at the 61st Annual North Carolina Cattlemen's/North Carolina Dairymen's Conferences in Hickory, North Carolina February 16-18.
Nebraska
Rod Peterson presented a program on the AgrAbility Project to the Extension boards of Kearney and Franklin counties and their spouses. more
Publicity for the upcoming Veteran Farmers Project Workshops began this month. more
Sharry Nielsen and Rod Peterson networked with two OT students who will be working with the Nebraska Project in 2012. more
Ohio
Farmers, growers, and any agriculture workers dealing with a disabling condition can find tips on how to cope with their condition while continuing to farm thanks to fifteen new fact sheets from the Ohio State University Extension's Ohio AgrAbility Program. more
Oklahoma
Dr. Jorge Atiles, Associate Dean, Extension and Engagement, College of Human Sciences, Oklahoma Cooperative Extension Service, discussed the future involvement of the AgrAbility Project and Extension Educators with AgrAbility Advisory Council members at the OK AgrAbility quarterly meeting.
Desktop calendars for 2012 were delivered to more than 300 legislators, county Extension secretaries, and key supporters of the Oklahoma AgrAbility Project.
The Oklahoma AgrAbility Project was discussed at the Oklahoma Cooperative Extension Service Biennial Conference in Stillwater, Oklahoma. Project staff also promoted sponsoring FCS Extension educators to become Arthritis Foundation Exercise Program instructors.
Arthritis Foundation exercise programs were held by Oklahoma Cooperative Extension educators in McAlester and Holdenville.
A promotional booth was held at the KNID Agrifest in Enid, Oklahoma.
Vermont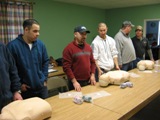 The Dairy Producers First Aid & CPR class, organized by the Vermont Agency of Agriculture Food & Markets, was well attended. more
The Vermont Farm Health Task Force continues to do good things for Vermont farmers as Tom Younkman, Margaret Gilman, George Cook, Gail Lapierre and Janis Moore continue to participate.
The Vermont Farm Show moved its 60th annual event from Barre to Essex Junction this year, and the new location was a huge success. more
The Grass Farmers Association conference was a huge success with 800 attendees, standing room only, coming to hear Dr Temple Grandin speak on livestock handling and autism issues. more
The aftermath of Hurricane Irene continues to be a big discussion, and a big cost, in all parts of the state. more
Staff Changes
Nebraska
Please say hello to Nancy Frecks, UNL Extension educator and the newest member of the Nebraska AgrAbility team. Nancy's education and work experience is in education and family development. She joined the Nebraska team as of January 1, and will be working with peer training and other educational and promotion activities. Nancy can be reached at nfrecks1@unl.edu.
AgrAbility in the News
Click here for news stories featuring AgrAbility projects.
Rumford Native to Open New Mexican Take Out Business Using Locally Grown Produce
Community Agriculture Alliance: AgrAbility Program Helping Ranchers
Farming after the War: For Some, it Will Never Be the Same
Powell Man Helps Those with Disabilities
Assistance, Screenings Offered for Farmers Battling Arthritis
New AgrAbility Publications Help Farmers Cope with Disabilities
Agrability: Promoting Independence In Agriculture
For People With Disabilities And Their Families
Colorado AgrAbility Hosts Free Workshops
Volunteers Map out Needs for 2012
Other News
Click here for other news of interest to AgrAbility staff members.
Veterans Find New Work on the Farm
A Prosthetic Arm that "Feels"
Adaptive Aquatics Program
Disability Doesn't Keep 4H-er Down
Upcoming Events
Click here for professional development events related to AgrAbility.
Problems? Contact Clifford Racz, National AgrAbility Project, racz@purdue.edu