October 2012
National AgrAbility Project News
Purdue has been awarded the National AgrAbility Project grant for the next four years. Join us for an all staff call for an overview of the new NAP team and work plan on Friday, October 19 at 11:00 a.m. EDT, 10:00 CDT, 9:00 MDT, 8:00 PDT. Use 866-803-2444 with no access code needed.
Registration is now open for the workshop Veterans and Agriculture: Opportunities for Employment, Entrepreneurship, and Enrichment, November 7-8 at the Beck Agricultural Center in West Lafayette. more
Bill Field and Paul Jones made presentations to the Farm Credit Administration and USDA's Farm Service Agency, and they met with several other groups during a recent trip to Washington, D.C. more
The AgrAbility webinar Mental/Behavioral Health Resources for the Drought Aftermath is now archived at www.agrability.org/Online-Training/archived.
The National AgrAbility Project and the Indiana AgrAbility Project provided publications and display materials to the Ohio AgrAbility Project for the 2012 Ohio Farm Science Review.
Steve Swain, assistive technology specialist for the National AgrAbility Project, attended the Battlemind to Home III symposium in Indianapolis. more
Amber Wolfe traveled to Wichita, Kansas to give two presentations at the Kansas Speech-Language-Hearing Association AT Expo on September 27 and 28. more
Click here for the schedule of upcoming Community of Interest and Standing Committee call information.
Toolbox Spotlight
See what's new in the Toolbox online this month.
State and Regional AgrAbility Project News
California
In September, CalAgrAbility attended the Woodland Farmers Market Health and Resource Fair where the Health Education Council was present, which expressed interest in collaborating with the program in serving rural families. more
CalAgrAbility made a valuable connection with the Allergy Medical Group of Sacramento, which specializes in allergies and asthma. more
CalAg staff attended the AT Network Northern Regional meeting where 20 AT professionals discussed common issues. more
Georgia
AgrAbility of Georgia has been filming the story of a farmer client with a spinal cord injury who is receiving physical therapy at the Shepherd Center (www.shepherd.org), AgrAbility in Georgia's non-profit partner. more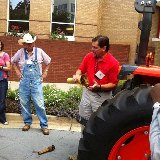 Staff members were invited to hold two sessions at the annual statewide occupational therapy conference in Georgia. more
AgrAbility of Georgia will be at the 2012 Sunbelt Expo will take place October 16-18 in Moultrie, Georgia. more
Indiana
Steve Swain, rural rehabilitation specialist for Breaking New Ground/Indiana AgrAbility, made presentations to seven of the twenty-five Vocational Rehabilitation offices in Indiana in September. more
The Indiana AgrAbility Project exhibited at the 2012 Farm Safety Forum sponsored by the Indiana Health and Safety Council. more
Steve Swain gave a presentation to the Health and Human Sciences educators and Food and Nutrition Program educators about Breaking New Ground/Indiana AgrAbility and universal design/home modifications.
Amber Wolfe, Indiana partner at the Arthritis Foundation, was an active participant in the Morgan County Farm Day on September 8, and was the keynote dinner speaker at the Fayette County Farm Bureau dinner on September 12.
Minnesota
Minnesota AgrAbility staff participated in three events during the month of September. more
Minnesota AgrAbility staff also participated in the "Rice Home Medical 8th Annual Rehabilitation Education and Equipment Fair" in Alexandria and Willmar, Minnesota. more
Missouri
Bilingual Arthritis teaching tools can be purchased from the Missouri AgrAbility Project. more
Willard Downs and Karen Funkenbusch continue to use Adobe Connect web conferencing to stay connected to campus-based agricultural systems management and statewide regional extension faculty across the state. more
Amber Wolfe and Karen Funkenbusch co-facilitated a national independent living conversation via teleconference, September 13, 2012, titled "Managing Arthritis for Independent Living" for the Association of Programs for Rural Independent Living (APRIL), the united rural voice of independent living in rural America.
MU Extension AgrAbility staff members, MERIL AgrAbility outreach specialist, and Missouri's collaborating partners from DVR, RSB, and USDA FSA facilitated an interview with the Mizzou Alumni magazine for an upcoming feature article about the MO AgrAbility Project and PHARM Dog programs.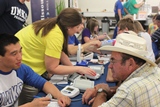 MU Regional AgrAbility staff members have been actively involved with presenting AgrAbility, free health screenings, and farm safety sessions at several field days across the state of Missouri. pharmacy students from the UMKC School of Pharmacy set up five different tables of information for participants. more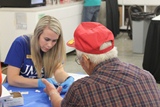 Paul Leverenz and Manuel Lugo have been working with Chris Clause and Willard Downs to set up a vocational rehabilitation workshop in Missouri to improve employment outcomes for agricultural workers with disabilities. more
Other University of Missouri AgrAbility staff members on- and off-campus participated in several AgrAbility related activities. more
North Carolina
On September 13, NC AgrAbility presented new presentation materials at a booth at the Shabazz Center for Independent Living Assistive Technology Symposium, in Greensboro, NC featuring information on assistive technology for gardening and agricultural use, from high tech to low tech. more
NC AgrAbility also conducted training for Center for Independent Living staff with guest trainer Inetta Fluhartty of West Virginia AgrAbility September 24-25 in Smithfield, NC. more
The NC AgrAbility Advisory board met September 26th to go over year one highlights and year two goals, project updates, and a presentation from Gloria Garton about Centers for Independent Living.
Nebraska
Nebraska AgrAbility staff promoted the project at Husker Harvest Days, the premier farm show in Nebraska. Along with displays and ergonomic tools, Anna Lewandowski, OT graduate student, promoted preventative stretching for farmers/ranchers with a display, hand outs, and a DVD. more
Teens and pre-teens learned more about disabilities on the farm and preventative stretching as NE AgrAbility staff Rod Peterson and Anna Lewandowski set up educational sessions at the Carnival of Safety in Minden. more
Nearly 150 youngsters, grades K-6th, took part in the Franklin Safety Day at school. more
Ohio
Ohio AgrAbility participated in the 50th annual Ohio Farm Science Review on September 18-21. more
Ohio AgrAbility continues working with Bittersweet Farm (Southwest Ohio) in both the greenhouse and the garden areas. more
The Ohio AgrAbility Advisory Committee Meeting was held on September 26. more
Vermont
Friday, September 28 was the final day for the University of Vermont Extension Rural and Agricultural Voc Rehab (RAVR) Program. more
Wyoming
Wyoming AgrAbility conducted a presentation on ranching and farming with arthritis and distributed materials at the 2012 Wind River Reservation Agriculture Summit in Ft. Washakie on September 21.
Wyoming AgrAbility conducted a presentation on health in agriculture and distributed materials at the 2012 National Association of Social Workers-WY conference in Evanston held September 12-14.
Staff Changes
Eric Olson's position with the NAP ended on August 31. The NAP appreciates his years of service to AgrAbility and wishes him well in his future endeavors. Read a note from Eric here.
AgrAbility in the News
Click here for news stories featuring AgrAbility projects.
Drought Poses Mental Health Problems for Farmers
Farm Safety Week Focuses on Family
What Nurses Need to Know about Farming
Other News
Click here for other news of interest to AgrAbility staff members.
Bureau of Labor Statistics Census of Fatal Occupational Injuries Summary, 2011
Regal Deploys Technology System for Blind, Deaf
New Breed of Robotics Aims to Help People Walk Again
Brain Implant Improves Decision-Making in Monkey
Physical Therapists Turn to Wii Golf
How Technology is Helping People with Speech Impairments to Talk
Stroke Glove Stimulates Brain and Muscles
Upcoming Events
Click here for professional development events related to AgrAbility.
Problems? Contact Clifford Racz, National AgrAbility Project, racz@purdue.edu