February 2013
National AgrAbility Project News
Registration is open for the 2013 AgrAbility National Training Workshop. more
The 2013 AgrAbility National Training Workshop will be held on April 8-11 at the Doubletree Minneapolis-Bloomington South Hotel in Minneapolis, Minnesota. more
NTW farmer/rancher scholarship applications are due by February 22. more
Remember to get your proposals in to host the 2014 National Training Workshop by March 15. more
Amber Wolfe, Arthritis Foundation, and Linda Bokros, Kentucky AgrAbility, staffed a display at the American Farm Bureau's annual convention January 12-14 in Nashville, TN. more
Amber Wolfe facilitated a phone conversation and participated in a webinar regarding the advocacy efforts of the national Arthritis Foundation. more
AgrAbility All-Staff Call - Thursday, February 21 at 3:00 p.m. EST = 2:00 CST = 1:00 MST = 12:00 PST. 866-803-2444 with no access code needed. Agenda to be sent next week.
AgrAbility Webinar Series: Visual Impairments and Their Relevance to Agriculture, February 28, 2013, 2:00 p.m. EST; 1:00 p.m. CST; 12:00 p.m. MST; 11:00 a.m. PST. more
Click here for the schedule of upcoming Community of Interest and Standing Committee call information.
Toolbox Spotlight
Some handy new items in the Toolbox include solutions anyone might use to make a project easier, regardless of ability. more
State and Regional AgrAbility Project News
Arkansas
Arkansas AgrAbility has recently finished production on two new video podcasts related to its low-back injury prevention program. more
California
The California Small Farms Conference is next month and CalAg staff assists through scholarships, committee work, and conducting workshops. more
The CalAgrAbility team has been increasing skills by attending webinars, including Assistive Technology Reuse sessions and a Mesa Completa Promotores Webinar.
Staff has built collaborations with various rural organizations, including resource/family and senior centers. more
Georgia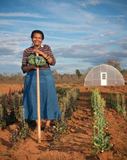 AgrAbility in Georgia has posted a video featuring Ruby Davis, Organic Farmer and AgrAbility Client. more
On February 4, AgrAbility in Georgia hosted Dr. Therese Willkomm for a webinar on Tools and Tool Adaptations for Farmers and Gardeners with Disabilities. more
The Rehabilitating Farmers and Ranchers with Disabilities Workshop for occupational and physical therapists was held on February 12 and will be held again on March 28. more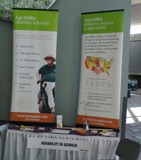 Dr. Glen Rains was invited to speak to the Tifton Sertoma Club about the AgrAbility project on January 24. more
AgrAbility in Georgia had a booth at the Southeast Regional Fruit and Vegetable Conference. more
Indiana
Steve Swain, assistive technology specialist, and Amber Wolfe of the Arthritis Foundation staffed an exhibit at the Indiana Horticulture Congress. more
Indiana AgrAbility/Breaking New Ground shared space at the Fort Wayne Farm Show with the Purdue Agricultural Safety and Health Program. more
Linda Tarr participated in the Lawrence County Beef Management seminar held at the Lawrence County Fairgrounds on January 18-19.
Amber Wolfe hosted an Indiana AgrAbility display and gave a session presentation at the Indiana Farm Bureau annual convention December 7-8 in Indianapolis, IN.
Amber Wolfe presented a 2-hour arthritis workshop to the Area Agency on Aging in Plymouth, IN.
Maine
Maine AgrAbility was at the Agricultural Trade Show in Augusta on January 8-10, 2013. more
Maine AgrAbility was at the 28th Annual Maine Potato Conference in Caribou, ME on January 23-24, 2013.
Missouri
Karen Funkenbusch and Willard Downs provided bimonthly AgrAbility, Farm Safety and Health, and Gardens for Every Body updates for campus-based agricultural systems management and statewide MU regional extension faculty members via Adobe Connect 9.
The Missouri AgrAbility Project launched a statewide AgrAbility project: a Client Demographic Database. more
The University of Missouri-Kansas City School of Pharmacy at MU is offering a Rural Pharmacy Practice Elective APPE throughout mid-Missouri. more
AgrAbility staff members at MU Extension have been invited to present at three conferences sponsored by Lincoln University Extension. more
Missouri's senior level animal science and horticulture student completed her two-week internship with the Missouri AgrAbility Project. more
Jackie Allenbrand, AgrAbility outreach specialist, MERIL, reported many AgrAbility activities. more
MU Extension campus and regional co-coordinators facilitated AgrAbility USDA-NIFA funded education, network, assistance, and marketing activities in many ways. more
Nebraska
Over 100 Nebraska Farm Bureau members visited the Nebraska AgrAbility exhibit at the Farm Bureau Trade Show in December held in Kearney, NE. more
The Nebraska project received a donation of $1800 from Century 21 Daly of Grand Island, Century 21 Midlands of Kearney, and Century 21 Home Team of Columbus. more
Ohio
Ohio AgrAbility will be hosting a workshop on February 19 in Columbus, Ohio, titled: Building Independence through Agriculture for People with Developmental Disabilities. more
Vermont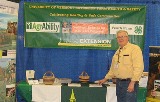 January is a busy month with three Vermont Maple Conferences each Saturday. Maple sugar makers are reminded of Vermont AgrAbility programs and services. Over 750 producers turned out for these day-long educational programs.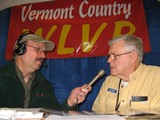 The Vermont Farm Show was held the last three days of January and 50,000 people visit in a three-day span. Vermont AgrAbility was in full force at this event. more
Wisconsin
AgrAbility of Wisconsin worked very closely with four students from the Bio Medical Engineering Department at the University of Wisconsin-Madison to provide a device for an AgrAbility client. more
AgrAbility of Wisconsin is happy to announce an opening for an intern for the summer here in Wisconsin. more
AgrAbility of Wisconsin staffed a display at the La Crosse Farm Show in La Crosse, Wisconsin. more
Staff Changes
Maine
Please welcome: Tom Gillis, ATP, AgrAbility specialist with AlphaOne; tgillis@alphaonenow.org
Nebraska
The Nebraska project said goodbye to graduate student Anna Lewandowski, following her professional semester with the project. Dr. Lewandowski graduated in December and began work at the Carroll, IA hospital while studying for her boards.
AgrAbility in the News
Click here for news stories featuring AgrAbility projects.
AgrAbility Helps Keep Farmers, Ranchers with Disabilities On the Job
AgrAbility Helps Farmer Overcome Disabling Back Pain
Veterans Find New Mission in Farming
Volunteer in Action: Jim Doyle
Can You Use Assistive Technology?
Other News
Click here for other news of interest to AgrAbility staff members.
Senator Harkin's Retirement Detrimental for People with Disabilities
White House: Schools Must Open Sports to Disabled
CES 2013: The Blind See, the Deaf Hear, the Mute Can Be Heard
Soldier Gets Double-Arm Transplant at Johns Hopkins
Forging Path to Starting Line for Younger Disabled Athletes
FSU-Led Group to Use New $4.4 Million VA Award to Help Veterans
Upcoming Events
Click here for professional development events related to AgrAbility.
Problems? Contact Clifford Racz, National AgrAbility Project, racz@purdue.edu