September 2015
National AgrAbility Project News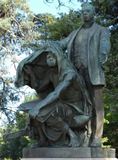 An AgrAbility workshop focused on the 1890 land grant institutions is to take place at Tuskegee University, Tuskegee, Alabama, October 7-8, 2015. More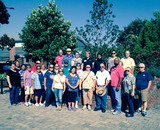 The Arthritis, AgrAbility and Rural Health Conference (AARHC) was held August 24-27 in Knoxville, Tennessee. This conference was a combined effort between National AgrAbility partners the Arthritis Foundation and Goodwill of the Finger Lakes with the Tennessee AgrAbility Project. More

The NAP, in collaboration with Illinois AgrAbility Unlimited, staffed a display at the National Farm Progress Show in Decatur, IL on September 1-3.
Click here for the schedule of upcoming Community of Interest and Standing Committee call information.
Toolbox Spotlight

Intended primarily for cutting the twine, plastic wrap, or mesh wrap around hay bales, the Kaycee Cutter Hay Knife can also be used for almost any type of banding material. Its hook design provides greater leverage and ability to get into the bale to facilitate cutting. The handle is extra large, so there is no need to remove one's glove; and the blade located back in the handle reduces the chances of accidents while cutting. More

State and Regional AgrAbility Project News
California

CalAgrAbility has a new logo! The new CalAgrAbility logo helps to create a consistent AgrAbility brand recognizable across the country.
CalAgrAbility celebrated the 50th anniversary of the Economic Opportunities Commission (EOC) in Fresno, CA. The EOC promotes a higher understanding of poverty in Fresno County to empower individuals. This way, these individuals can thrive as healthy, independent, and contributing community members.
CalAgrAbility staffed a booth at the Tomato Festival in Woodland, CA. Woodland is the epicenter of all things tomato with 42,000 acres of tomato production alone. This was an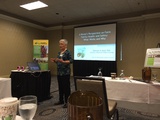 excellent opportunity to network with other agricultural professionals and small farmers.
CalAgrAbility staff participated in the Arthritis, AgrAbility and Rural Health Conference in Knoxville, TN. More
Colorado
The Colorado AgrAbility Project attended the Colorado State Fair in Pueblo, CO, this month. They set up a booth in the Agriculture Pavilion, and CO AgrAbility was able to showcase their project to the attendees of this major event.
Candy Leathers and Jim Craig attended the Assistive Technology Partners meeting where they had an opportunity to network with other providers and users of assistive technologies.
Jim Craig met with the regional offices for John Deere, Caterpillar, and Komatsu, in the Denver Colorado region. More
Georgia
AgrAbility in Georgia staff are busy helping plan for the Sun Belt Expo in Moultrie, Georgia. The Expo is one of the largest agricultural fairs in the south. Life Essentials will be attending as AgrAbility's guest and will have a great display to share with attendees. The expo is held October 20-22.
Paige Tidwell, AgrAbility vocational specialist, is the president of the Georgia Rehabilitation Association (GRA). More
Paige has also been attending a 3-tiered training program for licensed clinicians who serve service members and veterans. More
Students in the interior design program at UGA are working with several AgrAbility customers to design a more accessible home for them. The ultimate goal is that VR will pay for some of the modifications that the students recommend.
AgrAbility in Georgia staff are working with Fort Valley University (1890) vocational rehabilitation students as part of their internship requirements. AgrAbility in Georgia will offer two paid internships a year through a competitive application process. The students are in the application process now to start internships in the spring.
Staff welcomed eight new AgrAbility customers in August, of whom seven are veterans. Many of the new customers are also new to farming. The staff have been busy connecting them to established farmers through a mentorship program. Staff are also busy collecting QOL data.
Indiana

Indiana AgrAbility was very active at the 2015 Indiana State Fair with three exhibits. More
Indiana AgrAbility was represented at the Battlemind to Home VI Symposium by Cindy Chastain, Veteran Outreach Coordinator, and Steve Swain, Rural Rehabilitation Specialist. More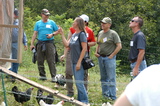 Indiana AgrAbility staff conducted a veteran farm tour as part of Purdue University's Beginning Farmer/Rancher Development Program grant. More
Southern Indiana coordinator Linda Tarr spent a lot of time at the Indiana State Fair booth this month. More
Amber Wolfe taped an episode of "Arthritis Answers" for the Hamilton Co., Indiana TV station. The topic of the show was the Indiana State Fair and preparing the body for the physical demands of the harvest season.

Paul Jones participated in an urban farming workshop and tour of Growing Places Indy urban farm in Indianapolis. There has been a lot of media exposure for urban farming lately, but profitability remains a key question.
Kansas
Jeannie Sharp, AT ag specialist, participated in the first Ellis County Fair ag resources event.
Kerri Ebert, project coordinator, attended the Arthritis, AgrAbility, and Rural Health Conference in Knoxville, TN.
Kansas AgrAbility staff are helping mentor 13 graduate students from the KSU Department of Interior Architecture and Product Design who are designing facilities for a 135-acre farm for Warrior Transition Battalion soldiers from Fort Riley.
Kentucky
KY AgrAbility is starting the second year of its grant cycle and good things are happening. Mike Lewis, veteran and farmer, is organizing a workshop for veterans with the Growing Warriors organization. This workshop will be held next year in the south-eastern area of Kentucky. A date and venue will be announced soon.
KY AgrAbility presented at the National ADED (Association for Driver Rehabilitation Specialists) Conference in Louisville in early August. Maryfrances Gross, KY OVR and the farm assessment counselor, and KY AgrAbility presented a session titled "Equipment Modifications for Field and Forest".
The Arthritis, AgrAbility and Rural Health Workshop was held in Knoxville the last week of August. Linda Bokros, project coordinator, and Robin Stroud, occupational therapist, attended the four-day conference. More
The conference for Kentucky Vocational Rehabilitation is being held in Louisville on the first week of September, and the Kentucky Appalachian Rural Rehabilitation Network Conference will be in Richmond, KY, on September 23rd. KY AgrAbility will be setting up booths at both conferences.
October is the month for farm safety days and the annual meeting for all KY Extension agents. This will be followed by the National FFA Convention in Louisville the end of the month.

This has been a busy year for Kentucky AgrAbility and their clients and partners are looking forward to the fall harvest and then to some family time during the holidays.
Maine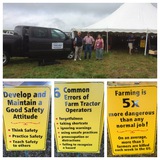 Alpha One's Ketra Crosson (OT/L) staffed an AgrAbility exhibit at the Maine Farm Days in Clinton, Maine. More
Maine project coordinator, Lani Carlson, presented information about the AgrAbility program to Maine Department of Labor representatives working with veterans; she discussed ways the two programs can work together to support farmer veterans in the state.
Michigan
Thank you Tri-Town 4-H for supporting Michigan AgrAbility! The funds had been raised at the Clover Classic Sheep and Boer Goat Jackpot Show in May, organized by Ashley AcMoody Herman (pictures and more information on the Michigan AgrAbility Facebook page: https://www.facebook.com/#!/MichiganAgrAbility.
Thank you to The Andersons for hosting a golf outing for Michigan AgrAbility!
The Michigan AgrAbility Facebook page had several new posts including several videos. While AgrAbility assistive efforts often focus on the individual with the disability, the "caretaker" of the individual with the disability, whether young or old, is often impacted by both the disability and the assistive technology. More
Michigan AgrAbility shared Michigan Food & Farming Systems' (MIFFS') post - The MIFFS Veterans in Ag Network helps returning veterans find fulfilling work in the ag industry - and AgrAbility can help!
Michigan AgrAbility solved a problem: An original difficult-to-climb vertical ladder on a combine. More
Missouri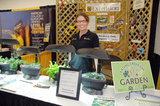 University of Missouri Extension, state and regional faculty from the Missouri AgrAbility, Gardens for Every Body, and Eating from the Garden programs, a nutrition and gardening program, collaboratively showcased during the Missouri State Fair, August 13th through August 23rd. More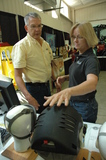 Missouri AgrAbility collaborated with the Show-Me Farm Safety program to showcase farm health and safety interactive displays during the Missouri State Fair. More
During the month of July, AgrAbility staff submitted and are awaiting approval from University of Missouri IRB to continue forward with distributing pre- and post- client surveys to new clients as developed by the AgrAbility Evaluation Committee.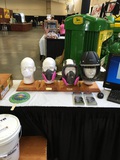 Staff member Joseph Brajdich worked to secure funds from Archer Daniels Midland (ADM) to buy a brand new set of respirators and build wooden stands to display for clients and to advocate for continued safety and awareness while working on the farm. More
AgrAbility staff member Joseph Brajdich finished 11 "AgrAbility Display Kits" for Lincoln University (1890 Land Grant University) and The Brain Injury Association of Missouri. More
AgrAbility Client Carey Portell gave a passionate and moving presentation to an all-female audience on August 28th, 2015, at the Women in Ag Conference in Columbia, MO. More
AgrAbility staff member Joseph Brajdich facilitated a meeting on AgrAbility's upcoming 25th anniversary for director/PI Karen Funkenbusch and MU Extension media writer/photographer Linda Geist. More
Susan Jaster, farm outreach worker, Innovative Small Farmers' Outreach Program, Lincoln University, and collaborative partner working with the Missouri AgrAbility Project, presented information about AgrAbility at the Women Landowners' Agriculture Conference (WLAC). More
A Missouri AgrAbility Project farmer was provided onsite farmstead medication assessment through Pharm to Farm, an initiative led by Kelly Cochran, PharmD, BCPS, and UMKC student pharmacists.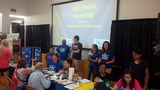 A record number of Missouri State Fair attendees received Pharm to Farm health and safety outreach, along with Missouri AgrAbility Project information which was provided to potential clients. More
Kelly Cochran, PharmD, BCPS, a Missouri AgrAbility Project collaborator, attended the Missouri 2015 Patient Safety Joint Regulatory Conference on Aug. 28 to gain insight from a session titled "Keeping Patients Safe in the Telehealth World."
Maureen Cunningham with the Brain Injury Association of Missouri participated in the assessment of need and planning of a new support group in the Kansas City, Missouri, area. The new support group will be for survivors of brain injury. More
The Truman VA Hospital in Columbia, Missouri, held a VA Summit in August 2015 that was attended by Maureen Cunningham. More
The Brain Injury Association of Missouri (BIA-MO) Networking Coffee, held in Springfield in August 2015, was well-attended, including four first-time guests to learn about AgrAbility in Southwest Missouri.
PHARM Dog USA will be setting up with Nebraska AgrAbility at Husker Harvest Days September 15-17.
North Carolina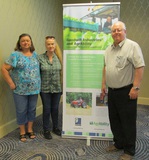 The North Carolina AgrAbility Partnership participated in the recent Arthritis, AgrAbility, and Rural Health Conference in Knoxville, Tennessee. More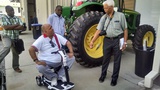 The North Carolina AgrAbility Partnership collaborated with AgrAbility for Pennsylvanians to conduct a management and assessment workshop on the campus of North Carolina A&T State University. More
Nebraska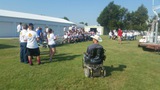 Disability awareness was the topic for Rod Peterson, rural rehabilitation specialist, as he presented sessions for about 150 5th and 6th grade students at the Progressive Ag Foundation Safety Day in Beaver City the end of August. More
Pennsylvania
Pennsylvania AgrAbility staff and the Pennsylvania Office of Rural Health provided hands-on learning opportunities, AgrAbility information, and health screenings, at Penn State's Ag Progress Days. More
Tennessee
Tennessee AgrAbility was proud to co-host the Arthritis, AgrAbility, and Rural Health Conference in August. More
TN AgrAbility staff promoted AgrAbility at the Steak and Potatoes Field Day, at Knox County Cattleman's Association, and New Agent Training for UT Extension Staff in August.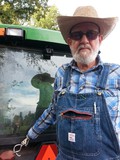 The Disabled Veteran Charitable Trust through East Tennessee Technology Access Center and TN AgrAbility helped a Butler, TN, farmer veteran with neck and back problems obtain a tractor camera back up system to eliminate blind spots and provide a rear view without having to leave the cab or turn his head.
Vermont
Vermont AgrAbility PI George Cook was featured on the University of Vermont Extension's daily farm and home television show on August 24. More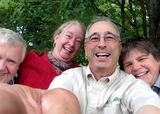 On Monday, August 31, the Vermont AgrAbility team met to celebrate their accomplishments and to share highlights of the past eight years. More
The Project is currently assisting with the formation of a Farmer Veteran Coalition of Vermont Chapter. Good progress is being made, with completion aimed at this fall.
Wisconsin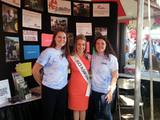 Youth Day at the Wisconsin State Fair was held on August 11th. More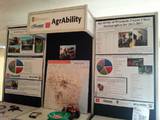 The 2015 Farm Technology Days was held August 25-27 in Dane County on the Statz Farm. More
West Virginia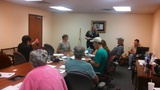 August 6th, WV AgrAbility participated in an all-day training class for minority and veteran farmers at the Kanawha Institute for Social Research and Action, Inc. (KISRA). More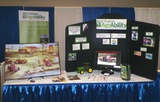 WV AgrAbility was honored to be part of the WV State Fair, held in Fairlea, WV, by exhibiting in two different venues, with WV University and WV State University. More
During the month of August, WV AgrAbility continued to provide information and resources to WV farmers requesting assistance. WV AgrAbility conducted two farm site assessments and worked with the WV Division of Rehabilitation Services to secure funding for needed agricultural modifications.
Staff Changes
California
CalAgrAbility says goodbye to Maria Ceja. Maria Ceja has been with CalAgrAbility for four years and has been an integral part of the development of this program. CalAgrAbility bids Maria farewell and wishes her the best of luck in her future endeavors.
Maine
Extension Professor Dr. Richard Brzozowski has been appointed to the position of program administrator for Cooperative Extension by University of Maine Provost Jeffrey Hecker. Brzozowski will provide support for the Maine Food System work of the Extension portfolio. He began his duties on September 1st.
Dr. Brzozowski has been with UMaine Cooperative Extension for 28 years based in Cumberland County, Maine, where he has been an agriculture agent, Extension educator, and Extension's poultry and small ruminant specialist. He has conducted pioneer research in sheep diseases and has held leadership roles with the National Association of County Agricultural Agents. He is well known for the diversity of his educational programming and his commitment to Maine agriculture and family farmers.
In the role of program administrator, Dr. Brzozowski will serve as staff to the University of Maine Board of Agriculture, serve as associate director of the Maine Agriculture Center and represent Extension on the Agricultural Council of Maine. Brzozowski will supervise Extension faculty and professionals working in the Maine Food System along with Extension faculty and professionals in Aroostook and Waldo Counties.
Brzozowski will continue his role as the project director for Maine AgrAbility.
Michigan
Ginnie Smith has been helping AgrAbility with passion and skill for the past two years. She is moving on to a new placement with the Area Agency on Aging, and we will miss her efforts on behalf of farmers with disabling injury or illness. We thank her for the many hours of diligent work and the local program support that made it possible for her to work at Easter Seals Michigan AgrAbility. We wish her the best of luck AND thank you for continuing to volunteer to maintain the Michigan AgrAbility Pintrest page!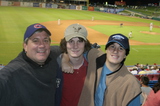 Mark Lange is replacing Ginnie as our new Area Agency on Aging volunteer. Please see Mark's interesting and informative self-introduction on the Michigan page of this e-Note.
Pennsylvania
AgrAbility for Pennsylvanians has a new staff member! Kendra Martin will serve as digital media and outreach coordinator from the nonprofit partner, UCP Central PA. Welcome her to the AgrAbility team!
Texas
Texas AgrAbility would like to congratulate Dr. Cheryl Grenwelge for being promoted to co-PI and Erin Kimbrough for being promoted to program coordinator. The project would also like to welcome Makenzie McLauren to the team. Mackenzie is interning with Texas AgrAbility this semester and will be assisting in re-designing the website.
Wisconsin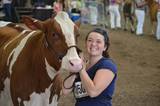 Kenzie Sarbacker, AgrAbility of Wisconsin's Program Assistant, will be returning to UW-Platteville for her degree in agricultural education. Kenzie's hard work, dedication to the farmers and program, and humor will be missed by the AgrAbility staff.
AgrAbility in the News
Click here for news stories featuring AgrAbility projects.
Poor vision Doesn't Stop Knox County Cattle Producer
Purdue Women in Ag webinar to focus on arthritis and agriculture
Pharmacy Health Screenings
New Director of the California AgrAbility Project: Fadi Fathallah
AgrAbility helps farmers and others confront arthritis and disabilities
Veteran-oriented program helps current, former military find new roots
Farming with Arthritis
Other News
Click here for other news of interest to AgrAbility staff members.
How This Produce Pioneer Popularized the Kiwi and Forever Changed the American Palate
Opportunities for Native Youth Available through APHIS' Safeguarding Natural Heritage Program
Specially trained dogs help out farmers with disabilities
Turning cow poo into power is profitable for US farm
DuPont Pioneer launches new service
Mahindra hosts National Dealer Meeting
The growing demand for "fair food"
Amazon is testing farmers market produce delivery
Farm safety 101: Rural firefighters train for grain bin emergency
New approach to farm transition planning
Projects Emphasize Open-Source Technology and Data for Agriculture
Four Ways Mexico's Indigenous Farmers Are Practicing the Agriculture of the Future
Food Stamp Spending At Farmers Markets Is Up 600% Since 2008
Don't Worry, Honey, The Other Bees Have Your Back
Program Roundup - SARE Funding Available Around the Country
Beekeeping Gives Prisoners a Sweeter Future
Corn Wars
The Last Word With Animal Behaviorist Temple Grandin
FSA financing options improving
'Agrihoods' Offer Suburban Living Built Around Community Farms, Not Golf Courses
Scientists want to use this trick to make your tomatoes tastier
Agricultural drones may change the way we farm
As Farm Aid Turns 30, A Look Back at What It's Done for Farmers
There's a new sustainable ag technique in town, and it's cleaning up
This Food Truck is Giving Ex-Offenders a Path to Better Jobs
Farming Pioneer Joel Salatin's Secrets to Reconnecting with your Food
The Nuna Bean: 'Power Popper' Has Funny Name, Serious Nutritional Benefits
Drawing on Childhood Memories: Why Farming Needs to Laugh
Upcoming Events
Click here for professional development events related to AgrAbility
.
Problems? Contact Clifford Racz, National AgrAbility Project, racz@purdue.edu