July 2017
National AgrAbility Project News
AgrAbility funding was eliminated from the proposed USDA FY2018 budget; however, the House Appropriations Committee is recommending that it be reinstated at current levels. More
AgrAbility all-staff meeting scheduled for Wednesday, August 9 at 3:00 p.m. ET. AgrAbility funding will be a topic, and Donya Lester, director of public engagement for Purdue's College of Agriculture, is scheduled to help staff understand parameters for appropriate action related to the budget.
AgrAbility Webinar Series: Sierra Royster of APRIL is scheduled to present a webinar on Tuesday, August 8 about how AgrAbility and rural centers for independent living can work together to serve our mutual clientele. Details coming soon.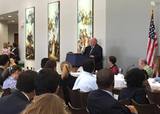 Thanks to Michael Brogioli, executive director of RESNA, National AgrAbility Project and AgrAbility for Pennsylvanians participated in an assistive technology showcase during a event held by the Consortium for Citizens with Disabilities at the Hart Senate Office Building on June 22. See Pennsylvania's section for more.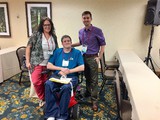 The 2017 Rehabilitation Engineering and Assistive Technology Society of North America (RESNA) annual conference was held June 26-30 in New Orleans, LA., with the theme of "AT innovation across the lifespan". The event was attended by AgrAbility staff from Nebraska, Kentucky, and the NAP! More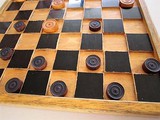 Ever seen a blind man playing checkers? Just one of the inspiring proceedings encountered when Chuck Baldwin, National AgrAbility Project, joined Abbie Spackman, AgrAbility for Pennsylvanians, to staff a booth at the annual Amish Handicap Gathering (as the Amish call it), held this year on June 10 in the Martindale Reception Center, Hinkletown, Pennsylvania. More
The NAP was pleased to partner with Utah AgrAbility to have a trade show booth at the National Association County Agricultural Agents (NACAA) Annual Meeting on July 9-13 in Logan, Utah.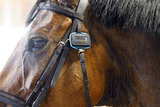 Toolbox Spotlight: Attached to the horse's halter, bridle, or chest strap, the SeeHorse Wearable Remote Monitor is designed to measure, record, then transmit the animal's physical data (e.g., temperature, pulse rate, respiratory rate) to one's cell phone or other electronic device.
State and Regional AgrAbility Project News
California
CalAgrAbility staff attended the Ability Tools Northern California in-person meeting where they spoke to AT advocates about the partnership that is bringing farmers, farmworkers, and avid gardeners closer to AT devices through the Device Lending Library. More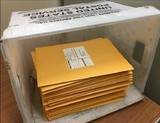 CalAgrAbility staff mailed AgrAbility information packets to 15 rural community clinics and 15 agricultural associations around the state.
CalAgrAbility presented at the Limited Space Gardening and Accessibility Workshop in Encinitas, California. More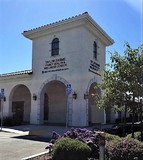 Staff met with human resources managers from four farms in the Salinas Valley. One of the farms is working with the Association of People Supporting Employment First (APSE) to hire individuals with disabilities. More
CalAgrAbility staff attended a seminar hosted by the Western Center for Agricultural Health. Kimberly Naffziger from Zenith presented on the Agricultural Safety and Health Council of America (ASHCA). More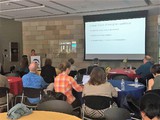 CalAgrAbility attended the Improving Immigrant Worker Health Symposium, a special retirement symposium to honor Dr. Marc Schenker, director of the Western Center for Agricultural Health and Safety. More
Colorado
June has been a very busy month for the Colorado AgrAbility Project. They presented their story to 2,452 unique individuals, including members of the American Legion, Paralyzed Veterans of America, Disabled American Veterans, FFA, and the Veterans of Foreign Wars. They are seeing their message reach out to every corner of that grand state.
To read the Colorado AgrAbility summer newsletter, click here.
Georgia
Staff met with the new Georgia Farm Bureau president on June 19 to update him on AgrAbility. Georgia Farm Bureau has been a great supporter since AgrAbility began in that state.
New video and print stories are in the works. Georgia staff conducted three video shoots the week of April 24with AgrAbility clients. Stories will soon be posted on the project's Facebook page and website.
Dr. Glen Rains conducted a three-day training beginning May 26 with 22 firefighters and EMTs on agricultural accident extrication. More
Staff member Paige Tidwell is instructing a 14-week on-line graduate course in assistive technology for George Washington University's master's in rehabilitation counseling program. More
Staff continued work on The Farm & Garden Learning Station, a demonstration area based on universal design concepts. A webinar was held on May 2 for Master Gardeners who are partnering with AgrAbility to design the gardening portion. More
Technology Advancement for People with Disabilities in Georgia (TAPDIG) held a meeting on May 5 to continue discussions with partners from across Georgia regarding issues surrounding the advancement of technology to improve clients' lives. AgrAbility is an active participant of that statewide group.
Indiana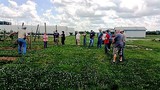 As part of the Indiana Beginning Farmer/Rancher Program, AgrAbility staff hosted a veteran farm tour at Tuttle Orchards in Greenfield, IN, on July 8th. Ten military veterans and their family members from across the state attended. More
Linda Tarr had a booth at the Indiana Rural Health Association annual conference in French Lick. She also did a program on grain bin rescue for the Orleans Volunteer Rural Fire Department.
Maine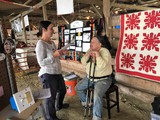 Maine AgrAbility staffer Ellen Gibson had a booth sharing program literature and resources to networks connections at the Maine Fiber Frolic, a two-day fair specializing in fiber and fiber animals in Windsor, Maine. More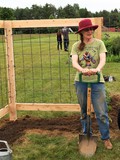 Maine AgrAbility presented a workshop in Union, Maine, at the Maine Farm & Homestead Day, on vertical gardening and accessible gardening. Participants learned how to construct a sturdy garden trellis in three sections. More
Staff participated in a bimonthly beginning farmer resource-providers network meeting at Wolfe's Neck Farm in Freeport, Maine. More
Maine AgrAbility combined efforts in June with beginning farmer service providers to complete a site walk and brainstorm design considerations for a new incubator farm focused on farmer veterans and new Americans.
Lani Carlson joined several other AgrAbility state programs at the 2017 ISASH conference in Logan, Utah. More
Michigan
Michigan AgrAbility staff is pleased to use their Facebook page to help get the word out to clients eager to help other Michigan AgrAbility clients. A Michigan AgrAbility client has a joystick-operated tractor that is driven from the seat of the wheelchair. More
Missouri
Karen Funkenbusch presented two posters at the 2017 International Society for Agricultural Safety and Health (ISASH) conference in Logan, Utah. More
In the month of June, paraprofessional Kate Smith did a number of things to serve AgrAbility. Her first activity involved sending letters to both Missouri state senators and all Missouri state representatives to provide them with useful information pertaining to AgrAbility. More
Maureen Cunningham with the Brain Injury Association of Missouri (BIA-MO) participated at the Federal Reserve - St. Louis Safety Fair on June 6, 2017. More
In addition to youth learning about concussions at the Redbird Rookies Health Fair hosted by Cardinals Care on June 18, 2017, BIA-MO Volunteers shared information about safety practices in urban and rural areas. More
North Carolina
NC AgrAbility Partnership (NCAP) participated in the Small Farm Field Day, hosted by North Carolina A&T State University Cooperative Extension Program at A&T's University Farm, on June 15. More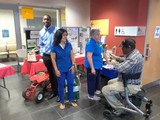 Durham County Veterans Services hosted an informational event at the Durham County office on June 16 and 17, 2017. More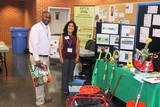 NCAP was also present at the 13th Annual N.C. Minority Farmers and Landowners Conference at the North Carolina Central University Campus, Durham, NC, June 20-22, 2017. More
Nebraska
Nebraska AgrAbility rural rehabilitation specialist Emily Freudenburg promoted AgrAbility at the Bassett Ranch Expo and attended the RESNA conference in New Orleans during June. She teamed up with Rod Peterson, Nebraska AgrAbility rural rehab specialist, to attend the Veteran Farmer Conference near Seward, Nebraska.
Taylor Delp, who served part of her graduate internship for occupational therapy with Nebraska AgrAbility this spring, graduated from Murphy Deming School of Health as an occupational therapist and has accepted a position at Stillwater Medical Center in Stillwater, Oklahoma, working in acute care and inpatient rehab.
Ohio
Ohio AgrAbility is excited about a new pro-disability hiring initiative between The Ohio State University and Opportunities for Ohioans with Disabilities (OOD - state Vocational Rehabilitation agency). More
Ohio has been hit hard by the opioid and substance abuse crisis, and has one of the highest death-by-overdose rates in the country. OAP Disability Services Coordinator Laura Akgerman is a member of the OSU Extension Opioid Crisis Working Group, which gathers information and resources, then develops training and educational resources for Extension educators and community leaders. More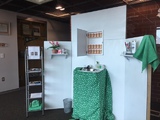 OSU Extension, Ohio 4-H Health Heroes, and the OSU College of Pharmacy have created an interactive medicine cabinet exhibit, which will debut at the Ohio State Fair this summer. More
Pennsylvania
AgrAbility PA joined the National AgrAbility Project for a day of informing legislators, staffers, and legislative aides about assistive technology and the important and necessary role it plays in the everyday lives of people with a disability or long-term health condition. The event was held at the Hart Senate Office Building on Capitol Hill. More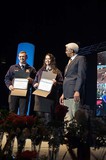 Cumberland Valley FFA, Central Columbia FFA, and Columbia-Montour A.V.T.S. FFA, were recognized for their winning entries in the Bridging Horizons PA Contest on June 14. More
AgrAbility PA partnered with NAP to participate in the Amish Handicap Gathering located in Ephrata, PA, on June 10. Over 600 Amish and Mennonites attended the event. More
AgrAbility PA staff also participated in Horse Progress Days in Leola, Lancaster County, PA, on June 30 & July 1. More
AgrAbility PA project assistant Abbie Spackman represented AgrAbility at the 2017 Farming for Success event hosted by Penn State Extension. The event was attended by over 200 producers and industry professionals. More
Tennessee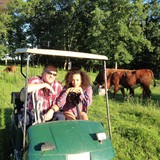 The Golf Cart is on the Move! In 2012, Tennessee AgrAbility Project (TNAP) was contacted by Work Plus Rehab Facility about a Madison County (West TN) produce farmer. The farmer was an above-the-knee (right) amputee due to diabetes. More
TNAP was asked to speak at a local Rotary meeting in Gibson County in June. The TNAP staff invited Gibson County UT TSU Extension staff to the meeting as well. Each staff member gave a brief description in their program area. There were 15 Rotary members present.

Thank you to UTIA for another great video, and to Dr. Reed for her unique way of promoting farm health and safety and AgrAbility. See video here.

Tennessee AgrAbility Project (TNAP) attended the "Suicide Prevention Among Veterans" training in Knoxville, TN, to better help with their veteran outreach. More
TNAP was presented at the Small Ruminant Conference in Knoxville, TN. The staff learned a lot about goats, sheep, and dairy farming.
In June, TNAP hosted Progressive Agriculture Safety Days at 4-H Camp in Greenville, TN, and reminded over 1600 children to always think safety! More
Another successful "Considerations for Beginning Farmers" was held in Rutledge, TN, with over 25 participants. The last of six workshops will be held July 11th in Jackson, TN. For more information or registration, click here.
Texas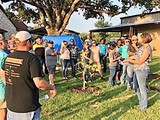 AgrAbility hosted the first Battleground to Breaking Ground workshop, accompanied by a farm tour the day before. The farm tour and workshop were held at K Bar M Ranch, a grass-fed Belted Galloway ranch, on June 2nd. More

The first-ever Battleground to Breaking Ground Field Day was hosted June 24 at Mesquite Field Farm. More
Texas AgrAbility will be hosting a Battleground to Breaking Ground workshop in Dallas at the new Briscoe Carpenter Livestock Center on August 4th. More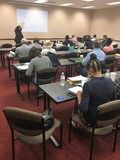 Ms. Angela L. Moore, Extension associate with Prairie View A&M University Cooperative Extension-AgNR and case manager for the Texas AgrAbility Project, led the discussion on government resources and services during a workshop titled "Government Assistance for Agriculture Producers and Youth" held in Rosenburg, TX. More

Utah
The 2017 annual International Society for Agricultural Safety and Health (ISASH) conference was held in Logan, Utah, June 25-29. AgrAbility of Utah staff attended this training for the agricultural safety and health community and assisted with many of the events. More
In June, AgrAbility of Utah staff began another series of educational presentations to Utah State Office of Rehabilitation (USOR) districts. More
Vermont
Vermont AgrAbility is gearing up for the third annual farmer field day to be held at the Lanphear family farm in Hyde Park, Vermont, hosted by Kirt Lanphear, an AgrAbility client himself and recipient of the Vermont Dairy Farmer of the Year award last year. More
Wisconsin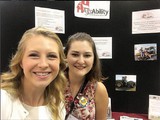 AgrAbility of Wisconsin staff members Abi Jensen and Emily Matzke participated in the Career Fair at the 88th Wisconsin State FFA Convention held in Madison, WI. More
AgrAbility of Wisconsin staff attended the day-long WI Idea Dairy Summit with various industry professionals, legislators,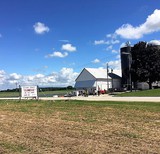 Extension personnel, collegiate faculty, and researchers. More
AgrAbility of Wisconsin hosted a booth at the annual Calumet County Sundae on the Farm. The event was held at the Faust Family Farm in Chilton, WI. More

West Virginia
"Gaining Elevation - Reaching New Heights for Agricultural Safety and Health" was the theme of this year's ISASH (International Society for Agricultural Safety and Health) Conference. Inetta Fluharty attended this four-day training for the agricultural safety and health community in Logan, Utah, June 25-29. More
Inetta Fluharty became a member of the AgriSafe Professional Organization. AgriSafe's mission is to support agricultural health and safety professionals who provide access to preventative services for farm families and the agricultural community. More
Staff Changes
Wisconsin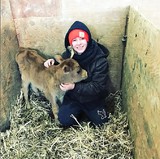 Welcome Emily!
Emily Matzke joined the AgrAbility of Wisconsin team in mid-May as the new program assistant. Emily's agricultural experience includes spending time on her grandparents' 100-cow dairy as a little girl, being a member of the Roxbury Boosters 4H Club and the Sauk Prairie FFA, riding and showing horses, raising chickens, and owning three fainting goats! Emily recently finished her first year at the University of Wisconsin-Madison where she is majoring in animal science and life sciences communication. She has continued her passion for learning about agriculture on campus and is a member in various organizations, including the Association of Women in Agriculture at UW-Madison, the Collegiate Farm Bureau at UW-Madison, the Wisconsin NAMA, and the Badger Dairy Club.
AgrAbility in the News
Click here for news stories featuring AgrAbility projects.
Medicine side effects pose risks on the farm
Improved Workflow Enhances Farm Living
AgrAbility and Veterans
National AgrAbility
Ag Report: Adam Faust's Story
Records for June 26-July 2, 2017 - In Recognition: Steve Swain
Maine AgrAbility builds vertical garden
Modernization tops Calumet Sundae on a Dairy Farm
Beginning Farmer Veterans to tour Tuttle Orchards
Farmer overcomes challenges
Program for beginning farmers
Experts share tips for preserving vision
Texas: AgrAbility Farm Tour and Workshop for Veterans, Dallas, Aug. 4-5
Dana Collins fulfills lifelong dream this summer
Other News
Click here for other news of interest to AgrAbility staff members.
Former AgrAbility employee shares at the Veteran Farmer Conference held in Seward, Nebraska.
Farm work may improve veterans' health
Immigrant farmworkers and SNAP
Work opportunities for youth, veterans
Farmers still take own lives at a high rate
Group advocates for young farmers
Sharing the story of agricultural education
'Amazing change' for Montreal homeless men taking part in urban beekeeping program
Host a better field day
'The Restaurant Of Order Mistakes' Employs Waiters With Dementia, And You Never Know What You're Getting
Upcoming Events
Click here for professional development events related to AgrAbility
.
Problems? Contact Chuck Baldwin, National AgrAbility Project, baldwi19@purdue.edu