January 2018
National AgrAbility Project News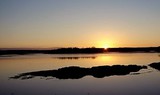 NTW Updates
Registration for the 2018 NTW is OPEN!
Join us in Portland, Maine, on March 19-22, 2018, for the AgrAbility National Training Workshop. To view more details and register online, click here.
Hotel Rooms have been blocked at the rate of $109 per night. Please make your reservations prior to February 13th.
Conference Hotel: Westin Portland Harborview Hotel 157 High Street Portland, ME 04101. Online reservations, click here. If you require an accessible room, please call Morgan Lucier at 207-517-8841 to make your reservation.
If all the accessible rooms at the Westin are booked, please contact Holiday Inn By The Bay at 207-775-2311 and ask for the National AgrAbility rate, which is also $109 per night. The Holiday Inn is right around the corner from the Westin at 88 Spring St, Portland, ME, 04101.
Please see the NTW 2018 To Do List! More
Contact us any time: Tess McKeel - tmckeel@goodwillfingerlakes.org - 585.447.9015 Or JoBeth Rath - jbrath@goodwillfingerlakes.org 585.402.2059

ALL SRAPs: Please work quickly to find as many farmers/ranchers with disabilities in your state as could benefit from attending this year's NTW, and have them send in the NTW Travel Stipend Form and Session registration form. If stipend funds run short for the number of applicants, it comes down to first-come, first-served. So please don't wait until the February 7 deadline to send those stipend application forms in to Abi Jensen.
Also, please remember to first notify Abi with the name of the farmer/rancher for whom your SRAP is paying to come to the NTW, so that all other stipend applicants from your state will immediately be considered for financial aid.
Registration ends soon for the AgrAbility VIRTUAL NTW. Join the NAP for six great webinars related to the AgrAbility mission. More
AgrAbility All-Staff Meeting: save the date for Wednesday, February 7 at 3:00 p.m. EST. Check your email for details soon.
The NAP recently participated in an eXtension webinar titled "Communicating with Farmers under Stress." One of the good resources shared during the session was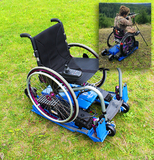 https://www.ag.ndsu.edu/farmranchstress/Farm-Stress. More
Toolbox Spotlight: The portable Freedom-Trax Powered Track Attachment for Manual Chairs features left- and right-side tracks plus twin front and rear anti-tip wheels for added security. The device is designed to be attachable without assistance with the user remaining in the chair.
State and Regional AgrAbility Project News
California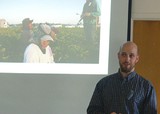 Dr. Seth Holmes, Associate Professor at UC Berkeley, gave a talk on migrant farmworker health, inequality, and future solutions. More
CalAgrAbility continues to support agencies that have made the Get Moving Exercise Workshops a part of their regular activities. More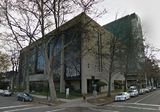 CalAgrAbility met with partner Ability Tools to close a year filled with fruitful joint work. More
Colorado
The Colorado AgrAbility Project has been attending the monthly meetings of the Colorado Ag Council for about two years. In December, CO AgrAbility was invited to attend the council's annual "meet your legislators" breakfast. More
To read CO AgrAbility's Winter Newsletter, click here.
Georgia
Georgia AgrAbility staff attended the 2017 Georgia Farm Bureau Convention in Jekyll Island, GA, on December 2-4, 2017. More
Illinois
Illinois' AgrAbility program spent December developing a communication strategy with its 80+ ambassadors throughout the state. AgrAbility Unlimited of Illinois is also developing new initiatives to improve communications. More
Indiana
Indiana AgrAbility staffed an exhibit at the Indiana-Illinois Power Equipment Show in Indianapolis on December 12-14, 2017. More
Linda Tarr had a booth at the Indiana Governor's Conference on Disabilities in Indianapolis.
She also attended and had a booth at the trade show of the Indiana Farm Bureau Convention in French Lick.
Linda attended the Ag Outlook meeting for south-central Indiana at Paoli and worked at the Indiana Illinois Farm Show in Indianapolis.
Kentucky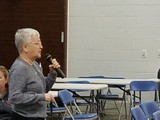 December ended with Dr. Deborah Reed and Linda Bokros addressing 150 students and faculty at the Locust Trace AgScience Center in Lexington, KY. More
January is the Kentucky Fruit and Vegetable Conference at the Embassy Suites in Lexington, Kentucky, followed immediately by the KY Cattlemen's Association Convention and Ag Industry Trade Show in downtown Lexington. More
Chattanooga, TN, hosts the Southern Sustainable Agriculture Working Group (SSAWG) 2018 Annual Conference and Trade Show at the end of January. More
February's main event is the National Farm Machinery Show at the Exposition Center in Louisville, KY, beginning February 14 and going until Saturday, February 17. More
March brings the NTW to Portland, ME, and a chance to talk to other SRAPS and see some new ideas and technology. KY AgrAbility hopes to see many of you there.
Maine
Happy New Year from Maine!
Lani Carlson and Richard Brzozowski are working to develop a relationship between farmers in Franklin County and organizations supporting employment opportunities for people with disabilities. More
Lani Carlson enjoyed a cold (-9° F) early-morning breakfast meeting on December 28 with the Farmington Rotary Club. She gave a 30-minute AgrAbility presentation to about 45 Rotarians, highlighting the AgrAbility program and success stories.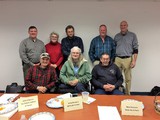 Maine AgrAbility staff hosted the quarterly Advisory Council (AC) meeting on December 7 with ten advisory council members in Augusta. More
Lani Carlson met with the Franklin County UMaine Extension Executive Committee during one of their December meetings and shared AgrAbility program highlights.
Lani is participating in a Perceptions of Farm Safety project, interviewing beginning farmers with families. Three farm families were interviewed in December; one farm family with two AgrAbility clients.
Missouri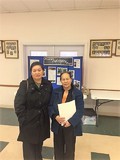 Karen Funkenbusch from Missouri AgrAbility presented at the ABC's of USDA Farm Service Agency (FSA) program roundtable on Thursday, December 14, for Hmong producers. More
Several Missouri AgrAbility staff members including David Middleton, level II AgrAbility onsite assessor, with assistance from vocational rehabilitation (VR) case managers, facilitated three rehab tech/engineering consults combined with making successful referrals to USDA Farm Service Agency (FSA) to access their services.
Kelly Cochran, PharmD, BCPS, from University of Missouri-Kansas City School of Pharmacy, a Missouri AgrAbility collaborator, delivered an AgriSafe webinar titled: "Pharm to Farm: Partnerships to make clinical pharmacy services available to Missouri farmers". More
University of Missouri-Kansas City School of Pharmacy included one student pharmacist in AgrAbility client outreach activities throughout December. More
North Carolina
NC AgrAbility met with the NC Farmworker Health Program to continue the collaborative work in assisting farmworkers in North Carolina. More
NC AgrAbility will present and have a booth at the North Carolina Farmworker Institute Summit and Networking Event which will take place in April 2018.
Nebraska
The Nebraska Cattlemen's Show was a successful event in December that offered opportunities for Nebraska AgrAbility to talk to potential vendors as well as potential funders.
There was work on creating a funding list for individuals who do not qualify for Nebraska Vocational Rehabilitation services, and Rod and Emily had a productive meeting with senior staff members of VR services in Lincoln.
Ohio
The Ohio AgrAbility team is looking forward to a busy and collaborative 2018: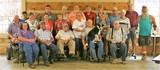 OAP staff is developing new educational resources for new and current clients to address their specific requests and to tailor OAP's services and peer network to meet their needs and interests.
A capstone team of engineering students is working with OAP staff and clients to develop modifications for a skid loader.
Ohio State University Extension's Opioid Task Force is working throughout the state to address the opioid crisis and develop education and outreach materials. OAP staff are working with the task force to develop resources for the rural disability community.
Engineering students at University of Dayton will continue to work with OAP staff and clients to develop low-cost assistive technology devices and modifications for farmers with disabilities.
OAP female farmers and caregivers will be invited to OSU Extension's women in agriculture programs, which have presentations and resources that may benefit OAP's clients and their families.
New training and continuing education materials for Ohio's vocational rehabilitation counselors are being developed to further the relationship between OAP and the state VR agency.
Pennsylvania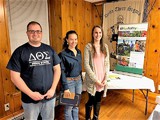 The students of Penn State University's Delta Theta Sigma, a social professional agricultural fraternity, hosted a fundraiser for AgrAbility client Matt Cook. More
Penn State's College of Agricultural Sciences has been awarded funding from the U.S. Department of Agriculture's National Institute of Food and Agriculture to provide assistance to individuals farming with disabilities. More
AgrAbility provided information about assistive technology to attendees at the 2017 Pennsylvania Women's Agricultural Network Symposium. More
Tennessee
Happy 2018 from TNAP!
December held lots of year-end reporting and planning for upcoming events and trainings.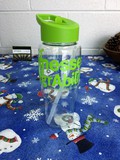 TNAP attended the Tennessee Association of Agricultural Agents & Specialists Annual Luncheon at the annual Tennessee Farm Bureau convention. There was great networking with Extension and agriculture partners across TN.
A Tennessee AgrAbility exhibit could be seen at the annual Tennessee Farm Bureau convention held at Cool Springs Marriott in Franklin, TN. One hundred water bottles with the TN AgrAbility logo were handed out.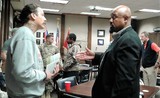 TN AgrAbility had a booth at the first stakeholders meeting of the Tennessee Beginning Farmers Development Program hosted by UT/TSU Extension. More
TNAP visited with two older, aging farmers who definitely would welcome extra help on the farm and who are open to mentoring beginning farmers. More
TNAP has had several recent referrals who are veterans with disabilities who want to farm. More
TNAP participated in the "Communication with Farmers Under Stress" webinar and shared the "best practices" resource and recorded video link.
https://learn.extension.org/events/3209
Registration is open for the 5th TN New Farmer Academy at Tennessee State University campus. Click here for further information.
http://www.tnstate.edu/extension/NFA.aspx
TNAP announced the expansion of TN New Farmer Academy and program to East TN in Morgan County starting in March.
The Tennessee Beginning Farmer Development Program's purpose is to provide a coordinated, systematic, and holistic educational program to deliver the information and skills needed to realize a successful new farming operation and increase success rates of new farm start-ups among those participating in the program. More
One of TN AgrAbility's partners, "AgNurse", wrote on Facebook: "We have noted the epidemic of farmer suicide before. It seems there is no end to it and the rates continue to rise. More
Spotlight on TNAP staff member Joetta White: A year in the life of a caregiver-patient-caregiver! More
Texas
2017 was a successful year for Texas AgrAbility. In partnership with the Battleground to Breaking Ground Entrepreneurial Training Project, Texas AgrAbility hosted six workshops for veterans and beginning farmers and ranchers throughout the state.
The first Battleground to Breaking Ground Ag Workshop of 2018 is scheduled for February 17 in Corpus Christi, Texas. More
Utah
The AgrAbility of Utah Advisory Board met December 13 in Logan, Utah. More
Virginia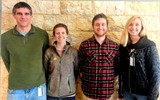 AgrAbility Virginia staff will continue its work with the PT and OT departments at the Murphy Deming School of Health Sciences (Mary Baldwin University) in doing research on, and development of, farm safety surveys and tools. More
Vermont
Tom Younkman, Vermont AgrAbility staff member, received training and certification in Mental Health First Aid from Lamoille County Mental Health Services.

Vermont AgrAbility continues its Barn Builder program, which connects newly acquired disability farmers with active farmers that have similar disabilities. Staff also continue to facilitate a TBI support group for farmers with that disability.
Upcoming events in Vermont for the month of January include: 1/11/18 the quarterly meeting of the Vermont Farm Health and Safety Coalition project in Barre, Vermont; More
Wisconsin
The annual AgrAbility of Wisconsin Summit is set for March 13, 2018, at the Organic Valley office in Cashton, WI. More
West Virginia
Tom Stockdale, WVU safety and health Extension specialist, submitted an article titled "Portable Generator Safety" to the WV Farm Bureau News. The article should appear in the February, 2018, edition.
WV AgrAbility staff continue to strengthen ties with the West Virginia National Guard in supporting veterans that wish to enter into an agriculture enterprise. Workshops and trainings are being developed and will be implemented in the New Year.
Staff Changes and Recognition
Nebraska
Nebraska AgrAbility has welcomed John Davis as a new team member. John is a registered professional engineer who recently retired from pivot manufacturing at Reinke Irrigation and is a great fit for the program. He will be doing on-call case management and will be providing technical assistance where needed.
Wisconsin
Congratulations, Paul! This month, Paul Untiet, rural rehabilitation specialist at Easter Seals Wisconsin, is celebrating 10 years with the AgrAbility of Wisconsin program! During his 30 years at the Wisconsin Division of Vocational Rehabilitation, Paul was a knowledgeable advocate for farmers, and he continues in this role since joining the FARM staff. The AAW staff are grateful for the hard work, dedication, and laughter, Paul brings to the team every day.
AgrAbility in the News
Click here for news stories featuring AgrAbility projects.
USDA's National Institute of Food and Agriculture invests in the safety, health of farmers
Local programs, Weld farmers stress importance of safety as hobby farms become increasingly popular nationwide
Kentucky AgrAbility workshop
USDA-NIFA funding supports farmers with disabilities, youth safety programs
Workshop helps new farmers, ranchers, military vets understand ABCs of USDA and other agencies
Other News
Click here for other news of interest to AgrAbility staff members.
Together, we'll overcome the opioid epidemic
Tax bill: benefits and concerns for ag
How can conservation easements help you?
New ARS website enhances access to information
Wireless farm data networks using Wi-Fi
Students raise cattle, veggies for school lunches
More airborne hazards on the farm
6 questions to ask when managing weeds
A farmer's guide to planning for retirement
A peanut a day keeps the cardiologist away?
Upcoming Events
Click here for professional development events related to AgrAbility
.
Problems? Contact Chuck Baldwin, National AgrAbility Project, baldwi19@purdue.edu