April 2019
National AgrAbility Project News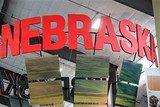 Thank you Nebraska! NTW 2019...It's a wrap!
Thank you to Nebraska AgrAbility, the NTW 2019 Planning Committee, and each of you that contributed to making NTW 2019 a success! Attending the event were 247 individuals representing 33 states and two countries. More
The 2019 NTW archive page is mostly complete and available by clicking here.
The 2020 AgrAbility National Training Workshop will take place in Wisconsin. Watch your email for opportunities to be on the planning committee!
AgrAbility Webinar Series: "State Assistive Technology Act Programs and AgrAbility Partnerships," Wednesday, April 24, 3:00 - 4:00 p.m. ET. More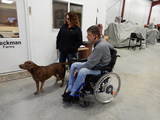 Paul Jones of the NAP was able to visit with Nebraska AgrAbility client and his family after the NTW. The family to be featured in a new video produced by the NAP. Special thanks to Rod Peterson and Emily Freudenburg for participating and helping to arrange the visit.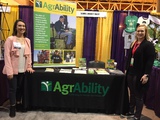 AgrAbility was represented at the American Occupational Therapy Association Conference and Expo in New Orleans. Pictured is Kelsey Badger, the NAP OT intern, on the right with Kaitlyn Higgins (OT intern for Nebraska AgrAbility who also helped at the booth) on the left.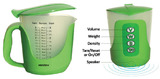 Toolbox Spotlight: Especially useful for the blind and those with low vision, the battery-operated Talking Measuring Cup measures both weight and volume, audibly speaking out the results in English. The push-button-operated device is programmed to measure liquids and many granulars in cups, ounces, milliliters, and grams.
State and Regional AgrAbility Project News
Alaska
A poster presentation was peer reviewed, accepted, and presented at the International Circumpolar Agriculture Conference in Rovaniemi, Finland, on March 13-15, 2019, showcasing the new Alaska AgrAbility project.
California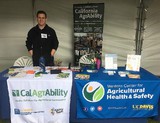 California AgrAbility attended California Ag Day at the state capitol. This event is part of the National Ag Day campaign bringing a variety of resources to the public. More
California AgrAbility staff attended the AgrAbility National Training Workshop in Lincoln, Nebraska. More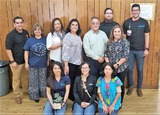 California AgrAbility, along with a coalition of agencies, hosted the Sixth Annual Promotores Conference in Yolo County to serve and recognize the hard work that promotores invest in the agricultural community. More
California AgrAbility attended the Migrant Parent Institute hosted by Migrant Education Region 2 in Woodland. More
Georgia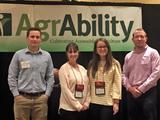 Georgia AgrAbility attended the Social Role Valorization workshop that was hosted by the Georgia Advocacy Office March 7. More
Staff members attended the National AgrAbility Training Workshop (NTW) held in Lincoln, Nebraska, March 25-28. More
Illinois
The staff members of AgrAbility Unlimited of Illinois are thrilled with their experience at the 2019 National Training Workshop in Nebraska this year. More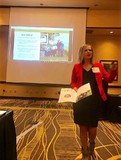 Kelly Gagnon, the AgrAbility IL communications coordinator, presented in partnership with other AgrAbility program marketing professionals at the NTW to share about the importance of client storytelling and marketing for the AgrAbility program. More
In the month of April, the AgrAbility Unlimited IL team is planning for three Ambassador training meetings in order to cover every part of the state, making attendance as accessible as possible for all of the volunteers. More
Indiana
Farm visits included initial visits to learn the barriers to the client's disabilities and follow-up visits to formally conduct Indiana Vocational Rehabilitation Services accessibility assessments. More
Linda Tarr attended and worked a number of events in March, including the AgrAbility National Training Workshop in Nebraska. More
Kansas
Kansas AgrAbility started March with the 105th KSU's Cattlemen's Day trade show and educational programs. Over 600 attendees were present, most of them full-time ranchers. More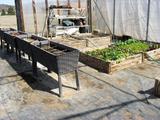 KAP has been working with SAVE Farm (Service member Agricultural Vocation Education Farm) to promote their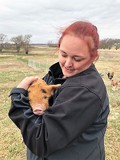 2019 Ag Tours for the Warrior Transition Battalion and area veterans. More
KAP staff had a memorable experience in Lincoln at the NTW, networking and absorbing the valuable information shared by other AgrAbility programs, specialists, and clients. More
Maine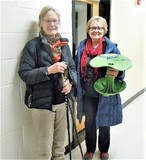 Maine AgrAbility's Ellen Gibson presented an "Adaptive Gardening" class for the Southern Aroostook Soil & Water Conservation District (SASWCD) on March 5. More
On March 13, Anne Devin, ME AgrAbility's veteran outreach coordinator, helped present a QuickBooks and farming informational workshop designed for farmer veterans.
Maine AgrAbility partners participated in a 60-minute radio show about AgrAbility with Tory Ryden called Positively Maine.
Other activities this month included an AgrAbility 101 presentation to rehabilitation clients at Maine Center for Integrated Rehabilitation in Fairfield, and a discussion with a Kennebec Valley Community College (KVCC) OT professor to talk about OT students working with AgrAbility farmer clients. More
Richard Brzozowski finalized a new publication that is now available: "Tips for Aging Farmers"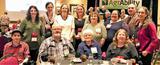 Staff had an excellent time gaining knowledge and insight at the NTW in Nebraska. It was excellent to share this with eight program-related staff and four Maine farmers.
Michigan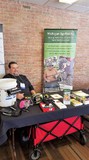 Last month, the Michigan AgrAbility e-note showed a picture of a client, Aaron Fenrich, attending a trade show. Aaron has quite a compelling story of how, after leaving the house with "nagging heartburn", he went to work, More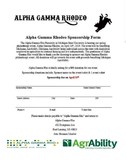 Alpha Gamma Rho - you ROCK! Alpha Gamma Rho Tau Chapter at MSU is hosting its spring fundraiser... the Alpha Gamma Rhodeo on April 14. More
Michigan AgrAbility's Pinterest page had several new recent posts: Check them out here!
Michigan AgrAbility staff thanks the Grand Valley State University's physical therapy program for allowing staff to introduce GVSU's PT students to Michigan AgrAbility! More
Missouri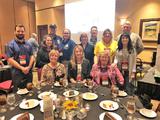 Missouri AgrAbility farmers, staff members, and specialists from Division of Vocational Rehabilitation enjoyed attending the 2019 National AgrAbility Training Workshop hosted by Nebraska AgrAbility. More
During opening session of the NTW, Karen Funkenbusch presented a poster about Missouri's Beginning Farmers and Ranchers collaborative outreach efforts with Missouri AgrAbility, Brain Injury Association of Missouri, and the Franciscan Sisters of Our Lady of Perpetual Help. More
Using social media outreach, Missouri AgrAbility with their Brain Injury Association of Missouri partner accentuated Brain Injury Awareness month with brain injury facts, statistics, technology, and Missouri AgrAbility Ambassadors' (Barn Builders) survivors of brain injuries successful farm stories.

Missouri's following is ever growing and, as of March 31, their post reach on Facebook was 3,386, their Tweets earned 3,200 impressions and their Instagram post had 936 impressions. More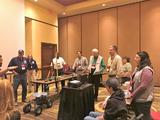 Lincoln University's Innovative Small Farmer's Outreach Program (ISFOP), a Missouri AgrAbility partner, in collaboration with the University of Missouri, had the privilege of presenting at the 2019 National AgrAbility Training Workshop (NTW) in Lincoln Nebraska. More
University of Missouri-Kansas City School of Pharmacy, a Missouri AgrAbility partner, is offering an inaugural elective in collaboration with the University of Iowa's Great Plains Center for Agricultural Health, titled "Rural Health & Agromedicine" More
Brain Injury Fact of the Day sponsored by Missouri AgrAbility was implemented with a new approach of advertising on agriculture, healthcare, rehabilitation, and media websites. More
The Brain Injury Association of Missouri (BIA-MO) hosted its quarterly Professional Networking Coffee in St. Louis on March 5 to share information and resources, including the Missouri AgrAbility Project. More
The BIA-MO Annual Survivor and Family Regional Seminar featured the Missouri AgrAbility Project at the BIA-MO exhibit booth with partnership recognition. More
Maureen Cunningham, BIA-MO executive director, served on the planning committee for the AgrAbility NTW in Lincoln, Nebraska, and attended March 25 - 28. More
Missouri AgrAbility Project and Brain Injury Association of Missouri information was shared at the Mercy Springfield "Maximizing Function with Brain Injury Conference" on March 30. More
Nebraska
Nebraska AgrAbility began March with the Governor's Ag Conference in Kearney, educating farmers in attendance about Nebraska AgrAbility.
NE AgrAbility's OT student, Kaitlyn, was busy preparing an opioid awareness presentation for future use in Nebraska. She also educated middle school students at the Progressive Ag Safety Day in Curtis with assistive devices for disabilities.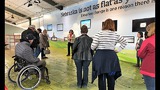 Other than that, the month was spent preparing for NTW! Staff thoroughly enjoyed hosting everyone in Lincoln. More
New Mexico
The New Mexico AgrAbility Project will be introducing the NM Project to several state disability organizations and consumers during the annual AT conference (ATC19) in May. More
North Carolina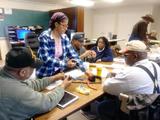 NC AgrAbility Partnership provided a one-day workshop to the Whitaker Small Farm group at The Center for Environmental Farming Systems - Small Farm Unit in Goldsboro, NC, on March 5. Dr. Kyle presented information about the NC Agromedicine Institute programs and the veteran farmer services in NC.More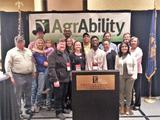 NC AgrAbility participated at the AgrAbility National Training Workshop (NTW) March 25-28 in Lincoln, Nebraska. More
On March 27 NC AgrAbility participated in the Agriculture Health and Safety Symposium. Dr. Kyle shared an AgrAbility poster and an oral presentation.
Ohio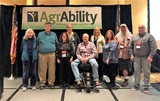 Ohio AgrAbility farmers and staff enjoyed the 2019 NTW in Nebraska - thanks Nebraska AgrAbility for making everyone feel so welcome.
OAP staff appreciated the questions, comments, and resources shared during their unconferencing session "Asking the Right Questions and Finding the Right Answers". More
The feedback and resources shared during "Development and Dissemination of the Job Aid Handbook" was very helpful, and OAP staff look forward to sharing the competed Job Aid Handbook on the AgrAbility listserv this fall.
The Ohio AgrAbility team is grateful to NAP for sponsoring four Ohio farmers to attend NTW. The farmers all expressed their gratitude to NAP for the opportunity to attend. More
Ohio AgrAbility staff has been busy traveling the state, presenting workshops on AgrAbility and farming and gardening with a disability to farmers, educators, Master Gardener volunteers, and students throughout Ohio.
Pennsylvania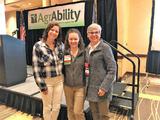 2019 NTW - Nebraska Strong! THANK YOU, NEBRASKANS! The Pennsylvanians felt a warm welcome at the 2019 NTW hosted by Nebraska AgrAbility. More
AgrAbility PA Project Assistant Abbie Spackman hosted an unconferencing session "Worksite Assessment Collaboration." This session was packed full of ideas and networking! More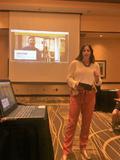 AgrAbility PA staffer Kendra Martin co-presented two sessions on the topics of marketing and outreach: "Here's The Story...of a Lovely Farmer" and "Marketing for Non-Marketers". More
AgrAbility PA Advisory Board member and CEO of Pennsylvania Assistive Technology Foundation (PATF) Susan Tachau and AgrAbility Project Assistant Abbie Spackman presented "Money Talk$: Financial Education for Farmers and Ranchers". More
NTW presentations can be viewed by clicking here.
AgrAbility PA staffer Kendra Martin presented to more than 125 ag educators and teachers at an annual Pennsylvania FFA legislative day in Harrisburg. More
AgrAbility PA provided an educational training session for the members of the Rockwood Young Farmers Group. More
Link to AgrAbility for Pennsylvanians' latest newsletter.
Tennessee
A BIG THANK YOU to NTW hosts, Nebraska AgrAbility, Jo Beth, Tess, and NAP, for another great conference! More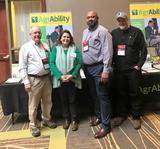 Tennessee, Missouri, and Texas AgrAbility projects presented on the Beginning Farmer Outreach Program at NTW. TNAP spoke on partners who help beginning farmers with disabilities.
Tennessee celebrated Extension Month with various open houses and handouts about TNAP services. TNAP wrote an inclusion scenario related to someone with a disability for a 4-H workshop. More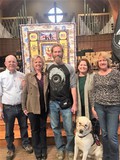 Thank you to Smoky Mountain Service Dogs for a beautiful "Passing of the Leash" ceremony and all they do for veterans! More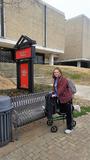 The sixth New Farmer Academy (Middle and East) started in March with 50 beginning farmers with one farmer from as far away as Chicago. More
Caitlyn Watts, a student at Arkansas State, Tennessee resident, and a veterinary medicine major, broke her ankle playing basketball three weeks into the spring semester. More

Texas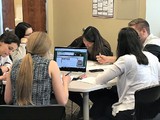 Texas AgrAbility staff Rick Peterson, Makenzie Thomas, and Elizabeth Gandara-Castillo attended the NTW in Lincoln, Nebraska. The workshop provided great education and networking opportunities for staff.
Staff Erin Kimbrough, Makenzie Thomas, and Elizabeth Gandara-Castillo presented AgrAbility and the farm assessment process to the St. Augustine University Occupational Therapy program. More
Texas AgrAbility has scheduled summer ag business workshops. More
Utah
AgrAbility of Utah participated in the Fusion Conference and Trade Show in St. George, UT. The Fusion Conference is the largest agricultural show in Utah and is hosted by Utah Farm Bureau. More
AgrAbility of Utah participated in the Urban and Small Farms Conference in West Jordan, UT. More
Wisconsin
AgrAbility of Wisconsin hosted the Annual AgrAbility Summit with Marshfield Clinic at the National Farm Medicine Center in Marshfield, Wisconsin, on March 11. More
AgrAbility of Wisconsin staff Jeff Kratochwill (rural rehabilitation specialist), Abigail Jensen (outreach specialist), and Brian Luck (program director), and two past AgrAbility of Wisconsin clients attended the National Training Workshop in Lincoln, Nebraska. More
Wisconsin staff are excited to host the NTW come 2020!
That's a Wrap! The last farm show of the "season" is wrapped up. More
Staff Changes and Recognition
Illinois
AgrAbility Unlimited Illinois staff is proud to share that the Illinois program director and principal investigator, Bob Aherin, was recognized at the 2019 National Training Workshop for his lifetime dedication to the program. After many years of service to AgrAbility IL, this award was very well deserved. The entire AgrAbility team is happy that the hard work and dedication from Bob over so many years has been recognized on the National Level.
This award is the most incredible way the team could have imagined for him to celebrate his upcoming retirement this summer. AgrAbility staff and ambassadors alike extend their gratitude for the continuous support and education Bob has offered as a part of the team. Congratulations and enjoy, Bob!
North Carolina
Congratulations to Kristoff Minus, NC AgrAbility grad student, for defending his thesis entitled "Empowering the Caregiver Network of Farmers with a Disability through North Carolina AgrAbility".
Tennessee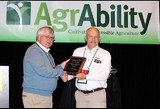 Congratulations to Tim Prather, TN AgrAbility PI, for being recognized with the Breaking New Ground Achievement Award from the National AgrAbility Project for his 25 years of "Cultivating Independence for Persons with Disabilities in Agriculture"! Congratulations on your award and love for AgrAbility.
Joetta T. White, area specialist for Tennessee AgrAbility Project, received the Friend of Calloway County Soil Conservation District award for her dedication to their Safety Days for 15 years. Calloway County, KY, SCS district hosts a three-day Safety Day event for Middle and High School students.
Utah
AgrAbility of Utah is pleased to welcome Randall Bagley to the AgrAbility team. Randall brings a strong background in agriculture and several years' experience in social services to his new role. Randall received both his BS and MS from Utah State University. Randall replaces Anne Brown-Reither as the AgrAbility of Utah coordinator. Randall will serve clients in northern Utah, coordinate activities among the resource facilitators, and lead AgrAbility of Utah's outreach efforts.
AgrAbility in the News
Click here for news stories featuring AgrAbility projects.
Expert shares tips to prevent grain bin accidents
14 Organizations Changing the Face of America's Farmers
Together We Grow Extension
Farmers confront physical, emotional challenges
As Illinois farmers get older, farms get bigger and fewer
Women in Agriculture event returns
Senior Capstone Series: Innovative and compassionate engineering
Webinar to address depression in dairy communities
2019 National AgrAbility Training Workshop
Kansas AgrAbility Project
AGRABILITY UNLIMITED: You don't have to stop farming
VIDEO: Blue Mound farmer talks about overcoming disability
AgrAbility Helps Veterans with Agriculture Careers
Madonna partners with AgrAbility for 2019 national conference
TN AgrAbility Project/UT Gardens Veterans Horticultural Therapy Workshop, Clinton, TN
Military veteran farm tour, agriculture program May 17-18 in Liberty
Other News
Click here for other news of interest to AgrAbility staff members.
Dairy organization expands veteran services
Coalition supports Stress Assistance Network
Popular safety net program gets a boost
Have a farm disaster plan
Floods demonstrate importance of crop insurance
Farm Aid activates its Family Farm Disaster Fund
New tools help with H2A applications, loans
A 2-year-old couldn't walk on his own. So a high school robotics team built him a customized toy car
High school teen and her service dog star in production of "The Wizard of Oz"
Blind man finishes New York City half marathon with the help of guide dogs for the 1st time
Upcoming Events
Click here for professional development events related to AgrAbility
.
Problems? Contact Chuck Baldwin, National AgrAbility Project, baldwi19@purdue.edu