December 2012
National AgrAbility Project News
Webinars and PowerPoint files from the 2012 Virtual NTW have been archived at www.agrability.org/Online-Training/archived/2012virtualntw.cfm. more
PowerPoint presentations from the conference Veterans and Agriculture: Opportunities for Employment, Entrepreneurship, and Enrichment are now archived at www.breakingnewground.info/vets.
Sandy Lane's presentation on horticulture therapy for veterans from the above conference has been posted on the NAP YouTube channel.
Goodwill's representation with the National AgrAbility Project has shifted from Goodwill Industries International to Goodwill of the Finger Lakes, a Goodwill member organization. more
With many initiatives on the NAP Work Plan, one that Goodwill staff are very excited about is offering 24/7 live answer for the NAP phone number, utilizing the 211 Contact Center to cover after hours calls. more
Amber Wolfe, Arthritis Foundation national partner, was a speaker at the Kentucky Small Farms Conference in Frankfort, KY on November 15. more
Amber Wolfe has held several conference calls with Arthritis Foundation program directors across the country to educate them on their local AgrAbility projects and to assist them in brainstorming ideas for collaborations.
Click here for the schedule of upcoming Community of Interest and Standing Committee call information.
Toolbox Spotlight
New in The Toolbox are a few ideas to add traction for safer winter footing. When you want to limit how long you have to be out in the cold, you can finish the task more quickly with faucet and control handle adapters. See more.
State and Regional AgrAbility Project News
California
CalAgrAbility made a connection with One Sight, which helps uninsured and low-income individuals obtain free eye exams and free eyeglasses through partner organizations, such as Sears Optical and LensCrafters. more
CalAg also connected with Global Health Discounts Inc. to obtain a low cost MRI for a farmer. more
CalAg continues to collaborate with Hear! Here! Yolo chapter of the Hearing Loss Association of America to assist in directing services.
CalAg staff met with California Department of Rehabilitation's Assistive Technology Coordinator and discussed new AT programs that will soon be available to consumers that can benefit CalAg consumers with possible AT funding.
CalAg staff also attended the first virtual National Training Workshop and gained a better understanding of the partnership with Goodwill of the Finger Lakes.
Colorado
CO AgrAbility staff recently traveled to southwest CO to begin the 2012-2013 winter workshop series. more
Another presentation was given to Colorado Farm Bureau Safety and Health Committee. more
Goodwill Denver AgrAbility supervisor David Cessna attended the Veterans and Agriculture workshop sponsored by National AgrAbility Project at Purdue University. more
Georgia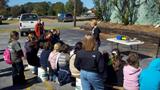 As part of AgrAbility in Georgia's work plan for the past four years, staff have been creating an assistive technology farm. more
AgrAbility of Georgia will be hosting two new webinars that are free to the AgrAbility network. more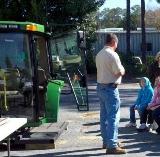 AgrAbility of Georgia presented at the Fall Agricultural and Environment Awareness Day at the UGA Tifton campus. more
AgrAbility of Georgia staff taught graduate occupational therapy students at Brenau College about AgrAbility and low cost AT adaptations.
AgrAbility of Georgia had a booth at a local Farm Safety Ag Day for over 700 3rd graders and 100 high school volunteers. Staff shared information about AgrAbility, PTO Safety, and ATV Safety.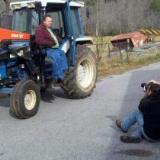 AgrAbility of Georgia will soon have a DVD about the program completed. Staff will mail a copy of the DVD to the AgrAbility network.
Please check out AgrAbility of Georgia on Facebook to stay abreast of activities and recent fabrications: www.facebook.com/agrabilityinga.
Indiana
A Mental Health First Aid training was  held on December 13 and 14 at the Lawrence County Public Defenders office in Bedford, IN. more
Amber Wolfe, Arthritis Foundation partner, served on the planning committee and attended the "Veterans and Agriculture" conference held at Purdue University on November 7-8.
Amber Wolfe presented a two-hour community health workshop on arthritis and the Indiana AgrAbility Project at Bend in the Woods in Logansport, IN on November 20. more
The Indiana AgrAbility Project exhibited at the 2012 Indiana-Illinois Power Machinery Show at the Indiana State Fairgrounds in Indianapolis December 11-13. more
Kentucky
After a long, hot summer traveling across the state and beyond, KY AgrAbility staff have spent the fall working with clients and educating the public.
Kentucky AgrAbility hosted the Kentucky State University's Third Thursday Thing at the KSU Research Farm on November 15, 2012. more
John Hancock of the Kentucky AgrAbility Project also presented at the conference using the "It's About Hope" video found on the NAP website. more
KY AgrAbility participated in at the North American International Livestock Expo in Louisville November 3-18. more
In October the AgrAbility team joined all University of Kentucky county Extension agents at the annual update conferences held in Marshall and Clark counties. more
Nebraska
Sharry Nielsen and Anna Lewandowski attended the Midwest Rural Agricultural Safety and Health Conference in Cedar Rapids, IA. more
The Center for Rural Affairs aired a webinar for the Veteran Farmers Project on resources available for returning veterans to begin or expand farming operations. more
Following a needs assessment survey to help determine programming direction for education on pain and injury prevention, Anna Lewandowski presented her findings to the NE team and via webinar to the Nebraska Advisory Committee and AgrAbility Peers. more
The Nebraska AgrAbility project received a $10,000 grant from DuPont Pioneer to help fund AT for clients with temporary disabilities, such as following major surgeries or before funding for permanent solutions can be obtained. more
North Carolina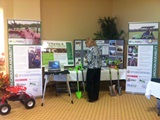 Michele Proctor, Dr. Jimo Ibrahim, and Robin Tutor-Marcom represented NC AgrAbility at the first North Carolina Agricultural Safety and Health Symposium in Kannapolis, at the North Carolina Research Campus. more
Dr. Mary Hildebrand and Dr. Sue Leach from East Carolina University co-presented at the North Carolina Physical Therapy Association and the North Carolina Occupational Therapy Association statewide fall conferences in October. more
The project has been represented at ten other meetings and events since October 1, including the Southeastern Strawberry Expo, where Nick Turkas of the Arthritis Foundation Mid-Atlantic Region joined NC staff to help talk to folks about AgrAbility and arthritis. more
NC AgrAbility wrote a successful grant to Ag Carolina Financial for $5,000 that will enable the project to provide a 50/50 cost share up to $500 per farmer to assist them in purchasing assistive technology identified during AgrAbility farm assessments. more
Ohio
Ohio AgrAbility staff continues a collaborative effort for the seventh consecutive semester with the University of Dayton College of Engineering to provide leadership in developing AgrAbility-based engineering projects for students enrolled in innovative engineering classes. more
Ohio AgrAbility attended the Goodwill Easter Seals Miami Valley Assistive Technology Fair in Dayton, Ohio. more
Oklahoma
The Rehabilitating Oklahoma Farmers and Ranchers with Injury, Illness, or Disabling Conditions conference was held November 2-3, 2012, at the Oklahoma State University-Stillwater campus. more
Sandra Stevenson, Oklahoma AgrAbility program manager and member of Oklahoma Agricultural Leadership Program-Class 16, toured the mid-southern region of Oklahoma, including the Samuel Roberts Noble Foundation and OSU's Institute for Agricultural Biosciences. more
Tennessee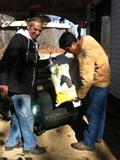 "Martha's Blueberries" has a new tool to make life easier for Mr. Armando Longoria, pictured, who cares for 120 blueberry bushes and several fruit trees. more
Vermont
Gail Lapierre, of the Vermont AgrAbility Project. Was a guest speaker on the recent Arthritis Community of Interest Call with her fantastic presentation focusing on women and ergonomic fits to tools and tasks. more
Wyoming
Wyoming AgrAbility staff had an exhibit at the 2012 WY Women in Ag Symposium held November 15-16 in Casper. The exhibit included information on hearing loss prevention, as well as arthritis and agriculture.
Staff Changes
National AgrAbility Project
Please welcome the Goodwill of the Finger Lakes NAP representatives:
JoBeth Rath, Workforce Development Manager, jbrath@abvi-goodwill.com
Dawn Miner, Workforce Navigator, dminer@abvi-goodwill.com
Judy Gillis, Administrative Support, jgillis@abvi-goodwill.com
Colorado
Colorado AgrAbility has added Candiss Leathers to a staff position. Her knowledge of agriculture comes from being born and raised on a north-eastern CO farming community and her previous employment was 35 years with CO Division of Vocational Rehabilitation. Candiss is a certified rehabilitation teacher and a mobility specialist with specialties in low vision and hearing loss. We are very excited to have Candiss join AgrAbility and look forward to her new ideas and connections.
Oklahoma
Welcome Tierra Eller, new marketing coordinator for Oklahoma ABLE Tech and AgrAbility. Tierra joined us from OSU Agricultural Communications Services and will be managing the Oklahoma AgrAbility website and promotional materials.
Other
Former Colorado AgrAbility staff member Bill Tiffany is interested in working with AgrAbility again. He is a certified occupational therapy assistant (COTA) and would be willing to relocate. If you have an opening, contact Bill at b-tiffany1990@hotmail.com.
AgrAbility in the News
Click here for news stories featuring AgrAbility projects.
The Overcomers
AgrAbility for Farmers in Need
Welcome to the Wheelchair Rodeo in Lowell
AgrAbility Toolbox
Modified Equipment Helps Blue Mounds Farm Wife Continue Her Passion for Dairying
Oklahoma AgrAbility
Colorado Dairy Producer Receives Hope with the Help of Colorado AgrAbility...Arthritis May Slow Her Down, but It Doesn't Stop Her
Other News
Click here for other news of interest to AgrAbility staff members.
Amputee Coalition Guides Grey's Anatomy Plotline
Upcoming Events
Click here for professional development events related to AgrAbility.
Problems? Contact Clifford Racz, National AgrAbility Project, racz@purdue.edu