July 2013
National AgrAbility Project News
Workshop information coming soon! The NAP will soon be announcing plans for the following:
2014 AgrAbility National Training Workshop
Regional AgrAbility workshops: southeast location in September; western location in December
2013 Virtual NTW
AgrAbility webinar: 2-1-1 and Information & Referral Networks: Discovering Their Value to Professionals and Clients. Find out how 2-1-1 can help you do your job and raise awareness of your AgrAbility project. more
Click here for the schedule of upcoming Community of Interest and Standing Committee call information.
Toolbox Spotlight
Old age hasn't stopped a farmer yet. The Toolbox has many solutions that can reduce the stress on body and mind, including these featured in the Spotlight this month. more
State and Regional AgrAbility Project News
California
CalAgrAbility conducted six English-Spanish "Get Moving: Arthritis Prevention and Pain Management Exercise Program" classes. more
Staff completed a Rehabilitating Farmers workshop at a major vineyard in Napa Valley and with health professionals at the Physical Edge Rehab Center in Yolo County and the Disability Veterans Business Alliance in Sacramento.
Staff attended a monthly health fair at the General Consulate of Mexico sponsored by Champions for Change and Ventanilla de Salud, a health information services program. more
Staff met with a representative from WeConnect, an Endowment Foundation program Maria Shriver started as First Lady of California. more
CalAg also collaborated with One Sight through LensCrafters throughout the state of California to assist consumers with low vision to obtain eye exams and eye glasses.
CalAgrAbility continues to use twitter as a networking method. CalAg has 122 followers. Follow at twitter.com/calagrability.
Georgia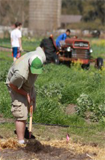 AgrAbility in Georgia partnered with several agencies to host a workshop titled "Meeting The Needs of Veterans and Underserved Producers." more
On June 8 AgrAbility in Georgia hosted an iPod Touch, iPhone, and iPad as Assistive Technology workshop for occupational and physical therapists. more
Indiana
Indiana AgrAbility exhibited at the Indiana State FFA Convention June 17-20. more
The Bridging Horizons Community Service Contest first place was awarded to Carroll Fort Wayne FFA who designed and built a garden center for a local disability outreach center. more
Hoosier Uplands is busy with county fairs this summer. Other recent events have been well attended with over 4,000 at Safe Night Lawrence County and over 1,000 at the Orange County REMC annual meeting and health fair.
Maine
Lani Carlson gave a presentation about the Maine AgrAbility Project and personal protective equipment in coordination with John Deere in Presque Isle, Maine. more
Ellen Gibson presented a talk at the Maine Organic Farmers and Gardeners Association Farm and Homestead Day about Maine AgrAbility and Farming and Ergonomics: Staying Safe and Healthy on the Farm.
Maine AgrAbility staff is planning two half-day workshops with Amber Wolfe of the Arthritis Foundation in July. more
Missouri
AgrAbility Gardens For Every Body staff provides support to Columbia and Boone county community garden coalitions to explore ways in which to help the elderly, lower incomes, and individuals with disabilities have access to fresh food. more
PHARM to Farm Project On-Site Farmstead Medication Assessments and Evaluations will be launched July 1, 2013. more
Cambio de Colores (Change of Colors) is an annual meeting that brings together researchers, practitioners, decision-makers, and community members to discuss the issues that Missouri, the Heartland, and other states face as a result of the Latino demographic changes made evident by the 2010 census. more
On June 13, MU regional extension faculty and AgrAbility staff members participated in the one hour AgrAbility webinar Lighting for Health and Safety in Agricultural Settings.
Jackie Allenbrand presented to over 200 participants at the Independent Living Summit held in St. Charles, MO, June 24-25. more
North Carolina
NC AgrAbility project coordinator Michele Proctor and NC Agromedicine Institute's director Robin Tutor-Marcom presented a one hour Introduction to AgrAbility presentation at the 2013 NC Association of Agricultural Agents Annual Conference in Fayetteville, North Carolina on June 18. more
The NC AgrAbility Resource Directories have been completed and posted on the project's website. more
Disability-specific and topic-specific assistive technology information packets have been completed as well. more
Project director Dr. Jimo Ibrahim and project coordinator Michele Proctor represented NC AgrAbility at the 2013 ISASH Conference in Sandusky, Ohio June 23-27, 2013.
West Virginia
In June, WV AgrAbility conducted an AgrAbility and Assistive Technology training class for the Future Generations Computer Lab and Veteran Help Center in Rock Cave, WV. more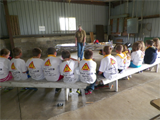 WV AgrAbility assisted with several Farm Safety Day Camps throughout the state. more
WV AgrAbility staff attended the ISASH Conference in Sandusky, Ohio. more
During the Programs of Excellence Poster Session, Tom Stockdale presented on the topic of Youth Safe Farms. more
The 2013 RESNA conference was attended by Inetta Fluharty who participated in sessions on various assistive technologies and received continuing education units toward her Assistive Technology Professional Recertification. more
Wyoming
WY AgrAbility staff presented a workshop on gardening with arthritis for Converse County, Wyoming master gardeners. The AgrAbility assistive technology specialist gave a presentation on AT and Agriculture to Wyoming 4-Hers at the annual Showcase Showdown.
Staff Changes
Wyoming
Chelsea Hampton resigned as project coordinator to take a position as a social worker at the Wyoming Medical Center. AgrAbility thanks Chelsea for all her hard work on behalf of Wyoming's ranchers, farmers, and their families.
AgrAbility in the News
Click here for news stories featuring AgrAbility projects.
Injured Farmer Receives Helpful Companion
Profit Tips: Be Careful out There
Overcoming Adversity and Achieving Small Business Success
Agriculture Workshop for Military Veterans to be Held July 25 in San Antonio
Other News
Click here for other news of interest to AgrAbility staff members.
Testing Method Promising for Spinal Cord Injuries, Multiple Sclerosis
High Disability Rates Persist in Old Age
Left out: The Authors Who Know Disability From Inside
Unable to Cope, Unwilling to Accept Aid
Upcoming Events
Click here for professional development events related to AgrAbility.
Problems? Contact Clifford Racz, National AgrAbility Project, racz@purdue.edu