April 2016
National AgrAbility Project News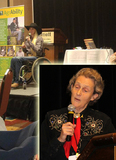 Special thanks to the NTW planning committee and all those who attended for helping to make the 2016 National Training Workshop a success! We had 226 conference attendees come together from all over the US representing 36 states plus attendees who traveled all the way from Brazil and China. More
Be sure to keep up with AgrAbility's 25 Years, 25 Stories on the NAP's dedicated web page, our Facebook page, or our Twitter account. Our latest stories: John Hancock of Kentucky and Shea Rolnick of Maine.
Paul Jones and Steve Swain recorded the webinar Improving Extension Accessibility on March 31 in cooperation with eXtension Diversity, Equity, and Inclusion Online Community of Practice. View it here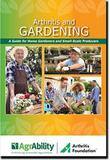 Gardening is the number one hobby in the United States, and Arthritis is the number one disability. This may be a coincidence, but it also offers an opportunity for education and awareness of both! More
Nationally funded AgrAbility partner the Arthritis Foundation Heartland Region hosted a series of "Arthritis and Agriculture" workshops in the upper Midwest area. More

The NAP supported the Farmer Veteran Coalition's Empowering Women Veterans Conference, March 4-5, at Stone Barns Center for Food and Agriculture in Pocantico Hills, NY. More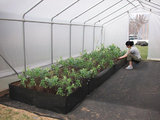 Toolbox Spotlight: As planting time arrives, a Fabric Raised Bed - with no need for a rigid frame - in the field or inside the greenhouse can increase yields, reduce weeds and other pests, improve soil condition, conserve water, and lengthen the growing season. In addition it can be reconfigured and relocated.
Click here for the schedule of upcoming Community of Interest and Standing Committee call information.
State and Regional AgrAbility Project News
California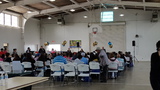 CalAgrAbility attended the Farmworker Appreciation Day in Delano, CA, on March 4.The staff was able to reach out to roughly 200 farmworkers and their families while enjoying a great fair established by the California Employment Development Department.
CalAgrAbility attended the Small Farms Conference in Sacramento, CA, March 6-8. More
CalAgrAbility attended the Western Center for Agricultural Health and Safety seminar on April 4 at UC Davis titled Environmental Justice and Cumulative Impacts in Communities: The Cal Enviro Screen Model, presented by Gina Solomon MD, MPH - CA Environmental Protection Agency
Staff members met with a representative of Latino Coalition for a Healthier California on March 8 in Sacramento, CA, to discuss diabetes and farming project and outreach.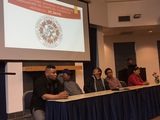 Personnel attended the Andrew Mellon Social Justice Initiative titled Back-breaking Justice: Women and Farmworkers of Northern CA, Central Valley and Coast at the Walter A. Buehler Alumni Center at UC Davis on March 11. More
CalAgrAbility attended the Conferencia Para Promotores (Conference for Social Health Workers) on March 12.
Staff attended the CET Resource Fair on March 15 in Salinas, CA.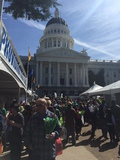 CalAgrAbility attended Ag Day at the California Capital: "Golden State on Your Plate", on March 16 in Sacramento, CA.
Personnel attended the RISE Inc. Esparto Monthly Collaborative Meeting in Esparto, CA, on March 18.
CalAgrAbility attended the AgriSafe Network Training titled Protecting Young Adults in the Agricultural Workforce on March 22.
Staff attended the AgriSafe Network Training titled Don't Get Stuck! Preventing Needlestick Injuries in Agricultural Settings, on March 30.
CalAgrAbility attended the webinar Los trabajadores de salud comunitarios pueden hacer una diferencia en ayudar a las personas a mantenerse seguros y saludables en el trabajo (Community Social Health Workers Can Make a Difference in Helping Others to Maintain Safety and Health on the Job) on March 30.
Colorado
Colorado AgrAbility Project (CAP) was asked by the Colorado legislature to assist with a fact-finding and educational function to determine the potential effect on disabled new or beginning farmers of a law that would offer a retiring farmer tax incentives for leasing land to the new farmer. More
CAP was invited to attend the meeting of the Colorado Agriculture Council and to present AgrAbility. More
CAP was asked to be one of the presenters at the Colorado Legislature Veterans Caucus on Agriculture Employment. Staff members attended and presented the facts to 102 persons at the caucus.
The Eastern Colorado Health Care System of the Veteran's Health Administration asked CAP to assist in forming a VA Farmers Market at the Denver VA, Colorado Springs VA, Pueblo VA, and Grand Junction VA.
Indiana
Indiana AgrAbility participated in the Indiana Small Farms Conference at the Hendricks County Fairgrounds in Danville, Indiana. More
Indiana AgrAbility Rural Rehabilitation Specialist Steve Swain and Mark Bechman from USDA Rural Development jointly presented two programs for the IPickHere localization initiative. More
Linda Tarr attended the Indiana Farm Bureau Spring Conference and several other events and meetings in March. More
Kansas
Kansas AgrAbility staff participated in the second annual Ag Day Workshop at Fort Riley. More
Kerri Ebert, Kansas AgrAbility coordinator, was awarded a Certificate of Appreciation from the Warrior Transition Battalion at Fort Riley for "sharing valuable lessons geared towards transition that have left a lasting impact on our Soldiers and greatly assisted in our unit's accomplishment of its mission."
Kentucky
KY AgrAbility was pleased to go to Colorado for the National Training Workshop April 11-14.
Third Thursday at KSU will be dealing with Water Quality, Conservation, and Sustainable Farming. Spring pruning at the research farm will include hands-on demonstrations. The new accessible garden beds are being put in and pathways developed beside the patio area at KSU.
The next veteran workshop is scheduled for May 21st at St. Catherine College in Springfield, KY. More
The 13th Annual Summer Institute in Assistive Technology is hosted by Kentucky Assistive Technology Service, KY AgrAbility, and KY Office of Vocational Rehabilitation. This workshop will be held at the KSU Research Farm on June 14th and 15th. More
ISASH is being held this year in Lexington, KY. All AgrAbility partners are encouraged to attend. This event is scheduled on June 26th -30th. Registration is available on their web site.
KY AgrAbility will be attending two great events in August: The Regional AgrAbility Training in Frankenmuth, MI, and ADED in Columbus, OH. More
KY AgrAbility hopes to see many of you at events throughout the spring and summer.
Maine
Maine AgrAbility Project Coordinator Lani Carlson attended the 42nd Annual Maine Fishermen's Forum. More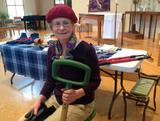 Ellen Gibson, Maine AgrAbility specialist with Goodwill Industries of Northern New England, demonstrated some assistive technology for gardeners in a presentation at the March 9 meeting of the Boothbay Region Garden Club. More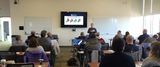 On March 19, Maine AgrAbility gave a presentation about AgrAbility and the University of Maine Cooperative Extension at the Farmer Veteran Coalition of Maine workshop for veterans interested in farming in Maine. More
Kelly Osborn, the Goodwill project manager for AgrAbility, reached out to the Native American vocational rehabilitation (VR) program in March. Kelly's previous experience working for VR with the Native American population will help the Project increase its outreach and education efforts in Downeast and Northern Maine.
Michigan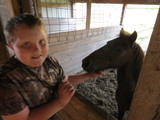 Wyatt Fuss, an active nine-year-old boy was born with spinal cord tumors that are located between the C2 and C7 vertebrae inside his spinal cord. More
March was a busy month for Michigan AgrAbility staff - they were especially busy spreading the word about AgrAbility services! More
Missouri
AgrAbility staff with the University of Missouri Extension increased the likelihood that Missouri farmers, ranchers, farm workers, and farm family members with disabilities experienced success in farming and farm-related occupations by addressing clients' unique needs through the following educating, networking, assisting, and marketing activities. More
The Kimberly Keller, Rebecca Mott, and Karen Funkenbusch PhotoVoice abstract poster was presented at the 2016 Annual meeting of the Society for Applied Anthropology in Vancouver, BC, Canada, March 29th - April 2nd. More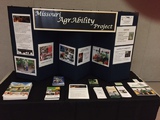 Missouri AgrAbility staffed a display at the Lincoln University Missouri Minority and Limited Resource Farmers conference held in Sikeston, MO, on March 4. More
University of Missouri-Kansas City School of Pharmacy, a Missouri AgrAbility Project partner, provided outreach at the 55th annual Western Farm Show on February 27th at the American Royal. More
Kelly Cochran, PharmD, BCPS, was invited to present a continuing education seminar for Missouri pharmacists about the Pharm to Farm and Missouri AgrAbility Project collaboration at the upcoming Missouri Pharmacy Association Annual Conference & Expo Sept 8-11, 2016.
Brain Injury Fact of the Day for March Brain Injury Awareness Month was very successful at increasing awareness about the Missouri AgrAbility Project and the Brain Injury Association. More
Maureen Cunningham, Brain Injury Association of Missouri, along with Karen Funkenbusch and other MU Extension personnel affiliated with AgrAbility, attended the Western Farm Show in Kansas City, MO, at the end of February. More
North Carolina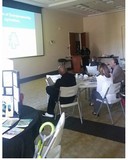 North Carolina AgrAbility Partners conducted workshops on March 22, 2016, and March 31, 2016, targeting veterans. More
On March 9, 2016, North Carolina AgrAbility Partners (NCAP), led by Tammy Koger of the North Carolina Assistive Technology Program, presented as part of a workshop for the North Carolina Veteran's Administration vocational rehabilitation counselors in Winston-Salem, North Carolina. More
Nebraska
Emily Freudenburg, Easter Seals Nebraska Rehabilitation Specialist, attended the Nebraska Occupational Therapy Conference as a vendor. More
Pennsylvania
AgrAbility PA is active on Pinterest and encourages all projects to join in compiling and sharing assistive technology information and other resources! AgrAbility PA has almost 400 pins that can benefit AgrAbility staff, clients, caretakers, and other partners. Visit AgrAbility PA on Pinterest! https://www.pinterest.com/agrabilitypa/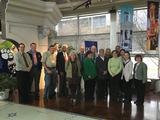 The AgrAbility PA Advisory Board held an annual meeting in State College, PA., on March 17. More
AgrAbility PA has a newly redesigned brochure and printed newsletter, Field Notes. The printed newsletter was mailed in March to more than 1,800 contacts from a recently-expanded database. To be added to AgrAbility PA's mailing list or to receive a copy of the brochure by mail, please send an email to AgrAbility@psu.edu
AgrAbility PA Project Assistant Abbie Spackman met with a group of dairy farm women to discuss the challenges women face in agriculture. More
Partnership with PA Office of Vocational Rehabilitation (OVR) provided AgrAbility PA a summary of joint clients from 2004 - 2015. This is the first time that AgrAbility PA has received this type of summary from OVR. One highlight: AgrAbility PA clients experience a 90.5 % success rate with OVR. Cheers for this!
Tennessee
The Tennessee AgrAbility Project (TAP) was represented at the 2016 Farmer's Market Boot Camps sponsored by the University of Tennessee Center for Profitable Agriculture, the Tennessee Department of Agriculture, and the Tennessee Association of Farmers Markets. More
TAP kept busy preparing and spreading the word with newspaper articles and PSAs for their first Farmer Veteran Workshop April 2nd in Clarksville, TN.


TAP is pleased to announce that the Tennessee Department of Agriculture elected to promote the Homegrown by Heroes label separately but in harmony with their own "Buy Local" label.
Tennessee AgrAbility presented at the Small Farm Outreach and Assistance Program Workshop in Memphis and at the Western and Central UT TSU directors meeting, exhibited at the East TN Grain Conference, the Cumberland Beef Day, and Tennessee Beef Agribition, and celebrated March Extension Month with several open houses.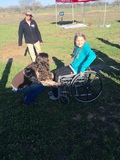 TAP participated in the Carroll County Safety Day for elementary students with a helmet safety demonstration and Gibson County Progressive Agriculture Safety Day for 6th graders with disability awareness hands-on activities.
Staff participated in the Agrisafe Webinar "Protecting Young Adults in the Agricultural Workforce". TAP is planning for several Farm Safety and Health Days this year.
TAP was sad to hear news that long time executive director of East Tennessee Technology Access Center, Dr. Lois Symington, was retiring. More
Utah
AgrAbility of Utah sponsored a booth at the Utah FFA State Convention March 10-12 in Richfield, Utah. The convention brought students from FFA chapters throughout the state for education and competition. AgrAbility staff also helped to judge some of the student speaking contests.

Virginia
AgrAbility Virginia staff is finishing up its second practicum with Deming School of Health Sciences doctor of physical/occupational therapy students. More
AgrAbility Virginia Program Coordinator Kirk Ballin has been assisting Virginia State University (VSU) in the promotion of VSU's hosting of the National Small Farm Conference at VSU, September 20-22, 2016 http://www.vsu.edu/nationalsmallfarmconference/
Vermont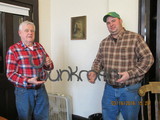 Vermont AgrAbility continues to work with traumatic brain injury support groups. More
Farmer Veteran Coalition Vermont continues to gain support. The executive committee and the general membership met for an all-day strategy planning session March 31, to be followed by a weekend retreat for all their veterans.
Wisconsin
The 2016 AgrAbility of Wisconsin Summit was held at Organic Valley in Cashton, Wisconsin, on March 23rd. The free annual event was held to educate farmers about farm transition, succession planning, and assistive technology, and included a tour of Organic Valley's new facility.. More
West Virginia
Melissa Stewart and Inetta Fluharty represented West Virginia AgrAbility on the National Training Workshop planning committee.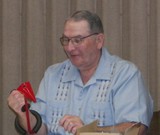 On March 9th, WV AgrAbility participated in an all-day training for minority and veteran farmers at the National Guard Armory in Welch, WV. More
West Virginia AgrAbility continues to provide information and resources to farmers requesting assistance. More
Staff Changes
Nebraska
Sharry Nielsen retired, effective March 11, from Nebraska Extension after 37 years. Sharry has been part of the Nebraska AgrAbility team for many years and will be greatly missed. We wish her the best in this new phase of her life.
Nebraska hired a new part time rural rehabilitation specialist in March. Please welcome Shelbi Rivera srivera@ne.easterseals.com to the Nebraska AgrAbility team. Shelbi will be working out of Norfolk, NE, on an as-needed basis and is a recent graduate of Dodge City Community College with a major in agriculture.
Nebraska also welcomes Aaron Yoder aaron.yoder@unmc.edu to the program team. Aaron is an Assistant Professor at the University of Nebraska Medical Center in Omaha.
Tennessee
Welcome to Mary Thom Adams who became the new director at TN AgrAbility's nonprofit disability partner, East Tennessee Technology Access Center. "What I bring to the table is that I am an administrator. I know how to raise money and that is where I can make an impact!"
Wisconsin
AgrAbility of Wisconsin's outreach specialist, Hannah Barthels, has accepted a position closer to home and family. The staff at AgrAbility wish Hannah the best of luck and are very grateful for all of her hard work and dedication these past few years. She will be greatly missed! Good Luck Hannah!
AgrAbility in the News
Click here for news stories featuring AgrAbility projects.
AgrAbility celebrates 25 years
AgrAbility Celebrates 25th Anniversary!
AgrAbility celebrates 25 years of assistance to farmers with limiting health issues
Purdue workshop aims to help veterans interested in farming
AgrAbility cited in Love Maine Radio interview with Goodwill Northern New England chief
National Brain Injury Awareness Month: ABI's, TBI's and all the in between's
Nebraska AgrAbility Fosters Success
Assistive technology, help for the avid gardener
AgrAbility can help you continue the work you love after an injury or when affected by disease or aging
A Brave Boy Overcomes Disability with Help from Family and Michigan AgrAbility
Other News
Click here for other news of interest to AgrAbility staff members.
USDA Helps Military Veterans Explore Agriculture as a Career (posted by Lanon Baccam)
The disturbing lack of black organic farmers
'Going Green' Is Really 'Going Native': Western Apache Chef Nephi Craig
Women Farmers Band Together To Vent, Seek Support And Exchange Ideas
NFU Beginning Farmer Institute Accepting Applications for 2016-17 Class
Blind pole vaulter sets the bar high
General rallies farmers for renewables
New Group GAP program announced
Producer grant funding to be announced
How Urban Farmers Can Earn $75,000 on 15,000 Square Feet
Record growth in U.S. organic sector
$90M for local, regional food systems
Strengthening local food supply chains
Investigating the health benefits of berries
USDA microloans realize your ideas
Just in time for National Garden Month
Of Bison and Blue Cornmeal: USDA Supports Access to Traditional Foods in Native American Communities
Forecasting a decline in farm income
Using nanotechnology in agriculture
New toolkit assesses local food impacts
We Farm Georgia
USDA to help improve communities' water
Coccidiosis in sheep, goats & calves
Growing organics? FSA can help
NFU partners with Feeding America
Kimbal Musk is Changing the Food System One School Garden at a Time
Antibiotic resistance takes center stage
Online ag resources from Syngenta
A soup kitchen disguised as a restaurant is making a big difference in Kansas City.
Food and farming's role amid conflicts
EU supports country of origin labeling
To reduce inequality, focus on hunger
Upcoming Events
Click here for professional development events related to AgrAbility
.
Problems? Contact Clifford Racz, National AgrAbility Project, racz@purdue.edu