August 2018
National AgrAbility Project News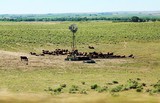 The 2019 AgrAbility National Training Workshop will take place in Lincoln, NE, March 25-28 at the Embassy Suites Downtown Lincoln. More
Upcoming AgrAbility Regional Events
Albuquerque, NM, November 8 - 9, 2018, at the Hilton Garden Inn Albuquerque Uptown. You may click HERE to reserve your room now. Look for a message soon on registration, and hopefully CEU opportunities for OTs at this event. More
Mt. Vernon, WA, December 5-6, 2018 at the Washington State University Northwestern Washington Research & Extension Center. More details will be in your inbox soon.
Contact anytime about these events: Tess McKeel-tmckeel@goodwillfingerlakes.org 585.447.9015 or JoBeth Rath-jbrath@goodwillfingerlakes.org 585.402.2059
AgrAbility All-Staff Meeting - Wednesday, August 29 at 3:00 ET. Check your email for upcoming specifics.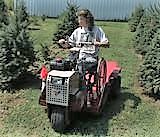 The new AgrAbility Marketing and Media Community of Interest is scheduled to meet the first week of September. Topics include the new NAP video project. If interested, respond to the Doodle poll linked here by COB this Friday, August 17. https://doodle.com/poll/w6kcxv3q5u7fazqx
As part of the NAP work plan, one SRAP staff member and one AgrAbility client (or client family) are invited to participate on the NAP Advisory Team. Many thanks to Richard Brzozowski of Maine AgrAbility and the Franklin family (Dusty, Barb, and Gracie) of Colorado for serving. For 2018-19, Emily Freudenburg of Nebraska AgrAbility and Charlie Jordan, farmer veteran from Tennessee, have agreed to serve.
The National AgrAbility Project attended and exhibited at the RESNA (Rehabilitation Engineering and Assistive Technology Society of North America) conference held in Arlington, Virginia, July 12-15, 2018. More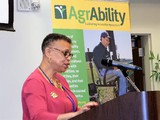 Chuck Baldwin, National AgrAbility Project (NAP) special populations outreach coordinator, Paul Jones, NAP project manager, and Bill Begley of Life Essentials, in collaboration with the North Carolina AgrAbility Partnership, helped to lead the 1890s AgrAbility Workshop held at North Carolina A&T (NCA&T) University July 27-28. More
The AgrAbility webinar, "Peer Support for People with Disabilities in Rural and Agricultural Communities," has been archived at www.agrability.org/online-training/archived.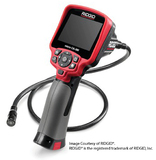 Toolbox Spotlight: With the hand-held, battery-powered Cordless Inspection Camera (or borescope), one is able to observe areas too cramped, too far away, or entirely out of reach on a monitor that's attached to a flexible shaft with a micro-camera at the end. Once the shaft is maneuvered into position, the user can see what the camera sees.
State and Regional AgrAbility Project News
California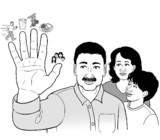 California AgrAbility has been working with Dignity Health and the Western Center for Agricultural Health and Safety to develop a Spanish educational booklet (novella) on farming and diabetes. More
California AgrAbility has kept busy participating in webinars such as Conn Maciel Carey's webinar series on OSHA. More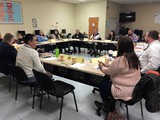 California AgrAbility staff attended the monthly RISE Collaborative Meeting. The members of this collaborative meeting are actively doing referrals among agencies; a couple success stories were shared. More

Colorado
July saw Colorado AgrAbility (CAP) staff attending a meeting for new DVR self-employment counselors where staff were able to discuss expectations with respect to self-employment cases and clarify administrative rules. More
Fall is approaching, and with it, the new school year. As in the past few years, staff are in the planning stage for acceptance of a new OT intern from the CSU OT school.More
APRIL is coming to Denver this Fall. The annual APRIL conference will be held in Denver during October 2018. More
Staff at CAP have for some time been aware of the farm stress effect in the mental wellness of rural agricultural operators and workers. An additional component of that is the overuse of opioid medications, both legally and illegally obtained. More
Georgia
Georgia AgrAbility staff attended the Athens Area Hoop Houses, Tools, Wholesale, and Solar workshop hosted by Global Growers July 12. More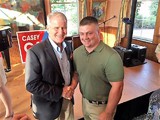 Georgia AgrAbility Veteran Relations Coordinator Chris Dorsey met with retired United States Marine Corps Lieutenant Colonel Oliver North on July 14. More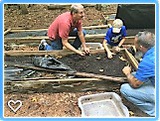 Staff attended the Winterville Worm Workshop July 16. Staff was able to take a Georgia AgrAbility client to the event so that they could learn more about how to raise worms to make castings which will then be applied to organic practices when growing fruits and vegetables. More
Illinois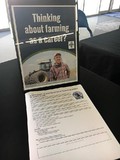 Kelly Gagnon, the AgrAbility Unlimited Illinois communications coordinator, attended the American Legion job fair in July on behalf of AgrAbility and its partner the Illinois Farmer Veterans Alliance... More
The AgrAbility Unlimited Illinois team is looking forward to the upcoming Illinois State Fair in August to gain some new exposure for the organization's services. More
Indiana
Linda Tarr spent most of the month at county fairs and is participating in the state fair in August. She also continued work with a new client.
Kansas
Greenwood County Farm Bureau hosted a health fair at the Greenwood County Fair on July 28... More
Kentucky
July has been a marathon of activities for the KY AgrAbility staff. The residents at the Beacon Apartments for seniors and disabled individuals requested that KY AgrAbility help with accessible garden plans for the facility. More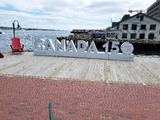 The highlight of the month was the trip to the ISASH Conference in Nova Scotia. Linda, Mike, and Kevin participated in this event that was informative for each. More
Mike Lewis and Ryan Creech represented KY AgrAbility at the RESNA conference in Arlington, VA. More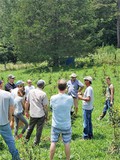 On July 21, The KY AgrAbility Project, partners KSU and KY Growing Warriors, hosted a hands-on blueberry cultivation workshop at the Healing Ground Farm in Mount Vernon, KY. More
August is back-to-school month, and KY AgrAbility staff will be in contact with various schools to connect with the ag teachers throughout the state to educate the students. More
Staff is looking forward to some cooler weather and helping plan the next NTW.
Maine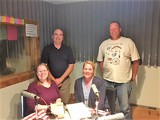 On Friday July 6, Maine AgrAbility's project director, Richard Brzozowski, Project Coordinator Lani Carlson, and AgrAbility client Shea Rolnick, owner of Knotty Goat Soapery, went to East Orland for a radio interview. More
Project Coordinator Lani Carlson met with vocational rehabilitation counselors, job developers, and workforce employment specialists, in Lewiston on July 18th to present AgrAbility program information and to discuss a collaborative effort to identify possible employment opportunities for transition-aged youth on farms.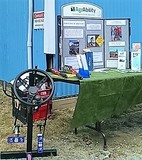 Maine AgrAbility exhibited at two events this month: the Wild Blueberry Annual Summer Field Day at Blueberry Hill Farm in Jonesboro, Maine, and the Maine Military Community Network (MMCN) conference. More
Staff finalized a new resource called Potential Funding Sources for Agricultural Producers in Maine. This will be shared with Maine AgrAbility's clients as a list of possible funding avenues for them to consider and is posted to Maine AgrAbility's website.
AgrAbility staff met with Kate Garland, UMaine Cooperative Extension horticulturist, to discuss possible accessible garden design ideas at the UMaine experimental farm in Old Town, Maine, and to schedule classes for the fall. More
Michigan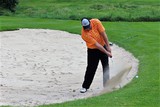 Do you like to play golf? Want to get out on the links before the weather turns too cold? Do you like to support a good cause while having fun? Well, Michigan AgrAbility has it covered due to The Andersons company's generosity! More



Missouri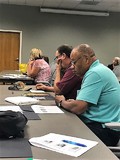 Karen Funkenbusch from Missouri AgrAbility and Tricia Barrett, MU Extension farm business specialist, co-developed and co-facilitated a four-hour in-service training with USDA Farm Service Agency (FSA) state representatives. More
Karen Funkenbusch, director/PI, Missouri AgrAbility, presented, "How to work with AgrAbility farmers and ranchers with disabilities" during the Natural Resources Conservation Service (NRCS) State Civil Rights Advisory Committee (SCRAC) training. More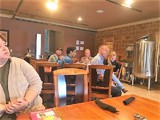 Missouri AgrAbility co-sponsored the MU Extension 2018 Missouri Agriculture Extension Professions (MAEP) two-day in-service education (ISE) "Explore Missouri."More
Missouri AgrAbility staff members and David Middleton, level II MO AgrAbility onsite assessor, with assistance from Missouri Vocational Rehabilitation (VR) and Rehabilitation Services for Blind (RSB) case managers, facilitated four rehab tech/engineering consults... More
Brain Injury Association of Missouri volunteers shared safety tips for rural living and farming at the 12th Annual Public Health and Safety Fair in Independence, Missouri, on Saturday, July 21, 2018. More
University of Missouri-Kansas City School of Pharmacy, a Missouri AgrAbility collaborator, included two student pharmacists in AgrAbility client outreach activities throughout July. More
Free point-of-care health screenings, AgriSafe Health Risk Assessments, and rural wellness education were provided to 13 patrons of the Audrain County 4-H Fair in Mexico, Missouri, at a value of $650, as well as four attendees of the University of Missouri Agroforestry Academy at a value of $200. More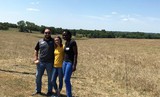 Pictured here Omoshola (right), Shannon (middle), and Ian (left) after a farmstead medication assessment. Shannon and Ian share their background and why becoming pharmacists in rural communities is important to them: More
Nebraska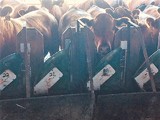 Three Nebraska AgrAbility staff members were involved with the Agri-Med course offered by Central States Center for Agricultural Health at UNMC in Omaha. More
Staff attended Operation Engage America in Waverly, Nebraska, an event designed to help veterans get in contact with helpful organizations.
A Nebraska AgrAbility booth and ATV Aware simulation display will be at the 2018 Husker Harvest Days near Wood River, September 11-13. Mark your calendar! It is a huge event and worth the trip.
Nebraska AgrAbility is pleased and excited to host the 2019 National Training Workshop the last week of March in Lincoln! Staff will strive to help plan the best possible event for all attendees.
North Carolina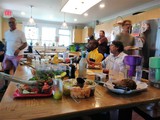 NC AgrAbility Partnership joined the Peacehaven Community Farm on their Disability Gain Summer Series on July 19, 2018. More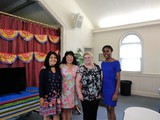 On July 20, 2018, seven individuals completed the Latino Growers Academy. More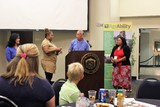 NC AgrAbility hosted the "AgrAbility 1890 Land Grant Institution Workshop" at NCA&T Alumni Event Center in Greensboro, NC, July 27-28, 2018. More
Ohio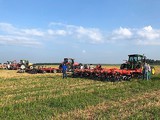 Summertime in Ohio is a good time to build new collaborations and engage in new educational outreach. More
OAP shared marketing packets with Extension educators in all 88 Ohio counties. Educators were encouraged to promote OAP services, schedule a workshop or webinar, and display the OAP poster in their offices. More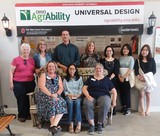 The Universal Design House at the Farm Science Review was the site of a special tour and presentation by OSU Extension's universal design team - FCS educators, professors, a state fire marshal, and Ohio AgrAbility. More
"Modifying a Vehicle for Mobility and Independence" is the title of a presentation that OAP staff are developing with Meredith Sweeney, an occupational therapist from the OSU Wexner Medical Center. More
Pennsylvania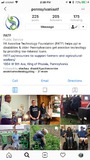 AgrAbility PA partnered with Penn State Extension to provide information about AgrAbility resources and managing stress on the farm to attendees at an Extension Twilight Tour. More
AgrAbility PA and the Pennsylvania Assistive Technology Foundation (PATF) had an Instagram swap. More
AgrAbility staff is gearing up for Ag Progress Days. Full show details will be shared next month, but staff is excited to share that Stand 'N Plant donated a seeder and a planter to AgrAbility for display at this event. More
Tennessee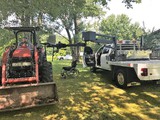 TN AgrAbility and partners helped a cattle farmer who is a wheelchair user get back to driving his tractor and doing what he loves. THANKS to all the instrumental partners working together to make the Life Essentials flatbed pilot truck lift a reality. More
Dr. Deborah Reed, University of Kentucky, represented AgrAbility at the International Rural Nurse Conference in Nashville, TN, July 23-26. More
TN AgrAbility exhibited at the TSU annual Small Farm Expo and first Urban Ag Conference. Great networking with all partners.
TN AgrAbility exhibited at the 2018 NACAA AM/PIC conference in Chattanooga, TN. More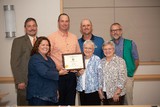 Congratulations to AgrAbility's KY/TN team for being awarded the national winners in the Search for Excellence for Farm Health and Safety category for the Farm Dinner Theater! More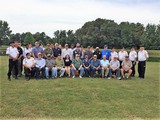 Thirty-five veterans and one active duty soldier were special guests at the Tennessee Farmer Veteran Picnic hosted by TN AgrAbility at Milan No Till Field Day. There were 80 in attendance. More
Texas
The Texas heat did not slow down the Texas AgrAbility Project this month.
Thirty veterans and beginning farmers and ranchers have been chosen for the next cohort of the Battleground to Breaking Ground project. More
The new Veteran Farmer Streamlined Eligibility Program, in partnership with USDA Farm Service Agency, has officially launched. More
The College Station ag workshop will be held August 24, 2018, at G. Rollie White Visitors Center. The workshop will cover Texas AgrAbility, rural business ideas, intro to business planning, and funding resources for farmers, ranchers, and veterans.
Texas AgrAbility staff conducted a training for 45 occupational therapy students at the University of St. Augustine for Health Sciences in Austin, Texas. More
Makenzie McLaurin, program coordinator, presented to over 30 farmers, ranchers, and youth, at the Prairie View workshop for ag resources and funding in Rosenberg, Texas.
Erin Kimbrough, program coordinator, presented to the Center of Excellence for Returning War Veterans in Waco, Texas. Kimbrough presented information about Texas AgrAbility's work with veterans to the board of directors and researchers.
Vermont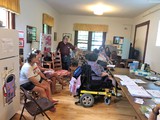 VCIL's Vermont AgrAbility hosted five ADA and home access workshops for people with disabilities this past month for employees, employers, and the nonprofit and medical providers working with people with disabilities around the state. More|


Virginia
"Recently, AgrAbility Virginia offered a three-day short course as part of the Virginia Summer Residential Governor's School for Agriculture at Virginia Tech. More
Wisconsin
AgrAbility of Wisconsin staff participated in the 2018 Wisconsin Farm Technology Days held in Wood County, Wisconsin, July 10-12. More
This July, AgrAbility of Wisconsin staff attended and presented at the MOSES Organic's "In Her Boots" session. This session brought together over 60 women interested in or already farming. More
AgrAbility in the News
Click here for news stories featuring AgrAbility projects.
AgrAbility honored by NBFA
Hebron man killed in UTV rollover
Nebraska AgrAbility success story dies in UTV accident
Technological Advancements Help Injured Farmers

Other News
Click here for other news of interest to AgrAbility staff members.
Safety first
New dairy insurance plan available nationwide
Rural communities encouraged to apply for loans
SARE releases Farmers' Guide to Business Structures
A Boston hospital promotes patient health with its own rooftop farm
$2B supports producers affected by disasters
Benefits of harvesting non-timber forest products
Goats: The Surprising Solution to Saving a Country From Wildfires
New test can determine nitrogen levels in soil
Waylon's $10,000 Pig
Upcoming Events
Click here for professional development events related to AgrAbility
.
Problems? Contact Chuck Baldwin, National AgrAbility Project, baldwi19@purdue.edu