January 2019
National AgrAbility Project News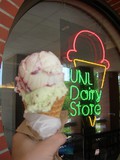 2019 NTW Registration is OPEN!
The AgrAbility National Training Workshop will take place in Lincoln, NE, March 25-28, 2019, at the Embassy Suites -Downtown Lincoln. You can access registration on the 2019 NTW website by clicking here. More
Don't forget to start collecting items for the NTW auction! If you need to ship them ahead of time you can ship them to: More
Register now for the 2019 AgrAbility Virtual National Training Workshop, January 29-31. Webinar topics include shoulder injuries in agriculture, accessible farm shops, a virtual AT show-and-tell, injury and fatality risks for older farmers, and beginning farmer basics. www.agrability.org/online-training/virtualntw.
Some SRAPs are experiencing increasing resistance by state VR agencies in serving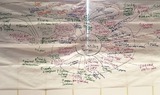 AgrAbility clients. The NAP is planning a conference call with SRAPs in February to discuss these issues and potential courses of action. Look for details coming soon.
JoBeth Rath was in attendance at the STAND (Stakeholders Team up for Action in New York Dairy) workshop. More

Toolbox Spotlight: Originally designed for auto workers, the Human-Hoist Shop Chair is a joystick-operated, robotic, automated, adjustable ergonomic creeper. Powered by two 24-volt rechargeable batteries, it can reportedly raise and lower a 300-pound individual over 200 times on a single charge. The seat elevates to 26 inches above the floor and lowers to 4.5 inches, and the back adjusts from 80º upright to flat down.
State and Regional AgrAbility Project News
California
California AgrAbility attended a seminar with Dr. Li from the UC Department of Land, Air, and Water Resources on the topic "Human Health Considerations Associated with Wildfire Ash and Biochar." More
California AgrAbility attended the 8th annual Women's Conference at the Mexican Consulate. This event started as a promotoras gathering and has grown each year. More
California AgrAbility attended the monthly Promotores Work Group Meeting in Woodland. This work group is a committee of agencies that work together to promote agency services available to the community. More
Colorado
Wanting to start out its new four-year grant cycle on a solid footing, Colorado AgrAbility's co-PD, Dr. Bob Fetsch, invited nationally known mental health professional Roberta Schweitzer to conduct a day-long presentation on suicide prevention and opioid use disorder. More
Georgia
Kristen McHugh, program manager of rural health initiatives with the Georgia AgrAbility Project, attended the Rural Stress: Promising Practices and Future Directions 2018 Summit. More
Illinois
The AgrAbility Unlimited staff has been working hard to implement several new action plans they have developed for the new 2019 year. More
During the month of January, Jim Williams, AgrAbility IL's field coordinator, will be attending several local events including the Illinois Specialty Crops, Agritourism, & Organic Conference, the Pork Expo, and the annual Midwest Expo. More
Indiana
Indiana AgrAbility staffed an exhibit at the 2018 Indiana Farm Equipment and Technology Expo (formerly the Indiana-Illinois Farm Show) at the Indiana State Fairgrounds in Indianapolis December 12-14. More
Indiana AgrAbility staff conducted several farm visits across Indiana. Client impairments included spinal cord injuries, back impairments, arthritis, leg amputations, and PTSD. Plans of action and referrals were developed for each.
Linda Tarr had a booth at the Indiana Farm Bureau State Convention in Ft. Wayne. She also served as a delegate at that event.
Linda worked the Indiana Farm Equipment Expo in Indianapolis and attended the Area 2 Beef Cattlemen Association annual meeting in Mitchell, IN.
Kansas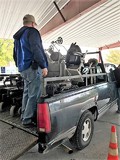 Kansas AgrAbility (KAP) co-sponsored a workshop on "mounting" solutions for people with disabilities, given by Mary Kay Walch, COTA and national presenter on the subject. More
KAP staff participated in durable medical equipment (DME) donation drives conducted across the state during November and December 2018. More

Maine
Happy New Year from Maine!
Maine AgrAbility continues to work with its NP partner Alpha One and their peer mentoring program in southern Maine high schools. More
Maine staff looks forward to presenting their project efforts at the NTW in March 2019.
Maine AgrAbility shared program information with 40 farmers at the day-long Dairy Forage Conference in Waterville on December 18, 2018.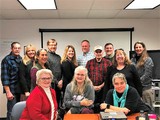 Staff hosted the quarterly Advisory Council (AC) meeting on December 7 with eight AC members and new staff in Augusta. More
Anne Devin, Maine AgrAbility's veteran outreach specialist, has been busy making new connections with farmer veterans across the state using email and snail-mail, and hosting events. More
Michigan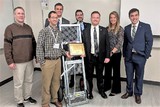 At the end of each semester, the MSU College of Engineering celebrates the achievements of its students by hosting Design Day, where student teams exhibit their design projects and compete for awards. More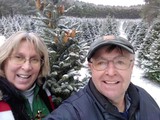 Meet Joe and Laurie Grant! Joe and Laurie are Christmas tree and cherry growers from Lake Leelenau, Michigan. More
Beginning January 16, 2019, MSU Extension is offering a beginning farmer webinar series. Michigan AgrAbility's own Ned Stoller leads off the twelve 60-minute, on-line, evening webinars discussing The Physical Labor of Farming: More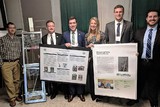 It was a busy December for Michigan AgrAbility! In the December 2018 e-note, Michigan AgrAbility highlighted the "Farming With A Shoulder Injury" presentation at the Great Lakes Grower's Expo ... NOW there are pictures! More
In addition to the Great Lakes Grower's Expo, Michigan AgrAbility exhibited at the Farm Bureau State Annual Meeting at the Amway Grand Plaza in Grand Rapids. More
Taste the Local Difference, a west side of Michigan local food marketing agency, has a Farm-to-Resource Directory web page... Michigan AgrAbility is listed!
Missouri
Staff from Missouri AgrAbility and MU Extension collaborated with MO Rehab Services for Blind and MO Division of Vocational Rehabilitation and completed several fee-for-service onsite farmstead assessments.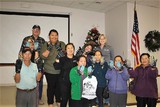 Lincoln University's Innovative Small Farmers Outreach Program (ISFOP) in collaboration with the University of Missouri was busy throughout the month of December! More
An AgrAbility client of Lincoln University has been selected to receive the Agriculture Legacy Award. Sam and Dorothy Harris will be recognized by Missouri's governor, Mike Parson, More
Missouri AgrAbility will ring in the New Year with 12 new client cases.
Brain Injury Association of Missouri (BIA-MO) Speakers Bureau representatives Alyssa Grese and volunteer Richard Wessbecher spoke to future mental health professionals about brain injury and the Beginning Farmer Rancher program for AgrAbility clients... More
The Missouri AgrAbility Project (MAP) was highlighted as a resource during marketing meetings in Southwest Missouri with rehabilitation professionals in Springfield and researchers in Rolla, Missouri. More
Nebraska
Nebraska AgrAbility attended Nebraska Cattlemen's Conference in Kearney for face-to-face contact with regional farmers and ranchers while advertising what AgrAbility does.
UNL Extension is working on how to approach the escalating problem of rural stress and suicide by sending staff to the Rural Stress Conference in Atlanta and to Michigan State University... More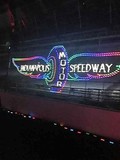 Emily was lucky enough to be asked to participate in the National AgrAbility Advisory Board meeting that was held in Indianapolis. The National team had a great gathering and lots of ideas were suggested More
The Nebraska team has been busy working on finding vendors and sponsorships for the National Training Workshop. Thanks to Tess, the tours are all set and staff are so excited for everyone to begin registration!
North Carolina
December was a month of transition for NC AgrAbility. The project directors went through the administrative and operative aspects of the project to allow for a better flow of activities in the upcoming year.
Ohio
Ohio AgrAbility is hosting a workshop February 26: Building Independence through Agriculture. The workshop will focus on employment opportunities in agriculture, horticulture, and related industries, for individuals with cognitive disabilities. More
Pennsylvania
AgrAbility PA staff members would like to wish you a Happy New Year! They look forward to working with all of you in this new year!
AgrAbility PA staff provided an educational session at the Pennsylvania Women's Agriculture Network Symposium on December 12. More
AgrAbility project assistant Abbie Spackman provided an educational session at the Natural Resource Conservation Service's (NRCS) regional meeting on December 19. More
To read the January newsletter from AgrAbility for Pennsylvanians, click here.
Tennessee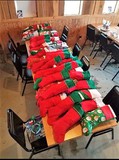 Western Region ANR Share Day - UT TSU Extension ANR agents met at Crenshaw's Catfish Restaurant to share programs. The service project for the day was STUFF-A-STOCKING for a veteran. More

Texas
Merry Christmas and Happy New Year from Texas AgrAbility! Staff members Jason Morgan, Makenzie McLaurin Thomas, Dr. Rick Peterson, Erin Kimbrough, Stacey Kingman, and Elizabeth Gandara-Castillo. (Dr. Cheryl Grenwelge not pictured)
Texas AgrAbility conducted two farm assessments in the past month: one for a veteran beginning farmer and one for a re-opened case of a lower limb amputee.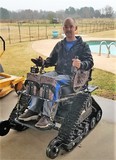 One of TX AgrAbility's clients received an Action Track Chair from Vocational Rehab. He has also been approved for a tractor lift and hand controls. His new track chair will allow him to fix fences and work on his cattle operation independently.
The BattleGround to Breaking Ground project accepted the 5th cohort of veterans and beginning farmers and ranchers. Basic training for the 5th cohort will be held January 18-20 in College Station. More
Wisconsin
AgrAbility of Wisconsin's outreach specialist, Abi Jensen, and consumer Adam Faust worked with a group of freshman engineering students to re-design a portion of his bulk tank with the goal of making it work more efficiently and with less impact on Adam's body.
Staff Changes and Recognition
Indiana
Purdue University and Indiana AgrAbility staff honored Denise Heath, Indiana AgrAbility administrative assistant, for her 40 years of service. She and others were honored at a luncheon in the Purdue University Memorial Union with a certificate and gift from Purdue University.
North Carolina
North Carolina AgrAbility welcomes Dr. Crystal Kyle as the new director. Dr. Kyle is the NC Agromedicine research coordinator at NCA&T. She is a ten-year military veteran who served in both Afghanistan and Iraq. She is also a NC veteran farmer. She earned OSHA certificates and she has recently graduated with a Ph.D. in agricultural leadership, community development, and education from Virginia Tech. Her assistantship included assisting the director of the AgrAbility Virginia project where she worked on evaluations, multiple publications, and safety and health projects. Her dissertation looked at military veterans who farm, and she currently sits on multiple committees who advocate for veteran farmers. Dr. Kyle's unique experiences are an asset to the AgrAbility program in North Carolina.

NC AgrAbility appreciates all the hard work Dr. S. Janine Parker has put into the program during the last year and a half as a director. A lot of tasks were accomplished under her leadership, and the program continued reaching its goals. Dr. Parker will continue her leadership as the agribusiness and marketing specialist at NCA&T.
New Mexico
New Mexico AgrAbility Project (NMAP) would like to introduce additional staff members with the project: Carla Wilhite, OTD, OTR/L, who is a co-project director, and Tracy Agiovlasitis, project manager of the New Mexico Technology Assistance Program (NMTAP).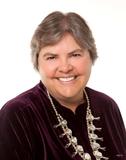 Dr. Wilhite has previously worked as project manager with two state AgrAbility projects and is currently a full-time faculty member in occupational therapy with the University of New Mexico. In addition to co-directing the NMAP, Dr. Wilhite will be supervising occupational therapy students at NMAP partners Mandy's Farm and NMTAP and consulting or providing direct services to New Mexico farmers and ranchers with disabilities. She will also lead the educational effort to improve health care professionals' knowledge of agricultural work and living.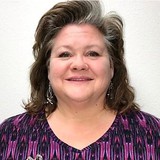 Ms. Agiovlasitis, LPN, CPS, leads NMTAP in promoting access for New Mexicans to acquire assistive technology services and equipment, as well as in demonstrating devices across the state. She will supervise the direct service AgrAbility specialists who will be hired to perform farm and ranch assessment and case management. Ms. Agiovlasitis has worked in the disability field for over 30 years and currently serves on the Governor's Commission on Disability.
Texas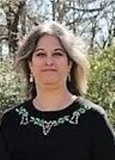 Texas AgrAbility welcomes Elizabeth Gandara-Castillo to the team as a case manager. Elizabeth Gandara-Castillo was born and raised in a migrant farm-working family in the Texas Panhandle. She worked in the cotton fields in the Panhandle and sugar beet fields in western Nebraska until the age of 17. Her dedication and perseverance to have a more productive life led her to attend Sul Ross State University where she obtained both a bachelor's degree in criminal justice and a master's degree in public administration. In addition to working over 30 years with individuals with disabilities in a school setting and in state service working with Vocational Rehabilitation for the last 12 years, she is certified as an interpreter for the deaf and hard of hearing.
AgrAbility in the News
Click here for news stories featuring AgrAbility projects.
Kansas AgrAbility Project earns additional grant funding
CSU, Goodwill schedule AgrAbility workshops
Other News
Click here for other news of interest to AgrAbility staff members.
Farming is dangerous: be safe
Online sessions help ag women cope with stress
Benefits of improved dairy safety net tool
New app connects beekeepers and growers
Cold-resistant banana farm promotes social cause
BRANDT unveils new plant growth regulator
Commodity Classic offers wide range of tours
Instead of Dumping Rejected Food Shipments into Landfills, Truckers Are Donating Them to Local Charities
Upcoming Events
Click here for professional development events related to AgrAbility
.
Problems? Contact Chuck Baldwin, National AgrAbility Project, baldwi19@purdue.edu