September* 2016
National AgrAbility Project News
*This edition of the e-Note contains news submitted prior to the end of the 2012-16 National AgrAbility Project grant on August 31 plus some new informaton from the NAP.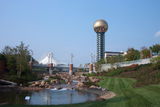 Save the date! The AgrAbility National Training Workshop will be held March 20-23rd, 2017 in Knoxville, TN.
Look for an email soon requesting your participation on the planning committee for this event. Having a site and date already selected at this point is not the NAP's standard protocol: however, due to the late announcement of the NAP award, the team had to move fast and find a date and location to accommodate our group in a tight time-frame. Thank you to Tennessee AgrAbility for being willing to step in as the host project!
In addition to establishing the planning committee, the NAP will soon be soliciting support for providing funding for farmer/rancher travel stipends; recommending farmers for attendance; and finding exhibitors, sponsors, donors, and more. Tess and JoBeth of Goodwill of the Finger Lakes will be leading the NTW charge this year, and they look forward to working with you to have a great event.
AgrAbility All-Staff Meeting: Monday, November 28 at 3:00 p.m. ET. Phone and web connections will be available. More details coming soon.
AgrAbility Webinar Series: New Ideas in Rural Assistive Technology. Thursday, December, 15 at 3:00 p.m ET. Look for more information soon.
AgrAbility Virtual National Training Workshop: February 21-23, 2017. More information and call for presentations coming soon.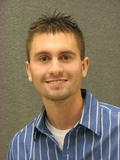 As the new Technology Outreach Coordinator for the NAP, Dr. Shawn Ehlers would like to extend an invitation to all the SRAPs to assist him in further developing the Frequently Asked Questions (FAQs) content on the NAP website. More
During the 2016 RESNA Conference in July, AgrAbility was presented the Leadership Award for outstanding contributions to enhancing the quality of life of farmers, ranchers, and agricultural workers with disabilities. JoBeth Rath from Goodwill of the Finger Lakes and National AgrAbility partner accepted the award for AgrAbility.
Also during the 2016 RESNA Conference, Dr. Bill Field, National AgrAbility project director, was presented with the Honorary Fellow Award for his outstanding achievements in leadership of AgrAbility and in assistive technology advances for people with disabilities. The Honorary Fellow Award is the highest award presented by RESNA.
Steve Swain, the assistive technology specialist with the National AgrAbility Project, and Life Essentials provided multiple displays in the Health and Safety Tent at the 2016 Farm Progress Show near Boone, Iowa. More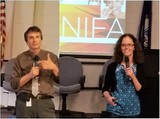 Bill Field, NAP Director, and Chuck Baldwin, NAP's special populations outreach coordinator, helped teach and facilitate the Virginia State University (VSU) 1890s AgrAbility Workshop held at VSU August 17-18. More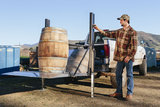 Toolbox Spotlight: Temporarily replacing a pickup truck's tailgate by attaching directly to the receiver hitch, the LiftGator Removable Lift Gate lets one load/unload up to 1,200 pounds of cargo with a mere push of a button.
Click here for the schedule of upcoming Community of Interest and Standing Committee call information.
State and Regional AgrAbility Project News
California
CalAgrAbility staff attended South Monterey County's annual Health Fair on August 16th, hosted by the Community Action Partnership in Soledad. More
On August 9th, CalAgrAbility partnered with Alexandra Fallon from Arthritis Foundation Central Coast to develop and translate an arthritis info sheet into Spanish. More
CalAgrAbility attended the Binational Health Week Coalition Meeting in French Camp on August 30th. More
CalAgrAbility outreach materials (both in English and Spanish) were distributed at an Ability Tools presentation on August 17th for employment related representatives at the MCS Hollywood WorkSource. Rosemarie Punzalan of the California Foundation for Independent Living Centers reached out to 25 people at this event.
CalAgrAbility was interviewed by the UC Division of Agriculture and Natural Resources to create a Spanish heat illness awareness video and article. More
Georgia
Staff submitted two AgrAbility technical issues for consideration as senior design projects at the UGA College of Engineering. More
Indiana
Steve Swain, the Indiana AgrAbility rural rehabilitation specialist, presented "Gardening Tools for People with Disabilities and Those Who Are Getting Older" at the Huntington County Fair. The event was sponsored by the Huntington County Extension Homemakers.
Indiana AgrAbility was welcomed by Indiana FFA as an exhibitor in the FFA Pavilion at the 2016 Indiana State Fair. More
Indiana AgrAbility unfunded partner, the Rehabilitation Hospital of Indiana (RHI), conducted an in-service training for their occupational and physical therapists where Steve Swain presented Indiana AgrAbility services and resources. More
Steve Swain, Indiana AgrAbility rural rehabilitation specialist, attended a training conducted by the Indiana Assistive Technology Project (INDATA) at Easter Seals Crossroads. More
On August 2nd, Cindy Chastain spoke to 30 representatives in the Southwestern Indiana office of the NRCS. More
Linda Tarr, Southern Indiana coordinator, spent seven days at the Indiana State Fair AgrAbility booth. She also had a booth at the Beginning Farmer Southeast District Workshop in New Albany.
Kansas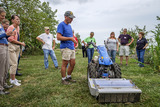 Kansas AgrAbility partnered with the Farmer Veteran Coalition of Kansas and the Kansas Farmers Union to present a series of three farm tours in July, titled Summer Fun Farm Tour Series (SFFTS). More
Kentucky
The KY AgrAbility team has spent the hot, humid summer traveling and visiting farmers across the state. Kevin Horn and Linda Bokros traveled to Frankenmuth, MI, to attend the Regional AgrAbility Workshop. More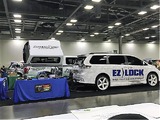 Kentucky's partners from OVR traveled to Columbus, OH, to attend the Association for Driver Rehabilitation Specialists conference. More
KY AgrAbility was happy to have a new member of their team from Kentucky State University attend the 1890's AgrAbility Workshop at Virginia State in August. Shelley Spiggle had a chance to talk to other 1890 college participants and learn how their AgrAbility project helps farmers in those states.
Mike Lewis held a workshop in Ashville, NC, for Growing Warriors and KY AgrAbility to speak to veterans interested in farming. The workshop focused on hands-on demonstrations of various adaptive gardening and farming technologies.
Kentucky AgrAbility is ready for cooler weather and the fall swing. Several workshops and conferences were lined up and ready to go. The first week of September was the KY Rehab Association Workshop in Lexington. More
The Third Thursday Thing at Kentucky State University in Frankfort on September 15th was the much-anticipated Pawpaw workshop. Always well attended, the pawpaw ice cream is always the hit of the day.
On the same day in Lexington at the Cardinal Hill Rehabilitation Education Center was the 3rd Annual Kentucky Congress on Spinal Cord Injury (KCSCI). More
On October 22nd KY AgrAbility joined in the Walk for Parkinson Research at the Whitaker Ball Field in Lexington. This was the first time KY AgrAbility has participated in this and they looked forward to being able to reach new clients and educate others on the goals of AgrAbility.
Also in October was the UK Extension annual training for agents in the eastern half of the state. KY AgrAbility presented the goals of AgrAbility to the agents and explaining ways to work with disabled farmers.
Maine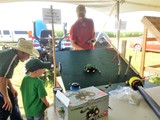 Maine AgrAbility had a table and display at Maine Farms Days in Clinton, Maine, at Misty Meadows Farm on August 24-25, 2016. More
Lani Carlson and Richard Brzozowski attended the Second Annual University of Maine System Aging Initiative Workshop held on August 22, 2016. More
On August 11, 2016, by a majority vote of the board of directors, the Maine chapter of the Farmer Veteran Coalition was dissolved. In its place, the newly chartered United Farmer Veterans of Maine has been established. More
Maine AgrAbility has finalized the FishAbility brochure, and it will be made available soon. More
Michigan
Michigan AgrAbility staff spoke with two groups of National Resource Conservation Service employees during their annual diversity training.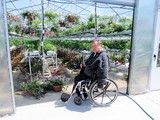 Meet Tom Kolasa, a hydroponic strawberry farmer and Michigan AgrAbility client highlighted on the Michigan AgrAbility webpage. More
The Andersons once again supported Michigan AgrAbility by hosting a benefit golf outing. This fundraiser was held on September 6th at the Bella Vista Golf Course in Coldwater, Michigan. 100% of the money raised during this event went toward Michigan AgrAbility.
Michigan AgrAbility staff members double-dipped at the Michigan Upper Peninsula's State Fair in August. More
Michigan AgrAbility's booth and demonstration area at the Breakfast on the Farm in Tuscola County was a great success. Attendees were very interested in trying to perform different farm tasks with a simulated disability.
Michigan AgrAbility had a booth at the MSU Agriculture Innovation: Focus on Soils event held at the Saginaw Valley Research and Extension Center on August 24. The event was well-attended.
Last, but not least, Michigan AgrAbility would like to thank National AgrAbility staff for the successful Regional Conference held in Frankenmuth MI, on August 9-10. More
Missouri
During summer 2016, Abby Yarick, Jamie Lister, John "Mac" McGinnis, and Kayla Funkenbusch completed their health science internship with Missouri AgrAbility. More
PhotoVoice of Missouri farmer and AgrAbility client Lee Howerton was showcased during Missouri State Fair. In Missouri, PhotoVoice provides AgrAbility farmers and ranchers with disabilities innovative participatory opportunities to speak out and be heard through photography and digital storytelling methods. More
Rockhurst University occupational therapy and University of Missouri health science interns assisted Missouri AgrAbility staff at the 2016 Clifton City Forage Research Field Day. More
Pharm to Farm, a program of Missouri AgrAbility Project partner the University of Missouri-Kansas City School of Pharmacy, provided outreach and rural wellness screenings at Greenley Research Center Field Day on August 8th. More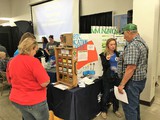 Farmers and farm families at the Missouri State Fair were provided rural wellness screenings and safety information on Aug. 20th. More
Carey Portell, Missouri AgrAbility advocate and client, presented during Monsanto's Business Resource Network (BRN) new staff orientation and training. More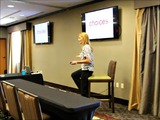 Missouri Farmers Union hosted a free conference on the AgrAbility Project on Friday August 26, at the Holiday Inn in St. Joseph, Missouri. More
Missouri AgrAbility Project is where occupational therapy and health science students come to learn so they can teach others in rural communities. Each semester, Missouri AgrAbility director Karen Funkenbusch works with up to four OT interns from the University of Missouri. Word spread to other universities and colleges that MU is the place to get practical, hands-on opportunities. More
North Carolina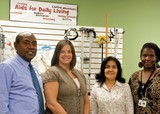 The North Carolina AgrAbility Partnership (NCAP) sent two representatives to the 2016 AgrAbility 1890 Land-Grand Institution Workshop at Virginia State University on August 17-18, 2016. More
Robin Tutor-Marcom, EdD, MPH, OTR/L, Director of the NC Agromedicine Institute, has been selected as the inaugural recipient of the Foundation for Health Leadership Achievement Award. More
Ohio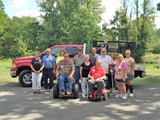 Ohio AgrAbility hosted regional summer picnics throughout the state for their program participants and their families and friends at the beginning of August. More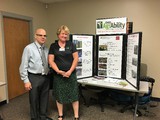 Ohio AgrAbility staff attended two education and networking events in August: an Opportunities for Ohioans with Disabilities (State Vocational Rehabilitation) Vendor Fair and the State of Ohio Rural Health Conference. More
Pennsylvania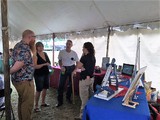 AgrAbility for Pennsylvanians took part in Penn State's 2016 Ag Progress Days in August at the Russell E. Larson Agricultural Research Center at Rocks Spring. Ag Progress Days is Pennsylvania's largest outdoor agricultural exposition and is sponsored by Penn State's College of Agricultural Sciences. More
Tennessee
TN AgrAbility participated in the annual Crossville Steak and Potatoes Field Day with over 200 people in attendance.

TN AgrAbility has printed new promotional displays. Click photo on right to view enlargement.
Staff have received several new referrals from all the publicity surrounding recent farmer veteran events, from their great spokesperson, Charley Jordan, and from the Farmer Veteran Coalition Facebook post. More
TN AgrAbility participated in a Farmer Veteran Coalition informative webinar series "Growing Your Farm" by Michael O'Gorman.
Staff are preparing for National Farm Safety and Health Week in September by launching a social media farm safety and health photo contest in TN. They are proud to be part of the Tennessee Agricultural Farm Safety and Health Partnership with 11 organizations raising awareness and focusing on farm safety and health.
TN AgrAbility planned a series of six beginning farmer workshops over the next year. More
August ended with registration of 81 UT TSU Extension Staff for the Tennessee Ag RUN Ability 5K/2-mile WALK. More
Texas
Texas AgrAbility's program Battleground to Breaking Ground was awarded the New and Beginning Farmer Rancher Development Program grant from USDA to provide education and training to Veteran and other beginning farmer/ranchers.
Virginia
AgrAbility Virginia was honored to co-host, along with Virginia State University, the National AgrAbility 1890s Workshop, which took place August 17-18 at Virginia State University in Petersburg, Virginia. More
Vermont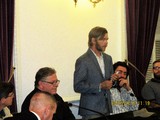 Vermont AgrAbility is very pleased to be part of bringing the Farmer Veteran Coalition's Homegrown By Heroes project to Vermont. More

Wisconsin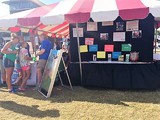 Early in August, Abi Jensen represented AgrAbility of Wisconsin (AAW) while attending the UW-Extension Day at the Wisconsin State Fair. More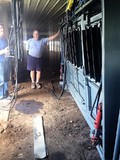 AAW hosted a Neighbor-to-Neighbor meeting at a past client's farm in Ellsworth, WI. This client lost one of his arms in a chopper accident when he was young, but now runs a beef operation with his son and wife. More
West Virginia
The West Virginia State Fair, August 14-22, 2016, is steeped in history and tradition. The Declaration of Independence was only 78 years old when the first recorded fair was conducted in the Greenbrier Valley. More
West Virginia AgrAbility was honored to be part of this long tradition. Staff provided a 30-minute overview of AgrAbility and highlighted various assistive technologies on video during the WVU Showcase. In addition, an exhibit at the West Virginia State tent highlighted agricultural assistive technology and farm safety.
West Virginia State University was represented at the 1890 AgrAbility Workshop in Petersburg, Virginia. More
West Virginia AgrAbility continues to provide information and resources to farmers requesting assistance. More
Staff Changes
Georgia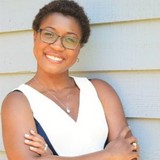 The Georgia AgrAbility Project is very pleased to have their newest graduate student intern, Zadian Drummond, with them for the Fall Semester. Zadian is completing her master's in rehabilitation counseling and case-management from Fort Valley State University (1890), and has a goal of one day specializing in horticulture therapy.
Zadian is no stranger to farming, as she grew up on a working farm in Jamaica and often spends time on her in-law's farm in Northeast Georgia.

In addition to completing her internship with Georgia AgrAbility, Zadian is also interning part-time with the Georgia Vocational Rehabilitation Agency, which is going to be a great benefit for the farmers GA AgrAbility serves, and for the AgrAbility Project!

Missouri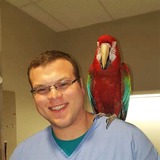 Please welcome Anthony Mikus who will spend fall semester 2016 completing his health sciences internship with Missouri AgrAbility. Anthony is a Senior Health Science student at the University of Missouri-Columbia. He grew up in a small town inside Missouri where he grew gardens on his family property. He grew up hunting and fishing on his family's 500-acre farm, learning about the great outdoors. He was active with his mother's work during postal food drive day every year for 15 years. He was also active in sports, playing football and track and being a leader in both sports. He currently is working for Rusk Rehabilitation Center as nursing technician/preceptor, helping educate and train other technicians in his field. He is a well-rounded nursing technician, and specializes in stroke and traumatic brain injury. He plans on graduating with his bachelor's in December 2016. His focus will be working with farmers with traumatic brain injuries and strokes - something he is comfortable working around.
Texas
Please welcome Angela Moore. Angela is our new case manager and partner with Prairie View A&M University.
Ms. Angela L. Moore is an Extension associate with the Cooperative Extension Program at Prairie View A&M University. This position includes dual responsibilities between the Cooperative Extension Program at Prairie View A&M and Texas AgriLife Extension at Texas A&M University.
Ms. Moore is an alumna of Jackson State University, in Jackson, Mississippi. She has worked for more than 15 years in the area of university advancement developing relationships with persons of diverse backgrounds. In her role with the Texas AgrAbility Project, she contributes her expertise by developing relationships with other partners for the purpose of identifying new and beginning farmers within the underserved population who have specialized needs. She also lends her expertise by providing education and assisting with assessments.


AgrAbility in the News
Click here for news stories featuring AgrAbility projects.
AgrAbility helps woman with MS find ways to keep farming
AgrAbility helps farmers with disabilities
AgrAbility Project to be reviewed
RSVP for AgrAbility 25th Anniversary Party
AgrAbility of Wisconsin Celebrating 25 Years of Service
Farmers urged to take the high road – Safety
AgrAbility PA Celebrates National AgrAbility Day
AgrAbility workshop set
AgrAbility Celebrates A Quarter Century Of Farm Safety
Gardening after 50 is golden with right tools
Ned Stoller on PBS "Community Connection"
A Perfect Day for Presentations
Other News
Click here for other news of interest to AgrAbility staff members.
Supporting historically black ag colleges
Beginning Farmer program helps vet break new ground in agriculture
Additional farm loan funding available
FSA shortfall must be addressed swiftly
Women take center stage in agriculture
Grants to help organic farmers announced
Presidential contenders on ag issues
$17.8M to cultivate next gen of farmers
Introducing more students to agriculture
Improving access to conservation
Upcoming Events
Click here for professional development events related to AgrAbility
.
Problems? Contact Chuck Baldwin, National AgrAbility Project, baldwi19@purdue.edu