April 2017
National AgrAbility Project News
The staff of the National AgrAbility Project thank all staff and personnel from the 20 SRAPs for their participation in making the 2017 NTW a memorable success!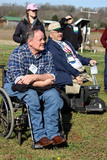 NTW Recipe for Success
In Knoxville, Tennessee, add:
1 Amazing Planning Committee
1 Incredible Host State... More
Opportunities to Host AgrAbility Educational Events:
With a successful 2017 AgrAbility National Training Workshop behind us, it is time to begin thinking of the rest of 2017 and beyond! Here are more opportunities to host AgrAbility educational events. More
AGRABILITY DEMOGRAPHICS COLLECTION WEBINAR MAY 3, 2017:
The NAP will be conducting a webinar on Wednesday, May 3, at 2:00 PM Eastern Time, for ALL SRAP STAFF, ESPECIALLY THOSE INVOLVED IN COLLECTING AND REPORTING DEMOGRAPHIC INFORMATION. More
Please make sure that your SRAP's contact information is correct at www.agrability.org/contact-lists/ and on the "short list" linked here. Deadline is May 1.
The NAP was pleased to join with AgrAbility for Pennsylvanians to host a display at the American Occupational Therapy Assoication annual conference in March. See Pennsylvania's entry for details.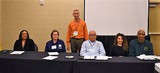 Chuck Baldwin, NAP's special population outreach coordinator and new demographics coordinator, participated in the 2017 NTW 1890s session and also in the PI session where he assisted Dr. Shawn Ehlers in presenting the revised Excel demographics collection tool. More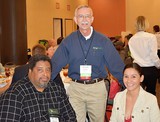 In addition to a good contingent of 1890s personnel at this year's NTW, the NAP was happy to have the participation of Patricia Hammond, a representative of the Native American Oglala Lakota tribe in South Dakota, and Extension worker for South Dakota State University. More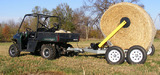 Toolbox Spotlight: The UTV-Towed Hydraulic Hay Bale Handler, is designed to unroll only the amount of hay needed for feeding. It's designed so that only about 20% of the bale's weight is applied to the tow-vehicle. All functions are controlled from a self-contained, rechargeable marine battery power unit (not from the vehicle's electrical system).
State and Regional AgrAbility Project News
California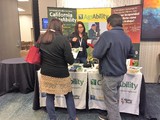 CalAgrAbility staffed a booth at the AgSafe Conference. Each year this conference draws about 1,000 participants. More
CalAgrAbility and Ability Tools staff attended the 2017 AgrAbility National Training Workshop, including Dr. Reed's focus group on farmer suicide prevention. More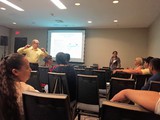 CalAgrAbility staff attended the Migrant Education Parent Conference. The event brought together 700 parents from around California. More
Colorado
Jim Craig of the Colorado AgrAbility Project (CAP) set up and manned a display on AgrAbility at the annual Colorado Agriculture Day held inside the state capitol building. More
Candiss Leathers, CAP program manager, attended NTW 2017 on behalf of the project. The remainder of the month was spent doing what CAP does best: visiting farmers and ranchers on their farms.
Georgia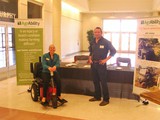 Staff attended the 2017 Agriculture and Natural Resources (ANR) Extension Agents and Specialists conference held in Perry, GA, March 9-10, 2017. More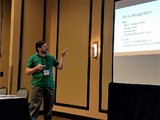 Georgia AgrAbility staff, a farmer veteran client, and a representative of the Shepherd Center, GA AgrAbility's partner, attended the NTW in Knoxville, TN, on March 21-23, 2017. Georgia AgrAbility staff presented at two sessions. More
Dr. Glen Rains, co-director of Georgia AgrAbility, presented a session on agricultural equipment safety on March 28, 2017, to 26 new ANR county agents in Georgia.
Rebecca Brightwell trained occupational and physical therapists on low-cost assistive technology solutions during an all-day workshop in Atlanta on March 17, 2017.
Indiana
Indiana AgrAbility attended and exhibited at the 2017 Indiana Small Farm Conference held at the Hendricks County Fairgrounds in Danville, Indiana. More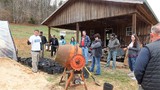 Indiana AgrAbility, in partnership with the Indiana Beginning Farmer/Rancher Development Program, was able to take nine farmer veterans from Indiana to the 2017 National Training Workshop in Knoxville, TN. More
Linda Tarr attended the Indiana Farm Bureau Spring Conference in Indianapolis and had a booth at the trade show. She also served on the planning committee for the NTW and hosted the farmer luncheon. She participated in the Orange County Farm Bureau Ag Day breakfast in Paoli.
Kentucky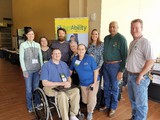 Thank you, Tennessee, for hosting an amazing workshop. KY AgrAbility so enjoyed talking and interacting with all the other states and the national group. New members to KY AgrAbility were able to better understand the goals and scope of the work that AgrAbility does. More
The next event for KY AgrAbility was the American Occupational Therapists Association meeting in Philadelphia, PA, March 30 - April 1, 2017. This was a big event for KY and a chance to share its goals with approximately 12,000 occupational therapists from across America.
ISASH will be in Logan, UT, in June, and RESNA (Rehabilitation Engineering and Assistive Technology Society of North America) in New Orleans, LA. These events will be overlapping. More
July is the 20th Anniversary of the Third Thursday Event at the Kentucky State University Research and Demonstration Farm in Frankfort, KY. More
August will see KY AgrAbility back in the classrooms and attending the ADED, (Association for Driver Rehabilitation Specialists) conference, in Albuquerque, NM. Also in August is the KY Appalachian Rural Rehab Network Conference at Eastern Kentucky University in Richmond, KY. More
Maine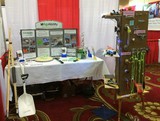 March 2-4, Maine AgrAbility exhibited at the three-day Fishermen's Forum in Rockland, Maine. This event hosts fishermen, gear suppliers, scientists, government, and other stakeholders to collaborate on all things fishing. More
Project coordinator Lani Carlson attended the 2017 Maine Aquaculture R&D & Education Summit on Monday March 6th. More
On March 9th, Maine AgrAbility hosted a cultural diversity training for staff, advisory council members, farmer veterans, and ag service providers. The training was facilitated by Visions, Inc.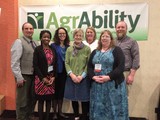 Maine AgrAbility staff had a great time learning and sharing information at the NTW in Knoxville. During the NTW, four Maine staff members presented three workshops: "Keeping Kids Safe on the Farm," "Universal Design on the Farm," and "Planning and Maintaining a Useful Farm Shop."
Michigan
Michigan AgrAbility Staff would first and foremost like to thank National AgrAbility staff for a very successful NTW conference! The hard work was evident in the quality of presentations, attendance, and field trips. Thank you so much!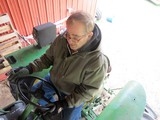 A couple of new Michigan AgrAbility Facebook posts highlight how Michigan AgrAbility assisted our dedicated Michigan farmers. Bill Smith, a former horse trainer and veterinarian, was assisted by staff with his transition to sheep farming after an illness resulted in the amputation of his right leg. More
Getting the word out about Michigan AgrAbility! Michigan AgrAbility staff had four presentations at the NTW, two presentations at farmer safety and health seminars, two presentations at classes for 3rd-year physical therapy students, and one presentation at an FFA Alumni Boosters meeting.
A novel way to boost interest in Michigan AgrAbility! On Michigan AgrAbility's Facebook page, staff is posting a weekly mystery antique farming tool on the web page for viewers to guess the tool's function. It is a lot of fun! Check it out: https://www.facebook.com/MichiganAgrAbility/
Minnesota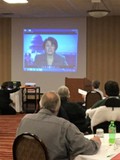 The Minnesota AgrAbility Project, a state affiliate under the direction of the community partner EquipALife, held its 2017 Annual Fenceline Conference on March 12 and 13th 2017 in St. Cloud, MN. More

Missouri
Social workers were able to earn 3.0 clock hours continuing education units needed for licensure by participating in the "Gaining Ground: Agriculture and Veterans" breakout session during the National Association of Social Workers, Missouri Chapter, 2017 Show-Me Annual Symposium. More
David Middleton, Lincoln University and Missouri AgrAbility farm outreach worker for Lawrence and Greene County and small farmer, showcased Missouri AgrAbility during the Minority Farmers Conference in Sikeston (65 participants) and Small Farm Conference: Bringing Back the Small American Farm (300 attendees) in West Plains. More
The Missouri AgrAbility Program at the University of Missouri Extension received sponsorship from the Monsanto Global Capital Company to support six farmers and their caregivers to attend the 2017 National AgrAbility Conference in Knoxville, TN. More
The Missouri AgrAbility Project was represented at the NTW with various partners presenting sessions and having a poster. More
In addition to the presentations and posters, the Missouri AgrAbility Project involved Jenna Wilkins with Lincoln University. Jenna Wilkins' first exposure to farming was in 2008, working on a two-acre, certified organic farm in Kansas City, KS. More
North Carolina
In December 2016, the NC Assistive Technology Program (NCATP) staff trained in AgrAbility and farm assessments presented to all NCATP consultants and speech language pathologists across North Carolina. More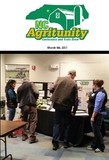 NC AgrAbility, in conjunction with NC Agromedicine Institute, staffed a booth at the 2017 NC Agritunity Conference and Trade Show. This event is designed to meet the economic and environmental needs of small and large farmers. More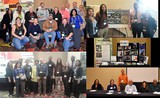 NC AgrAbility staff, partners, clients, and students participated in the 2017 NTW in Knoxville, TN. See the North Carolina page for articles on Dr. Paula Faulkner, Dr. Ari Mwachofi, Robin Tutor-Marcom, client Kyle Cashwel, and the NC A&T Landscape Architecture program students' participation in the NTW. More
Ohio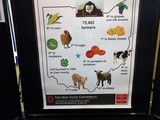 Ohio AgrAbility (OAP) sent four staff members and one farmer to the NTW in Knoxville. It was great to see what other SRAPs and the NAP are working on, and they enjoyed meeting the people they e-mail, call, and hear/see on webinars in person. More
OAP Rural Rehabilitation Coordinator (RRC) Randy Joseph met with the Power Over Parkinson's group in Versailles, OH, to share information about OAP services and resources for farming with Parkinson's and other disabilities. More
OAP Disability Services Coordinator Laura Akgerman attended a training session, "Taking Action to Combat Ohio's Opioid Epidemic", which was sponsored by Ohio State University Extension. OAP staff are talking to clients about effective ways to educate their communities about this issue. More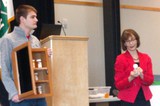 OSU Extension, Ohio 4-H Health Heroes, and the OSU College of Pharmacy, are collaborating on an interactive exhibit for the 2017 Ohio State Fair. More
Program Director Dee Jepsen teamed up with county health officials to present a stress and depression training for 120 farmers in a five-county area. The program focused on awareness and prevention practices, support services, and opioid substance abuse.
OAP had a newsworthy month in March. The program was featured in an article in the Opportunities for Ohioan's with Disabilities (OOD) weekly newsletter (from the state vocational rehabilitation office). More
Pennsylvania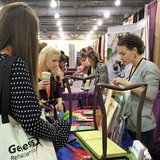 AgrAbility PA Project Assistant Abbie Spackman and NAP OT intern Adriana Escarpita represented the National AgrAbility Project at the 2017 American Occupational Therapy Association Conference and Centennial Celebration in Philadelphia, PA. Over 12,000 occupational therapists and students attended the conference. More
Members of the AgrAbility PA staff traveled to Knoxville, TN, to attend the 2017 AgrAbility National Training Workshop, March 20-23. More
The AgrAbility for Pennsylvanians Advisory Group held an annual meeting in State College, PA, on March 16. The group met to review the project scope, responsibilities, and overall efforts of the grant-based program. More
AgrAbility PA also wrapped up its first ever Bridging Horizons Contest - a contest for high school students involved with FFA to gain awareness and understanding about AgrAbility. Awards will be distributed this June at the 88th FFA State Convention.
Randy Loss with the Pennsylvania Office of Vocational Rehabilitation (OVR) shared that arthritis and back injuries are the top two types of disabilities for agricultural clients working with OVR. More
Tennessee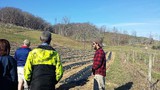 Tennessee is very thankful for everyone who planned, participated, and embraced the 2017 National Training Workshop (NTW) in Knoxville, TN. It is always uplifting to hear new success stories and visit with others who believe in the AgrAbility mission across the world! More
TNAP learned at the NTW that they should probably not use the acronym TAP anymore since with their farmer veteran work it also means Transition Assistance Program, so they will use TNAP. They thank you all for your part in another great NTW!
Amanda Robertson, the Farm Service Agency beginning farmer regional coordinator for Kentucky and Tennessee, was the guest speaker for an ag economics department seminar. More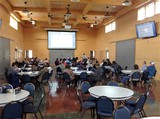 2017 Tennessee New Farmer Academy started in March with a record 42 participants coming from as far away as Milwaukee, Wisconsin, and Moultrie, Georgia! More
Farmer Veteran Coalition is working in collaboration with Tennessee State University (TSU) and Alcorn State University to increase the benefits to farmer veterans in the great state of Tennessee. Alcorn State University is doing research on under-served farmers and is asking for TNAP's help to provide information for their research. More
Considerations for Beginning Farmers hosted their 4th workshop in Sparta, TN, with 32 in attendance. Two more workshops are planned for May 10 in Rutledge, TN, and July in Jackson, TN.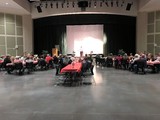 TNAP and Rhea County Extension ended the month with a Farm Health and Safety Dinner Theater in Rhea County with over 80 people. Thank you to Dr. Deborah Reed for partnering with Tennessee in the CDC-NIOSH research program that gets farm families talking about their health and safety. More

Texas
Texas AgrAbility team members Rick Peterson, Cheryl Grenwelge, Erin Kimbrough, Miranda Ferguson, Angela Moore, and Makenzie McLaurin attended the NTW in Knoxville, Tennessee. Team members gained a wealth of knowledge on veterans' resources, assistive technology, opportunities for individuals with disabilities, and much more.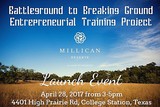 Texas AgrAbility will be launching the Battleground to Breaking Ground Entrepreneurial Training Project on April 28th at Millican Reserve. The event will highlight the project as well as the incubator farm site at Millican Reserve. Veterans will be providing live music, food, and exhibits.
April 29th is the Battleground to Breaking Ground Ag Workshop hosted at Millican Reserve. The workshop covers business planning basics, rural business ideas, Texas AgrAbility, a funding panel, and networking.
Utah
AgrAbility of Utah participated in the trade show at the 2017 Utah State Dairy Convention March 8-9 in Logan, Utah. AgrAbility staff met with a number of clients and supporters, and conducted program outreach and education.
AgrAbility of Utah sponsored a booth at the Utah FFA Association State Convention March 9-11 in Cedar City, Utah. The convention brought students from FFA chapters throughout the state for education and competition. AgrAbility staff also helped to judge some of the student speaking contests.
Vermont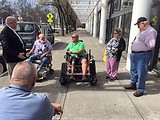 Vermont AgrAbility attended the national training workshop in Knoxville, found it very educational and very informative, and made a lot of good contacts. Staff spent a lot of time with the farmer/rancher attendees, which was very enlightening and educational: a great bunch of people. More

Wisconsin
Abi Jensen and Ami Cooper, AgrAbility of Wisconsin staff, along with Jeff and Sarah, Action Trackchair staff in the Great Lakes Region, hosted a booth at the WPS Farm Show held March 28th-30th in Oshkosh, WI. An estimated 8,000 attendees traveled from across the Midwest to see the over 700 booths at the EAA Grounds.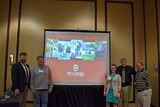 Four AgrAbility of Wisconsin staff and two Wisconsin farmers participated in the National Training Workshop held in Knoxville, TN. More
The AgrAbility of Wisconsin is grateful for the help from the staff at the National Farm Medicine Center for hosting another great annual AgrAbility of Wisconsin Summit, held March 15th in Marshfield, WI. More
West Virginia
West Virginia AgrAbility continues to provide information and resources to farmers requesting assistance. During the month of March, they conducted three farm site assessments and worked with West Virginia Division of Rehabilitation Services and private foundations on securing funding. More
West Virginia AgrAbility was represented at Disability Advocacy Day at the Legislature by Inetta Fluharty. Ms. Fluharty was accompanied by seven consumers that have been working on growing their own produce. More
Inetta Fluharty presented information to the Lettuce Grow nonprofit organization about various methods and curriculum to teach gardening skills to youth and young adults with intellectual and developmental disabilities. More
Inetta Fluharty attended and had a display at the 2017 Appalachian Grazing Conference. Approximately 350 producers attended and received information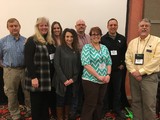 aimed at helping grassland farmers improve productivity and profits. More
WV AgrAbility was well represented at the 2017 National AgrAbility Training Workshop. Representatives from all four funded partners were present. More
Staff Changes
Kentucky
KY AgrAbility has undergone many changes over the years, but the biggest is that John Hancock is no longer at the helm of the KY group. After a major tractor accident in 2015, John will be concentrating on his health and pursuing other opportunities. He and Buddy will be missed, both in the office and at the workshops, conferences and especially during time spent with clients.
Mike Lewis is the new project manager for KY AgrAbility. He comes to us after directing the KY Growing Warriors program, a partner of KY AgrAbility.
Deborah Reed, Distinguished Service Professor and Good Samaritan Endowed Chair from the UK College of Nursing, will be joining KY AgrAbility to help with safety on the farm, assessing the needs of older farmers, and education concerning many agricultural physical limitations.
Maine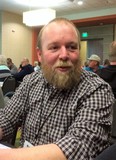 Maine AgrAbility welcomes a new staff member from Goodwill Industries of Northern New England. Daniel Vigue has been with Goodwill for more than 15 years, and is currently a workforce services manager, where the favorite part of his job is that his kids are proud of him because he helps people who are disabled work.
Dan grew up in a rural town just outside the state capital of Augusta. When he was younger, he had lots of pets and critters, and spent summers planting and caring for gardens with his Aunt Carrie and Grammy Daisy. Dan enjoyed the NTW in Tennessee and found the group of providers to be extremely knowledgeable. Dan is looking forward to learning more about what he can do to make AgrAbility great!
North Carolina
NC AgrAbility welcomes Kristoff Minus, who is working as an AgrAbility graduate assistant. He will be collecting and analyzing data, and assisting project personnel with daily operations of the project including media management, administration, and logistics. He has a bachelor's degree in urban and community horticulture and is currently pursuing a master's degree in agricultural education.
AgrAbility in the News
Click here for news stories featuring AgrAbility projects.
No stopping him now: Austin Yaworksy's new track chair
AgrAbility Partnership
Texas AgrAbility Works With Veterans
AgrAbility Helps Injured Farmers Get Back In The Field
Maine AgrAbility hosts design webinar
Find out images about agrability via Instagram
Military entrepreneurial project kickoff, agricultural workshop April 28-29 in College Station
Utforska de här idéerna och mycket mer!
Explora Segurança Farm, Agricultura Wisconsin e outros!
Easter Seals Wis. hosting Neighbor-to-Neighbor meeting
AgrAbility Hosts Annual Advisory Board Meeting
Ohio AgrAbility - Handling Sheep with a Spin Doctor
Other News
Click here for other news of interest to AgrAbility staff members.
Census Of Agriculture Countdown Begins For America's Farmers And Ranchers
Keeping Rural America Healthy and Safe
PHARM Dog News - Bull Sessions
Missouri non-profit trains dogs to assist farmers with disabilities
Nat'l Black Farmers Assn scholarships
Awarding students who embrace diversity
2017 National Junior Angus Show
When old growth beats old school
Census of Agriculture countdown begins
Unique wheat passes the test
WPI team grows heart tissue on spinach
Upcoming Events
Click here for professional development events related to AgrAbility
.
Problems? Contact Chuck Baldwin, National AgrAbility Project, baldwi19@purdue.edu