April 2018
National AgrAbility Project News
The U.S. House of Representatives released its version of the 2018 Farm Bill, and AgrAbility is included. The proposed bill also clarifies that veterans with disabilities are eligible for AgrAbility services if they, "are engaged in farming or farm-related occupations; or are pursuing new farming opportunities.'' (emphasis added) More
AgrAbility Demographic Data Collection Webinar: Wednesday, April 18 at 1:00 p.m. EDT. More
AgrAbility Webinar Series: "Occupational Therapy's Role in Agriculture & Rural Communities;" Thursday, April 26 3:00 p.m. ET. Register by April 23. More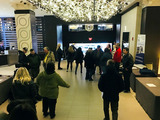 AgrAbility National Training Workshop 2018 – A Success!
Portland, Maine, the Westin Portland Harborview, and our Maine AgrAbility team set the stage for a great 2018 NTW. With almost 100 individuals that spoke or presented, over 55 educational sessions, 5 tours, and 241 attendees representing 35 states and two countries, there was an abundance of knowledge shared! More
Archived presentations from the 2018 NTW are now available at http://www.agrability.org/agrability-national-training-workshop/2018-agrability-national-training-workshop-archives/
The National AgrAbility Project thanks all the farmers and ranchers who agreed to be filmed at the NTW for possible inclusion in new "What AgrAbility Means To Me" videos on the NAP website.
The NAP recently completed a mailing to all APRIL centers for independent living (CILS) and affiliated organizations. Now would be a great time to reach out to the CILs in your state to enhance your networking and collaboration. Find your state's CILs at http://www.ilru.org/projects/cil-net/cil-center-and-association-directory More
Toolbox Updates
ALL SRAPs - Please note that the National AgrAbility Project welcomes any new ideas and solutions that could be added to The Toolbox assistive technology database. Anyone wishing to submit something to the NAP Toolbox committee for consideration may send it to Steve Swain.
Toolbox solutions now have a "Submitted by:" line just below the "Estimated cost" toward the bottom of the solution page. See who the first SRAP staff is to be recognized this way here.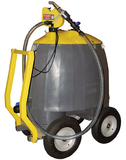 Toolbox Spotlight: The four-wheeled 33-Gallon Milk Kart eliminates the need for one to carry and lift buckets in order to refill multiple calf pen milk-bar feeders. The Kart includes a 12-volt DC pump, 8-foot-long dispensing hose with trigger-operated nozzle, gradient sight glass, milk-volume-measuring flow meter, cordless drill-powered mixing whisk, and battery plus charger.
State and Regional AgrAbility Project News
California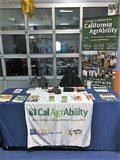 California AgrAbility attended the first Tri-County Transition Fair reaching out to students, teachers, and agency professionals on the mission of AgrAbility and how the program can help. More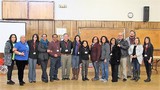 California AgrAbility staff led the Promotores Conference Organizing Committee in the planning of the 5th annual conference. More
California AgrAbility attended the monthly RISE Collaborative Meeting where RISE presented their new Farmworker Outreach Program. More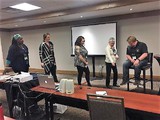 California AgrAbility and Ability Tools staff were present at the 2018 AgrAbility Training Workshop in Portland, Maine. Staff led an unconferencing session on the topic of effective networking strategies for AgrAbility staff. More
Colorado
Denver's Botanical Gardens Chatfield Farms has been conducting a beginning farmers course for disabled veterans in Colorado. Colorado AgrAbility was invited to attend and critique their formal presentation of agriculture business plans. More
Program Manager Candy Leathers attended the NTW in Maine. Candy reported a well-attended event and one she much enjoyed. Jim Craig was unable to attend so he remained in-state doing AgrAbility work.
After several years of reaching out to Colorado commodity groups, the Phillips County Bean Growers invited CO AgrAbility to attend Bean Conference 2018 at the county events center. More
Georgia
Staff members, a student engineer, and a veteran/AgrAbility client were presenters during three sessions at the NTW in Portland, Maine, in March 2018: More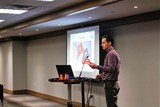 The first session was "Working with Senior Engineering Students in Addressing a Specific Assistive Technology Need". More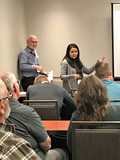 The second session was "AgrAbility Quality of Life: Our latest Findings and Future Directions". More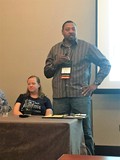 In the third session, Tim Robinson, a veteran and Georgia AgrAbility client, was a participant on the veterans' panel. More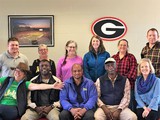 On March 13th, AgrAbility sponsored a workshop titled, "Selling at The Farmers Market". It was held at UGA's Tifton campus. Two experienced farmer market managers taught the course. More
On March 13th, Farm Again/GA AgrAbility hosted the webinar "Ordinary Items/Extraordinary Solutions" with Therese Willkomm as the instructor.
Illinois
The AgrAbility Illinois team was thankful to have the opportunity to participate in the 2018 National Training Workshop. More
Kelly Gagnon, AgrAbility Unlimited's communications coordinator, is currently serving as a member of the marketing committee for the Illinois Farmer Veteran Alliance steering committee. More
Indiana
Indiana AgrAbility and the Indiana Chapter of the Farmer Veteran Coalition exhibited at the 2018 Indiana Small Farm Conference at the Hendricks County Fairgrounds March 2-3. More
Linda Tarr did several events in southern Indiana, including the White River Co-op Appreciation Day, Hoosier Hillside Master Gardeners' Spring Tonic, and the Indiana Farm Bureau Spring Conference and Trade Show.
She also attended the National Training Workshop in Portland, Maine, and was in charge of the farmers' luncheon.
Kansas
Kansas AgrAbility (KAP) was a featured program at the 2018 Ag Day Celebration at Fort Riley, KS, on March 20. Kerri Ebert, KAP coordinator, shared the video "The Next Mission" with transitioning soldiers and staff of the Warrior Transition Battalion.
Kansas AgrAbility was well-represented at the NTW in Portland, sending five staff members who all enjoyed the education and fellowship.
Kentucky
KY AgrAbility had a great time in Portland, ME. The NTW gave staff a chance to meet old friends and connect with new ones. This year, KY AgrAbility was able to take several farmers and share the goals of AgrAbility.
March also held the Organic Growers of Kentucky meeting where KY AgrAbility was able to share information with the 250 attendees.
The staff met with Kiyo Sakamoto, a Ph.D. student from Japan, to talk about the social aspects of agriculture that help those with limitations. More
April is here and the 14th is the Veteran and Beginning Farmer Workshop at the KSU Research and Demonstration Farm south of Frankfort. More
Thanks to the National AgrAbility group for putting on an awesome conference (NTW). Can't wait to see where it is next year.
Maine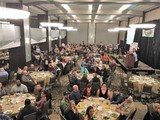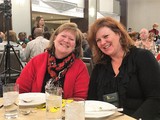 What a great NTW! Thanks to all who ventured to Maine for the 2018 NTW in Portland, with a huge thank you to the anchors of the planning committee, Tess & JoBeth! More
Maine AgrAbility Specialist Ellen Gibson presented a "Gardening As You Age" workshop to Master Gardener and garden club members. More
Michigan
Promoting safe work practices to enhance an individual's health and safety on the farm goes hand-in-glove with enhancing the ability of a farmer with a disability to continue to perform farm work. More
Both Michigan AgrAbility and Michigan State Extension want farmers to succeed in their agricultural operations, both personally and in profitability. More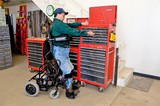 Highlighting and disseminating new assistive technology through its social media pages is one of the many tasks accomplished by Michigan AgrAbility staff. More
Once again, Alpha Gamma Rho TAU Chapter is hosting an event with the proceeds directed to Michigan AgrAbility! More
Last, but not least, like many of you, Michigan AgrAbility personnel enjoyed the educational and networking opportunities at the National Training Workshop. More
Missouri
Missouri AgrAbility staff, in partnership with Missouri Vocational Rehabilitation case managers, facilitated several level II onsite farmstead assessments. More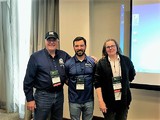 Susan Jaster, Shon Bishop, and David Middleton, outreach specialists with Lincoln University Cooperative Extension and Missouri AgrAbility, attended and presented several conference sessions at the 2018 National AgrAbility Training Workshop in Portland, Maine. More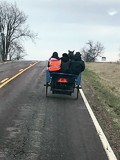 Over 800 Mennonite farm families gathered at the Central Missouri Produce Auction Center in Fortuna, Missouri, to participate in the first annual Farm Safety and Health Day. More
Maureen Cunningham, executive director for the Brain Injury Association of Missouri, presented at the NTW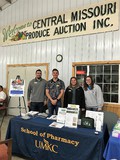 regarding working with individuals with brain injury. More
Pharm to Farm and University of Missouri-Kansas City School of Pharmacy, Missouri AgrAbility Project collaborators, participated in the inaugural Farm Safety and Health Day in Fortuna, MO. More
North Carolina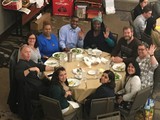 At the 2018 National Training Workshop in Portland, ME, March 19-22, NC AgrAbility Partnership was widely represented by the participation of staff, partners, farmers, and students. More
Small Farms Week was North Carolina Agricultural and Technical State University's annual tribute to small-scale agriculture, held March 25-31. More
On March 2nd, a program about NC AgrAbility Partnership was broadcast live by the Hispanic radio station, Nueva Vida 880 AM, in Clinton, NC. More
Nebraska
Nebraska AgrAbility was pleased to be the recipient of a significant grant from the office of Farm Credit Services of America in McCook, Nebraska, to be used in a 17-county service area.
Nebraska's very own Rod Peterson was instrumental in the filming of an interview with owners of Life Essentials and Nebraska client Eric Beckman on the Worldwide Business show with Kathy Ireland. See clip here.
Staff is preparing for the annual OT/PT workshop titled "Rehabilitating Farmers and Ranchers with Disabilities" in Beatrice, Nebraska, in April. More
Congratulations to Katrin Volkmer, an occupational therapy student who has been shadowing the rural rehab specialists. She received a gerontology fellowship at Creighton University in Nebraska.
Six Nebraska staff members attended the NTW in Maine, along with a student intern. What a great time learning and exploring!
Ohio
Ohio AgrAbility staff, farmers, and students enjoyed the 2018 NTW in Portland, Maine. Many of them presented sessions for the benefit of attendees. More
Ohio, Pennsylvania, and West Virginia AgrAbility staff presented "Harmonizing at Farm Aid 2017: The story of a 3-state AgrAbility collaboration."
OAP Staff partnered with Ohio State University Extension Educators on "Train the Trainer - Generation Rx and Educational Resources for CombatingSubstance Abuse in Your Community," ... More
The OSU Extension Educators also presented "Connecting with your Resources: Mental Health Awareness."
The OSU Capstone GOATs (Girls Ohio AgrAbility Team) gave an excellent presentation on the "Challenges of Designing a Skid Loader Entry System for Lower Extremity Disabilities." More
The OSU Extension educators who attended NTW were very impressed with the AgrAbility Program, are very excited to share information about Ohio AgrAbility throughout their county and with other educators throughout the state. More
The Ohio AgrAbility Team is grateful to NAP for sponsoring some of their farmers to attend NTW. They were all first-time NTW attendees, and all expressed their gratitude for the opportunity to attend. More
Pennsylvania
2018 National Training Workshop - THANK YOU, MAINE AGRABILITY!
Several staff members from AgrAbility PA participated in the 2018 National Training Workshop in Portland. More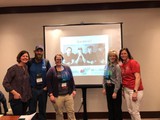 AgrAbility PA staff member Kendra Martin collaborated on a session with staff members from Ohio AgrAbility, West Virginia AgrAbility, and Farm Aid's Jennifer Fahy. More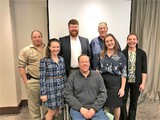 AgrAbility PA's Abbie Spackman, AgrAbility WI's Ami Cooper, and WI dairy farmer Adam Faust presented the "Assistive Technology for Dairy Farmers" session during the National Training Workshop. More
AgrAbility PA Project Assistant Abbie Spackman enjoyed sharing tips with new AgrAbility staff members during the new staff training session at the NTW. More
AgrAbility PA recently wrapped up revisions to its project brochure. The new version is farmer-focused, highlighting brief stories, photos, and quotes from farmers AgrAbility PA has served. More
Tennessee
Thank you to the NTW Planning Committee, Jo Beth, Tess, wonderful hosts - Maine AgrAbility - and all the wonderful speakers for another four days of professional development, presentations, networking, and tours.
TNAP shared information with customers about the UT MANAGE program, the area specialist farm management and business planning program to help farm families make better-informed decisions and reduce farm stress as they work through financial scenarios.
The Middle TN New Farmer Academy kicked off its fifth year with 44 participants in the 2018 class. The first East TN New Farmer Academy kicked off with 25 participants and 10 are TN AgrAbility clients/beginning farmers/veterans.
TNAP was promoted at the Beef Heifer Development School, Upper Cumberland Master Small Ruminant Program, and the second Slow Your Roll/Beginning Farmer workshop.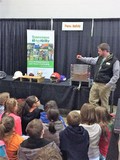 National American Farm Bureau Ag Safety Awareness Program Week was promoted by TNAP.
TNAP participated in the 2018 Carroll County Ag Day. There were 200 5th graders in attendance. TNAP smashed eggs for the helmet demonstration and Carroll County 4-H agent Lucas Mercker demonstrated grain bin and auger safety.

Virginia
Those who participated in the recent NTW may have spoken to one of the AgrAbility Virginia team members about a new National Science Foundation (NSF) grant they are collaborating on titled, "Affordable Flexible Robotic Technology to Enhance Work Performance of Farmers with Mobility Restrictions." More
Wisconsin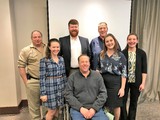 AgrAbility of Wisconsin (AAW) staff and three past clients attended the NTW in Portland, ME. AAW Co-PI Brian Luck presented on precision agriculture and assistive technology, and Ami Cooper, rural rehabilitation specialist, co-presented with Abbie Spackman of PA AgrAbility on assistive technology commonly used on dairy farms. More
AAW's annual summit was held on March 13th at Organic Valley in Cashton, WI. More
West Virginia
WV AgrAbility will participate in the #GrowThisWV campaign and provide networking and education activities through that social networking farm site for WV. More
WV AgrAbility members met with the director of veterans education and training for the West Virginia Higher Education Policy Commission. More
Ninety-three individuals with disabilities, their families or caregivers, service providers, nursing students, and community members attended a training sponsored by The Arc of the Mid-Ohio Valley where WV AgrAbility staff was the featured trainer. More
WV AgrAbility was represented at the 2018 AgrAbility National Training Workshop by four members of the WV AgrAbility team. More
"Ergonomics - Working Smarter Not Harder" was the topic presented by WV AgrAbility staff at the Greenbrier County Master Gardener meeting. More
Staff Changes and Recognition
Missouri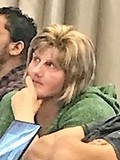 Thank you so much National AgrAbility for giving me one of the farmer scholarships to attend the 2018 National AgrAbility Training Workshop in Portland, Maine. I learned so much and am excited to share information and resources with other Missouri farmers with disabilities. My brother also had a great time and learned a lot from the brain injuries sessions. I am excited to help get him started with AgrAbility and Mo Vocational Rehabilitation. Since attending the workshop his moral has gone up. Thanks again!
- Susan Butterfield, Missouri farmer
AgrAbility in the News
Click here for news stories featuring AgrAbility projects.
National disability in agriculture conference in Portland
Life Essentials featured on Worldwide Business with kathy ireland®
Getting Your Garden Tools Ready for the Season
Ohio AgrAbility in Action: Rolling Lift Carts
'Overwhelmed to hopeful': AgrAbility helps farmers
PANHANDLE PERSPECTIVES: Women in Agriculture conference set for April 13 at Sidney
Stewards of the Future / Dr. Gary Roberson North Carolina AgrAbility Partnership
Here is how make your beekeeping work easier
A congregation of small farmers gathers at A&T
A New Hope AgrAbility mp3
Other News
Click here for other news of interest to AgrAbility staff members.
USDA announces support for tribal communities
$8.4M to support veterans, disadvantaged farmers
Investments to address opioid crisis in rural U.S.
Coalition calls for mental health aid for farmers
2018 USDA Ag Census: Get it done!
Expanding broadband in unserved rural areas
Aid for livestock, honeybee, farm-fish losses
Dolores Huerta from jazz to 'Si, Se Puede'
Sustainability project reaches small farmers
World Pork Expo is bigger and better than ever
Upcoming Events
Click here for professional development events related to AgrAbility
.
Problems? Contact Chuck Baldwin, National AgrAbility Project, baldwi19@purdue.edu