March 2015
National AgrAbility Project News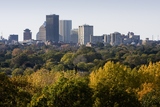 Earlybird NTW registration closes this Thursday, March 19. Make sure to register before the 19th to get a discount. Online registration will close on April 10. There will be no on-site registration. Click here for a list of the registration fees. More
The room block for the 2015 NTW at the Hyatt Regency Rochester closes this Thursday, March 19th. However, we have exceeded our contracted nights for the block, so if you plan to stay at the Hyatt, you will have to reserve your room at the regular rate of $139 rather than the conference rate of $105. Book your room by phone at 585-546-1234.
If you have booked a room and do not need it for any reason, please DO NOT cancel it. Contact Kylie Hendress first (khendres@purdue.edu or 765-494-6679) because someone else may be able to use it. If it gets canceled, it is gone and cannot be re-booked at the conference rate.
The National Project has reserved several rooms at the Radisson across the street for 4/12-4/16 at the conference rate of $105/night. If you haven't booked a room and don't mind staying across the street, contact Kylie Hendress (khendres@purdue.edu or 765-494-6679) to hold one.
AgrAbility Webinar Series: Cultural Competency: Understanding Old Order Cultures & How to Conduct Outreach to Mennonite and Amish Populations, Thursday, March 26, 2:00 p.m. EDT. More
AgrAbility All-Staff Call/Web Meeting: Wednesday, April 1 at 3:00 p.m. EDT. Check your email for details coming soon.
2015 AgrAbility Harvest newsletter is available. Feel free to post it on your website and distribute it to your constituents. More
Amber Wolfe and Cindy Chastain participated in the 20th Midwest Women in Agriculture Conference, held in Merrillville, IN, Feb. 17-19. More
A second National Arthritis and Agriculture Conference is being planned for August 24-26 in Knoxville, TN. More
The www.arthritis-ag.org website is currently under construction as a new website is being prepared for publishing. Keep an eye on your email for the announcement of the new website with updated resources, monthly blog, and more!
Chuck Baldwin staffed an AgrAbility booth February 27 at the Rural Life Conference in Pine Bluff, Arkansas. His presence in Pine Bluff also gave an opportunity later in the day to hold the first meeting of the planning committee for the 1890s AgrAbility Workshop to be held at the University of Arkansas at Pine Bluff in May, 2015.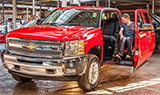 Toolbox Spotlight: Pickup conversions can put wheelchair users in the driver's seat. More
Click here for the schedule of upcoming Community of Interest and Standing Committee call information.
State and Regional AgrAbility Project News
California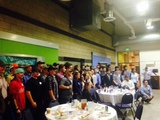 The CalAgrAbility Team cruised down south to the World Ag Expo in Tulare, CA, to speak at the American Society of Agricultural and Biological Engineers (ASABE) Meeting. More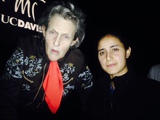 Doctor Temple Grandin spoke in CalAgrAbility's backyard, the Robert & Margrit Mondavi Center. CalAgrA staff chatted with her for a few minutes about farming with a disability. More
CalAgrAbility staff continue to lead arthritis exercise classes for special populations in rural Sacramento, Willows, and Woodland areas. More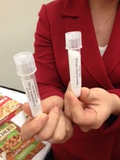 CalAgrAbility Staff was at the 10th Annual Women's Heart Care Education & Awareness Forum for Community Leaders at UC Davis. One in three women currently dies of heart disease. Much of the burden is attributed to diet. More
CalAgrAbility's director, Fadi Fathallah, steered an interesting presentation on his area of specialty, ergonomics, for CFLIC 15 staff at their Northern CA In-Person Regional Meeting. More
CalAgrAbility continues to mass mail. This month, CalAgrA staff mass mailed, the first-of-its-kind CalAgrAbility News Alert, which is a page-long newsletter, for its 2000+ colleagues. More
CalAgrA continues to Tweet. Follow us at https://twitter.com/calagrability.
Indiana
The 2015 Purdue AG Alumni Fish Fry on Feb. 7th was attended by over 1500 people, including such dignitaries as the governor and  lieutenant governor of Indiana, the director of the Indiana State Department of Agriculture, the president of Purdue University, and the CEO of the National FFA. More
Linda Tarr participated in Indiana Association of Soil and Water Conservation District annual meetings in Lawrence and Greene Counties. More
Kentucky
Kentucky AgrAbility was able to attend several events this year before the recent weather put them in the deep freeze. More
One of the major events for KY AgrAbility is the National Farm Machinery Show in Louisville, KY. More
In March, the Summer AT Workshop committee will continue to finalize plans for the June event. Hopefully the weather will cooperate and the farm visits and other meetings will also happen.
April plans see KY AgrAbility staff splitting in different directions. John Hancock and two others will be heading to Nashville to attend the National American Occupational Therapist Conference and Expo while Linda Bokros and Kevin Horn will be attending the NTW in Rochester, NY.
Later this summer, plans call for John Hancock to have a presentation at the Association for Driver Rehabilitation Specialists (ADED), being held July 31 through August 4, in Louisville, KY. See www.aded.net/
For AgrAbility history buffs, click here to view an article from 1990 on farming with a physical disability and with a picture of John Hancock, PI for Kentucky AgrAbility.
Maine
Maine AgrAbility project director Richard Brzozowski is working on developing a ROPS (Roll-Over Protection Structure) program in Maine with the support of the NYCAMH (New York Center for Agricultural Medicine and Health).
Richard Brzozowski shared AgrAbility program information at a farm tractor safety course he presented for the Maine State Society for the Protection of Animals in Windham Maine.
Based on survey results collected from farmers this winter, Maine AgrAbility has identified the need for more information about farm emergency action plans. More
Jeff Baizley of Goodwill Industries of Northern New England, Maine AgrAbility's non-profit partner, had several conversations about AgrAbility at their "Super Saturday" event at the Lewiston Armory.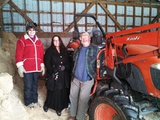 During the middle of the blustery cold February weather, AgrAbility client Stan Haynes showed MPBN's (Maine's National Public Radio news source) Jennifer Mitchell around Clay Hill Farm. More
Michigan
Michigan AgrAbility staff reached out to acquaint two new service providers with the Michigan AgrAbility program. More
Missouri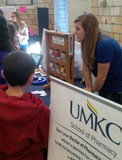 Kelly Cochran (PharmD, BCPS) and University of Missouri Kansas City (UMKC) student pharmacists educated over 500 teens and parents at the CHART Teen Health Fair in Hannibal, MO. More
AgrAbility partner Maureen Cunningham, director of the Brain Injury Association-MO, presented to 50 pharmacy students about concussion prevention and the impact of brain injury. This education session equipped students with knowledge and resources they can apply in their future outreach to those experiencing brain injury.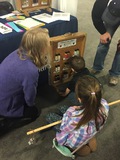 Kelly Cochran and UMKC student pharmacists provided health screenings and education at the National Western Farm Show in Kansas City, MO, at the American Royal Association. More
Kelly Cochran participated in a conference call for the American College of Clinical Pharmacy Taskforce on Distance and Emerging Technology and is contributing to the publication of a white paper regarding processes of care and outreach through telehealth.
North Carolina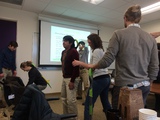 Thanks to everyone who participated in the February 20th western NC "Let's Talk About Arthritis/Hablemos Sobre Artritis" workshop, hosted by Western Carolina University Department of Physical Therapy. More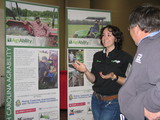 NC AgrAbility was once again at the 2015 NC Cattlemen's Association Conference at the Hickory Metro Center February 12-14. More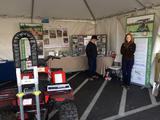 It was another chilly year at the 2015 Southern Farm Show! NC AgrAbility had new toys and tools to share with folks and a guest exhibit from its community partners from the NC Division of Services for the Blind. More
Nebraska
Despite cold weather and snow, attendance was high at the Buffalo Bill Farm and Ranch Show in North Platte, February 4-5. More
The Nebraska AgrAbility Advisory Committee met in Kearney the end of February. Del Ficke, former rural rehab specialist, coordinated the event, with programming, staffing, and financial updates from staff, news of networking with the Farmer Veteran Coalition, and a brainstorming session on programming and networking.
Women in Agriculture celebrated 30 years as Nebraska's premier educational event for female ag producers and cooperators. Sharry Nielsen, Nebraska Extension, staffed an exhibit about AgrAbility and preventing back pain/injury. More
A NE AgrAbility client received word this month that he had been awarded $2,000 from the Nebraska Farmer Veteran Coalition for use toward AT. Staff worked with him to select the AT needed and to complete the application.
Ohio
Ohio AgrAbility staff attended the 36th annual two-day Ohio Ecological Food and Farm Association conference held February 14 and 15 in Granville, Ohio. More
By invitation from the Ohio Department of Veterans Services, Ohio AgrAbility staff shared the Ohio AgrAbility message with military veterans who attended the Wilmington Veterans Resource Fair on Feb. 24, 2015. More
Tennessee
The Tennessee AgrAbility Project (TAP) has been promoting its mission and safety at the TN-KY Tobacco Expo, TN Association for Conservation Districts Convention, West/Middle/East Grain and Soybean Conference, and at various County meetings.
TAP attended the Progressive Agriculture Foundation Safety Training and are planning on hosting more safety days this summer.
The Trosts were excited to be selected as farmer veteran stipend recipients who will be attending the National Training Workshop in April.
TN AgrAbility is helping with plans for an arthritis/AgrAbility Regional Training Workshop to be held in TN in August, 2015.
The Tennessee AgrAbility Project and their farmers survived two weeks of no school due to ice and snowstorms with a record-setting eight-plus inches of snow (a lot for TN).
Utah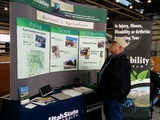 AgrAbility of Utah participated in the Utah Farm and Ranch Expo on February 6-7 at Utah State University's Equine Center in Wellsville, Utah. Farmers and ranchers from Northern Utah and Southern Idaho visited the AgrAbility display that was part of the Trade Show.
AgrAbility of Utah attended the 2015 Beef Field Day February 10 at the state fairgrounds in Salt Lake City. The exhibit included an AgrAbility tabletop display and outreach materials.
Vermont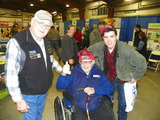 Vermont AgrAbility was provided the opportunity for excellent contact and outreach at the annual Vermont Farm Show. The photo shows Tom Younkman with a long-time AgrAbility client and his grandson enjoying the show... More
A special meeting of interested parties met at the Vermont Center for Independent Living (VCIL) office recently to further plan and define outreach efforts with farmer veterans.
One of VT AgrAbility's veterans was featured in the Vermont Farm Bureau's "Fences" magazine this month. The issue also featured our own Tom Younkman and his wife Carole on their diversified farm in Hyde Park.
Wisconsin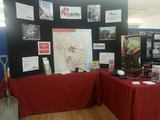 AgrAbility of Wisconsin staff attended the Marshfield Farm Show in Marshfield, WI. Participation in this farm show is particularly valuable, as many of our clients are centered in the Marshfield area. Many new connections with both prospective clients and agriculture professionals were made.
Staff also attended the MOSES Organic Conference in La Crosse, WI, for the first time as an exhibitor. This was a great opportunity to reach out to minority populations and to learn how to better serve the needs of organic farmers with limitations.
AgrAbility of Wisconsin is launching its new website: http://agrability.bse.wisc.edu/. The new site is easy to navigate and is updated with new information and current AgrAbility news.
West Virginia
The "Farm Bureau and Forestry Day" at the WV Legislature was held in Charleston, WV, on February 3, 2015. More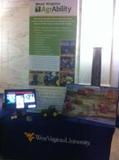 On February 13, 2015, WV AgrAbility staff attended the West Virginia University Day at the WV Legislature meeting in Charleston, WV. For additional information, visit the following URL: http://www.wboy.com/story/27867679/wvu-extension-day-at-the-legislature
WV AgrAbility staff provided various presentations at the Small Farm Conference in Charleston, WV, on February 25 through 28, 2015. More
Staff Changes
Michigan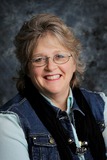 Bev Berens has joined the Michigan AgrAbility team as the organization's new case manager. Bev has been a free-lance writer for more than twenty years and has contributed to national, regional, and local publications both in the farm and non-farm sectors. She is a former agri-science instructor and was raised on a farm in southwest Michigan. Bev and her husband, Jeff, continue the farming life raising hay and poultry.
Family is a priority in her life as she home-educated the family's two nearly grown children. 4-H became a large part of the homeschool experience; livestock projects at home dovetailed into breeding and market projects that culminated at the country fair. Taking the experiences one step further, Bev created the Allegan County 4-H Dairy Team. Members train for quizbowl, skills, and judging contests at the state level and beyond. She has coached the program for eleven years, acquiring numerous state wins in the process. Bev is an active volunteer in the county 4-H program, local FFA chapter and her local church.
Bev also served as the Allegan County Promotion and Education Committee chairperson for eleven years; is a member of Michigan Integrated Food and Farming Systems; direct marketed farm products through a local farmers market for five years, and is a member of her local church's historical preservation committee.
Ohio
The Ohio AgrAbility Project bids a fond farewell to Josh Svarda of Easter Seals TriState. For the past five years, Josh provided insight and guidance into the working relationships that develop between individuals in need and the service providers who serve them. We wish Josh great success in his new position with Hamilton County!
Tennessee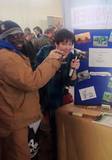 TN AgrAbility welcomes new volunteer leader Susan Mimms. Susan manned the TN AgrAbility booth at the TN-KY Tobacco Expo in Springfield, TN, and did an excellent job!
Vermont
Kenny Smith, a veteran and VCIL staff member, worked with the Vermont AgrAbility Project for more than a year. Kenny recently left the project to pursue his own veteran outreach efforts.
Wisconsin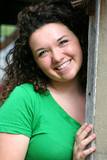 AgrAbility of Wisconsin looks forward to welcoming Mackenzie Sarbacker to the team for the summer months. She will be serving as a program intern. Mackenzie is currently a sophomore at the University of Wisconsin-Platteville, where she is majoring in agriculture education-non-teaching. She is active with the Pioneer Dairy Club and InterVarsity on campus. Sarbacker has a lifelong passion for the dairy industry, having been introduced to agriculture at a young age on her family's farm, Sarbacker Cattle Company, in Belleville. Sarbacker brings experience from her role as a respite care provider for UCP of Dane County, and from her role as a camp counselor at Badger Camp. With a passion for agriculture and for working with others, Sarbacker looks forward to joining the AgrAbility staff.
AgrAbility in the News
Click here for news stories featuring AgrAbility projects.
2015 AgrAbility National Training Workshop - Register Now!
AgrAbility conference set in Marshfield
Maine orchard's cherries flavor new beer
Free farm/ranch succession workshop to be held March 2 in Seward
Teens learn healthy lifestyle, how to save lives
AgrAbility - Our Mission
2015 AgrAbility National Training Workshop
Coping With the Physical Toll of Decades of Farming: 'AgrAbility Project' Aims to Help
Carlson Speaks with MPBN About Maine AgrAbility Project
National AgrAbility training workshop set in New York state
Farm tours top National AgrAbility agenda
Other News
Click here for other news of interest to AgrAbility staff members.
Upcoming Events
Click here for professional development events related to AgrAbility
.
Problems? Contact Clifford Racz, National AgrAbility Project, racz@purdue.edu