August 2015
National AgrAbility Project News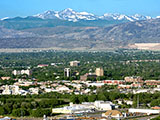 Save the date for the 2016 AgrAbility National Training Workshop! The 2016 NTW will be held in Fort Collins, Colorado, April 11-14, at the Fort Collins Marriott. Stay tuned for more details in the coming months.
AgrAbility 1991-2015: 25 Years, 25 Stories will be the theme for the 25th anniversary intiative. Indicate your interest in participating by September 4. More
The AgrAbility Webinar Series received a Blue Ribbon Award in the Educational Aids Competition at the 2015 American Society of Agricultural and Biological Engineers International Meeting in New Orleans.
SAVE THE DATE: The 2015 Farmer Veteran Stakeholders Conference will be held November 17-19 in Sacramento, California. For further information and details, see: http://www.farmvetco.org/fvsc/
Cindy Chastain presented an AgrAbility overview via Skype to the Farmer Veteran Coalition staff on July 23d. More
The July 30 AgrAbility all-staff meeting has been archived at http://agrability.org/Extranet/resources.cfm
The AgrAbility webinar Osteoarthritis and Farm Youth: An Ounce of Prevention is Worth a Pound of Cure is now archived at http://agrability.org/Online-Training/archived/index.cfm
The NAP welcomed three new staff members from AgrAbility in Georgia for two days of training and site visits on July 16 and 17.
Special thanks to the following SRAPs for helping the NAP host exhibits at recent national events: California AgrAbility (Amputee Coalition Conference); Texas AgrAbility (National Veterans Wheelchair Games); Colorado AgrAbility (RESNA AnnualConference)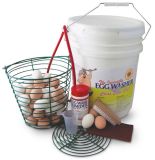 Toolbox Spotlight: Utilizing water and bubbled air, the Incredible Egg Washer provides an alternative to either expensive washers or hand scrubbing. Designed especially for small-farm egg production, the unit will reportedly clean up to 8 dozen eggs at a time in an area such as a kitchen.
Click here for the schedule of upcoming Community of Interest and Standing Committee call information.
State and Regional AgrAbility Project News
Arkansas
Arkansas Agrability (affiliate) developed a two-sided tri-fold brochure dealing with suicide prevention in farmers for their Rice Field Day in August. Lavona Traywick shares it here for anyone who may be able to use it. Suicide Prevention for Ag Workers
California
One of CalAgrAbility's consumers from San Diego is seeking land to farm. CalAgrAbility staff linked him to the Land Access Program and Farm Link in Santa Cruz, as well as to the Transition Incentives Program (TIP) through the National Sustainable Agricultural Coalition (NSAC). More
CalAgrAbility assisted four low-vision consumers with free eye exams and glasses. The OneSight Program, through international retailer LensCrafters, has been around for 25 years and continues to be an excellent partner with CalAgrAbility.
To celebrate the Americans with Disabilities Act's (ADA's) 25th anniversary, CalAgrAbility released a Spanish PSA highlighting an amputee consumer and the solutions CalAgrAbility found to keep him working independently on the farm. More
CalAgrAbility and Migrant Ed conducted an outreach throughout California Delta pear farms. Staff gained four additional consumers with acute eye injuries, chronic vision problems, diabetes, and arthritis. More
CalAgrAbility staff attended an excellent webinar, "AT: Simple Solutions for the Outdoorsman with Disabilities" where recreational therapist Chris Ravotti spoke. More
CalAgrAbility continues working with students from California State University, Chico, who were instrumental in developing a beautiful accessible garden for veterans and seniors with disabilities. To learn more about their work visit: http://news.agrability.org/2015/08/eNote_fix1.html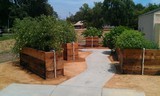 CalAgrAbility staff will be leading a presentation next month on ergonomic tools for gardening at the Oakmont Independent Living Center in Chico, CA.

The CalAgrAbility partner Ability Tools and the Dept. of Rehabilitation (DOR) are collaborating to deliver a webinar about services and how farmers and ag workers can effectively access DOR services. More
UC Davis Extension ANR reporter Alberto Hauffen interviewed CalAgrAbility about the U.S. migrant population and Cal-OSHA new regulations to prevent heat illness at work. More
CalAgrAbility continues to Tweet. Follow us at https://twitter.com/calagrability.
Georgia
Georgia sent three staff members for training to Wisconsin and Indiana. Jimmy Hill, John Kreimeyer and Mason Dean, spent two days at each of the AgrAbility programs learning how they conduct their programs.
Olives are being grown in southern Georgia. Georgia's staff spent one day learning how olives are grown, processed, and marketed. More
Staff participated in a wide variety of workshops that seek to promote and educate the next generation of young, beginning, small and underserved farmers. More
Indiana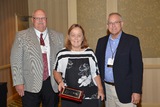 Linda Tarr, southern Indiana coordinator, had a booth at the Area 15 Agency on Aging Health and Information Fair and the Indiana Rural Health Association annual conference. She also accepted the Public Service Award from IRHA for Indiana AgrAbility.
Maine
Alpha One's Wanda Caron (COTA) staffed an AgrAbility exhibit at the Wild Blueberry Field Day in Jonesboro on July 15. Over 100 growers and ag professionals attended field day to learn more about research activities, trials, and new technologies.
Richard Brzozowski helped plan and accompanied a day-long tour of Maine farms in Cumberland and Oxford counties with over 50 members of the Potato Association of America. Richard presented information about Maine AgrAbility over lunch with the group at one of our client's farms, Pietree Orchard, in Sweden, ME on July 23.
Ellen Gibson, of Goodwill Industries of Northern New England, recently attended a day-long farm tour event hosted by the Farmer Veteran Coalition to support AgrAbility efforts with this group. More
http://www.foxbangor.com/news/local-news/10494-state-of-maine-joins-homegrown-by-heroes-program.html
This is an article on progress being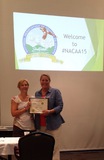 made by the Farmer Veteran Coalition in Maine. More
Maine Project Coordinator Lani Carlson recently attended the National Association of County Agricultural Agents (NACAA) Annual Meeting and Professional Improvement Conference (AM-PIC) in Sioux Falls, SD. More
Michigan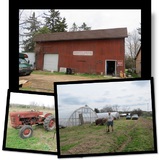 In 2012, a car accident broke the fusions in Paul Geer's back, resulting in constant pain today. Paul, who walks with a cane, raises market vegetables and flowers in Kent County at Frozen Creek Floral Farms. More
Michigan AgrAbility's first short video - Mobility Vehicles - describing possible solutions to common physical impairments faced by farmers and farm workers, has been placed on the Michigan AgrAbility Facebook page. More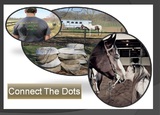 What do a firehose, a fraternity, and Hot Roddin Zip have to do with each other? More
"I don't have to leave the parlor to get the cows in anymore, said Bob VanDenBerg." Bob wasn't referring to help received from his son, grandson, or farm dog, but to his new crowd gate recommended by Ned Stoller, Michigan AgrAbility, and purchased by Michigan Rehabilitation Services (MRS). More
Michigan AgrAbility shared Discubre's adjustable height sink video on the Michigan AgrAbility Facebook page.
Michigan AgrAbility YouTube channel has videos of Connect the Dots day, with interviews of the MSU students and the recipient (Linda Streeter), as well as other videos showing how Michigan AgrAbility can help farmers/farm workers with disabilities.
Missouri
Missouri staff members participated in the NAP Evaluation Committee and AgrAbility All-Staff teleconferences.
Janet Hurst, Susan Jaster, and Reneesha R. Auboug, collaborative partners with the Missouri AgrAbility Project, are proactively facilitating six AgrAbility small farmer client cases. More
Ten AgrAbility military veteran farmers sat side-by-side with 16 other academy participants attending the Third Annual Agroforestry Academy sponsored by MU Center for Agroforestry, July 20-24. More
Missouri's AgrAbility program and Lincoln University Cooperative Extension's Veteran Farmer Projects with the Center For Rural Affairs (CFRA) was published in the Issues in the Profession Veteran to Farmer Programs. More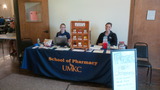 University of Missouri-Kansas City student pharmacists Lauren Aversman and Olivia Schwaller presented an educational seminar titled Take as Directed: The Price YOU May Pay for the Drug You Didn't Take: A Review of Medication Reminder Tools for a support group sponsored by Missouri AgrAbility partner Brain Injury Association of Missouri in St. Louis on July 15. More
Seven Missouri AgrAbility Project farmers were provided onsite farmstead medication assessments through Pharm to Farm, an initiative led by Kelly Cochran,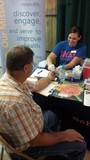 PharmD, BCPS and UMKC student pharmacists.
Pharm to Farm health and safety outreach was provided at three rural Missouri events along with Missouri AgrAbility Project information provided to potential clients. More
Maureen Cunningham with the Brain Injury Association of Missouri is working with community partners to establish a new support group for survivors of brain injury and family members in the Kansas City metropolitan area. More
Marketing, networking, and educational opportunities, continued in June and July 2015 with Brain Injury Association of Missouri representatives discussing AgrAbility at several meetings. More
Nebraska
Emily Freudenburg presented a session introducing participants to AgrAbility at the AgroMed Course in Omaha, NE. More
Emily staffed a booth for NE AgrAbility at the Madison County Fair in Nebraska, talking to potential vendors, clients, and possible funders.
Sharry Nielsen, UNL Extension, worked with her Farm Safety For Just Kids chapter to staff a booth at the Kearney County Fair to teach youth and parents about machinery hazards and reaction time.
Ohio
Ohio AgrAbility staff recently displayed and did presentations at three Amish functions. More
Tennessee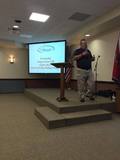 TN AgrAbility staff were proud to be part of the Progressive Agriculture Safety Day at the 2015 Young Farmer and Ranchers Farm Bureau Summer Conference in July. More
TN AgrAbility exhibited and presented at the Outreach and Assistance Conference for Farmers, Forest Landowners and Ranchers in Murfreesboro, TN.
TNAP staff promoted AgrAbility at the Small Farm Expo and Small Farmer Recognition Program in Nashville, the Small Ruminant Conference in Knoxville, and at a Knoxville Cattlemen's meeting.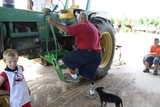 David R. Johnson and his wife, Avice, operate a produce farm in Whiteville, TN. In 2010, David's right leg was amputated above the knee due to complications from an illness and medications. More
Vermont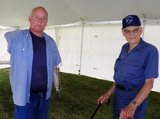 Summer brings on county fairs and field days which also provide many opportunities to promote AgrAbility services. The Vermont AgrAbility Project held their second field day on Thursday, July 30. More


Virginia
AgrAbility Virginia might be the last SRAP to do so, but they finally got a pull-up banner made for their display tables! More
Wisconsin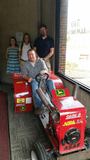 This July, the Wisconsin AgrAbility staff had the opportunity to share AAW work with some of the new staff from Farm Again Georgia. More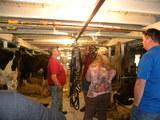 The summer Neighbor to Neighbor meeting was held Tuesday, July 21st, at Rick Casey's farm in New Richmond, WI. More

West Virginia
In July, a brief overview of WV AgrAbility, including "Ergonomic Tools and Body Mechanics" was presented by WV AgrAbility to a group of farmers at the Mt. Hope Fire Department, in conjunction with West Virginia State University's Minority and Veteran Farmer Initiative. More
Two farm site assessments were conducted in July by WV AgrAbility. The first assessment was for a gentleman who is a Vietnam veteran, paraplegic, and hay producer, who had been injured in a car accident 45 years ago. The second assessment was for a vegetable producer with muscular dystrophy. More
WV AgrAbility attended the community and economic development joint meeting with West Virginia State University and West Virginia University. More
A webinar titled, "Assistive Technology for the Outdoorsman" was attended by WV AgrAbility. More
Staff Changes
Georgia
Georgia has added new staff members: Jimmy Hill, Engagement Director; John Kreimeyer, AgrAbility Manager; Mason Dean, AgrAbility Service Coordinator; Paige Tidwell, AgrAbility Vocational Specialist; and Amanda Stephens, AgrAbility Project Coordinator.
Wisconsin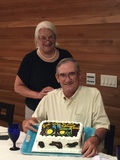 After 13 years of dedicated service, Bruce Whitmore has retired from the Easter Seals FARM Team. Both the Easter Seals and AgrAbility staff, along with over 500 farmers that Bruce has worked with, will miss Bruce's wisdom, humor, and agricultural knowledge. Working with Bruce has been an honor, and the staff wishes him the best in his future endeavors.
AgrAbility in the News
Click here for news stories featuring AgrAbility projects.
Indiana AgrAbility, Dupont Pioneer recognize service organizations for projects
AgrAbility Project to host farm info in Addison
Purdue AgrAbility Program Helps Veterans Begin Farming Careers
Pharm to Farm and MAP health and safety outreach and screenings
More than 8 to 5 jobs
Social Wellness and Farmers
Purdue Extension how has own building during state fair
AgrAbility at Ag Progress Days
Other News
Click here for other news of interest to AgrAbility staff members.
Farming program helps veterans cope with depression, PTSD
Farm use of drones to take off as feds loosen restrictions
Portable farms take root as new use for shipping containers
Farmers abandoning organic farming despite lure of higher price premiums
The Superplant That May Finally Topple The Rubber Monopoly
How a Modern Root Cellar Could Help Small Farms Sell Food Year-Round
Can meal kits aid small farmers?
Police went undercover to catch criminals. Their failure was inspiring.
Veterans into Farmers, at Sterling College
Value of Drones in Agriculture Being Studied
Grow better veggies with LED lights
How a Former Marketing Manager Ended Up Farming for Those in Need
Everything you always wanted to know about fish farming but were afraid to ask
Upcoming Events
Click here for professional development events related to AgrAbility
.
Problems? Contact Clifford Racz, National AgrAbility Project, racz@purdue.edu