February 2017
National AgrAbility Project News
NTW Updates
Virtual NTW registration deadline is TODAY. Visit www.agrability.org/online-training/virtualntw/ to register for one or more of next week's webinars.
AgrAbility All Staff Meeting - Tuesday, February 28, at 11:00 a.m. ET. Check your email for details coming soon.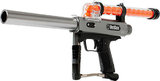 Toolbox Spotlight: The VetGun Horn Fly Control Device allows the cattle raiser to protect his herd from horn flies out in the field or in the feedlot safely with a simple pull of a trigger-no herd confining, handling, or additional labor required.
Click here for the schedule of upcoming Community of Interest and Standing Committee call information.
State and Regional AgrAbility Project News
California
CalAgrAbility staff sent out the first Quarterly newsletter of the year. The Quarterly included "Spotlight on Pterygium" and an Aggie Tip on guidelines for handwork. More
CalAgrAbility staff joined NAP's Maximizing Employment with Supplementing Social Security Benefits webinar. More
Ability Tools' AT Exchange library had its first request from a CalAgrAbility participant fulfilled. The agricultural assistive technology requested included a wheel hoe, a scoot tractor, a cobra hoe, and a six-way opener tool.
CalAgrAbility staff was interviewed for a Spanish public service announcement on glaucoma. The PSA was published the beginning of January.
Colorado
The Colorado AgrAbility Project has finished the first few of its Winter Workshops and is getting geared up to present the final three for the project year. Attendance has been good but participation of the attendees even better. More
Colorado AgrAbility has been honored by the Disabled American Veterans with the award of a small grant to be used to enhance delivery of services to disabled veterans and to purchase some small items of assistive technology for them.
The outreach last year to one of the local National Resource Conservation Service offices has borne fruit this year. CO AgrAbility is now partnered with NRCS on a grant to assist disabled farmers/ranchers with EQUIP funds for conservation projects on their farms. More
Georgia
Staff spoke at the Candler County Young Farmers meeting on January 19, 2017, regarding the AgrAbility project in Georgia. More
Staff presented at the Winter Green 2017 Conference in Duluth, GA, on January 25, 2017. The presentation was titled "Equipment Safety in the Green Industry". The conference was sponsored by the Georgia Green Industry Association. Twenty agricultural professionals were in attendance.
Plans continue to develop for the expansion of the Georgia AgrAbility demonstration farm in Tifton (Farm & Garden Learning Station). More
Indiana
Indiana AgrAbility Rural Rehabilitation Specialist Steve Swain exhibited at the 2017 Illiana Vegetable Growers Symposium. The symposium is a daylong workshop presenting research and field results by Illinois and Purdue University Extension educators and specialists. More
The Indiana Horticultural Congress is an educational meeting designed to meet the needs of fruit, vegetable, wine, organics, and specialty crop growers and marketers in Indiana and surrounding states. More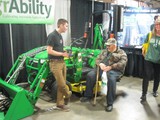 The 28th Annual Fort Wayne Farm Show was held at the Allen County War Memorial Coliseum in Fort Wayne, Indiana. The show draws over 30,000 farmers, their families, professionals, and exhibitors. More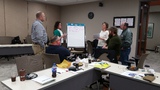 On February 4th, 18 military veterans and leaders in the agricultural industry came together at the Farm Bureau building in downtown Indianapolis to discuss starting a Farmer Veteran Coalition Indiana chapter. More
Linda Tarr attended the regional beef cattle meeting in Little York and the Washington County Soil and Water Conservation District annual meeting. She also had a booth at the beef cow improvement seminar in Paoli and the Indiana Soil and Water Conservation District annual conference in Indianapolis.
Kentucky
Kentucky Beef Cattlemen's Association held their state conference at the Lexington Civic Center. KY AgrAbility was able to participate both days of the trade show and talked to many of their clients and made sure that potential clients could learn about the AgrAbility program.
The following week saw KY AgrAbility back at the Civic Center to participate in the trade show for the Southern Sustainable Agriculture Workers Group. A large crowd was in attendance and the trade show and sessions covered a wide selection of topics and products.
Coming February 15 through the 18th, the National Farm Machinery Show will host thousands from across the US and several other countries. This is the most attended show that KY AgrAbility participates in and always a fun 4-day event. More
March is the NTW, and KY AgrAbility will be attending along with some of their partners and farmers. They are looking forward to an educational and informative event and to seeing all their friends from other states.
Maine
January seems to roar in every year - between the weather, snow removal, and ag events- it's a busy time of year in Maine!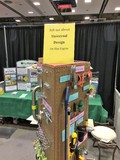 Three Maine AgrAbility staff and seven advisory council members shared the three-day schedule providing coverage and information at the AgrAbility exhibit at the Annual Agricultural Trades show in Augusta. More
Staff also presented educational workshops on "Universal Design on the Farm", "Farm Safety for Kids," and "Shadows of PTSD on the Farm" for the United Farmer Veterans of Maine. They will be sharing two of these presentations at the 2017 NTW in TN!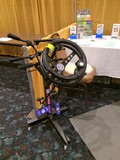 Maine AgrAbility had a booth at the two-day Potato Conference in Caribou. Northern Maine growers are predominantly large-scale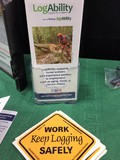 commercial potato farms - a far cry from the smaller diversified farms in southern Maine. More
Maine AgrAbility attended the 2017 Grow Maine Green Expo on January 25, the annual meeting for the Maine Landscape and Nursery Association and the Maine Arborist Association.
Michigan
Michigan AgrAbility staff did considerable outreach in their Michigan agriculture community in January. Staff presented at seven events and more than 300 Michigan farmers learned about the great work AgrAbility does!
Michigan AgrAbility posted to their Facebook page a Human Activity Assistive Technology (HAAT) training conducted by Ned Stoller. This training provides an excellent overview of how to work effectively with individuals with disabilities who desire to return to work. More
Social media is one of the many ways Michigan AgrAbility staff "gets the word out." In support of the National AgrAbility Project and to assist Michigan's farmers, staff highlighted the AgrAbility Webinar Series session "Maximizing Employment while Supplementing with Social Security Benefits" on their Facebook page.
Missouri
Congratulations to Missouri SMVF (Service Members, Veterans, and their Families) State Team for the publication of the Provider Guide to Working with Missouri's Service Members, Veterans, and their Families, hosted on the Missouri Department of Mental Health's Veterans web page. More
AgrAbility staff members continue to meet with USDA program leaders to discuss and explore ways to bridge service, outreach, and communication gaps between farmers/ranchers with disabilities, veterans, Latino/Hispanic, underserved, socially disadvantaged, and women producers who are in need of USDA programs. More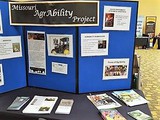 Susan Jaster, Lincoln University Innovation Small Farm and Missouri AgrAbility Outreach Worker attended and "manned" the AgrAbility booth at both the Great Plains Growers and Mid-America Organic Association Conferences. She also facilitated several follow up farmstead assessments with AgrAbility Clients. More
Kelly Cochran, PharmD, BCPS, presented on secondary injury and medication-related agricultural injury risk factors at the Audrain County Soils and Crops Conference. More
North Carolina
The North Carolina AgrAbility Partnership is working diligently to help their young farmers be self-sustaining. Currently, there is a goat farmer that also gardens who has expressed a desire to gain an agricultural education. He has cerebral palsy. More
North Carolina AgrAbility is not just helping young farmers. There is a veteran who, though diagnosed with narcolepsy, has continue to farm for the last three years. More
Nebraska
Nebraska AgrAbility has been working on updating their state brochure and banner for promoting AgrAbility and their website. More
Emily Freudenburg has been faithful in updating the Nebraska AgrAbility Facebook page with fun facts and relevant information. Check it out on Facebook by searching for Nebraska AgrAbility.
Rod Peterson and Susan Harris-Broomfield staffed a booth at the Buffalo Bill farm show in North Platte.
Emily and Rod found a piece of equipment they think will be very useful for several Nebraska clients. View it here.
Ohio
Ohio AgrAbility Disability Services Coordinator Laura Akgerman was invited to lead a "Gardening with Arthritis and Universal Design in Gardening" workshop for Master Gardeners in Dayton, Ohio. More
Pennsylvania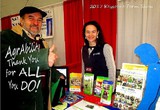 Staff represented AgrAbility PA at the 2017 Keystone Farm Show, the largest commercial farm equipment and service provider trade show in Pennsylvania. More
AgrAbility PA staff has been fighting the unpredictable Pennsylvania winter weather to conduct farm assessments and attend Penn State Extension crop conferences and other agricultural conferences and events throughout the state. More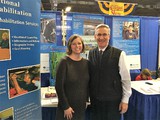 AgrAbility PA staff had a great opportunity to take part in the 101st Pennsylvania Farm Show, which is the largest indoor agricultural exposition in the country. More
Tennessee
Tennessee AgrAbility Project (TAP) participated in the Tennessee Cattlemen's Association Convention held in Franklin, TN. The dairy and sheep conferences were held in conjunction with the convention. More
"Considerations for Beginning Farmers" educational workshops continue throughout Tennessee. The third of six was held in Clarksville, TN, with 31 participants. These workshops are being hosted by UT TSU Extension to educate anyone with little or no farming background or experience desiring to start a farming enterprise.

TAP attended the Pat Summit Clinic open house, located in the Brain and Spine Institute at the University of Tennessee Medical Center. More
TAP staff member Finis Stribling and 19 TN farmers (3 veterans) attended the Southern Sustainable Agriculture Working Group (SSAWG) in Lexington, KY, and learned practical solutions and tools for helping family farms.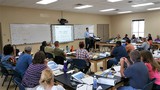 Registration for the TSU Tennessee New Farmer Academy has begun. The Academy is a seven-month certificate program designed for those with an interest in becoming agricultural entrepreneurs. More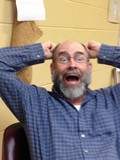 In between developing a new Tennessee AgrAbility grant proposal and the NTW, the TAP has been busy this past month. Lots of planning, calls, helping with logistics and educational tours for the NTW to be hosted in Knoxville, TN, in March. More
Texas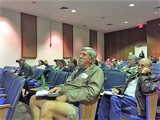 Texas AgrAbility hosted the Battleground to Breaking Ground Workshop at the Texas A&M AgriLife Research & Extension Center at Overton on January 21. There were around 50 participants with over 50% being veterans.
Presentations included "Rural Business Ideas," "AgrAbility," "Business Plan Basics," and "Funding Opportunities." Jack Sheridan from the Lone Star Military Resource Group shared his experience with being a farmer veteran for the last 40 years.
Participants also got to visit the Overton Research Center's aquaponics operation with Dr. Joe Masabni directly after the workshop.
The NEW Battleground to Breaking Ground Entrepreneurial Training Project applications are now open and will close on March 10. The first cohort of 25 participants (with at least 70% being veterans) will be selected to complete the training this spring! More
TX AgrAbility will be hosting a Battleground to Breaking Ground Ag Workshop in partnership with Prairie View A&M University on March 4, 2017.
Utah
AgrAbility of Utah conducted outreach at the annual convention of the Utah Farmers Union on January 13 in Lehi. Staff explained the AgrAbility program to several of the state's farmers and provided information about options for modifying farm practices to accommodate disabling health conditions.
On January 20, AgrAbility of Utah met with members of the Utah Pork Producers at their annual convention in Lehi. Staff were available to explain the AgrAbility of Utah program and to address individual questions.
AgrAbility of Utah staffed a booth at the 2017 FUSION Conference January 26-28 in St. George, Utah. The conference, sponsored in part by the Utah Farm Bureau Federation, combined the annual Hay and Forage Symposium, Women's Leadership, and Young Farmers and Ranchers Conferences. The exhibit included an AgrAbility tabletop display and outreach materials.
Vermont
Vermont AgrAbility participated in the Vermont Farm Show with the UVM Medical Center, UVM farm safety program, Farm First program, and Blue Cross Blue Shield of Vermont. More
Wisconsin
AgrAbility of Wisconsin staff participated in the 39th annual Midwest Farm Show in La Crosse, WI. More
West Virginia
Assistant Secretary of Defense Todd A. Weiler, Deputy Under Secretary, USDA Farm and Foreign Agricultural Service Lanon Baccam, and Assistant Chief, USDA Natural Resources Conservation Service, Kirk Hanlin, visited Patriot Guardens in Welch, WV, during a recent visit to West Virginia. More
West Virginia AgrAbility staff and representatives of the West Virginia National Guard attended the Mid Atlantic Fruit and Vegetable Conference in Hershey, PA. More
Staff Changes
NAP
sdfsd
Missouri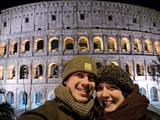 Say hello to Jakob Castleman. Jakob is currently a senior majoring in health sciences at the University of Missouri. He comes from the relatively small and cornfield-surrounded town of Morton, IL, with a farm background in agritourism from caring for farm animals at the Fon Du Lac Farm Park museum in East Peoria, IL. Jakob is also a midshipman in the University of Missouri's Naval Reserve Officer Training Corps program as a Marine Option and has completed Officer Candidate School this past summer. After graduating in May, he will commission into the Marine Corps as a second lieutenant and report to The Basic School in Quantico, Virginia in September. Jakob is enthusiastic about using his experience with military terminology and the use of operation orders to aid in the development of content for veterans beginning a career in farming and ranching. He is also looking forward to presenting information regarding traumatic brain injury on behalf of AgrAbility at the Western Farm Show in Kansas City.
Virginia
It is with both a heavy heart and the deepest gratitude that AgrAbility Virginia (Easter Seals UCP and Virginia Tech) announces the retirement of Service Coordinator Joe Young (center). After 12 years of professional and caring service to our AgrAbility Project, Joe has decided to move into a well-deserved retirement. Joe turned 80 years young this year! He will be profoundly missed by his colleagues and clients alike. Join us in thanking Joe for his many contributions to the AgrAbility Virginia community!
AgrAbility in the News
Click here for news stories featuring AgrAbility projects.
Save the Date for the 2017 AgrAbility National Training Workshop!
AgrAbility hosts three-day web conference
AgrAbility Lends a Helping Hand to Colorado Farmers
Poor Vision Doesn't Stop Missouri Cattle Producer
AgrAbility receives USDA grant to educate vets, new farmers
AgrAbility program launches to help veterans
AgrAbility of Wisconsin Newsletter
Program helps farmers push past limits
AgrAbility gains support
Texas A&M AgriLife's AgrAbility program focuses on veterans
Bioenergy grass withstands freezing temperatures (AgrAbility article follows)
Farmers with a disability get back to work through innovation and ingenuity
Other News
Click here for other news of interest to AgrAbility staff members.
Concerns about immigrant farmworkers
Farmer Veteran Fellowship Fund to Begin Accepting Applications February 1
College agriculture programs earn support
$18.9M supports agricultural education
$252 million available for RCPP
Farmer Veteran Coalition Adds Two Key USDA, CalVet Executives
Dad Builds Halloween Costumes Around Wheelchairs as a Nonprofit
Salesforce enables USDA outreach
Judge hears ranchers' discrimination case
Grant to help organic farmers across U.S.
Upcoming Events
Click here for professional development events related to AgrAbility
.
Problems? Contact Chuck Baldwin, National AgrAbility Project, baldwi19@purdue.edu