September 2017
National AgrAbility Project News
The AgrAbility Annual Staff Needs Assessment (ASNA) has been opened for input. If you are a staff member on a funded AgrAbility Project and you did not yet receive a link to this survey, please contact Paul Jones jonesp@purdue.edu. Your input is important for giving the NAP feedback on its services and for proving input on future initiatives.
Save the date for the AgrAbility National Training Workshop, scheduled to take place in Portland, Maine, March 19th-22nd, 2018 at the Westin Portland Harborview Hotel. www.westinportlandharborview.com. More
The National AgrAbility Project would like to encourage all SRAPs again this year to plan to send at least one client, and hopefully more, to the 2018 NTW. Once the SRAP has sent to Chuck Baldwin the name of the first farmer/rancher for whom they are providing a stipend, that SRAP will then be eligible to request stipend funds from the NAP to help with other clients they wish to send to the NTW. Please contact Chuck Baldwin with any questions.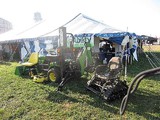 The National AgrAbility Project collaborated with Illinois AgrAbility Unlimited in the Health and Safety tent at the 2017 Farm Progress Show in Decatur, Illinois, August 29-31, 2017. More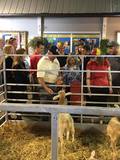 Secretary of Agriculture Sonny Perdue and Indiana Senator Joe Donnelly both conducted Farm Bill listening sessions at the Indiana State Fair. Pictured is Secretary Perdue near the AgrAbility display. Be sure to check for upcoming Farm Bill listening sessions in your area.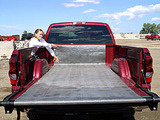 Toolbox Spotlight: The Loadhandler Pickup Truck Unloader is designed to turn a mid- or full-size pickup into a kind of dump truck. The device consists of a hand crank, a heavy- gauge poly fabric 'drag sheet' rolled onto a steel bar that runs the length of the tailgate, and adjustable, padded brackets and tie down straps that secure roller bar to tailgate (no welding, cutting, or drilling required).
State and Regional AgrAbility Project News
California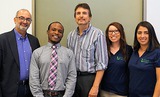 Dr. Steven Thomson and Clyde Ellis from USDA NIFA visited UC Davis. They conducted a presentation on USDA funding opportunities and new programs that was well attended by students, faculty, and AgrAbility staff. More
CalAgrAbility staff participated in the rural health chat on Twitter. Representatives from RHIhub, AgriSafe, AgSafety4U, AgriSafetyNetwork, USDA/NIFA, MHPSalud, NIOSH, and NFUDC co-hosted the event. More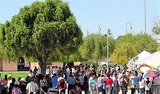 CalAgrAbility staffed the annual Agricultural Worker Day in Greenfield, CA. The event brought 800 agricultural working families together. More
CalAgrAbility received a request for more brochures and outreach material from the DOR Santa Barbara District/ Santa Maria Branch for their clients. This exemplifies the continuing collaboration between CalAgrAbility and DOR throughout the state to help farmers, ranchers, and farmworkers.
CalAgrAbility staff participated in the all-staff call. More
Colorado
Colorado AgrAbility Project attended the Colorado State Fair where they hosted a booth in the FFA agricultural education Pavilion.
The first meeting following a summer break has occurred with the Colorado Agricultural Council with AgrAbility in attendance. Plans were discussed for Colorado ag day in the spring. Lastly,
CO AgrAbility hosted the Colorado AgrAbility Advisory Council where plans were discussed for the future of the program and the next grant cycle
Three networking opportunities for rural Coloradans and their families living with SCI, MS, CP, ALS, and/or TBIs, will be offered, one-a-month during September, October, and November. Read the announcement HERE.
Georgia
The bi-annual board meeting for AgrAbility was held on August 24, 2017. More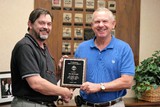 Don McGough was presented the Georgia project's annual Award of Excellence. This honor is given in recognition of an individual or organization that has contributed to improving the quality of life of farmers and their families in the state of Georgia. More
Two AgrAbility proposals for senior design projects in the University of Georgia College of Engineering were accepted for the 2017-18 academic year. More
AgrAbility continues to work with Fort Valley State University (FVSU/1890) graduate students who are majoring in the rehabilitation counseling and case management program. More
Indiana
As a guest of Indiana FFA, Indiana AgrAbility staffed a display in the FFA Pavilion at the Indiana State Fair August 4-20, 2017. More
Indiana AgrAbility also participated at the Indiana State Fair in the Purdue Extension/Horticulture building as a rotating display with Purdue Extension. More
Steve Swain, Indiana AgrAbility rural rehabilitation specialist, presented AgrAbility, farm, and agricultural accessibility to the North Montgomery High School ag mechanization class. More
On August 7th, AgrAbility staff and four farmer veterans participated in a special showcasing of the Homegrown By Heroes/Indiana Grown farmers at the Indiana State Fair on Military Appreciation Day. More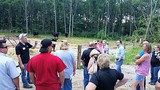 AgrAbility staff hosted a freezer beef farm tour and workshop on August 12th for military veterans as part of the Indiana Beginning Farmer/Rancher Development Program. More
August means State Fair in Indiana. Linda Tarr worked several shifts at the AgrAbility booth located in the FFA pavilion there. She also attended sessions and had a booth at the trade show of the Amputee Coalition National Conference in Louisville.
Kentucky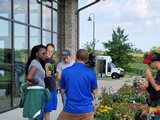 As KY AgrAbility heads into fall, the list of client visits and educational opportunities continues to grow. With school back in session, the staff will be working with the local schools to talk to 4-H and FFA organizations. More
Traveling to Owensboro in mid-September for the KY Rehabilitation Associations annual conference, staff from KY Office of Vocational Rehabilitation, KY AgrAbility staff, and other rehabilitation facilities, will spend two days discussing ways to help the working people in Kentucky. More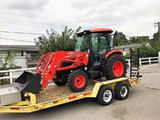 October will be a time for annual training for the Extension agents in Kentucky and the AgrAbility staff will be part of the agenda.
The year is going by so fast it is hard to think that it will be turning cold soon. Enjoy the remainder of the warm weather and the harvest season.
Maine
On August 22, Project Coordinator Lani Carlson presented AgrAbility program information to 32 veteran beginning farmers from Maine (and two from out of state). More
Project Coordinator Lani Carlson staffed an AgrAbility educational display at Maine Farm Days in Clinton, Maine, on August 23-24. More
AgrAbility Specialist Ellen Gibson of Goodwill Industries-Northern New England presented AgrAbility program information and talked about diversity at the FSANRCS annual diversity training in Lewiston on August 30, 2017.
Project Director Richard Brzozowski distributed the newly published impact publication about AgrAbility to the 30 attendees at the August 2017 Agricultural Council of Maine (AGCOM) meeting. More
Michigan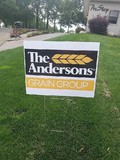 Huge thanks to The Andersons and everyone supporting their Thursday, August 31st, annual golf outing and customer appreciation event benefiting the Michigan AgrAbility program! More
Bill Smith still wanted to be an active farmer after an illness resulted in the amputation of his right leg. More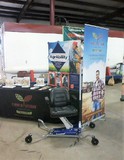 Michigan AgrAbility was out and about in the state of Michigan in August! Michigan AgrAbility staff joined the Michigan Farmer Veteran Coalition staff at a booth at the Upper Peninsula State Fair in Escanaba, AND Michigan AgrAbility staff had a booth at AgroExpo in St. Johns in the lower peninsula. Learn more about AgroExpo here.
Missouri
Missouri AgrAbility and MU Extension showcased many things at the 2017 Missouri State Fair, August 10-20, 2017. More
Missouri AgrAbility and 2501 staff participated in four Latino Farmers, Understanding the Alphabet Soup of USDA Programs, workshops hosted August 5, 12, 19, and 26. More
Congratulations to Karen Funkenbusch, director of Missouri AgrAbility, who accepted an invitation to become a Cambio Center Fellow at the University of Missouri. More
Maureen Cunningham, with the Brain Injury Association of Missouri, represented the Missouri AgrAbility Project at the Missouri Rural Health Conference with an exhibit. More
Professionals in the field of brain injury also learned about the Missouri AgrAbility Project during the BIA-MO networking coffees held in St. Louis and Springfield.
Kelly Cochran, PharmD, BCPS, from the University of Missouri-Kansas City School of Pharmacy, a Missouri AgrAbility collaborator, presented at the Missouri Rural Health Conference on the topic Pharmacists as a Resource in Rural Health. More
UMKC student pharmacists partnered with Pharm to Farm to provide farmers and farm families at the Missouri State Fair with rural wellness screenings and safety information. More
North Carolina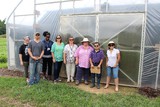 NC AgrAbility is currently assisting a farmer with visual impairments who grows vegetables. The farmer is interested in getting either a greenhouse or a high tunnel to better operate and adapt the growing-environment to his disability. More
NC AgrAbility hosted the eastern and western "Peer Lunch Support" at McCall's Bar-B-Q and Seafood restaurant in Clayton, NC, on August 25, and at Logan's Steakhouse in Statesville, NC, on August 22, respectively. More
NC AgrAbility farmer Beverly Bowens shared her experience at the NTW, her connection with other resources, and the way she has been able to benefit from it. See her comments by clicking More.
Nebraska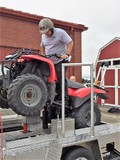 The Nebraska AgrAbility staff met at the Raising Nebraska building on the State Fairgrounds in Grand Island. Before starting the meeting, many of the staff were trained in the use of an ATV Aware simulator that will be used in Nebraska at various locations and events across the state. More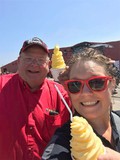 Rod Peterson and Emily Freudenburg presented information about AgrAbility during the Nebraska State Fair in the Raising Nebraska building. More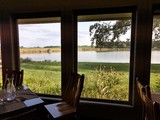 Rod, Nancy, and Emily attended a SARE tour to learn about different types of agriculture ventures in Southeast Nebraska. More
The Nebraska AgrAbility Facebook page went over 400 likes during August. More
Nebraska AgrAbility is seeing an influx of veteran farmers that need assistance so that they can continue in this field. For example, Katie, a veteran who served tours in Iraq, is now successfully growing small fruits and veggies for production. More
Ohio

Ohio AgrAbility hosted a summer meeting and picnic August 10 at the Gwynne Conservation Area in London, Ohio. More
The 2017 State of Ohio Rural Health Conference was a great opportunity for Ohio AgrAbility staff to share information about Ohio AgrAbility, talk to rural health professionals, and learn about state and regional initiatives and priorities for rural communities. More
Pennsylvania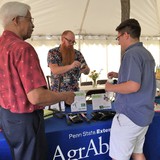 AgrAbility PA and the Pennsylvania Office of Rural Health hosted activities in the Rural Health and Safety tent at Penn State's 2017 Ag Progress Days. More
AgrAbility staff met with a new company, Strong Arm Lift, to discuss how their new product could assist farmers with disabilities. This company is based on a Pennsylvania farm and makes a device that is designed to bolt onto a utility vehicle and assist with loading heavy objects. More
Tennessee
Tennessee AgrAbility Project (TNAP) helped promote National Farmers Market Week to buy local, support our farmers with disabilities, and always encourage folks to look for the Homegrown by Heroes logo to thank a veteran!
Proud of Malachias Gaskin, Honors 22 Farm, for teaching his seminar "A Warrior's Garden- Dictating Your Own Path to Healing" -a two-day workshop for veterans and first responders. More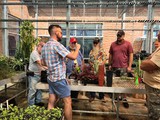 TNAP hosted the first TNAP and UT Gardens Horticultural Therapy Workshop in Knoxville, TN. Great hands-on workshop with positive feedback and lots of networking for future projects. Two more workshops are scheduled in September.
Tennessee was fortunate to be in the path of totality and viewed the eclipse safely from some farms. Amazing how many folks visited Tennessee to watch it.
Joetta will be a temporary AgrAbility client when she has knee replacement surgery and is out until the first week in October. Please send her well-wishes, ideas, or advice!
Texas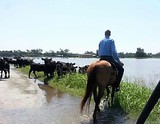 Texas AgrAbility staff member Erin Kimbrough assisted with livestock recovery after flooding along the Texas coast from Hurricane Harvey. Farmers and ranchers were displaced from flooding, leaving livestock stranded. More
Applications for the second cohort of the Battleground to Breaking Ground Entrepreneurial Training Project opened on August 25th. More
AgriCulture Safe presented an agriculture and farm safety presentation to AgrAbility staff. AgriCulture Safe director Eric Olson presented an agriculture and farm safety presentation to over 45 participants at the Dallas ag workshop. More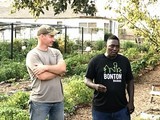 Texas AgrAbility hosted a farm tour at Bonton Farms, an urban agriculture operation in Dallas, on August 4th. Patrick, Bonton farm manager, guided over 25 participants through the farm and shared their model for urban farming. More
Texas AgrAbility hosted a Battleground to Breaking Ground Ag Workshop on August 5th at the Cotton Bowl Center in Dallas. More
Utah
In August, AgrAbility of Utah staff continued providing educational presentations to Utah State Office of Rehabilitation (USOR) districts with a presentation at the Valley West District VR office in Tooele on August 23. More
Vermont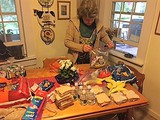 As the landscape of Vermont's farming continues to change, VT AgrAbility is seeing many more diversified farms. The number of dairy farms in Vermont is decreasing every year, but the number of cows is not; which is to say bigger farms are taking over and absorbing a lot of the smaller farms. More
Wisconsin
AgrAbility of Wisconsin staff participated in the UW Extension exhibit at the 2017 Wisconsin State Fair. More
AgrAbility of Wisconsin staff would like to thank all of those who came out to the Neighbor-to-Neighbor meetings this year held in Independence, Milladore, and Bangor, Wisconsin. More
A new program from DeLaval and AgrAbility of Wisconsin gives dairy farmers easier access to technology for stanchion and tie stall milking. More
Staff Changes
North Carolina
North Carolina AgrAbility congratulates Dr. Fletcher Barber, Jr. on his recent retirement from Cooperative Extension at North Carolina Agricultural and Technical State University. Dr. Barber served as NC AgrAbility Partnership project director as well as regional program coordinator for the eastern region of North Carolina. Dr. Barber shared the legacy of working with North Carolina Cooperative Extension for more than 35 years at North Carolina State University and N.C. A&T. A real people's person, he was always ready to listen and help co-workers and farmers. His compassion and dedication to Extension was so obvious to those with whom he worked. He was an ardent advocate for AgrAbility in North Carolina and an excellent communicator with the highest integrity and ethics. While we will miss his mentorship at N.C. A&T, we know his retirement will be as successful as his career in Extension.
AgrAbility in the News
Click here for news stories featuring AgrAbility projects.
News: Help for Injured or Aging Farmers
DeLaval and AgrAbility of Wisconsin create farmer assistance program
It's Hard to Ask
Blindness helps man find others ag opportunities
Maine AgrAbility
Determined to Farm
2018 AgrAbility National Training Workshop
AgrAbility
State Fair Farm Bill Listening Session More Inclusive
Workshop helps beginning farmers, ranchers, veterans understand ABCs of USDA, other agencies
Helping hands get small farm through health challenges
UT's Ag in the Foothills set for Oct. 6 in Louisville
Other News
Click here for other news of interest to AgrAbility staff members.
Tips for gardening and growing fresh food from a wheelchair
OFRF releases priorities for 2018 grants
Dairy producers can enroll for 2018 coverage
The Ohio State University Farm Science Review highlights industry's latest
Older Americans are still going hungry
Alaska prison looks to expand garden
Homeless women's urban garden thrives
A new way to spread manure
How to plan for farm emergencies
Fourteen and Farming
Upcoming Events
Click here for professional development events related to AgrAbility
.
Problems? Contact Chuck Baldwin, National AgrAbility Project, baldwi19@purdue.edu