March 2019
National AgrAbility Project News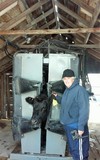 The AgrAbility National Training Workshop is Approaching Quickly!
The 2019 AgrAbility NTW has a robust offering of pre-conference sessions, tours, breakout sessions, guest speakers and post-conference tours! To see a full schedule, click here. You can also retrieve available presentation documents on this page. If documents are linked to the site, they will not be handed out in sessions, so you may want to print them in advance of your arrival in Lincoln.
A few reminders to ensure that it is a great experience!
Registration is required before March 21st! If you have not registered yet, please click here to do so as soon as possible!
Plan some fun around the conference! Check out www.lincoln.org for ideas.
Solicit donations for silent auction and live auction items! Reach out yourself to organizations that may be willing to donate, or let Tess and JoBeth know who they are, and they will reach out.
Get your state's raffle basket ready! For the past couple of years, we have been able to raise funds toward farmer stipends, and the activity has promoted some positive competition among the states with raffle baskets. Tickets are sold for $1 each, which also gives every participant the ability to help raise funds. Your basket can represent your state, or just be things you love. Your choice!
Bring a treat to share in the hospitality suite! The informal setting after hours lends to great networking opportunities, good conversation, and lots of laughs.
If you would like to ship items in advance of the event, our Nebraska Easterseals partners have agreed to receive them. Ship to: Easterseals Nebraska, ATTN: Bree Gibbs, 211 North 14th Street, Suite 312, Lincoln, NE 68508. Mark the box with AgrAbility NTW.
NAP staff cannot wait to see all of you, network, and learn! Watch your email over the coming days for more details about the NTW. Contact us anytime: Tess McKeel - tmckeel@goodwillfingerlakes.org 585.447.9015 Or JoBeth Rath - jbrath@goodwill fingerlakes.org 585.402.2059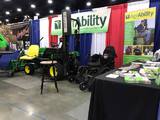 The National AgrAbility Project exhibited along with Life Essentials at the National Farm Machinery Show in Louisville, Kentucky, February 13-16. More
Save the date for the AgrAbility Webinar Series event: "An Introduction to AT Act Programs and their Relevance to AgrAbility." Wednesday, April 24 at 3:00 EDT.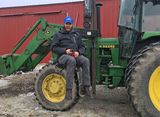 National AgrAbility was pleased to host Mike Lewis of Kentucky AgrAbility for two days of discussions and tours. Here, Mike is trying out a lift at the farm of AgrAbility client Mark Hosier.
AgrAbility was listed by Foodtank as one of "14 Organizations Changing the Face of America's Farmers."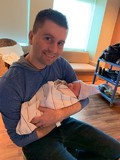 NAP Technology Outreach Coordinator Shawn Ehlers and his wife, Kayla, recently welcomed their first child into their family. Eleanor Jean Ehlers arrived in January and reportedly already has a complete wardrobe of Purdue outfits.
The NAP is planning a conference call with the  Council of State Administrators of Vocational Rehabilitation (CSAVR) after the NTW. If you have input about your SRAP's relationship with VR, please provide it to Paul Jones soon.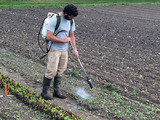 Toolbox Spotlight: Organic is popular, but weed control is a challenge. As a substitute to using herbicides, the Red Dragon Backpack Flame Weeder is designed primarily for stale (pre-emerge) plant bed, between-row, and spot weed control. Its flame-control squeeze valve allows adjustment from a small, low-heat flame up to a 2,050-degree torch and maintains just a pilot flame with the trigger is released.
State and Regional AgrAbility Project News
Alaska
On Saturday, February 2, Alaska AgrAbility staff attended the Southcentral Foundation's (Alaska Native Corporation) annual event titled "The Gathering" More
During the period of February 11-14, 2019, staff attended the Alaska Forum on the Environment (AFE) and provided information and outreach materials. More
Alaska AgrAbility staff attended the Southwest Alaska Municipal Conference (SWAMC) and had a booth where AgrAbility outreach was done. More
DeShana York attended two traumatic brain injury support group meetings in conjunction with Alaska's nonprofit partner, Access Alaska, and talked to participants about AgrAbility. More
California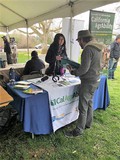 California AgrAbility staff attended the California Small Farms Conference in Davis, CA. Staff networked with small-scale farms, family farmers, and exhibitors. More
Staff attended the Western Center for Agricultural Health and Safety seminar on environmental factors affecting inflammation and lung health presented by Dr. Tara Nordgren. More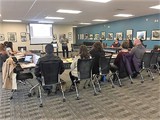 California AgrAbility was invited to join the Ventanilla de Salud Providers Meeting at the Mexican Consulate in Sacramento. More
California AgrAbility staff attended a seminar with Professor David Reinkensmeyer from the University of California, Irvine. He presented on robotic and wearable sensing technologies for movement rehabilitation after neurological injuries such as stroke. More
Colorado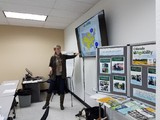 In early February, Colorado AgrAbility finished its final presentation of the 2019 Winter Workshops. This season was the best yet with record attendance. Candy is seen here finishing the last module. More
The entire staff (all four of them) of the Colorado AgrAbility Project (CAP) will be in attendance at the 2019 NTW in Lincoln, NE. More
The field staff, both Candy and Jim, have been taking time to keep their skill sets current. More
Georgia
February 7 and 14, Georgia AgrAbility staff attended and presented at the FFA Young Farmers meetings at West and East Laurens High School. More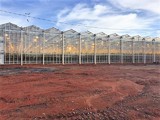 Georgia AgrAbility staff attended the Georgia Grown Symposium in Macon, Georgia, February 12-13 to learn how AgrAbility clients can join Georgia Grown to become more competitive in the market for locally produced items. More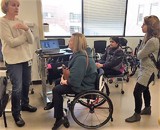 The Shepherd Center, Georgia AgrAbility's nonprofit partner, hosted the monthly staff meeting February 25 for Georgia AgrAbility. At this meeting, staff were fortunate to be given a tour of the world-renowned rehabilitation hospital. More

Illinois
AgrAbility Unlimited IL is looking forward to and actively preparing for the National Training Workshop in Lincoln, NE. More
Kelly Gagnon, AgrAbility IL's communications coordinator, will be presenting multiple times throughout the conference to share her marketing expertise with other programs. More
Indiana
The Indiana AgrAbility Project exhibited at the 2019 Indiana Horticulture Congress in Indianapolis February 12-14. More
The Indiana AgrAbility Project exhibited at the 7th Annual Indiana Small Farms Conference in Danville, Indiana, February 28-March 2. More
Indiana AgrAbility staff conducted farm visits and assessments throughout the state. The visits were to veterans, the Amish, and other individuals with disabilities returning to the farm to face challenges to continue farming.
Linda Tarr worked the AgrAbility display at the National Farm Machinery Show in Louisville and several other events in Indiana. More
Kansas
Kansas AgrAbility (KAP) kicked off February with the Women Managing the Farm (WMF) Conference held in Manhattan. More
KAP was an invited exhibitor at the Kansas HEMP Symposium in Hutchinson on February 23. More
In recognition of National FFA week, the Western Kansas KAP ATK site provided over 100 "Youth Livestock Safety" videos to FFA sponsors and ag educators. More
Kentucky
February gave Kentucky plenty of trouble with more rainfall than the rivers could hold. More
The National Farm Machinery Show in Louisville during the second week of February provided KY AgrAbility the opportunity to see all the new products, talk to vendors, meet up with former consumers, and engage those with disabilities in the goals of AgrAbility. More
The first weekend in March was the meeting of the Kentucky Organic Association. More
Mike Lewis has been traveling across the country talking about veterans and about AgrAbility. More
Kentucky staff member Maryfrances Gross will be presenting at the ADED conference in Lexington, KY, at the Hyatt Regency Downtown. More
See you in Lincoln.
Maine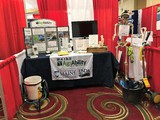 Maine AgrAbility exhibited at the three-day Maine Fishermen's Forum in Rockland, Maine. This event hosts fishermen, gear suppliers, scientists, government entities, and other stakeholders, to collaborate on all things fishing: More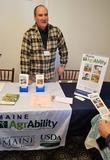 Richard Brzozowski talked with blueberry growers during the UMaine Wild Blueberry Conference on February 27 in Bangor.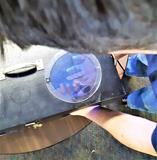 Maine AgrAbility's work with youth in agriculture continues. As part of the pre-ETS programming, Sally Farrell presented a program on biosecurity to the students at Massabesic High School on Wednesday, 2/27. More

Michigan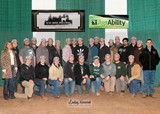 February in Michigan always poses some weather challenges. Weather again made travel to the 6th annual MSU AGR Beef Preview show, organized and sponsored by the brothers of MSU Alpha Gamma Rho Tau to support Michigan AgrAbility, difficult but the great men of AGR Tau were up to the challenge! More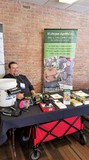 Aaron Fenrich, a Michigan AgrAbility client and Michigan AgrAbility's Farmer Review Panel member, staffed the Michigan AgrAbility Booth at the 16th annual Michigan Food & Farming Systems (MIFFS) Michigan Family Farms Conference at Kalamazoo Valley Community College. More

Sharing stories of success and hope to motivate others to initiate positive changes in their lives is one of the many Michigan AgrAbility outreach endeavors. More
Missouri
The AgrAbility team has been hard at work developing Missouri's social media pages and rolling out their strategic plan. More
Lisa Sone, director, Missouri Vocational Rehabilitation, shared the Missouri State Rehabilitation Council 2018 Annual Report. More
Carey Portell, Missouri farmer, National speaker, and Missouri AgrAbility ambassador/client, shared her story about when she and two of her children were involved in a fatal drunk driving accident that left her with partial disabilities, at the statewide Women in Agriculture event More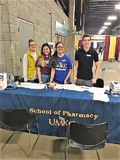 Western Farm Show's Health and Safety Roundup, February 22 - February 24, made it easy to get annual screenings and pick up Missouri AgrAbility health, safety, and wellness resources. More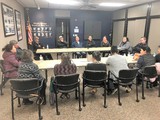 Lincoln University's ISFOP, in collaboration with the University of Missouri Extension, was busy throughout the month of February facilitating AgrAbility education and awareness activities! More
UMKC School of Pharmacy, a partner of Missouri AgrAbility Project, offered free wellness education and screenings to potential AgrAbility clients and attendees of Western Farm Show. More
Angie Nowak, RN, volunteer with the Brain Injury Association of Missouri (BIA-MO) Speakers Bureau, presented "Brain Injury: Causes, Impact and Resources" at the Disability Awareness Convention as marketing of the Missouri AgrAbility Project More
Maureen Cunningham, BIA-MO executive director, discussed the Missouri AgrAbility Project with professionals in southwest Missouri during the networking coffee. More
Alyssa Grese, BIA-MO Program Associate, attended the Beginning Farmer Grow Your Farm course as a resource person for farmers with brain injury More
Nebraska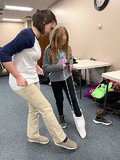 Nebraska AgrAbility's OT Ph.D. candidate, Kaitlyn Higgins, has been busy doing after-school activities with kids to teach about living with disabilities More
A staff member attended the Farm Bureau Young Farmers and Ranchers Conference in Omaha. More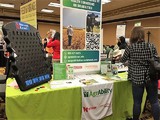 NE AgrAbility participated in the annual Women in Ag conference in Kearney by staffing a booth focused on educating about stress and resources for rural Nebraskans.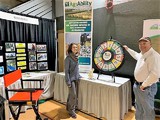 Staff attended the Buffalo Bill Expo in North Platte to offer information about Nebraska AgrAbility and education about injury prevention related to occupational therapy.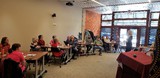 AgrAbility is now promoted prior to all educational programs for adults that Nebraska Extension staff members provide, such as this sleep deprivation presentation for Fillmore County Hospital staff and patients.
Susan was interviewed about the NTW on NTV's Noon Show: Watch here
See you very soon in Nebraska!
North Carolina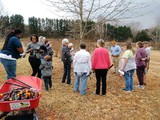 North Carolina Cooperative Extension Caswell County Center partnered with Legacy Acres blueberry farm (NC AgrAbility client) to deliver an educational blueberry pruning workshop in Pelham, NC, on February 6, 2019. More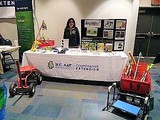 NC AgrAbility participated as an exhibitor at the 2019 Agritunity Conference and Trade Show in Statesville, NC, on February 9, 2019. More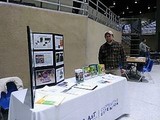 On February 13, 2019, NC AgrAbility participated as an exhibitor at the Small Farm AgriShop Series and Academy in Caswell County. More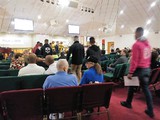 NC AgrAbility participated as one of the 54 service providers at the 5th Annual Craven County Veteran Stand-Down on February 22, 2019, in New Bern, NC. More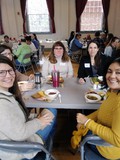 NC AgrAbility participated at the Southeastern Social Care Farming on February 23 in Durham, NC. Social Care Farming is the therapeutic use of farming practices. More

Ohio
Ohio AgrAbility hosted "Building Independence Through Agriculture" February 26. This statewide conference focused on how agriculture can be a viable work opportunity for individuals with developmental and cognitive disabilities. More
Pennsylvania
Project Assistant Abbie Spackman spoke with PA Farm Bureau members about stress and pain management during their Northeast Regional Winter Meeting. More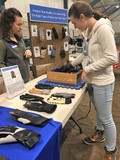 AgrAbility PA provided hands-on demos and activities with a focus on preventing secondary injuries during the Penn State Ag Safety Expo. More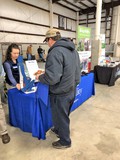 AgrAbility PA participated in the Lebanon County Extension Crop Conference. This day-long event provides farmers and agricultural workers with agricultural policy updates, research results, continuing education credits, and networking opportunities. More
South Dakota
Tatanka Ki Owetu, the Renewal AgrAbility Project on the Pine Ridge Reservation is working with 18 participants on site-assessments and needs assessments. Sub-zero temperatures and wind chills from -20 to -50 below zero have been difficult on participants. More
Another lesson the project has learned is that, when trying to help new farmers living with disabilities who also live in poverty, it really is the built environment, or really the lack thereof, that needs to be addressed first and foremost. More
The South Dakota team assisted one participant in applying for USDA-NRCS's EQIP cost-share program and in planning and writing a small grant proposal to the North-Central SARE. More
Lastly, staff have presented to tribal members with disabilities a series of high tunnel building and high tunnel production workshops together with non-AgrAbility South Dakota State University faculty and Extension specialists. More
Tennessee
Tennessee AgrAbility (TNAP) exhibited at the TN/KY Beginning Farmer Summit at Battle Mountain Farm. More
TNAP participated and exhibited at the 4th annual Pick TN Conference, hosted by eight TN producer associations. TNAP co-hosted the opening reception to introduce Farmer Veteran Coalition (FVC) of TN.
Tennessee hosted the first FVC of TN board meeting, and TNAP is part of the Farmer Veteran Coalition "Special Ops" advisory team. FVC of TN has over 600 members who are veterans who want to farm in TN. More
TN AgrAbility is proud to work with Charley Jordan of FVC of TN to help veterans with disabilities farm!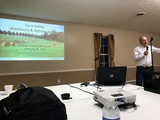 TNAP presented "AgrAbility and Farm Safely: Machinery and Highway Safety" at the Grainger County safety meeting. The Extension agent saw a need after a farmer's death that was tractor related.
TNAP exhibited at the West TN Grain Conference and met with the engineering and computer department heads at the University of Tennessee at Martin to discuss working together on projects. More
Flooding affected all of TN with the heavy rains in February. TNAP staff are fortunate and safe but some farmers are not so lucky.
Texas
Dr. Cheryl Grenwelge with Texas AgrAbility retired after 9+ years of service. Dr. Grenwelge has been with the Texas AgrAbility Project since 2009 and worked as disability specialist for Texas A&M AgriLife Extension. More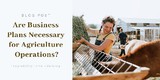 Texas AgrAbility published a blog post on benefits of farm and ranch business plans. Check out the blog post here.

West Virginia
During the month of February, West Virginia AgrAbility was busy across the state promoting the AgrAbility Mission. Below are the highlights from the month.
West Virginia AgrAbility provided safety and health training for the pesticide applicators recertification training session. More
West Virginia Department of Agriculture sponsored the Ag Safety Day at the WVU Tree Fruit Research & Education Center. West Virginia AgrAbility provided trainings during the safety day on fall protection, electrical safety, and tractor safety.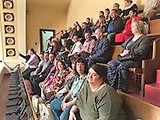 West Virginia AgrAbility was represented at Disability Advocacy Day along with 11 People First Gardening Club members. More
For 15 years, the West Virginia Small Farm Center with WVU Extension Service has offered the most authentic and inclusive view of agricultural opportunities for West Virginia small farm families at the WV Small Farm Conference. More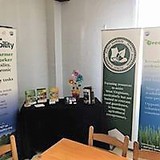 West Virginia State University hosted an AgrAbility farm safety workshop in partnership with the USDA Natural Resources Conservation Service and the West Virginia National Guard Patriot Guardens program. More
Spring is just around the corner, and for many, that means it is a time to get into the garden. That may be easy for some, but for others every year brings new challenges. More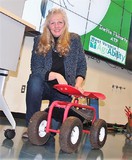 During the "For the Love of Gardening" workshop, participants had the opportunity to look at why ergonomics and body mechanics are important in reducing the risk for injury while exploring various tools to see why that tool may or may not be a good fit for the individual and the task being completed. More
Staff Changes and Recognition
National AgrAbility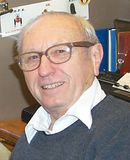 Ed Kirkpatrick, 97, passed away February 27 in West Lafayette, IN. He worked for Breaking New Ground/AgrAbility for more than 25 years as the primary shipping coordinator for BNG resources and as an editor of BNG publications. Prior to working with BNG/AgrAbility, Ed was an editor/writer for 19 years with the Agricultural Communication Service at Purdue after management and editorial positions on several newspapers.
Ed's work ethic was a challenge to all who knew him. He came in early and wouldn't count all of his hours for pay, especially if he didn't think he contributed enough (though he always did). To keep contributing, he even learned some of the challenging skills of computer use and database entry when he was in his upper 80s.  Ed's last Purdue paycheck was issued in November 2017 when he was 95 years old.
North Carolina
Please join NC AgrAbility in congratulating our PI Dr. Crystal Kyle for her dissertation award. Dr. Kyle's dissertation titled "The Formation of Cultural Capital using Symbolic Military Meanings of Objects and Self in an Adult Agricultural Education Program serving Military Veterans" was selected by Virginia Tech faculty review committee to receive the 2019 Outstanding Dissertation Award in the Social Science, Business, Education and Humanities category. The committee was impressed with the originality of her research, its potential for high impact and, the contribution made to the scientific community. Outstanding dissertation award article: click here. To read Dr. Kyle's dissertation, click here.
Texas
Congratulations to Dr. Cheryl Grenwelge on her retirement after nine-plus years of service to the Texas AgrAbility Project.
AgrAbility in the News
Click here for news stories featuring AgrAbility projects.
AgrAbility helps veterans launch and maintain careers in agriculture
Lincoln to Host AgrAbility National Training Workshop in March
Disabilities and agriculture
14 Organizations Changing the Face of America's Farmers
AgrAbility workshop aims to connect with producers
'Raising a Backyard Flock' talk on tap
AgrAbility program helps those with disabilities continue to garden
Other News
Click here for other news of interest to AgrAbility staff members.
USDA to support Hispanic Serving Institutions
Anchorage Assembly resolution on National Brain Injury Awareness month
Under the Radar - Tahquamenon State Park Action Track Chair
A not so fun topic...
Grain dust explosions up, injuries decline
Farmers reminded about dangers of grain bins
IRS waives estimated tax penalty for farmers
Teddy Gentry: Music legend & cattle breeder
Houston, we're here to help the farmers
The prospects of American strawberries
General Mills to advance regenerative agriculture
One-armed Little Leaguer blasts inside-the-park home run
Upcoming Events
Click here for professional development events related to AgrAbility
.
Problems? Contact Chuck Baldwin, National AgrAbility Project, baldwi19@purdue.edu