August 2016
National AgrAbility Project News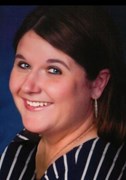 The AgrAbility family suffered another major loss as Kylie Hendress passed away during childbirth on August 11. Kylie began work with the National AgrAbility Project in August of 2010 as our engagement coordinator and National Training Workshop planner. She knew almost every AgrAbility staff member across the country by their first name and was passionate about everything she did. More
The NAP was pleased to support several SRAP staff members in participating in RESNA's Fundamentals in Assistive Technology course during the 2016 RESNA Annual Conference in Arlington Virginia, July 10-11: Ann Brown-Reither, Utah; Lani Carlson, Maine; Ellen Gibson, Maine; Gloria Jinks, North Carolina; Esmeralda Mandujano, California.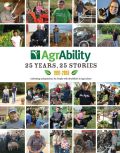 The NAP has prepared a summary report of AgrAbility's first 25 years. AgrAbility 1991-2016: 25 Years, 25 Stories is available in PDF and will soon be heading to the printer. Each SRAP will receive 25 complimentary copies and have the opportunity to order more. Look for an email announcement soon.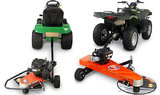 Toolbox Spotlight: A gasoline engine-powered Off-Road Vehicle-Towed Trimmer/Mower can be used with almost any pin-hitch-accommodating off-road vehicle, including ATVs, UTVs, and garden tractors. It is designed to trim and mow rough areas, including fence lines, trails, roadways, ditch banks, and tall-grass/weedy lots.
Click here for the schedule of upcoming Community of Interest and Standing Committee call information.
State and Regional AgrAbility Project News
California
CalAgrAbility joined AgrAbility staff from across the country at the RESNA Conference for AgrAbility's milestone anniversary. More
CalAgrAbility paired up with migrant education on July 7th and 14th to reach out to migrant workers in the delta area in Northern California during the pear harvesting season. More

CalAgrAbility published its first Quarterly on July 15th. The Quarterly includes outreach highlights, AgrAbility 25 year celebration, upcoming events that the staff will be attending, spotlights, Aggie Tip, and much more. A Spanish edition was also made. The Quarterly was sent out to CalAgrAbility subscribers.
CalAgrAbility attended the Winters Summer Health Fair in Winters organized by Winters Healthcare. More
Colorado
Colorado AgrAbility spent most of July catching up on the flood of referrals they received just prior to the National Training Workshop. With some parts of Colorado taking up to nine hours to reach, that takes a lot of time. Both Jim and Candy were on the road for overnighters to do site visits across the state.

Georgia
Staff was invited to participate in the AgrAbility Sustainability Focus Group held in Washington, DC, on July 11. The purpose of the group was to gain insight and develop ideas for sustainability of AgrAbility throughout the nation.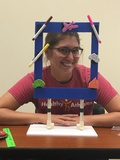 Georgia AgrAbility taught occupational therapy students at Brenau University on July 22 about low-cost assistive technology. Students also learned about the AgrAbility project and types of AT available. See attached photo of student participating in the training session.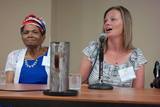 Staff and Georgia farmer Ruby Davis attended the AgrAbility 25th Anniversary luncheon on July 12 during the annual RESNA Workshop. Ruby participated in the farmer panel session, where she shared her story as an AgrAbility client, farmer, and much more. See attached photo of Ruby Davis and Sarah Creech.
Several GA AgrAbility clients and staff attended the USDA and Southwest Georgia Project Training and Workshops held in Albany, Georgia, on July 28. More
Indiana
On July 30th, 28 military veterans and their families from across Indiana participated in the Beginning Farmer Veteran Workshop at the Beck Agricultural Center in West Lafayette, IN. More
Linda Tarr, southern Indiana coordinator, assisted Area 15 Agency on Aging with Senior Days at the fairs in Crawford and Orange counties. More
Kentucky
KY AgrAbility started out the month of August attending the AgrAbility Regional Training in Frankenmuth, MI.
One of KY vocational rehabilitation's technologists, Heather Markham, was able to attend the luncheon commemorating the 25 years of AgrAbility. This was held at the RESNA Conference in Washington, DC. She was impressed at the comments made concerning the program and its impact on the farmers of this country.
KY AgrAbility will have a representative, Mike Lewis, attending the National Disabled Veteran Conference in Atlanta, GA, the first of August. More
KY Voc-Rehab partners will be attending the Association for Driver Rehabilitation Specialists Conference in Columbus, OH, in early August to see what is new in driver rehab and modifications that would be appropriate for farm equipment.
A new member of the KY State University Extension program, Shelly Spiggle, will be attending the Virginia State 1890s AgrAbility Workshop in mid-August. More
KY AgrAbility will also be visiting the state and local fairs and taking care of clients across the state. More
September looks to be as busy as ever with KY Rehabilitation Association Conference, county field days, and more training workshops for clients, partners, and agents. More
Maine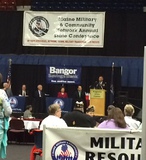 Maine AgrAbility had a table and display at the Sixth Annual Maine Military and Community Network Conference, Fort Maine: Beyond the Base. More
Lani Carlson and Ellen Gibson attended the RESNA conference and the two-day Fundamentals in Assistive Technology course in Arlington, Virginia, this month. More
AgrAbility specialist Wanda Caron, COTA of Alpha One, staffed an exhibit at the Wild Blueberry Field Day in Jonesboro on July 20. Over 100 growers and ag professionals attended the field day to learn more about research activities, trials, and new technologies.
Maine AgrAbility shared resources and tools to beat the heat this summer. See them here: Summer Heat
Michigan
Michigan AgrAbility was featured on Grand Valley State University's (GVSU) 88.5 FM NPR radio "Morning Show". More
Michigan AgrAbility has been actively "sharing the news" and "spreading the word" of other organizations' agriculture-oriented events and news. More
August looks to be a busy month for Michigan AgrAbility: staff will be participating in a variety of trainings, fairs, and programs. More
Missouri
During fall semester 2016, two Rockhurst University occupational therapy students will complete their Level 1 Field OT 6901 with Missouri AgrAbility. More
During Year 3 of its project, Missouri will scale up AgrAbility educational programs, outreach activities, programmatic websites, marketing materials, and client collection database systems, and will facilitate focus group meetings and implement partnership sustainability plans.
Pharm to Farm, a program of the University of Missouri-Kansas City School of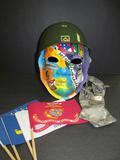 Pharmacy and Missouri AgrAbility Project partner, provided outreach and rural wellness screenings at mid-Missouri regional county fairs in July. More
The Brain Injury Association of Missouri hosted "Unmasking Brain Injury" with survivors of brain injury painting masks to visually represent their brain injury. More
Ohio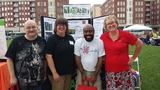 Ohio AgrAbility participated in the 2016 ADA Columbus Celebration July 28, at the Columbus Commons in downtown Columbus, Ohio. More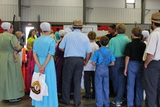 Ohio AgrAbility was among the 50 organizations and vendors to participate in the Amish Health and Safety Day on July 19th in Holmes County with approximately 500 people in attendance. More
Pennsylvania
New AgrAbility contest launches: Bridging Horizons PA Community Service Contest. More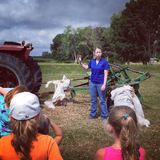 AgrAbility PA staff participated in a county farm safety day hosted by Penn State Extension. More
AgrAbility PA Project Assistant Abbie Spackman attended the National AgrAbility 25th Anniversary Luncheon in Arlington, Virginia.
AgrAbility PA exhibited at the 2016 Farm Fest (http://farmfest.paorganic.org/) and provided information on services, support, and resources available through AgrAbility PA. More
Tennessee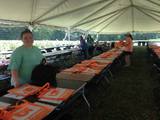 2016 Tennessee Farmer Veteran Picnic was a huge success at the 29th Milan No-Till Field Day on July 28. More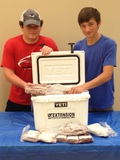 Steaks for TN veterans - WOW! Twenty-six steaks were donated by Henry Co. Livestock Producers for the Tennessee Farmer Veteran Picnic hosted by TN AgrAbility. More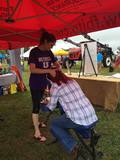 TN AgrAbility featured at 29th Milan No Till Field Day - Tense necks, shoulders, and achin' backs were eased a little by three independent massage therapists. More
Thanks to the National AgrAbility Project for inviting the Trosts to the AgrAbility 25th Anniversary Luncheon in July and for sharing all the amazing 25 AgrAbility success stories this year. It was a great celebration and lots of assistive technology demonstrations at RESNA.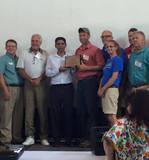 Tennessee AgrAbility featured at the 2016 Tennessee Small Farm Expo with over 400 people attending. Congratulations to Charley Jordan, Army Chief Warrant Officer 4, who was honored as the 2016 Tennessee Most Improved Beginning Small Farmer at Tennessee State University! More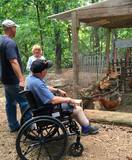 Staff learned about another group helping farmer veterans - COOPS for TROOPS. Coops for Troops provides chickens, coops, and starter kits to returning veterans, the families of deployed veterans, military schools, and VA homes/hospitals. More
Utah
Dr. Michael Pate presented "Interagency Collaboration to Equip Farmers and Ranchers with Vocational Rehabilitation and Assistive Technologies" at the American Society of Agricultural and Biological Engineers (ASABE) annual conference July 17-20 in Orlando, Florida. More
AgrAbility of Utah staff attended the annual conference of the Rehabilitation Engineering and Assistive Technology Society of North America (RESNA) July 10-14 in Arlington, Virginia. Staff assisted with the AgrAbility exhibit at the conference and attended the AgrAbility 25th Anniversary luncheon.
In July, AgrAbility of Utah staff participated in a vendor fair for the Utah State Office of Rehabilitation's (USOR) Southern District office. More
Vermont
A Vermont AgrAbility client's farm was named the 2016 Vermont Dairy Farm of the Year by University of Vermont Extension and the Vermont Dairy Industry Association in cooperation with the New England Green Pastures Program. More
Wisconsin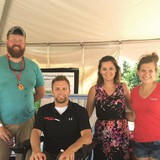 Wisconsin Farm Technology Days is the largest agricultural show in Wisconsin and one of the biggest in the nation. This year the event was held at Snudden Farms in Lake Geneva. There were more than 600 exhibitors present for thousands of attendees to see. More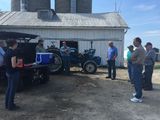 AgrAbility of Wisconsin held its July Neighbor-to-Neighbor meetings at the Faust family farm in Chilton. More
West Virginia
WV AgrAbility staff attended the RESNA (Rehabilitation Engineering and Assistive Technology Society of North America) Conference held in Arlington, VA, July 11-14th. More
Youth and young adults with intellectual and developmental disabilities attended a summer day program held by The Arc of the Mid-Ohio Valley from June 13-July 8, 2016. More
Staff Changes
Missouri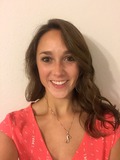 Say hello to Amelia Muir, currently a second year student in the occupational therapy program at Rockhurst University located in Kansas City, MO. Amelia is very grateful and excited for the chance to have a fieldwork experience with AgrAbility, an opportunity that will offer the chance to learn how best to help future clients that are part of a unique population. More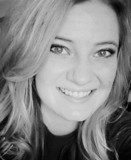 Welcome Kristyn Keith a second year occupational therapy student at Rockhurst University in Kansas City, Missouri. She will be practicing occupational therapy around her hometown and is excited for the opportunity and experience that AgrAbility will give her for helping future farming clients. More
Ohio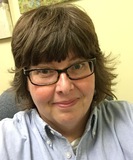 Please welcome Lisa Pfeifer, the new education coordinator for the Ohio AgrAbility team. Lisa is a graduate and past employee of The Ohio State University. She comes to us with a diverse background rich in community outreach, engagement, education, program development, and hands-on farm experience. More
Wisconsin
We have recently selected Abi Jensen for the position of outreach specialist. As she is coming into the position, we are saying goodbye to the outgoing outreach specialist, Hannah (Gerbitz) Barthels.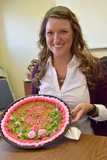 Hannah served the AgrAbility of Wisconsin program first as a program assistant from 2012-2013 and later returned as outreach specialist in 2014. We are grateful for all that Hannah has done for our program and wish her the best. More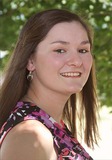 Many of you may already know Abi Jensen since she worked as the AgrAbility of Wisconsin program assistant for two years before applying for the outreach specialist position. We are excited to have Abi continue to be a part of the AgrAbility of Wisconsin. Welcome, Abi! More
AgrAbility in the News
Click here for news stories featuring AgrAbility projects.
Bridging Horizons PA - Option B - Promotional Video
AgrAbility Helps Michigan Vet Get Back to the Land
Pharm Fact: Summer Safety with Water Pills
The AgrAbility Memorial Fund
Oakland: Facilitating ArgAbility:
Other News
Click here for other news of interest to AgrAbility staff members.
Native agricultural college scholarships
Mahindra now an AAW Legacy Partner
Balancing ag labor with border security
First Nations support nutrition education
Agricultural consultants conference
First Nations accepting grant proposals
Military highlights importance of ag
Ottawa considers reopening prison farms
$26M for affordable farmworker housing
More for less in pastures
Green Heron Tools bulk order discount program
Upcoming Events
Click here for professional development events related to AgrAbility
.
Problems? Contact Chuck Baldwin, National AgrAbility Project, baldwi19@purdue.edu