October 2017
National AgrAbility Project News
The AgrAbility National Training Workshop is scheduled to take place in Portland, Maine, March 19-22, 2018, at the Westin Portland Harborview Hotel.
The NTW planning committee has received a plethora of presentations to review. They hope to have an agenda and registration available in the near future.
As you are out and about visiting clients, it isn't too early to consider stopping in at a local business to solicit auction donations and sponsorship dollars. They may also want to consider being a vendor at the NTW.
As always, your input and feedback are welcome to make NTW 2018 the best yet! Contact JoBeth or Tess anytime at: - JoBeth Rath - jbrath@goodwillfingerlakes.org 585.402.2059 and Tess McKeel - tmckeel@goodwillfingerlakes.org - 585.447.9015
The next AgrAbility all-staff meeting is scheduled November 8 at 3:00 p.m. ET.
AgrAbility Webinar Series: FSA's Disability Employment Program - November 14, 3:00 p.m. ET.
Save the date: the 2018 AgrAbility VIRTUAL National Training Workshop is scheduled for January 23-25, comprising six webinars in three days. Check your email soon for a request for webinar proposals.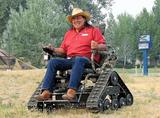 Paul Jones, NAP project manager, and Chuck Baldwin, NAP special populations outreach coordinator, traveled to Crow Agency, Montana, to help facilitate the first 1994 land-grant-hosted AgrAbility workshop at Little Big Horn College (LBHC) September 13-14. More
Chuck Baldwin participated as a presenter and exhibitor September 19-20 at the Midwest Stream Forum for Farmworker Health held in Grand Rapids, MI. More
The National AgrAbility Project collaborated with Ohio AgrAbility in a diverse display of services and assistive technology at the Ohio Farm Science Review near London, Ohio, on September 19-21, 2017. More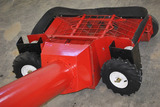 Toolbox Spotlight: With the motorized Auger Jogger Swing-Auger Mover, one can reportedly position the auger underneath the grain truck or wagon via hand-held remote from the vehicle cab, from outside up to 100 feet away, or via manual toggle switches.
State and Regional AgrAbility Project News
California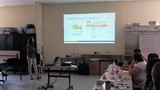 CalAgrAbility staff presented at the RISE collaborative meeting for Yolo County. More
CalAgrAbility sponsored a rural independent living webinar, which was a collaboration with APRIL, on October 5th.
CalAgrAbility staff attended a resource fair in Yuba City, an agricultural area known for its heavy production of orchard crops. They had the opportunity to speak to 50 families during the event, which brought 400 people. More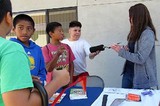 CalAgrAbility outreached at the Nutrition, Health and Safety Fair at Westwood Elementary to over 150 students. Students learned about farming and gardening safety. More
CalAgrAbility staff stayed active outreaching, educating, and offering workshops to commemorate National Farm Safety and Health Week 2017. More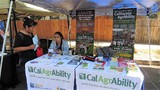 Staff outreached to over 100 families from Lodi, a region known for wine-grape production. Many of the attendees were farmworkers and gardeners experiencing arthritis and carpel tunnel symptoms. More
Colorado
Colorado AgrAbility completed its first spinal cord injury workshop in coordination with the Christopher and Dana Reeves Foundation. The turnout was great, and the conversation and networking were excellent.
Georgia
AgrAbility in Georgia is co-sponsoring a series of workshops to train veterans on produce food safety. More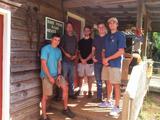 AgrAbility staff and UGA senior engineering students working on their senior design project met with Georgia hog/sheep farmer and AgrAbility client Danny Sims on Friday September 24th. Danny was the inspiration for their senior design project - "Easy Hookup of a PTO Shaft." More
AgrAbility Staff have been videotaping some of the veterans the project is serving. They will soon have several short video vignettes uploaded to the website. Pictured (L - R) Timothy Robinson Jr., Timothy Robinson Sr., Mason Dean, Rebecca Brightwell, and Chris Dorsey.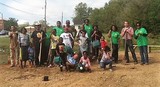 AgrAbility staff and other University of Georgia staff participated in a volunteer workday Saturday, September 30, 2017, in LaGrange, GA. More
Illinois
Illinois AgrAbility coordinated the Health & Safety Tent at the Farm Progress Show.
Indiana
Indiana AgrAbility Rural Rehabilitation Specialist Steve Swain, ATP, presented Practical AT Use to a class of Purdue graduate students. More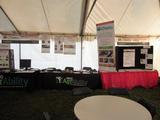 Purdue University Extension collaborated with The Ohio State University Extension with displays and presentations at the Ohio Farm Science Review near London, Ohio. More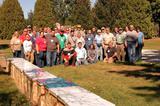 Beekeeping Basic Training for Veterans - a two-day workshop conducted as part of the Indiana Beginning Farmer/Rancher Development program, was attended by 31 veterans and family members on Sep 29-30. More
Linda Tarr worked with Hoosier Uplands Area 15 Agency on Aging with its Senior Games event. More
In addition to attending several farm events, Carl Jenkins worked the Harrison County Cattle Field Day, Washington County Cattle Field Day, and Crawford-Orange County Soil-Water Cattle Field Day. More
Kentucky
KY AgrAbility staff ended September the way they started: busy. The staff was busy in the field working with accessible garden projects at several sites and connecting with clients. More
Third Thursday Event focused on aquaculture and had a full house for the event. Guests at the event were able to see the types of vegetables and flowers that can be grown in raised beds at the research farm.
The meeting with the Owensboro Regional Hospital rehabilitation team was very well attended and AgrAbility has been asked to return to supply more training for occupational therapists and physical therapists in working with farmers with injuries or disabilities. More
Kentucky AgrAbility has a full agenda for October starting with the Kentucky Congress on Spinal Cord Injury on Friday, October 6. More
Also in October and early November are the KY Extension agent training sessions. These are attended by all members of the Extension staff. More
Maine
On September 8, project coordinator Lani Carlson presented AgrAbility program information and 2018 NTW save-the-date postcards to 25 agricultural service providers from across Maine at the Beginning Farmers Resource Network meeting.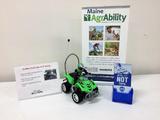 Project Coordinator Lani Carlson staffed an ATV safety educational display and demonstration at the Franklin County Soil Water Conservation District's Agricultural-Environmental Education Day. More
Lani Carlson and project director Richard Brzozowski met with the Travis Mills Foundation on September 18. The foundation was formed to benefit and assist wounded and injured veterans and their families. Travis will be the keynote speaker at the 2018 NTW in Portland, Maine.
Richard Brzozowski and Lani Carlson worked with a videographer at Chapter 3 Farm in Newburgh, on September 21, to document a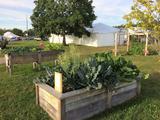 variety of assistive technologies and their uses. More
Five AgrAbility staff worked at the three-day Common Ground Fair in Unity. The theme was universal design focusing on task lighting. More
Michigan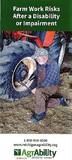 Michigan Farm Bureau and Michigan AgrAbility developed a Farm Work Risks After a Disability or Impairment brochure. More
The Alpha Gamma Rho fraternity at Michigan State University is such an awesome supporter of Michigan AgrAbility. More
The National Center for Farmworker Health hosted the Midwest Stream Forum for Agricultural Worker Health in Grand Rapids September 18-20. More
Recognizing where injury can occur and preventing it from happening is one of the primary tenants of farm safety. Putting farm safety into practice is the goal of National Farm Safety Week. More
Minnesota
Minnesota AgrAbility staff had a very busy couple of days at the 2017 Minnesota Farmfest in Redwood Falls, MN. Volunteers and staff received 100 inquiries regarding the ROPS program and options available under the Minnesota program. More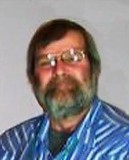 David Glamm, one of the MN AgrAbility peer mentors, participated in the farm safety program, "Protecting You, Your Family, Your Employees, and Your Bottom Line." More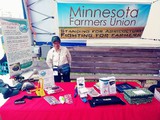 EquipALife has been actively involved in the Minnesota Farm Bill Advisory Committee and is the only non-profit organization to be invited to participate. More
Meanwhile, EquipALife personnel are gearing up for the 2018 Fenceline training workshop. They would like to expand their audience this year to include youth, students of higher education and more members of the agriculture community.
Missouri
AgrAbility staff facilitated interviews during the National Farm Safety and Health Week, "Putting Farm Safety Into Practice," September 17-23, 2017. Farm physical and mental health issues were discussed and resources shared.
Missouri AgrAbility staff facilitated four rehab/engineering fee-for-service level II onsite farmstead consultations with Missouri Vocational Rehabilitation district supervisors, case managers, and student interns this month.
Karen Funkenbusch was awarded a United States Department of Agriculture Office of Advocacy and Outreach (OAO) one-year grant award. More
Karen Funkenbusch presented "Farming with a Disability" at the 23rd Annual Women in Agriculture State Conference at Old Kinderhook in Camdenton, Missouri.
Joni and Travis Harper, both University of Missouri Extension faculty, and Karen Funkenbusch, OAO and AgrAbility director, hosted a one-day "Understanding the Alphabet Soup of USDA Programs" workshop in Versailles, Missouri. More
University of Missouri-Kansas City School of Pharmacy, a Missouri AgrAbility collaborator, included two student pharmacists in AgrAbility client outreach activities throughout September. More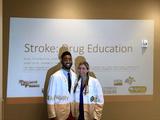 Two student pharmacists, Dion Tyler and Paige Stipanovich, from University of Missouri-Kansas City School of Pharmacy at MU, presented "Drug Education Following Stroke" to a stroke support group. More
North Carolina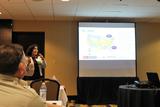 North Carolina AgrAbility presented the program in four sessions at the Minority Landowners Magazine 11th Anniversary Conference, "RESOURCES: Agencies, Organizations and Professionals Who Support Family Farms", Greensboro, NC, September 21-23, 2017. More
NC AgrAbility presented at the NC Assistive Technology Grant Advisory Council, Raleigh, NC, on September 15, 2017. More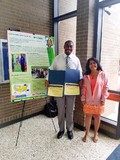 NC AgrAbility Grad Student Kristoff Minus was awarded with the Best Internship/Study Abroad at the Student Showcase of Excellence on September 6, 2017. More
NC AgrAbility hosted the first advisory board meeting at NCA&T on September 27, 2017. More
Ohio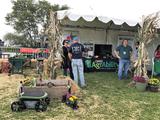 Ohio AgrAbility joined forces with neighboring SRAPs, West Virginia AgrAbility, and AgrAbility for Pennsylvanians, to offer outreach education and promote the national program mission at Farm Aid 2017. More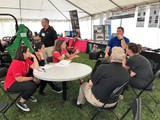 The Ohio AgrAbility Program exhibited at the 55th Farm Science Review September 19 - 21. More
Rural rehabilitation coordinators Charlie Landis and Randy Joseph offered daily workshops on modifications for the barn, worksite, and equipment. Disability Services Coordinator Laura Akgerman held daily sessions for professionals interested in working with Ohio AgrAbility; More
An OAP livestock producer spent several hours talking to an Engineering capstone student group about modifying a skid-loader to make it wheelchair accessible. More
Laura presented two sessions on gardening with arthritis at the Utzinger Garden gazebo, and a session on farming and gardening with arthritis at the Small Farm Center. More
OAP provided the Ohio State University Extension Master Gardener program with tips on gardening with arthritis, which were printed on garden signs and placed throughout the garden.
In addition to the exhibit tent and workshops, Ohio AgrAbility hosted the Universal Design Garage (part of a larger UD house) and offered examples and information on using universal design in the workshop and farm. More
Pennsylvania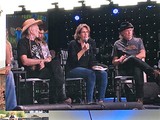 Thousands of festival goers explored interactive exhibits and activities as part of the Farm Aid '17 concert event that took place in Burgettstown, PA, on Sept. 16. More
AgrAbility PA Project Assistant Abbie Spackman had the privilege of delivering a Grit Freedom Chair to a Pennsylvania farmer! The chair was donated by Chip Petrea and AgrAbility Unlimited! More
Several annual meetings took place in September involving statewide assistive technology resource providers and centers - and AgrAbility PA staff members were present to engage with these organizations that impact access to AT resources. More
AgrAbility PA joined national organizations and groups that recognized and raised awareness about farm safety and health during the annual National Farm Safety and Health Week Sept. 17-23. More
Tennessee
Tennessee AgrAbility Project (TNAP) wrapped up fair season exhibiting at the TN Valley Fair in Knoxville.
TNAP participated in National Farm and Health Safety Week by raising awareness at several farm safety days including Down on the Farm/Farm Bureau/Progressive Agriculture Safety Day at the Fair with over 850 children learning about AgrAbility and ways to stay safe.
TNAP presented AgrAbility to central region agricultural and natural resources Extension agents and specialists. More
Dr. Deborah Reed presented her unique CDC-NIOSH research program that gets families talking about health and safety over a dinner theater. More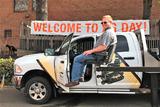 Thank you to Bill Begley for helping at the University of TN Institute of Agriculture Ag Day for Alumni. Life Essentials' lift display attracted many people and gave TNAP staff the opportunity to talk about AgrAbility. More
TNAP exhibited at another Joint Operation in Cleveland, TN, and meet several veterans who want to farm. Great place with over 50 resources in a one-stop shop to access local resources and services available to veterans.
Thank you to Derrick Sowell, horticultural therapist with UT Gardens Knoxville, for another amazing veterans' horticultural therapy workshop in Clarksville. More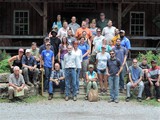 Congratulations to Finis Stribling, Tennessee State University, and the fourth graduating class from the Tennessee New Farmer Academy, our newest farmers. More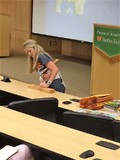 TNAP staff had the privilege to speak to 20 UT Memphis OT/PT students on the AgrAbility program. The students were not required to attend, so staff were very pleased with the 20 that attended. More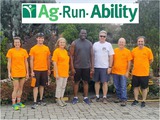 The annual TN AgRUNAbility 5k/2 mi WALK was held September 16-19 throughout Tennessee for UT TSU Extension staff. More
Texas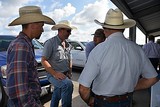 Texas AgrAbility, in partnership with Texas A&M AgriLife Extension, USDA, Farm Bureau, Texas Department of Agriculture, and multiple disaster assistance organizations, hosted a disaster assistance workshop in Raywood, Texas. More
The Battleground to Breaking Ground Entrepreneurial Training Project applications have been accepted for the fall 2017 cohort, which will gather for a basic training weekend on October 14-15 at 7D Ranch in Navasota, Texas. More
Prairie View A&M Battleground to Breaking Ground Workshop and farm tour will be held on October 20 and 21 in Prairie View. The October 20th farm tour will showcase VegOut! Farms in Pattison, Texas. More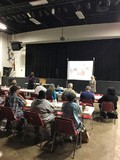 Forty-two landowners and persons interested in wealth creation through land ownership were onsite to attend the Land Loss Prevention Workshop held recently at the Crockett Civic Center in Crockett, Texas. More
Utah
AgrAbility of Utah participated in the fifth annual Assistive Technology Fair at Salt Lake Community College (SLCC) on September 20. More
In September, AgrAbility of Utah staff continued providing educational presentations to Utah State Office of Rehabilitation (USOR) districts with presentations at the Northern District VR office in Logan on September 11 and the Southern District VR office in St. George on September 26. More
Wisconsin
AgrAbility of Wisconsin staff participated in the three-day long event, Indian Summer Festival. More
The Mayr Family Corn Maze, located in DeForest, WI, hosted their annual benefit weekend with proceeds going to AgrAbility of Wisconsin. More
Staff Changes
Georgia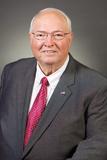 Jimmy Hill with AgrAbility in Georgia recently received a top honor by the UGA College of Agricultural and Environmental Sciences Alumni Association. The Alumni Award of Excellence recognizes alumni who have achieved a high level of success in their chosen field. The award was presented at a gala on September 22.

Illinois
Illinois AgrAbility advisory member and longtime NAP supporter Donald Skinner passed away September 2017. Illinois AgrAbility staff appreciate all the support and advocacy of AgrAbility that Don provided over the years.
North Carolina
North Carolina AgrAbility welcomes its new project director, Dr. Janine Parker. Dr. Parker is the agribusiness and marketing specialist at Cooperative Extension at NCA&T State University. More
North Carolina AgrAbility also welcomes Dr. Paula Faulkner as the co-PI. Dr. Faulkner is an associate professor in the Department of Agribusiness, Applied Economics and Agriscience Education at North Carolina A&T State University, and has been working with the AgrAbility project as a collaborator over the last two years. More
Vermont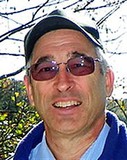 The University of Vermont said goodbye to George Cook as he retired September 28.
The Vermont AgrAbility project will sorely miss George in the coming years. He has been an inspiration to all of us as well as a faithful leader. We thank you for your service to farmers with disabilities in Vermont, and we wish you the best of luck, health, and fun in your retirement. More
Wisconsin
AgrAbility of Wisconsin would like to congratulate rural rehabilitation specialist Jeff Kratochwill. Toward the end of September, Jeff took the grueling five-hour exam and was happy to report he received his Assistive Technology Professional (ATP) Certification.

This year, Easter Seals WI, a partner in AgrAbility of WI project, has two significant staff milestones. Jeff Kratochwill, lead rural rehabilitation specialist, is celebrating 10 years, during which he has spent working with hundreds of farmers to continue farming in addition to co-supervising and training other rural rehabilitation specialists. Paul Leverenz, vice president of FARM and Vocational Services, is celebrating 25 years with the organization. In addition to his involvement with AgrAbility of Wisconsin, Paul works directly with technical and program assistants, rural rehabilitation and self-employment services specialists, and oversees the Disability HelpLine of Outagamie County. AgrAbility of Wisconsin staff is grateful to have such dedicated, hardworking colleagues, and looks forward to many more years.
AgrAbility in the News
Click here for news stories featuring AgrAbility projects.
AgrAbility Helps Ag Workers with Disabilities Succeed
Helping hands get small farm through health challenges
Goodwill announces AgrAbility workshops for Rural Coloradans with spinal cord injuries and neuromuscular illnesses
Bella Vista hosts Michigan AgrAbility Golf Outing
Cancer left him paralyzed, AgrAbility gave him hope
Behavioral health is an important part of farm safety
This Nonprofit Trains Dogs Specifically to Help Disabled Farmers
'Pharm to Farm' offers new outreach
Indiana AgrAbility Project keeps farming accessible for all
New policy limits help for farmers with disabilities
AgrAbility raises awareness of medicines' side effects
Colorado AgrAbility seminar in Trinidad
10-05-17 Inside the BARN with Goodwill Industries Jessica Smith & James Craig – CO AgrAbility's SCI Workshops
AgrAbility program provides assistance
AgrAbility National Training Workshop
Farmers and Ranchers Gather at Disaster Assistance Workshop in Raywood
Other News
Click here for other news of interest to AgrAbility staff members.
CHS Foundation strengthens partnership with FFA
Countdown to census: What you need to know
USDA funding for community food projects
National shirt fundraiser for next gen. ag leaders
Replacing the H-2A guestworker program
NYFC to create online sales vehicle
What's in a bottle of wine?
Using light to neutralize livestock odors
Cover crops increase destruction of weed seed
USDA helps profile U.S. aquaculture
Upcoming Events
Click here for professional development events related to AgrAbility
.
Problems? Contact Chuck Baldwin, National AgrAbility Project, baldwi19@purdue.edu