March 2018
National AgrAbility Project News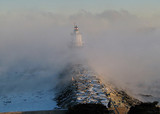 NTW Updates
The Time is Drawing Near! It looks like about 240 will join us in Portland, Maine, for the 2018 AgrAbility NTW. With over 55 sessions, five tours, and almost 100 presenters, it promises to be another year filled with great educational and networking opportunities.
Once again, we will host basket raffles, a silent auction, and a live auction, working to raise as much money as possible to keep our farmer stipend fund going. Bring your cash, checks, or credit cards - there may be something you absolutely need to have!

If you have not registered, please

Click Here

to do so as soon as possible. Registration will close on Friday, March 15th.

Last Minute NTW Reminders... Click to see on NAP page
Contact us anytime - Tess McKeel - tmckeel@goodwillfingerlakes.org - 585.447.9015 or JoBeth Rath - jbrath@goodwillfingerlakes.org 585.402.2059
NIFA has released the 2018 Request for Applications (RFA) for the AgrAbility competitive grant program. Applications are due April 30, 2018. Click here to view Funding Opportunity Announcement. NIFA will host a Webinar for interested applicants on March 15th (Thursday), 2018, at 1:30 pm – 3:00 pm EST. More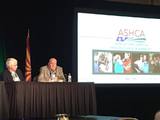 The NAP participated in the North American Agricultural Safety Summit sponsored by the Agricultural Safety and Health Council of America (ASHCA) on February 21-23. More
The National AgrAbility Project had a display at the 2018 National Farm Machinery Show in Louisville, Kentucky, on February 14-17, 2018. More
Upcoming webinars: "Demographic Data Collection" with Chuck Baldwin, April 18 at 1:00 p.m. EDT; "AgrAbility and Occupational Therapy" with Danyele Clingan (NAP OTD intern), April 26 at 3:00 p.m. EDT.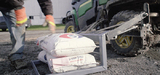 Toolbox Spotlight: With its multiple attachments, the Strong-Arm Lift is designed to allow one to pick up and deposit into a UTV cargo bed all types of items (e.g., rocks, debris, hay, logs, feed/fertilizer/seed bags, game animals), often without having to leave the driver's seat.
Click here for the schedule of upcoming Community of Interest and Standing Committee call information.
State and Regional AgrAbility Project News
California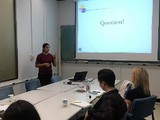 California AgrAbility attended Farzaneh Khorsandi's seminar on agricultural tractor operator safety in roll-over accidents. More
California AgrAbility attended the monthly RISE Collaborative meeting. This month the special presentation was on human trafficking. More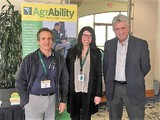 California AgrAbility attended the North American Agricultural Safety Summit hosted by the Agricultural Safety and Health Council of America (ASHCA) in Scottsdale, Arizona. More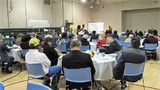 California AgrAbility attended the first "Growing Together" Black Farmers with Urban Farmers Conference in Fresno, California. More
Colorado
Colorado AgrAbility used a new approach in conducting their Winter Workshops this year. Instead of having them spaced out from October to February, they had all eight scheduled in February. More
Georgia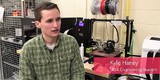 Georgia AgrAbility recently filmed engineering students at UGA sharing their experiences working with farmers served by the project. One of the students will be attending the AgrAbility National Training Workshop in Maine. More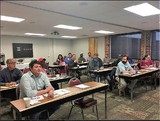 The AgrAbility program co-sponsored a workshop to introduce potential farmers to USDA programs and loans at the University of Georgia Tifton campus on Wednesday, Feb. 28. More
Staff attended and spoke to about 100 farmers from Georgia at the Southern Sustainable Agriculture Working Group (SAWG) annual conference in Chattanooga, TN. More
Staff spoke to Women's Club in Dahlonega, GA, about the services that Farm Again/AgrAbility has to offer. More
Georgia AgrAbility sponsored a webinar on February 5 titled "iPad Apps and Adaptations for Farmer with Disabilities". More
AgrAbility in Georgia is co-sponsoring several workshops geared to new or beginning farmers. From how to drive a tractor to selling at the farmers market, there is a topic for everyone. More
Illinois
Illinois AgrAbility Program's field coordinator, Jim Williams, attended multiple events throughout the area to increase awareness of the program during the month of February. More
The staff also created and sent a survey to all its ambassadors to learn more about the promotional activities for AgrAbility they have participated in within their local area and to learn more about how staff members can better support them... More
Indiana
The Indiana AgrAbility Project had a display at the 2018 Horticulture Congress at the Marriott East Hotel in Indianapolis, Indiana, on February 13-15, 2018. More
Indiana AgrAbility staffed a display at the 2nd Annual FED: Food Expo and Discussion in Hobart, Indiana, at the County Line Orchard and Convention Hall. More
Linda Tarr attended the Orange County Farm Bureau annual meeting, Ag Days at Bromer and Corydon, and the Midwest Women in Agriculture conference in Muncie. She also worked three days at the National Farm Machinery Show in Louisville.
Chuck Baldwin, Breaking New Ground (BNG)/IN AgrAbility project manager, and Steven Etheridge, IN AgrAbility VR consultant, staffed an AgrAbility booth at the Northern Indiana Grazing Conference February 2-3. More
Kansas
Kansas AgrAbility (KAP) had a huge presence at the 2018 Kansas Women Managing the Farm Conference February 15-16. More
Kentucky
The First Friday Breakfast for the KY College of Agriculture, Food and Environment featured KY AgrAbility as the guest speaker. More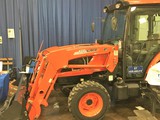 The wettest February on record is finally over. Major flooding left KY farmers wading in mud and delaying some of the farm work. What better way to spend the day than going to the 53rd National Farm Machinery Show in Louisville, KY. More
Mike Lewis was able to break away from the farm show to present at the February Third Thursday Event at the KSU Demonstration Farm in Frankfort. More
March 2-3 was the Organic Growers of Kentucky Workshop. This year KY AgrAbility was asked to participate and exhibit at the workshop that was held in Lexington.
Of course, staff are looking forward to coming to Maine to meet old friends, make new ones and learn new things.
April 14th will be the KY AgrAbility workshop for veteran and beginning farmers, "Cultivating Accessible Opportunities for Veterans in Agriculture: A Beginning Farmer Training." More
This is the last year of KY AgrAbility's grant, so staff are looking forward to applying for the next grant and keeping the momentum going with the new partnership with the KY Ag Commissioner, Ryan Quarles, and the ag safety group from the state office.
Maine
Maine AgrAbility exhibited at the three-day Fishermen's Forum in Rockland, Maine. More
Maine AgrAbility was mentioned during an hour-long radio show about occupational therapy and its role to support people regaining their independence. More
Richard Brzozowski and Lani Carlson worked with a videographer at Chapter 3 Farm in Newburgh, Maine, last fall, to document a variety of assistive technology and its uses on the farm. More
Michigan
It is agricultural health and safety training season in Michigan, and Michigan AgrAbility is active in ensuring that their agricultural community works safely. More
To provide low-vision or other clients that have difficulty reading the opportunity to receive restricted-use pesticide credits, Michigan AgrAbility used social media (their Facebook page) to recruit volunteers to read the National Pesticide Certified Applicator Manual. More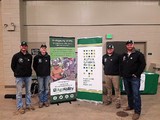 Alpha Gamma Rho TAU chapter... What would Michigan AgrAbility do without this extremely supportive and motivated group of students at Michigan State University? More
During the recent National AgrAbility webinar series, Michigan AgrAbility's Ned Stoller presented Beekeeping Assistive Technology. More
When one Michigan AgrAbility client no longer has need for his/her assistive technology, what is he/she to do? One option is to contact Michigan AgrAbility staff! More
Michigan AgrAbility is working with a capstone engineering team at Michigan State University to develop new assistive technology. Many tasks around a farm involve moving and lifting heavy buckets. More
Missouri
Rural agricultural small acre gardeners, and "never-gardened-before" adults and teens learned the basics of small-acre vegetable gardening at a "Small Acre Vegetable Gardening 101" seminar hosted by MU Extension and Missouri AgrAbility. More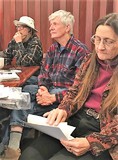 Missouri AgrAbility in collaboration with the MU Extension Outreach and Assistance for Socially Disadvantaged Farmers and Ranchers and Veteran Farmers and Ranchers Program (also known as the 2501 Program) co-hosted four "ABC's of USDA Farm Service Agency (FSA) Programs" workshops across the state. More
The Missouri AgrAbility Project is being highlighted with the Brain Injury Fact of the Day for Brain Injury Awareness Month. A unique Brain Injury Fact of the Day is being aired on three rural Missouri radio stations each day of March 2018. More
The BIA-MO Survivor & Family Seminars in Western and Southwest Missouri featured the Missouri AgrAbility Project, as a sponsor, and during the "Healthy Me" and other sessions. More
The BIA-MO Networking Coffee held in St. Louis on March 6, 2018, had more than 10 professionals who serve persons with brain injury, as well as Veterans, attend for the first time. More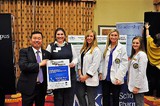 Pharm to Farm and University of Missouri-Kansas City School of Pharmacy, Missouri AgrAbility Project collaborators, presented at the inaugural University of Missouri System Legislative Showcase. More
North Carolina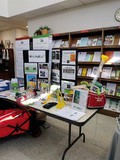 NC AgrAbility Partnership staffed a booth at the 2018 Small Farms AgriShop Series at the Piedmont Region on February 6th, at the Southeastern Region on February 7th, at the Northeastern Region on February 13th, and at the Western Region on February 15th. More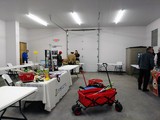 On February 13, 2018, NC AgrAbility Partnership participated as an exhibitor at the Farmer Buyer Exchange event at Sandhill's AGInnovation Center in Richmond County. More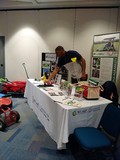 NC AgrAbility Partnership participated as an exhibitor at the 2018 NC Agritunity Conference and Trade Show. This event is designed to meet the economic and environmental needs of small and large farmers. More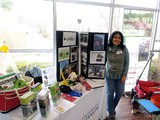 The "Successful Small Farms Opportunities Conference" is the place where NC farmers can explore alternative enterprises by speaking with successful producers and university personnel who are already growing and researching specialty enterprises. More
Nebraska
Staff members had the opportunity to provide booths at the Healthy Farms Conference in Lincoln, hosted by Nebraska Sustainable Agriculture, at the Buffalo Bill Expo in North Platte, Nebraska, and the Women in Ag conference in Kearney, Nebraska. More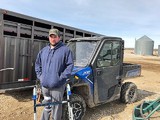 Nebraska AgrAbility has been busy with client services. To read what clients Brock and Chip had to say, click here.

Ohio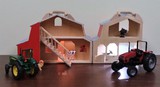 Ohio AgrAbility debuted their "Safety Barn" at the 2018 Ohio Ecological Food and Farm Association conference. More
Ohio AgrAbility staff met with the 2017- 2021 advisory committee to review activities from the past two grant cycles and to introduce new initiatives and plans for the current grant cycle. More
Pennsylvania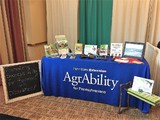 AgrAbility for Pennsylvanians participated in the annual Farming for the Future Conference hosted by the Pennsylvania Association for Sustainable Agriculture (PASA). More
AgrAbility staff participated in the President's Day Commercial Tree Fruit School, located in one of the largest apple-producing regions in the county. Sessions at this event are offered in English and Spanish to accommodate the diverse group of attendees. More
Tennessee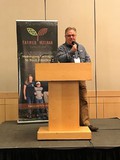 Tennessee AgrAbility Project (TNAP) exhibited at the annual Pick Tennessee Conference 2018 and hosted three educational sessions with over 400 in attendance. More
TN AgrAbility staff had exhibits at the Western Region Grain Conference, the TN/KY Tobacco Expo, and the Tennessee Association of Conservation Districts 74th Annual Convention.
Charley Jordan, Farmer Veteran Coalition of TN point-of-contact and spokesperson for TNAP, told his story on the following podcast: Click here. More
2018 National Conference of National Association of Agricultural Agents and Specialists - July 29-August 2, 2018 in Chattanooga, TN. Please let TNAP know if you plan to attend or want exhibit space. https://www.nacaa.com/
At the first beginning farmer workshop, there were 23 participants. Topics included: TN AgrAbility, Farmer Veteran Coalition, and "Deciding What to Grow on Your Farm." More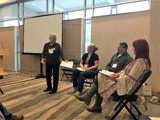 Ag nurse Dr. Deborah Reed partnered with TNAP to promote AgrAbility through farm safety and health theater. TNAP hosted the theatre at the Pick TN Conference 2018. More
Texas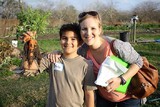 Texas AgrAbility, in partnership with the Battleground to Breaking Ground Entrepreneurial Training Project, hosted a farm tour and ag workshop on February 15 and 16 in Corpus Christi, Texas. More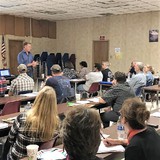 The agriculture business workshop was delivered to over 25 veterans and beginning farmers and ranchers at the Robstown Extension Building on February 17, 2018. More
Makenzie McLaurin, program coordinator, attended a Texas A&M AgirLife Extension RPL meeting to give information on Texas AgrAbility. More
Erin Kimbrough, Makenzie McLaurin, and Stacey Kingman attended the TexVet Mental Health Symposium in Round Rock, Texas. More
Battleground to Breaking Ground Entrepreneurial Training Project applications are open for cohort 3. Applications close on March 18, 2018. More
Utah
AgrAbility of Utah conducted outreach at the 7th annual Carbon County crop classes in Price on February 7. More
AgrAbility of Utah staffed a booth at the Alfalfa U workshop February 8 in Ogden. More
Staff attended the 2018 Beef Cattle Field Day February 13 at the BYU Harman Conference Center in Provo. More
AgrAbility of Utah joined several other agricultural vendors and service providers to offer program outreach and education at a soil health workshop February 22. More
Wisconsin
The first "show" of February for AgrAbility of Wisconsin was the Midwest Rural Energy Conference held in La Crosse, WI. More
AgrAbility of Wisconsin attended the 38th annual Marshfield Farm Show held February 21 and 22. More
AgrAbility of Wisconsin staff also attended and exhibited at the Midwest Organic and Sustainable Education Service (MOSES) held in La Crosse, WI, on February 22nd through 24th. More
West Virginia
WV AgrAbility staff was represented at WV Farm Bureau Day, West Virginia State University Day, and Agriculture and Conservation Day during the West Virginia legislative session. More
Approximately 500 farmers from around West Virginia attended the WV Small Farm Conference. WV AgrAbility staff attended the conference while networking with farmers, service providers, and equipment dealers. More
Staff Changes and Recognition
Georgia
Whitney Ostrander was recently hired as the outreach and dissemination coordinator for Farm Again/AgrAbility Georgia. She will be joining us at the NTW.
Missouri
It is official! Congratulations to David W. Middleton, Missouri AgrAbility outreach worker with Innovative Small Farmers' Outreach Program (ISFOP) at Lincoln University Cooperative Extension, who was awarded a Master of Science degree in animal sciences from the University of Missouri.
Texas
Texas AgrAbility welcomes a new case manager, Stacey Kingman, to the team. Stacey has a bachelor's degree in agriculture economics from Texas A&M University. She has experience in production agriculture and education. Stacey will be assisting the Texas AgrAbility team with case management to deliver assistance and recommendations to Texas AgrAbility clients.
AgrAbility in the News
Click here for news stories featuring AgrAbility projects.
A free workshop to help beginning farmers and ranchers understand the "Alphabet Soup of USDA Programs" will be hosted Friday, Feb. 16 in Hannibal.
This vet's farm grows squash, carrots and new beginnings
AgrAbility Helps Nebraska Farmer Regain His Independence
Ohio AgrAbility in Action: Upgrade your tractor with a camera system – increase safety, reduce pain and risk of secondary injuries
UM System hosts inaugural Legislative Showcase
Delta Farm Forum set
USDA's National Institute of Food and Agriculture Announces Support Farmers with Disabilities Through Innovative Technology
Apply now for funds to support your AgrAbility project
AgrAbility keeps farmers working
Agricultural farm tour, workshop set March 9-10 in College Station
Extension Answers: Continuing to farm after an accident or injury
AgrAbility mentioned during Maine Public's 'Maine Calling'
They Help Farmers Keep Farming
Other News
Click here for other news of interest to AgrAbility staff members.
New USDA webpage addresses opioid crisis
Addressing suicide risk for dairy farmers
American Agri-Women offers scholarships
As Milk Prices Decline, Worries about Dairy Farmer Suicides Rise
Saving for the future: Financial tips for young farmers
A new checklist to keep farm kids safe
Vegetable farmers depend on Mexican workers
Group hails Precision Ag Connectivity Act
Ag & Rural Prosperity Task Force report
Genius Company Installs Beehives in Your Living Room, and Here's How It Works
Upcoming Events
Click here for professional development events related to AgrAbility
.
Problems? Contact Chuck Baldwin, National AgrAbility Project, baldwi19@purdue.edu