June 2018
National AgrAbility Project News
The Senate Agriculture Committee recently passed its version of the Farm Bill with AgrAbility included. It should be voted on by the full Senate soon. However, there are several other steps before a new Farm Bill becomes law. More
The president's FY 2019 budget does not include AgrAbility, just as the FY 2018 budget did not. However, AgrAbility was added back into the final FY 2018 budget by the House and Senate Appropriations Committees.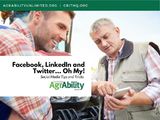 AgrAbility Webinar Series: "Social Media Tips & Tricks: Facebook, Twitter, and Instagram...Oh My!" Tuesday, June 19, 3:00 p.m. ET, featuring Kelly Gagnon of Illinois AgrAbility Unlimited. More
The NAP is planning a new promotional video for use by all AgrAbility projects. Look for a web poll soon to elicit your feedback on themes, format, distribution methods, etc.
Dr. Shawn Ehlers, ATP, and Steve Swain, ATP, conducted a webinar for RESNA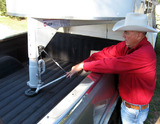 titled: "New and Improved Methods of Accessing Large Off-Road Machinery." More
Toolbox Spotlight: The EZE-Latch for Goosenecks is designed to allow one to latch/unlatch their trailer without having to lean over the pickup's side panel or crawl up into its bed.
State and Regional AgrAbility Project News
California
California AgrAbility conducted a presentation about AgrAbility services for a group of 15 aspiring promotores (lay health workers) at Empower Yolo, a resource center that serves the agricultural community of Woodland. More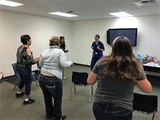 California AgrAbility went to the third Get Moving Arthritis class conducted by Clinica Tepati. California AgrAbility helped create this exercise series for patients with limited mobility to safely exercise. More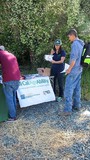 California AgrAbility reached out to around 60 migrant farmworkers along the Delta River. Staff brought resources to teach the farmworkers how to keep working safely through preventative exercises, and information on heat illness and arthritis. More
Staff from California AgrAbility and Ability Tools attended the all staff meeting hosted by National AgrAbility Project. Staff were excited to learn about the USDA-NIFA and NSF Collaboration presented by AgrAbility Virginia.
California AgrAbility staff have been participating in NAP Demographics data collection and is preparing to submit their 2017-18 report.
Colorado
Last month, Colorado AgrAbility Project (CAP) reported having received an AT assessment request from a Workers Compensation (WC) claims adjuster. More
The Disabled American Veterans (DAV) chapter of Colorado invited CAP to attend their annual convention. More
Georgia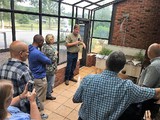 Georgia AgrAbility co-sponsored a workshop titled, "Soil 101." It was held at UGA's Tifton campus. The workshop was taught by the USDA Natural Resources Conservation Service and UGA Extension. More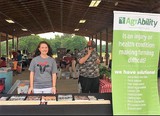 Staff had a booth at the Spring Harvest Festival at Farmview Market in Madison, Georgia. More
Staff represented AgrAbility at the Blessing of the Vines Festival held in Dahlonega, Georgia (April 29).
GA AgrAbility participated in the Growtopia Hydroponics appreciation day located in Buford, Georgia. While in attendance, staff were able to speak to 35 people about the resources AgrAbility offers in Georgia (May 20).
Illinois
Illinois AgrAbility Project's field coordinator, Jim Williams, is planning to attend a few events throughout the area during the month of June to increase awareness of the program's services. More
Kelly Gagnon, AgrAbility Unlimited's communications coordinator, is continuing to work on the program's new brand styling to promote a fresh, professional look for the organization. More
Indiana
Indiana AgrAbility conducted a county fairgrounds accessibility assessment for the Franklin County 4-H Association. More
Steve Swain, the Indiana AgrAbility rural rehabilitation specialist, conducts accessibility assessments of farms, homes, and business for Indiana Vocational Rehabilitation Services. More
Linda Tarr has started sharing AgrAbility information in the local farmers markets in southern Indiana. She also attended a public meeting for the centers for independent living held at SICIL (Southern Indiana Center for Independent Living).
Maine
Project Coordinator Lani Carlson exhibited Maine AgrAbility information at the Agricultural Labor Field Day on May 3. More
On May 3, Ellen Gibson of Goodwill Industries New England shared AgrAbility resources with the Saco Bay Garden Club. She presented information about ergonomic tools and work simplification ideas for gardeners.
Lani Carlson participated in the SARE "So You Want to Support Farms in Maine" professional development training on May 9 in Bangor. This training will be very useful in working with AgrAbility clients that are new farmers.
On May 14, Lani Carlson presented an overview of the AgrAbility program, along with client success stories, at the Androscoggin-Sagadahoc County's Cooperative Extension annual meeting.
Maine AgrAbility met with Vocational Rehabilitation on May 16 to discuss collaborating on their progressive employment model called Jobsville. More
A farmer who attended the NTW connected Maine AgrAbility to the Hanger clinic. Lani Carlson met with a certified prosthetist/orthotist, a PT, and employees at two of the three Hanger clinics in Maine. More
Maine AgrAbility was a topic of discussion at UMaine Extension's Home Horticulture Program Leadership Team (HHPLT) zoom connection on May 21, 2018. More
Michigan
Michigan State University's Occupational and Environmental Medicine Division (MSU OEM) has recently compiled its first report on work-related farm injuries in Michigan. More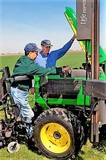 Michigan AgrAbility sends a LOUD shout-out of THANKS to The Standing Wheelchair Company of Saginaw for donating a stand up wheelchair to Michigan AgrAbility! Ed Bell was the recipient of this generous donation.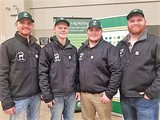 Remember the MSU Alpha Gamma Rho (AGR) Chapter hosted the 5th Annual Beef Preview show in February 2018? Although the show was held during a snowstorm, there were 371 youth exhibitors who brought 584 head of cattle.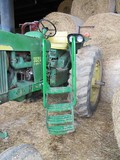 More
Dan Acre, a Michigan farmer with impairments resulting from arthritis that developed as a youth, reached out to Michigan AgrAbility to assist him in performing the activities necessary to continue operating his dairy farm. More
Missouri
This summer, Missouri AgrAbility is offering an occupational therapy student at Washington University in St. Louis an opportunity to learn more about Missouri's AgrAbility project... More
Shon Bishop and K. B. Paul, both Co-PIs from Lincoln University Cooperative Extension, are in the final stages of organizing two, one-day AgrAbility workshops to be offered in the Springfield and Cape Girardeau areas during July. More
Nashon Bishop participated in the May 15 AgrAbility all-staff conference call. He was welcomed during the new staff introductions.
Karen Funkenbusch participated in a one-day "Understanding & Responding to the Lifelong Effects of Opioid Exposure to Infants, Children and Families" workshop sponsored by the Missouri Department of Health and Human Services on May 2nd.
Andrea Bjornestad, South Dakota State University, Suzanne Pish and Courtney Cuthbertson, both of Michigan State University Extension, Charlotte Shoup Olsen, Kansas State University, and Karen Funkenbusch, Missouri AgrAbility Project, University of Missouri Extension, were invited to present at the 2018 National Association for Rural Mental Health (NARMH) Annual Conference held in New Orleans' French Quarter, August 23-26.More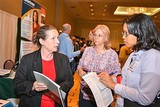 Maureen Cunningham with the Brain Injury Association of Missouri shared information about the Missouri AgrAbility Project (MAP) at the Missouri Rehabilitation Association Conference on May 21, 2018. More
Nebraska
Staff attended the Beginning Farmers & Ranchers meeting in Lincoln in early May. More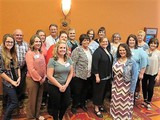 In May, Easterseals Nebraska staff was invited to the VNA/ESN Staff Appreciation in Omaha. More
Staff attended the Norfolk Community Veterans Meeting. A large topic of conversation was rural healthcare for veterans;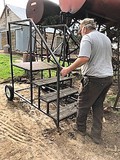 especially transportation to appointments for those who cannot afford their own. More
The staff has been busy checking on clients and their new equipment.. Wendell Rohrer has been diagnosed with transverse myelitis. More


North Carolina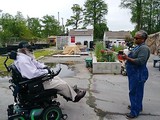 On May 9, the NC AgrAbility Partnership organized a visit to the Veterans Employment Base Camp and Organic Garden (VEBCOG) located in New Bern, NC. The visit was a networking opportunity provided to a new client who is a veteran farmer interested in turning his vegetable production into an organic production. More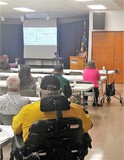 On May 16, in Fayetteville, NC, Beatriz Rodriguez presented the NC AgrAbility Program at the "Farming Resources for Military Veterans Workshop." More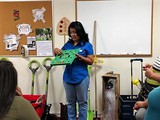 On May 26, Beatriz Rodriguez presented an introduction about AgrAbility and "Work Smarter, Not Harder" to the Latino Growers Academy. More
Ohio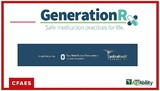 Ohio AgrAbility's disability services coordinator, Laura Akgerman, presented Generation Rx to the Columbus Advisory Council on Disability Issues. Generation Rx is an online toolkit developed by the Ohio State University College of Pharmacy and Cardinal Health. More
Pennsylvania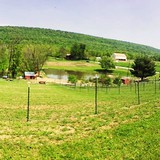 "Milk & Honey" - That's part of the sweet name that makes up Tim Wallace's passion project in his retirement from teaching elementary art and serving in the United States Army. More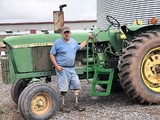 WHYY (Philadelphia's NPR affiliate) met and interviewed Dennis Hunsberger, a crop and chicken farmer in Middleburg, PA, who underwent a double amputation in fall 2016 due to complications from bacterial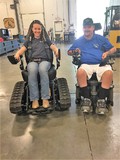 meningitis. More
Project Assistant Abbie Spackman met with Dan Christiana of Wheels for the Woods LLC, a Trac-Fab vendor at the Trac-Fab shop. More
Tennessee
Congratulations to Tennessee AgrAbility Project (TNAP) PI Tim Prather who was awarded the 30-year service award from University of TN Ag Institute! More
TNAP has been working on reports for the end of the year.
TNAP staff visited a successful local winery with a beginning farmer veteran who has a spinal cord injury. More
TNAP and UT Gardens hosted the third Veterans Horticultural Therapy Workshop in Nashville. More
TN AgrAbility is thankful for Farmer Veteran Coalition's new partnership with Tractor Supply Company (TSC)! More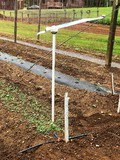 East TN New Farmer Academy focused on fruit and vegetable production. TNAP spoke on various ergonomic tools and the importance of doing tasks in the safest way possible while minimizing the physical impact on the body. More
TNAP demonstrated helmet safety at the first annual Chester County farm day for grades 4-8. There were 1,100 students in attendance.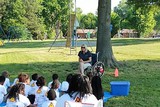 Youth AgrAbility education increased awareness of disabilities and disability etiquette for 295 youth at the Haywood County Progressive Agriculture Safety Day for 4th graders.
Staff thanked the farmer veterans and remembered the true reason for Memorial Day: honoring the heroes who died in service to their country. We will never forget.
Texas
May has been a very busy month for Texas AgrAbility, and the summer heat is in full swing in Texas.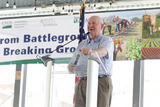 On May 31, U.S. Secretary of Agriculture Sonny Perdue announced a partnership with the Battleground to Breaking Ground Project to streamline eligibility for military veterans to apply for FSA loans. More
On May 4th, Texas AgrAbility hosted a farm tour in Gatesville. More
A Battleground to Breaking Ground Agriculture Workshop was hosted on May 5 at the Bell County Extension Building. More
Utah
AgrAbility of Utah had a booth at the TRAILS (Therapeutic Recreation and Independent Lifestyles) Ability Festival May 24 in Salt Lake City. More
Vermont
Merton Pike was a Vermont AgrAbility Barn Builder member (a peer-to-peer support group) from the beginning of the VT AgrAbility project. He was a double lower amputee, one below and one above the knee, from a tractor accident in 1971. More
West Virginia
WV AgrAbility provided disability awareness to 650 youth during the Wood, Tyler, and Tucker County Progressive Farm Safety Day. More
The fifth annual WV Urban Ag Conference was held on the campus of West Virginia State University May 11-12. More
WV AgrAbility trained farm workers on safety and health topics including electrical safety and hearing conservation. The training took place at the Wardensville Farm for their agricultural service workers.
Wisconsin
In May, staff talked with over 400 students in Kewaunee County for their Rural Safety Day. Safety days give AgrAbility of Wisconsin staff the opportunity to educate third and fourth graders on safety on the farm, disabilities on the farm, and assistive tools farmers use to be safe.
AgrAbility of Wisconsin staff will be attending various dairy breakfasts and events to celebrate June Dairy Month all month long! The staff looks forward to meeting new people and saying 'hi' to past clients and supporters of the program.
Staff Changes and Recognition
Wisconsin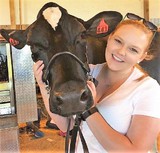 Welcome, Rachel!
Welcome to our newest program assistant, Rachel Hellenbrand from Cross Plains, WI. She will be a senior in the fall at UW-Platteville studying dairy science. Rachel has grown up showing dairy cattle at local fairs, the Wisconsin State Fair, and many other dairy shows. Her passion for agriculture followed her to Platteville, as she is an active member in Pioneer Dairy Club and continues to learn more about agriculture. Welcome to the team, Rachel!
AgrAbility in the News
Click here for news stories featuring AgrAbility projects.
Correct safety practices help avoid harm on the farm
Suicide rate higher in rural areas
Child farm fatalities bring community together to learn about farm safety
Ohio AgrAbility in Action: Becoming an Ohio AgrAbility Client
Staying Mobile to Keep Farming
AgriLife Extension, USDA expand veteran loan assistance for starting agribusinesses
Kansas AgrAbility Project
Other News
Click here for other news of interest to AgrAbility staff members.
USDA urged to be proactive on farm suicide crisis
Washington Politics Adding To Mental Health Crisis Among Farmers
Bipartisan bill to support farmer veterans
A Farmer in Our Midst – An Interview with JAN's Own Dr. Beth Loy
Modernizing the H-2A agricultural visa program
USDA reopens disaster assistance programs
$8.89M for risk management education
Streamlining produce safety requirements
Cover crops have benefits in high tunnels
Bayer sells ag businesses ahead of merger
Upcoming Events
Click here for professional development events related to AgrAbility
.
Problems? Contact Chuck Baldwin, National AgrAbility Project, baldwi19@purdue.edu