March 2017
National AgrAbility Project News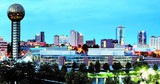 The AgrAbility National Training Workshop is Almost Here! Join us in Knoxville, Tennessee on March 20-23 for four days of great sessions, special speakers, and tours. It looks like we may have a record crowd!


With just a few days before events kick off in Knoxville, the 2017 NTW is proving to be a popular event! With over 240 people registered to participate in all or part of the conference, there will certainly be some great networking opportunities in addition to some great learning and sharing in the forty-five breakout sessions and three tours available.
Over 100 individuals registered are farmers! With thanks to the SRAPs in MI, NC, IL, WV, VA, TN, KY, IN, MO, WI, TX, and GA - as well as our generous sponsors including Monsanto, CHS Foundation, Sigma Alpha at Purdue University, and the Farmer Veteran Coalition - many of those farmers were able to receive stipends to support their attendance.
The NTW registration table will open officially at 10 a.m. Monday, March 20th, in the Windows on the Park Pavilion located in the lower level of the Holiday Inn. Representatives from the planning committee will be available at the registration table to answer questions and provide assistance throughout the event. For those who arrive on Sunday, look for the AgrAbility team in the Dogwood Room on the second floor when the Hospitality Suite opens at 7:00!
As you start packing, please remember to bring: any donations you may have for the auction; business cards to exchange with those you meet; a few dollars to purchase raffle tickets and auction items; and clothing to meet the long-range forecast which shows daytime temperatures in the low 60's, with nights chilling to the high 30's and low 40's.
Be sure to check out www.agrabilityntw.org to plan your schedule, and map out a few activities to enjoy while you are in Knoxville.
Special thanks to Tennessee AgrAbility and the entire planning committee for helping to put together a great event in a short time frame!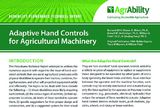 The Plowshares Technical Report, Adaptive Hand Controls for Agricultural Machinery, has been updated with new images, ergonomic design considerations, and applicable technologies. More
University of New Mexico NAP consultant Carla Wilhite will be updating and revising Therese Willkomm's (2000) article Proper Seating and Positioning for Tractor Operators Affected by Spinal Cord Injuries. The UNM plan is to complete the document by the end of August and have it readily available for SRAPs.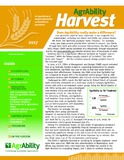 The 2017 AgrAbility Harvest newsletter is now available at www.agrability.org/news/#harvest. Each SRAP is slated to receive 100 copies; additional copies are available for $0.35 plus shipping with minimum order of 50.
The six webinars that composed the 2017 AgrAbility Virtual National Training Workshop are now archived at www.agrability.org/online-training/virtualntw. Many thanks to all of our presenters and participants.
The AgrAbility all-staff meeting of February 28 has been archived at www.agrability.org/extranet/staff-resources along with the presentation file from Becky Brightwell
The NAP was pleased to again have a booth at the National Farm Machinery Show in Louisville, February 15-18. NFMS is the largest indoor farm show in America.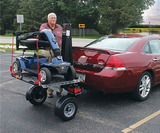 Toolbox Spotlight: The battery-operated Chariot Wheelchair/Scooter Vehicle Lift is designed to hoist, store, and transport one's personal mobility device (weighing up to 350 pounds) behind even a small-sized car. This is because the weight rests on the Chariot's wheels, not on the car.
State and Regional AgrAbility Project News
California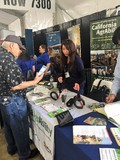 The 2017 World Ag Exposition at Tulare was a marketplace and celebration of agriculture machinery and resources to encourage inventions and innovations in the world of agriculture. More
CalAgrAbility staff attended a talk on approaches to understand the mechanisms of Traumatic Brain Injury (TBI). More
CalAgrAbility staff attended the RISE Collaborative meeting, and the collaboration between CalAgrAbility and Vocational Rehabilitation was the highlight of the presentation. More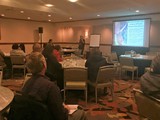 CalAgrAbility was present at the 2017 Migrant Western Stream Forum. Every participant received a CalAgrAbility program brochure with their conference bag. A few of the workshops were focused on mental health and how to crack the barriers to addressing it. More
CalAgrAbility staff tuned in to the all-staff meeting online and to the AgrAbility Virtual National Training Workshop. More
Colorado
The Winter Workshops are completed now and the Colorado AgrAbility (CAP) staff are back to the "bread and butter" of their profession: on-farm site visits and assessments. They have more appointments on their scheduling board than ever.
With the award of a Disabled American Veterans (DAV) grant to help disabled veterans with mental health issues and stress, CAP staff are meeting with the Paralyzed Veterans of America, the Disabled American Veterans, the VFW, and American Legion to offer facilitated peer support group formation meetings across the state.
Last month, CAP was awarded a grant from the Reeves Foundation to aid those with spinal cord deficits to help others like themselves by setting up small group meetings where people can share their successes and failures. More
Georgia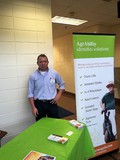 Staff attended and exhibited at the 40th Farm, Home and Ministers Conference at Fort Valley State University (1890) on February 21, 2017. The purpose of the conference is to provide residents of Fort Valley and the surrounding area with information that can help to improve agricultural practices, housing, and community and faith-based organizations. More
AgrAbility is participating in a Statewide Assistive Technology Planning Group - Technology Advancement for People with Disabilities in Georgia (TAPDIG). More
Co-Director Becky Brightwell presented a PowerPoint presentation at the AgrAbility All-Staff Meeting on Tuesday, February 28, 2016. More
Indiana
Indiana AgrAbility staff, Linda Tarr, had a booth at the Scott, Perry, and Orange County annual meetings. This also included the Orange County Cattlemen annual meeting. More
Kansas
Kansas AgrAbility staff - Nancy Stork, Cassie Ramon, Jeannie Sharp, Sheila Simmons, and Kerri Ebert - attended and hosted a demonstration exhibit at Women Managing the Farm, Feb. 9-10, in Manhattan, Kansas.
Kansas AgrAbility staff assisted with high tunnel renovation at the Big Lakes Developmental Center Zeandale Farm on Feb. 21. More
Kentucky
Kentucky AgrAbility held a meeting with the KY AgrAbility Advisory Board in February at the Fayette County Extension office. The board focused on what had been done in the last six months and what would need to be done in the next six months. More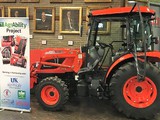 The big event was the National Farm Machinery Show in Louisville, KY, at the Kentucky Fair and Expo Center. Held February 15 - 18, it hosts more than 880 booths covering 1.2 million square feet in eight interconnecting exhibit spaces. More
Kentucky AgrAbility is looking forward to seeing everyone in Knoxville for the NTW.
Maine
Maine AgrAbility is gearing up for a busy March. AgrAbility exhibits and resources will be shared at six different events - all before packing up and heading to TN for the NTW! More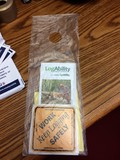 LogAbility packets were distributed to a local lumber mill. The easy to handle packets were assembled for the lumber mill to share with the loggers and truck drivers, increasing Maine AgrAbility's distribution of information and resources.
On March 9, Maine AgrAbility will be hosting a Cultural Diversity Training for staff, advisory council members, veteran farmers, and veteran services staff. Throughout the day, they will be looking at the similarities and differences between military and non-military culture, as well as other cultural differences. Read the Cultural Diversity flyer here.
Michigan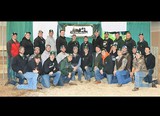 A huge thank you to the Alpha Gamma Rho fraternity at Michigan State University for putting on the 5th annual AGR Beef Preview Show at the MSU Livestock Pavilion February 11-12!! More
Meet Aaron Fenrich! The latest Michigan AgrAbility blog post tells the story of Aaron Fenrich, a farmer in Hamilton, MI, who made a career transition with the help of AgrAbility and Michigan Rehabilitation Services. More
Missouri
The Western Farm Show is the Midwest's best indoor farm show with hundreds of exhibitors, acres of things to see and do, the latest in farm and ranch technology, and more! Missouri AgrAbility and its collaborative partners displayed at the 2017 Health and Safety Roundup coordinated by the Missouri Farm Bureau. More
Missouri AgrAbility leadership team met face-to-face to discuss current and future statewide programmatic goals, explore long-term sustainability options, funding clients who will attend 2017 National Training Workshop, and several other important items of business. More
Missouri AgrAbility staff members also participated in the Tools for Veteran Success sponsored by Missouri Division of Workforce Development. The one-day workshop provided AgrAbility staff with networking opportunities with veterans, transitioning service members, and spouses.
North Carolina
NC AgrAbility Project is partnering with the Wayne County Community Partners Coalition, created by the Wayne County Farmworkers Health and Safety Education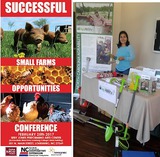 Program, to build the health and well being of Wayne County farmworkers and their families. More
The NC AgrAbility Partnership had the opportunity to reach out to the NC Community at two different events: the Southern Farm Show, February 1-3, and the Successful Small Farms Opportunities Conference, February 25. More
Nebraska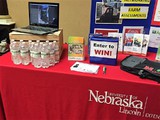 Nebraska AgrAbility team members Emily Freudenburg, rehabilitation specialist, and Susan Harris-Broomfield, Extension educator in rural health, wellness, and safety, presented at the annual Nebraska Women In Agriculture conference in February. More
The Nebraska AgrAbility Advisory Committee met in Kearney on February 22 with 14 members attending. Members included vendors, providers, and clients. More
Nebraska AgrAbility is preparing to hold a workshop for occupational and physical therapists in April in northeastern Nebraska. This workshop is designed to educate the therapists about the special needs of rehabilitating farmers and ranchers. More
Susan Harris-Broomfield will be representing Nebraska AgrAbility at the 29th Annual Governor's Ag Conference March 14th and 15th in Kearney. More
Ohio
Ohio AgrAbility Program (OAP) staff has joined the Ohio State University Extension Opioid Crisis Working Group in their efforts to develop and promote educational outreach activities to combat prescription drug abuse in Ohio. More
Pennsylvania
Penn State students in agricultural fraternities, a sorority, and several clubs, held a fundraising drive and dinner at University Park that raised nearly $1,000 for a farmer with a disability. More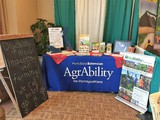 AgrAbility PA staff participated in the 26th Annual Farming for the Future Conference hosted by the Pennsylvania Association for Sustainable Agriculture (PASA). More
AgrAbility PA staff met with orchard growers at the 2017 Adam's County Grower Meeting hosted by Penn State Extension. More
AgrAbility PA staff also made the rounds at many of Penn State Extension's Dairy and Crop Day events throughout the state. More
Tennessee
Tennessee AgrAbility (TAP) is ready to host the NTW in Knoxville next week! They are still recruiting new technology for the AT Expo.

TAP is proud to have eight sessions at the NTW representing Tennessee: UT Manage, Horticultural Therapy, PTSD, TN New Farmer Academy, Drones, Chicken Production (Coops for Troops), Farm Land Forever - Legacy Planning, panel discussions, and several farmers coming to learn.
Thanks to TN Poultry Association and Pilgrims for their sponsorship of speakers. TAP is excited to report that Mike Trost will be back home in TN and attending the NTW also.
TAP exhibited at the Pick TN Conference in Franklin, TN. More
Tennessee AgrAbility spoke at the Lincoln Co. Soil Conservation annual banquet. They also had an AgrAbility exhibit at the West TN Grain Conference and TN/KY Tobacco Expo.
Staff submitted their proposal for a four-year AgrAbility grant! They are hoping they can continue serving Tennessee farmers.
TAP participated in the Virtual NTW with excellent speakers.
Texas
Angela Moore, Texas AgrAbility Project, recently spoke to 86 people at a Small Acreage Horticulture Workshop in Crockett, TX, led by Prairie View A&M Extension Agent Corey Hicks. She also shared at a Feral Hog Workshop in Needville, TX, led by Prairie View A&M Extension Agent Derrick Banks. More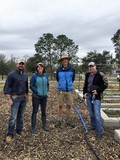 Erin Kimbrough and BJ Leggett presented "Resources for Veteran Farmers/Ranchers" for the AgrAbility National Virtual Training Workshop.
Staff Erin Kimbrough and BJ Leggett visited HOPE Farms in Houston, Texas, to discuss their operation and the possibilities for hands-on farming education on site.
Utah
AgrAbility of Utah joined a number of other agricultural vendors and service providers to offer program outreach and education at a series of soil health workshops throughout the state. More
AgrAbility of Utah conducted outreach at the annual Castle Valley crop classes in Price, UT, on February 8. AgrAbility resource facilitators were able to meet with a number of area farmers who attended to learn about the latest options for weed management and soil health.
AgrAbility of Utah attended the 2017 Beef Cattle Field Day February 14 at the BYU Harman Conference Center in Provo. More
Vermont
Vermont AgrAbility continues its peer-to-peer service, which includes many things,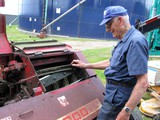 but mainly matches farmers who have newly acquired disabilities with farmers that have previously acquired these disabilities and continue to farm with them.
One particular peer support person in Vermont is Merton Pike, 94 years old and a double amputee since 1974... More
Virginia
In February, AgrAbility Virginia had the great opportunity to have one of its clients featured on the local Fox News Agriculture Programs. Billy is almost 80 and is dealing with post-polio. More
Wisconsin
AgrAbility of Wisconsin staff hosted a booth at the MOSES Organic Farming Conference where over 3,000 organic farmers and future farmers attended. More
West Virginia
The West Virginia AgrAbility team has been busy during February with the many legislative and workshop events planned during the late winter and early spring.
Outreach and education to West Virginia's lawmakers was provided during the Department of Agriculture and Farm Bureau days at legislature. More
Inetta Fluharty represented West Virginia AgrAbility at the WV Small Farm Conference. More
West Virginia Agriculture Commissioner Leonhardt states, "Safety, no matter the profession, should always be a priority, and the classes offered during these Farm Safety Days are proven to help reduce any potential risk to injury." More
During the month of February, Inetta Fluharty met with Agriculture Commissioner Leonhardt concerning issues with funding for assistive technology and modifications for AgrAbility clients. More
Staff Changes
NAP
Robert Turner began working for the National AgrAbility Project in 2017 on special projects. He has a bachelor's degree in education from Purdue University and a master's degree in cross-cultural Christian education from Columbia International University.  He worked at an international high school in Taiwan for 18 years as a teacher, boarding supervisor, and school administrator. Robert also works with his family farm in Indiana in the production of corn and soybeans.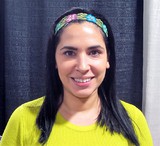 Adriana Escarpita is currently working with the NAP as part of her capstone OT project. She is an occupational therapy student soon to graduate with a doctorate (OTD) degree from MGH Institute of Health Professions in Boston. Though born and raised in Chicago, Adriana has a specific interest in agricultural health. Her family comes from a rural town in Mexico and has a long history in farming and ranching. Adriana is interested in the role rehabilitative professions such as OTs can play in agriculture. She believes occupational therapy's philosophy on occupation aligns well with AgrAbility's vision to assist farmers with disabilities continue to farm and help improve their quality of life.
Michigan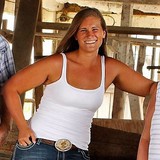 The Michigan AgrAbility program has been very fortunate to have Tia Schrader join their efforts to serve Michigan farmers. Tia attended the regional AgrAbility meeting in Frankenmuth and volunteered with Michigan AgrAbility on the spot. Tia was born and raised on a grain farm in Northeast Indiana. She attended Olivet Nazarene University and graduated with a B.S. in exercise science and minor in psychology. She currently is a 2nd year DPT student at the University of Indianapolis. Upon graduation, she hopes to work with the geriatric population, teach at Western Michigan University, get a PhD, do research in physical therapy, and continue to work with AgrAbility.
AgrAbility in the News
Click here for news stories featuring AgrAbility projects.
Kelly Florell-Hydrabed demonstration
02-06-17 Brady Haynes: AgrAbility Program Helps Ag Workers with Disabilities
Texas AgrAbility launches new program to educate veterans
Statewide program for agricultural workers with disabilities gains support
AgrAbility program helps veterans
AgrAbility to host national training workshop on disabilities in agriculture
AgrAbility Summit March 15
No stopping him now: Austin Yaworsky's new track chair
Explora Extensión Cooperativa, Salud Crónico, ¡y mucho más!
PSU students raise funds for a young beef farmer with a disability
¡Explora estas ideas y mucho más!
Fighter to Farmer 2017: The Popular Contest Is Back!
Maximizing hand health
Other News
Click here for other news of interest to AgrAbility staff members.
New Guide Simplifies Federal Programs for Farmers
Healthy Cracker Recipe
$60M in grants for specialty crops
Scholarships available to Angus youth
Farmer testifies for specialty crops
How this son of migrant farm workers became an astronaut
Magic cover crop carpet?
Fewer grain dust explosions reported nationwide in 2016
Rising demand for organic grains
Bee decline threatens crop production
Save the bees? There's an app for that
Upcoming Events
Click here for professional development events related to AgrAbility
.
Problems? Contact Chuck Baldwin, National AgrAbility Project, baldwi19@purdue.edu