November 2017
National AgrAbility Project News
Don't forget to save the date for the 2018 NTW in Portland, Maine, March 19th-22, at the Westin Portland Harborview Hotel www.westinportlandharborview.com 
We have a robust agenda created and are working on getting registration and the NTW website up and running.  Watch for registration to open soon.
NTW STIPENDS: A reminder that SRAPs are to pay for at least one farmer/rancher with a disability to attend the 2018 NTW before requesting NAP funding. More
SRAPs are strongly encouraged to notify their farmer/rancher clients to apply as soon as possible for stipends for the upcoming 2018 NTW. Click here to access the Farmer/Rancher Travel Stipend Application form.
As you are out and about visiting clients, it isn't too early to consider stopping in at a local business to solicit auction donations and sponsorship dollars. They may also want to consider being a vendor at the NTW. 
We will be auctioning state baskets with raffle tickets again this year.  It was a big hit last year, so start thinking about your state's basket. More
AgrAbility Virtual NTW: January 23-25. Remember to submit your webinar proposals and complete the web poll on session preferences by December 1.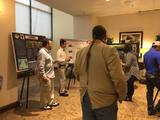 Paul Jones represented AgrAbility in Arlington, VA at the 2017 FALCON (First Americans Land-grant Consortium) conference of tribal colleges and universities on November 4-6. More
The National AgrAbility Project exhibited with nine other health and safety organizations at the 2017 National FFA Convention in Indianapolis, Indiana. More
Chuck Baldwin, NAP special populations outreach coordinator, helped staff the AgrAbility booth shared by AgrAbility of Wisconsin at the World Dairy Expo in Madison, WI, October 5-6, 2017. More
Bill Field and Paul Jones met with representatives of Catholic Relief Services, who were visiting Purdue, on October 17 to share AgrAbility's vision and discuss potential for international impact.
The NAP will be moving to a different building soon, and we don't want to move all of old resource publications. We are offering complimentary sets of the Plowshares technical articles and plan to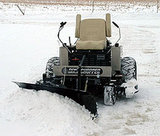 have additional offerings in the future.
Toolbox Spotlight: The Trac-Vac Mower-Mounted Snow Blade (available in 50- or 60-inch widths) attaches to most zero-turn riding mowers without having to remove the deck.
State and Regional AgrAbility Project News
California
CalAgrAbility and Ability Tools hosted a webinar titled, "APRIL, CalAgrAbility and CILs in California Serving Rural People with Disabilities". More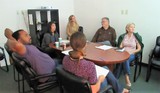 CalAgrAbility staff visited the Farmer Veteran Coalition at their headquarters in Davis. CalAgrAbility staff informed FVC staff about different collaborations CalAgrAbility has had over the years... More
CalAgrAbility staff attended the Veteran Farmer Outreach in Butte County at Butte College where around 5-10 veterans attended. More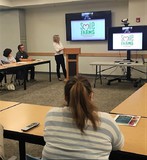 CalAgrAbility presented at the 2017 Disability Awareness Month celebration at the USDA State Office. Presentations from CalAgrAbility, Smile Farms, and WorkAbility were streamed live to USDA regional offices across the state. More
Michael O'Gorman from the Farmer Veteran Coalition (FVC) presented at the Western Center for Agricultural Health and Safety Monthly Seminar Series. More
Colorado
Colorado AgrAbility obtained a grant earlier this year from the Christopher & Dana Reeve Foundation to conduct spinal cord injury workshops in rural Colorado, and staff have now accomplished the first two of those. More
Read a great article on Colorado AgrAbility in the Free Range Report here.
Colorado AgrAbility also had one of its first Hispanic farmworker clients, who is an amputee and having problems operating a skid-steer. More
Georgia
AgrAbility in Georgia co-sponsored a series of produce food safety workshops for military veterans. More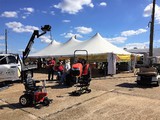 Staff attended the Sunbelt Agricultural Exposition on October 17-19, 2017, in Moultrie, Georgia. More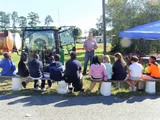 Georgia AgrAbility staff presented at the University of Georgia's Agriculture and Environment Awareness Day on the Tifton campus on October 24. More
Illinois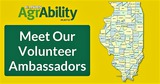 Illinois will be hosting ambassador trainings on November 14, 16, and 17, at various locations throughout the state. Unique to AgrAbility state models, the Illinois AgrAbility program does the majority of its outreach through volunteer county ambassadors. More
AgrAbility Unlimited also attended the Illinois Transitions Conference hosted by its partner, the Illinois Assistive Technology Program.
Indiana
Steve Swain and Linda Tarr each attended a regional Rehabilitation Hospital of Indiana Brain Injury and Resource Facilitation Conference. More
Steve Swain, Indiana rural rehabilitation specialist, attended the Purdue Extension agriculture and natural resources educators' retreat and training.
Steve Swain, Indiana rural rehabilitation specialist, and Cindy Chastain, AgrAbility veteran outreach coordinator, presented to 25 Purdue agriculture and natural resource Extension educators about AgrAbility and veterans as part of the Purdue Beginning Farmer/Rancher Development Program. More
Barry Delks, former Indiana AgrAbility/Breaking New Ground project manager, received special recognition at the October 31 Indiana AgrAbility advisory team meeting, as recipient of the Breaking New Ground Achievement Award. More
Life Essentials was also featured during the advisory team meeting, as Kathy Smith, Hubert Von Holten, and Bill Begley gave a 30-minute demonstration of technologies like a new fold-up scooter that can be used for airplane travel. More
Kansas
Kansas AgrAbility sponsored booths at the 3i Farm Show in Dodge City, KS, October 12-14, and at the Mother Earth News Fair in Topeka, KS, October 21-22. Big thanks to KAP partner Assistive Technology for Kansans for supplying booth workers.
Kansas AgrAbility AT ag specialists presented to 36 Kansas rehabilitation counselors on Oct. 17. The presentation focused on AgrAbility services and how Vocational Rehabilitation and AgrAbility work together for consumer success.
Kentucky
Wow!! The weather has changed in Kentucky! As October closed and Kentucky AgrAbility looked back on the first 10 months of 2017, they realized that much has been accomplished this year.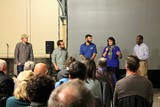 Mike Lewis, as the new program director, jumped in with both feet and is getting the message about KY AgrAbility out to many people around the state. More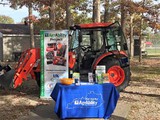 The demonstration tractor was a hit at the Powell County Farm Day in October. Superior Van and Mobility's open house in Lexington and at their new facility in Louisville, allowed for talking to possible consumers and vendors.
The Kentucky Congress on Spinal Cord Injury met at Cardinal Hill Rehabilitation Learning Center in Lexington to discuss new treatments for SCI and other disabilities and to map out strategies for making Kentucky parks and buildings more accessible for those with disabilities.
The month of November will have the second of the ag and natural resources agent trainings in western Kentucky. More
The Third Thursday event at KSU will provide another opportunity for bringing the KY AgrAbility program to the attention of the attendees.
The end of November is the annual KY Farm Bureau Convention at the Galt House in Louisville. The staff will be exhibiting at the conference, which allows for meeting new consumers and catching up with ones that they have helped in the past.
December will have KY staff meeting with clients and talking to groups that have invited AgrAbility to speak to them about safety and the ways that AgrAbility can help them.
Have a good Thanksgiving!
Maine
Preparations for the 2018 NTW continue in Maine! Maine AgrAbility has been scouting locations for exciting Thursday farm tours and potential Monday tours. More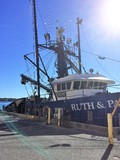 Project Coordinator Lani Carlson attended the 2018 Trawl to Table event sponsored by the Gulf of Maine Research Institute on October 20, 2017. More
Lani Carlson also presented FishAbility to about 50 people at a Shellfish Working Group meeting. The group gathered to learn about innovations in scallop harvesting techniques from Japan.
Richard Brzozowski attended the board of directors meeting of the United Farmer Veterans of Maine (UFVM) on Thursday, October 5, in Bangor. More
Dan Vigue, of Goodwill, hosted an open farm day at his sister's farm and shared information about AgrAbility throughout the day (between moving chicken coops and fences...).
Ellen Gibson, of Goodwill, attended the Maine Cheese Festival in Union, Maine. More
Ketra Crosson, of Alpha One, handed out FishAbility and LogAbility brochures to staff members at a monthly Alpha One staff meeting. The program brochures can be found on the Maine AgrAbility website: https://extension.umaine.edu/agrability/
Missouri
Missouri AgrAbility hosted the veteran track at the Brain Injury Association 13th Annual Statewide Professional Conference, October 5-7, 2017, at the Marriott St. Louis West, Main Ballroom, in St. Louis, Missouri. More
Karen Funkenbusch facilitated a livestock safety and health interview for the November 2017 Livestock Vet-Advantage digital vet advantage magazine.
On October 18, 2017, Missouri AgrAbility staff, Karen Funkenbusch and Abby Yarick, along with Level II AgrAbility Onsite Assessor David Middleton and Vocational Rehabilitation Counselor Jennifer Wynne, visited a young farmer with a spinal cord injury in the Daviess County area to facilitate an onsite farmstead assessment. More
AgrAbility staff conducted four verifiable fee-for-service, onsite farmstead assessments with assistance from Vocational Rehabilitation (VR).
The Brain Injury Association of Missouri highlighted The Missouri AgrAbility Project at its annual statewide conference with a presentation by Karen Funkenbusch on "Veterans Gaining Ground in Agriculture." The evaluations were exceptional.
Kelly Cochran, PharmD, BCPS, will present an AgriSafe webinar tilted, "Pharm to Farm: Partnerships to make clinical pharmacy services available to Missouri farmers," on Thursday, December 7, from 12-1 p.m. CST. More
University of Missouri-Kansas City School of Pharmacy, a Missouri AgrAbility collaborator, recognized Kelly Cochran as 2017 Preceptor of the Year. Dr. Cochran leads the Pharm to Farm advanced pharmacy practice experience where student pharmacists are trained to deliver on-site farmstead medication assessments to AgrAbility clients.  
North Carolina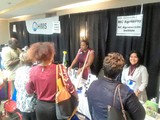 NC AgrAbility participated at the 2017 Global Rehabilitation Enhanced with Assistive Technology (GREAT) Conference October 18-20 in Wilmington, NC. More

Nebraska
The Nebraska Extension ATV simulator made its debut with training for AgrAbility staff members who will be using it as an educational tool around the state. More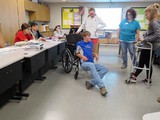 Emily Freudenburg went to Wayne Public Schools and taught over 90 students about living with a disability.
Rod Peterson attended a beginning farmer meeting in Ashland where it was reported that Chapter 12 bankruptcy filings are showing an increase in Nebraska this year. More
Rod did an AgrAbility presentation at a combined board meeting of the Visiting Nurse Association and Easterseals in Omaha. A number of business leaders from the Omaha area attended.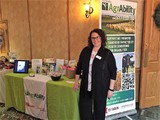 Emily and Susan Harris-Broomfield attended Nebraska Extension's Front Door Forum, gave a five-minute presentation about the program, and provided information at a booth. More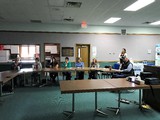 Emily and a past client shared about the importance of the AgrAbility program for NRCS offices throughout Nebraska in honor of Disability Employment Awareness Month. More
Rod and Emily attended the Easterseals Nebraska retreat and were educated on the on benefits programs that Easterseals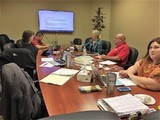 offers. For more information on these programs, visit www.easterseals.com/ne/.
There was a Nebraska all-staff meeting in October to begin preparing for the next grant cycle.
Ohio
Ohio AgrAbility staff participated in the first annual McCormick Vision Fair, hosted by the Goodwill Easter Seals of Miami Valley in Dayton, Ohio. More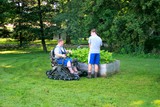 Ohio AgrAbility staff presented "Ohio AgrAbility and Family and Consumer Sciences: Collaborating to Serve Ohioans with Disabilities" at the annual family and consumer sciences conference. More

Pennsylvania
AgrAbility PA and the Natural Resources Conservation Service are working to strengthen their relationship to provide needed services to Pennsylvania farmers. More
The Pennsylvania Occupational Therapy Association held their annual conference on October 6 & 7, 2017 with AgrAbility's participation. More
AgrAbility PA staff provided a presentation to members of PA CAREs, a group that meets monthly to promote and increase services for veterans. More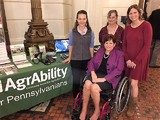 AgrAbility PA staff joined PA State Senator Christine Tartaglione for Disability Awareness Day in Harrisburg at the State Capitol building. More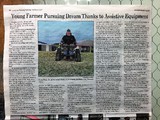 AgrAbility PA client Ryan Frye has had quite a month in the spotlight for his persistence and determination to continue farming despite a spinal cord injury at age 19 that left him paralyzed. More

Tennessee
TN AgrAbility staff hosted a session at Ag in the Foothills Field Day 2017. Topics included AgrAbility, farmer veterans, and beginning farmers. It was a great day of networking, sharing vision and planning.
Tennessee AgrAbility PI Tim Prather attended the Sunbelt Ag Expo in Moultrie, GA. Tennessee was honored to be the "spotlight state" at the 40th annual Expo. More
While staff member Joetta T. White was on leave due to knee replacement, farm safety presentations were covered by UT TSU Extension staff.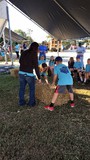 Gibson County 4-H agents Katelyn Barker and Carrie Joyner presented the proper way of lifting and the importance of stretching to 12 classes of Weakley County 5th graders, using hay bales for demonstration.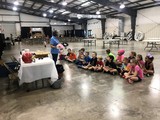 Decatur County FCS/4-H/County Director Charlotte Moore demonstrated the importance of helmet safety, using the egg helmet demonstration. More
After Decatur County finished its safety day; Hickman County Director Troy Hickman used the egg helmet demonstration at his youth safety day. More
Tennessee staff launched the Tennessee Beginning Farmer Development Program web-page and Facebook page. More
Dr. Temple Grandin, friend of AgrAbility and a keynote speaker at the NTW in Colorado, came to Tennessee. Dr. Grandin is a professor of Animal Sciences at Colorado State University. More
Texas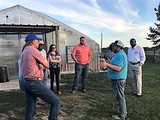 Texas AgrAbility hosted a farm tour at VegOut Farms in Pattison, Texas, on October 20. Brenda and Jeff Koch showed 32 attendees through their hydroponics operation. More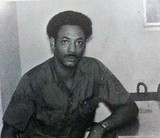 The Prairie View Battleground to Breaking Ground Ag Workshop was held on October 21. Forty-four veterans and beginning farmers and ranchers attended... More

Utah
AgrAbility of Utah staffed a booth at the Utah Center for Assistive Technology Open House on October 26 in Salt Lake City. Staff also gave a presentation about AgrAbility services. More
In October, AgrAbility of Utah staff continued providing educational presentations to Utah State Office of Rehabilitation (USOR) districts with a presentation at the Davis District VR office in Centerville on October 4. More
Virginia
As noted in the August e-Note, the AgrAbility Virginia team has entered the first-year phase of the National Science Foundation (NSF) three-year grant grant titled "Affordable Flexible Robotic Technology to Enhance Work Performance of Farmers with Mobility Restrictions". More
Vermont
Vermont AgrAbility was saddened by the passing of one of its staff members, Patrick Fitzgerald, who worked with Vermont Center for Independent living for a number of years and served the AgrAbility project as an AT and data specialist. He will be greatly missed.
Vermont AgrAbility has become heavily involved with the Vermont Farm Health and Safety Coalition, piloting a model for new county-based collaborations to provide agricultural medicine primary care services using trained practitioners.
West Virginia
The West Virginia Community Education Outreach Service (WVCEOS) Annual Conference was held at Jackson's Mill State 4-H Camp October 3-5, 2017. More
Disability awareness was presented to 520 youth during the Mercer County Progressive Farm Safety Day. WV AgrAbility staff discussed people-first language and why "handicapped" should not be used to describe a person with a disability. More
West Virginia AgrAbility staff exhibited at the West Virginia Women in Agriculture Conference held at Camp Dawson, October 19-21, 2017. More
Staff Changes
Missouri
Please welcome Jaime C. Piñero, Ph.D., associate professor/state IPM specialist, Lincoln University Cooperative Research and Extension, who has been appointed interim program leader for the Innovative Small Farmers' Outreach Program and will oversee Lincoln University's role in the MO AgrAbility project after Dr. K. B. Paul retired.
Nebraska
Aaron Yoder is now the Nebraska AgrAbility P.I., and Mark Riley serves as an Advisor.
West Virginia
West Virginia would like to welcome two new members to our AgrAbility team. Annette Ericksen, assistant program director, agriculture and natural resources, with West Virginia State University, and Doug Cumpston with West Virginia Assistive Technology Systems.
AgrAbility in the News
Click here for news stories featuring AgrAbility projects.
AgrAbility helps meet needs of ag workers with disabilities
AgrAbility Helps Ag Workers with Disabilities Succeed
Arthritis Project and Ohio AgrAbility's Involvement
Mental toughness and technology unite to keep paralyzed farmer on his land
Assistive Technology for Agriculture
Gardening Forever talk at UMaine Extension
AgrAbility networking session slated Nov. 29
Colorado 'AgrAbility' program helps people with disabilities work in agriculture
New program to help veterans, others who want to become farmers
Other News
Click here for other news of interest to AgrAbility staff members.
Incorporating Health Insurance and Health Care Into Farm and Ranch Viability and Risk Management
Go-Anywhere Wheelchair
APPRENTICESHIPS/JOBS
Foreign Agricultural Service (FAS) of USDA accepting applications to take its Foreign Service Officer Assessment
Ind. veteran/farmer wins free compact tractor
2016 Indiana farm fatalities most since 1990
Cultivating future scientists and leaders
How can NRCS help you?
Farmers can cut energy bills through audit
USDA invests in diverse ag science workforce
NYFC helping farmers buy land
New organic management resource available
Breaking the grass ceiling: FFA draws women to ag careers
Upcoming Events
Click here for professional development events related to AgrAbility
.
Problems? Contact Chuck Baldwin, National AgrAbility Project, baldwi19@purdue.edu