February 2016
National AgrAbility Project News
NTW Updates: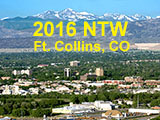 Watch your inbox for the "Register Now" email, which will announce that registration is open. It should be coming early this week.
Make your hotel reservations by March 11 to ensure the group discount.
Join AgrAbility as we celebrate the program's 25th anniversary! There are multiple ways that you can help to spread the word about

AgrAbility's mission and impact. More
Check out the first of AgrAbility's 25 Years, 25 Stories:
Ruby Davis: Overcoming arthritis to promote healthy living
AgrAbility Webinar Series: Urban Agriculture: An Overview with Special Emphasis on People with Disabilities and Veterans. Thursday, February 25, 2016, 3:00 p.m. EST. Register by Monday, February 22. More
The NAP participated in the National Farm Machinery Show in Louisville, KY, February 10-13. The exhibit included an accessible tractor and an Action Trackchair provided by Life Essentials.
Nationally funded AgrAbility partner, the Arthritis Foundation Heartland Region, participated in the National Farmers Union Women's Conference in Clearwater Beach, FL, January 23-27, 2016. More

Toolbox Spotlight: An Off-Road Vehicle-Towed Planter is designed for sowing seed into farm small-acreage tracts, large gardens, and wildlife food plots. Most accommodate the hitching and hydraulic systems of ATVs, UTVs, garden tractors, and riding mowers.
Click here for the schedule of upcoming Community of Interest and Standing Committee call information.
State and Regional AgrAbility Project News
California
CalAgrAbility attended the Veteran Partners Meeting, hosted by the Natural Resources Conservation Service (NRCS) on January 13.
Staff attended the Women's Leadership Conference at the Mexican Consulate in Sacramento, CA, on January 16. More
Members of CalAgrAbility attended the webinar, Increasing the Use of Hearing Protection Among Farmers, presented by Marjorie McCullagh from the University of Michigan, School of Nursing, on January 20. More
The Farm Worker Appreciation Day Fair in Mendota, CA, was attended by CalAgrAbility on January 29. Staff was able to reach out to roughly 200 farm workers and their families.
Francisco Castro, a CalAgrAbility client, was helped to procure a prescription from Clinica Tepati in Sacramento, CA, to assist his minor illnesses.
CalAgrAbility continues to be active on Twitter.
Colorado
Colorado AgrAbility attended several agriculture-related shows. Of course the biggie, the National Western Stock Show, is always a great event. AgrAbility staff made some good connections and networked with vendors of products that may be of value to their clients.
Colorado AgrAbility also went to the Colorado Farm Show. There were many shiny new tractors and people to talk to about AgrAbility. Many brochures were passed out and contact details of possible clients were collected.
Georgia
In partnership with Fort Valley State University's (1890) graduate program in rehabilitation counseling and case management, the Georgia AgrAbility project is serving as a practicum/internship site for two graduate students this semester. More
Staff spoke at two events in January sharing the AgrAbility in Georgia story. More
AgrAbility in Georgia is planning a two day workshop for the Georgia Department of Vocational Rehabilitation Assistive Work Technology (AWT) staff. More
AgrAbility in Georgia is working with several veterans who are starting small-scale farming enterprises. AgrAbility of GA has been successful in getting over $3,000 in organic soil donated to help start their new businesses.
Indiana
Amber Wolfe, Arthritis Foundation, assisted the Indiana AgrAbility project by staffing a booth on January 13th at the Fort Wayne Farm Show. Amber also presented a one-hour session on arthritis and agriculture at the show in one of the educational rooms.
Amber Wolfe provided a three-hour training on AgrAbility, assistive technology, and farm safety, to the Indiana FFA State Officer Team at the FFA Center in Trafalgar, IN, on Thursday, January 21st. This will be a recurring training for each set of newly-elected state FFA officers.
Amber Wolfe is attending all five of the regional meetings of the Indiana Dairy Producers, and is working to present pilot trainings on arthritis, assistive tools, and prevention, for dairy workers with Spanish as their first spoken language. More
Linda Tarr has been busy in Southern Indiana attending Indiana Beef Association area meetings in Sellersburg (Area 2) and Ft. Branch (Area 3), the trade show at the Indiana Soil and Water Conservation annual conference in Indianapolis, and the Soil and Water Conservation District annual meetings in Warrick and Perry counties.

Kansas
Kansas AgrAbility assisted the Farmer Veteran Coalition of Kansas with its first two trade show exhibits as an official FVC state chapter. Those exhibits were at the Topeka Farm Show, Jan. 5-7, and the Great Plains Growers Conference in St. Joseph, MO, Jan. 7-9.

Maine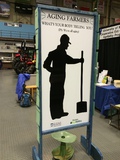 Maine AgrAbility staff and advisory council members spent three days at the 75th Annual Agricultural Trades show. The theme of the booth was 'Aging Farmers: What's your body telling you?' More
Maine AgrAbility attended the 2016 Grow Maine Green Expo on January 20, 2016, the annual meeting for the Maine Landscape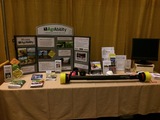 and Nursery Association and the Maine Arborist Association. More
Maine AgrAbility had a booth at the two-day Potato Conference in Caribou, Maine. More
Michigan
Michigan AgrAbility would like to thank The Andersons for a very generous donation to further their mutual goal: helping farmers, farm families, and farm workers to be productive, profitable, and safe. Thus far, two Michigan AgrAbility clients are beneficiaries of this donation - one client will receive a bale slicer and the other client will receive equipment to assist him in his sheep operation.

Missouri
MO AgrAbility participated in an informative meeting with the Agricultural Employment Services, Cultivating the Workforce program offered by Missouri Department of Economic Development to discuss how AgrAbility clients can tap into their FREE employment service. More
AgrAbility displayed and passed out chronic health and safety resources at the Missouri Ag Expo, one of the largest ag trade shows in the Mid-South, which celebrated its 30th anniversary in January at the Black River Coliseum in Poplar Bluff, MO. More
Karen Funkenbusch, Rebecca Mott, Kimberly Keller, and Jo Britt-Rankin, submitted an abstract, that was accepted to the 32nd Annual Pacific Rim International Conference on Disability & Diversity, Honolulu, HI - April 25 & 26, 2016. More
Missouri Farm Bureau, AgrAbility's partner in Missouri, partnered with the Farmer Veteran Coalition, Farm Credit Council, USDA Farm Service Agency, and Niman Ranch, to host a farm profitability boot camp geared for farmer veterans and other farmers. More
MO AgrAbility staff members Karen Funkenbusch, Willard Downs, and Gabe Nicolazzi, health science intern with the Missouri AgrAbility Program, assisted with reviewing Arthritis and Gardening, A Guide for Home Gardeners and Small-Scale Producers booklet.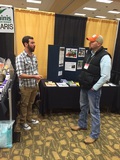 David Middleton, Shon Bishop, and Phillip Boydston, Lincoln University Cooperative Extension farm outreach workers with the Innovative Small Farmers' Outreach Program and partner with Missouri AgrAbility Program, showcased AgrAbility and disseminated health and safety resources at the 20th Great Plains Growers Conference and Trade Show. More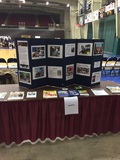 David Middleton and Randy Garrett, Lincoln University Cooperative Extension farm outreach workers with the Innovative Small Farmers' Outreach Program and partner with Missouri AgrAbility Program, manned the AgrAbility booth and talked to many Missourians at the Bringing Back the American Small Farm conference. More
At the Webb City Winter Vegetable Conference, David Middleton talked about AgrAbility, displayed materials, and interacted with attendees by facilitating questions.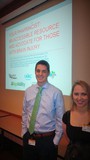 University of Missouri-Kansas City School of Pharmacy, a Missouri AgrAbility (MAP) collaborator, included two student pharmacists in MAP activities throughout January, Alicyn Wyatt-Matruder and Alex Schmuke. Read their stories and how they helped AgrAbility. More
University of Missouri-Kansas City School of Pharmacy, Missouri AgrAbility collaborative partner, was notified of Central States Center for Agricultural Safety and Health (CS-CASH) funding for a project entitled: Evaluation of Medication-Related Agricultural Injury among Missouri Farmers. More
Pharm to Farm and Missouri AgrAbility flyers were shared with a representative of the Missouri Veterans Career Center to foster potential rural health and safety collaborations with the Disabled Veterans Outreach Program.
The Brain Injury Association of Missouri participated in the Missouri Injury and Violence Prevention Advisory Committee (MIVPAC) meeting comprised of community partners and the Department of Health and Senior Services. More
Karen Funkenbusch and Maureen Cunningham met with Missouri AgrAbility intern Gabe Nicolazzi to outline his responsibilities to further Missouri AgrAbility Project's Brain Injury Fact of the Day media campaign exhibit at Western Farm Show, and more.
North Carolina
North Carolina Assistive Technology Program (NCATP) Director Tammy Koger presented at the "Bridging the Informational Resources Gap: Connecting Farmers and Veterans to USDA Programs" representing NC AgrAbility. More
The North Carolina AgrAbility Partnership (NCAP) participated in the North Carolina Agritourism Networking Association's 10th Annual Agritourism Conference in Winston-Salem, NC, January 14-15, 2016, through displays, sponsorship and lectures. More
Nebraska
As part of its goals for sustainability, the Nebraska AgrAbility team met for a working retreat to set goals, work on their electronic media, and revise their marketing plan. More
Emily Freudenburg, rural rehab specialist, attended the Cow/Calf College at UNL's Meat Animal Research Center in Clay Center, NE. More
With a focus on serving more veterans, Rural Rehab Specialists Rod Peterson and Emily Freudenburg attended an online Military One Source Training. The class included how to discuss with veterans what care they need, how to obtain services, and resources available.
Nebraska Methodist College has become the fourth school to work with Nebraska AgrAbility in mentorship programs with their students. The two have finalized their MOU and will begin partnering, with OT fieldwork student experiences, in spring of 2016 and professional rotations in the fall.
Ohio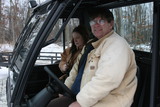 Team: a group of people ( two or more) with different skills, abilities and backgrounds, working together with a common goal.
Goal: ambition or effort; an aim or desired result.
The team of AgrAbility exhibits the definition of "Team." More
Pennsylvania
AgrAbility for Pennsylvanians (AgrAbility PA) teamed up with Penn State Ag Safety, the Amish Safety Committee, the PA Office of Rural Health, and the New York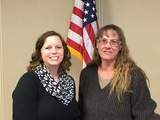 Center for Ag Medicine, at the 2016 Keystone Farm Show. More
AgrAbility PA partnered with PA's Department of Agriculture at the 100th annual Pennsylvania Farm Show in Harrisburg on Jan. 14 for Veterans and Active Military Day. More
Tennessee
Staff attended Progressive Safety Day training in Bowling Green, KY, to coordinate and host future safety days in 2016. More
TN AgrAbility exhibited at the Tennessee Veterans and Business Association Expo in Knoxville, TN, with over 120 exhibitors and 2,000 attendees, and networked with valuable resources from veteran-focused groups and veteran-owned businesses.
TN AgrAbility is promoting AgrAbility at the Farmers Market Bootcamps for vendors across the state in January and February.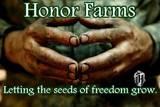 TN AgrAbility is excited to share and wish a BIG Congratulation to Ralph "Malachias" Gaskin and his family for their new Honor 22 farm. More
Texas
Texas AgrAbility conducted training in January for our partner and their agents at Prairie View A&M University. The training provided education on what AgrAbility is, what services we provide, how AgrAbility helps producers, and how agents can refer producers to us.

Virginia
AgrAbility Virginia is working a second semester practicum program with the Deming College of Health Sciences in Fishersville, VA. The first Deming team assisted AgrAbility Virginia with a marketing plan. The second semester team will assist in developing fundraising for an assistive technology fund.
AgrAbility Virginia has written their first e-newsletter of 2016: the AgrAbility Virginia E-News No. 1, 2016. It is intended to be informative and inspirational. This edition includes two client stories, AgrAbility Virginia news and updates, plus an introduction to new staff member Crystal Kyle.
Vermont
Vermont AgrAbility was part of the Vermont Farm Show January 26-28 at the Expo Center in Essex Junction, Vermont. More
Vermont AgrAbility recently worked with a farmer to obtain a bale un-roller. More
Wisconsin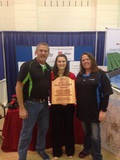 AgrAbility of Wisconsin received the Spirit of Bob Henry Award, presented by the Henry family, at the Midwest Farm Show in La Crosse, WI, on Wednesday, January 13. More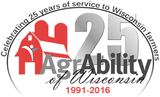 2016 marks 25 consecutive years of service to Wisconsin farmers for AgrAbility of Wisconsin! More
AgrAbility staff attended the Wisconsin Farmers Union Conference January 29-31. More
West Virginia
Melissa Stewart and Inetta Fluharty are representing WV AgrAbility on the 2016 National Training Workshop Planning Committee.
WV AgrAbility conducted two farm site assessments and is working with WV Division of Rehabilitation Services on securing funding for the needed agricultural modifications. More
WV AgrAbility was represented at the "Agriculture and Conservation Day at the Legislature" at the state capitol in Charleston, WV. More
WV AgrAbility was represented at the WV Honey Bee Expo in Parkersburg, WV. More
Staff Changes
California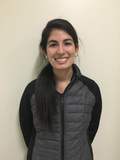 CalAgrAbility welcomes Marianelly Lopez!
Missouri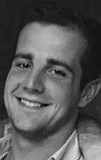 Please welcome Gabe Nicolazzi to the Missouri AgrAbility Program. Gabe is a senior at the University of Missouri-Columbia pursuing a degree in health science with an interest in public health. During his four years he became a member of the Pi Kappa Phi fraternity and held an executive position as an historian. He also played lacrosse for the university's club lacrosse team. He's currently interning, at MU extension department located on campus, with the Missouri AgrAbility Program. Gabe is graduating May of 2016 and plans to obtain a master's in public health.
Pennsylvania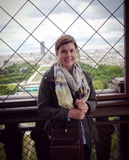 AgrAbility PA is pleased to welcome Colleen Pease to our team. Colleen has come on board to help accomplish the Share the Science project efforts. She will be identifying data that may be included in documents to share with legislators (federal and state), public news outlets, stakeholders, administrators, commodity groups, and AgrAbility clients/customers. Colleen received a bachelor's degree in agricultural science, with a focus in agricultural communications and international agriculture, from the Pennsylvania State University. She interned in Penn State's Marketing and Communications Department in the College of Agricultural Sciences as a writer, and with Penn State's Continuing Education Office as a volunteer teacher's aide for the Kids in College summer program. Colleen is excited to join AgrAbility PA and to use her communication skills to help promote the project.
AgrAbility in the News
Click here for news stories featuring AgrAbility projects.
AgrAbility planning 25th anniversary activities
AgrAbility Virginia helps farmers continue to do their jobs
Webinar focuses on urban agriculture for military vets, farmers with disabilities
AgrAbility Project: Promoting Success in Agriculture for People with Disabilities and Their Families
12-29-15 CO AgrAbility's Winter Workshop Schedule for 2016...
Assistive Technology Resources National AgrAbility
AgrAbility for Pennsylvanians
Living well with arthritis
AgrAbility workshops set
AgrAbility helps 93-year-old keep growing food for farmers markets
Ohio AgrAbility Program
Handling disabilities on farm
Purdue nonprofit helps farmers keep working despite ailments
AgrAbility Workshops
Brothers Walk Tall on the Farm Despite Genetic Bone Disorder
New technology at Ft. Wayne, Ind. Farm Show
Accessible Gardening
Expert offers tips for farmers with daily joint pain
Winter poses dangers with all-terrain vehicles
Farm Life, Pharm Life
Everything agriculture on display at Vermont Farm Show
Other News
Click here for other news of interest to AgrAbility staff members.
NIFA-funded projects help improve quality of life in Indian Country
Younger farmers: Becoming a rare breed
How One Woman Changed the Supermarket Produce Section Forever
The Resurrection of the American Wool Industry
Without water, work or homes: Farm laborers displaced by drought
What nobody told me about small farming: I can't make a living
Planting the Seed: Cultivating the Next Generation of Farmers
USDA Forecasts Shortage of Ag Grads
NFU recognizes women's contributions
Introducing USDA Results, a Year-Long Storytelling Effort of the Obama Administration's Work on Behalf of Those Living, Working and Raising Families in Rural America
Tractor land-speed record set at 96 mph
UAS registration: Positive implications for precision agriculture
Women in agriculture are a big deal
A Hardier Honeybee That Fights Back By Biting Back
How Agriculture is Helping These At-Risk Teens
Man Who Designed Snow Plow For His Wheelchair Is The Picture Of Ingenuity
Saudi Arabia buying up farmland in US Southwest
More women planting roots in agriculture,finding home on range
The Man Working Behind the Scenes to Bring Racial Equality to the Food System
Are You Ready? The Farm Tax Man Cometh
The surprising truth about the 'food movement'
Specialty melons for small growers
Upcoming Events
Click here for professional development events related to AgrAbility
.
Problems? Contact Clifford Racz, National AgrAbility Project, racz@purdue.edu