December 2017
National AgrAbility Project News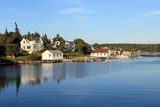 The hosts are preparing for our arrival and the sessions are planned! NTW 2018 is shaping up to be a great event.  Pre-conference events will take place on Monday, March 19th, with our opening reception that evening.  The full conference kicks off on Tuesday, March 20th and continues through Wednesday, March 21st.  The banquet and auction on Wednesday night, and some great tours booked for Thursday, March 22nd. Look for registration links in your email box soon!
Your 2018 NTW to-do list:
Find funding to bring one of your SRAP's farmers to the event. More
After your SRAP has funded a farmer, have additional farmers apply for a stipend from the NAP. More
Solicit donations for farmer stipends; silent auction; and live auction items.
Start creating your state's raffle basket. More
Look for details via email in the next week for registration and hotel information.
If you would like to ship items in advance of the event, Lani Carlson of Maine AgrAbility has agreed to receive them. More
Congratulations to the SRAPs in Ohio, Pennsylvania, and Tennessee for being awarded new four-year AgrAbility Project grants! More
The 2018 Virtual NTW is coming January 23-25, and the slate of six webinars has been established. More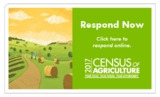 The NAP encourages the SRAPs to remind their clients to complete the 2017 Census of Agriculture, which is due February 5, 2018. Federal law requires all U.S. farmers to respond to the census. A farm is defined as any place that produced or sold, or had the potential to sell, at least $1,000 in agricultural products during the census year – in this case, 2017. More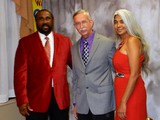 Chuck Baldwin represented AgrAbility as a speaker and exhibitor at the 27th Annual National Black Farmers Association (NBFA) Conference November 3-4 in Hattiesburg, Mississippi. More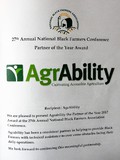 AgrAbility was honored during Friday night's Award Banquet when the National Black Farmers Association presented AgrAbility with their Partner of the Year 2017 award. More
The National AgrAbility Project and the Purdue Health and Safety Program collaborated with a display at the 2017 National Association of Extension 4-H Agents in Indianapolis, Indiana, at the JW Marriott hotel. More
The NAP Advisory Team and staff met in Little Rock, Arkansas (home of APRIL) on December 5-6. Thank you to all our team members for providing valuable feedback about the NAP's work plan.
Thank you to all SRAP staff members who completed the Annual Staff Needs Assessment (ASNA). Evaluator Brian French is scheduled to email a summary of the findings soon.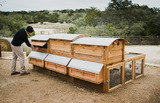 Toolbox Spotlight: The Round-Top Sustain Chicken Coop accommodates about 20 standard sized laying hens. Its low-profile design is such that all tasks (e.g., feeding, watering, cleaning, waste handling, egg-collecting) are performed from the outside, making this coop an option for wheelchair users. The manufacturer has also donated a gift card to the NTW auction for one of these coops ($2,500+ value).
State and Regional AgrAbility Project News
California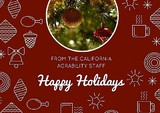 As California AgrAbility staff reflected on 2017, they were all thankful for new collaborations formed to help the agricultural community and the opportunity to serve farmers throughout California. More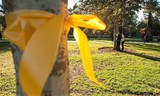 Staff joined the first Veteran NET Ally Program to commemorate Veterans Day. Staff got a better understanding of military culture, challenges of student veterans, and how one can help create a positive environment for veterans. More
CalAgrAbility attended the 5th Annual Que Viva la Vida Farmworker Conference. Eighty male farmworkers attended this event. More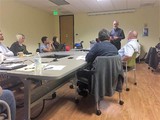 CalAgrAbility joined Ability Tools AT advocates for their Northern California in-person training. Representatives from Bioness and NorthState AT presented AT devices that are relatively new on the market. More
CalAgrAbility staff led a presentation for the Valley Health Team Inc. (VHTI) in San Joaquin, California. More
Colorado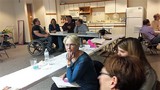 It has been a busy couple of months in Colorado. Colorado AgrAbility has been in possession of a grant from the Christopher and Dana Reeve Foundation to assist those with spinal cord injury or TBI to locate resources in their community and form peer support groups. More
From the workshops, staff heard a pretty neat story. One attendee was the wife of a cattleman client. Following some injuries, he had decided that he could no longer do what he loved- to ranch. So, he sold off his cattle. More
Georgia
AgrAbility in Georgia co-hosted another workshop for military veterans to learn about produce safety. The workshop was held December 7th in West Point, GA.
Join AgrAbility in Georgia for a series of innovative and informative workshops taught by Dr. Therese Willkomm. Webinars are free but require registration. Please plan on joining us! More
AgrAbility in conjunction with UGA's Farm Again program is offering a series of innovative workshops in 2018. The workshops are geared to help beginning farmers gain critical skills. More
Illinois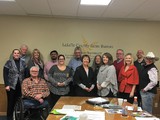 In November, AgrAbility Illinois provided training to 40+ volunteer ambassadors at three locations across the state. Jim Williams, southern Illinois field coordinator, modeled how to present the program to community members who are unaware of the program. More
Indiana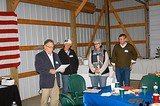 On Veteran's Day, Indiana AgrAbility staff and Sara Creech, farmer veteran, hosted the inaugural meeting of the Farmer Veteran Coalition of Indiana. More
Southern Indiana coordinator, Linda Tarr, worked two major conferences this month. More
Kentucky
KY AgrAbility is finding it hard to believe that 2017 is quickly coming to a close. So many changes have come to the group at UK. More
Dr. Reed presented at the KY Women in Agriculture Conference on November 6th and 7th in Lexington, KY.
The KY AgrAbility presentation at the November Third Thursday event at KSU brought many opportunities to talk to farmers and farm families from the surrounding counties and even some from other states. More
The KY Farm Bureau Convention was held November 29 to December 2, and KY AgrAbility was in the exhibit hall at the Galt House in Louisville. More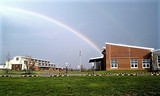 On December 19th, Dr. Debbie Reed and the KY AgrAbility staff will be presenting to the students and faculty of the Lexington/Fayette County Locust Trace AgriScience Center. More
The new year will see some of the KY staff attending the Southern Sustainable Agriculture Working Group in Chattanooga, TN. More
The next big event will be the National Farm Machinery Show at the KY Exposition Center in Louisville. More
Have a Merry Christmas and a Happy New Year from KY AgrAbility Staff!
Maine
The Maine November air was filled with conversations, presentations, and informational meetings about AgrAbility!
Richard Brzozowski shared program information with the Cooperative Extension home horticulture leadership group of master gardeners, educators, and home gardeners. More
During November, Richard also met with FFA and CTE advisors to talk about AgrAbility.
Cooperative Extension and the Maine Beginning Farmers Resource Network, with funding from NESARE, presented a day-long workshop about supporting relationships for farm success. More
Lani Carlson attended the draft design review of Cultivating Community's incubator farm and farmer training program funded through a BFRDP from USDA. More
Lani also displayed and distributed AgrAbility program information at two Cooperative Extension profession group meetings, increasing program awareness and generating discussions.
Ellen Gibson presented a workshop called Gardening Forever to the Surry Garden Club and at the York County Extension Committee Annual Meeting.
Ellen also presented a program and led a discussion about AgrAbility and aging farmers in Maine at the Maine Farm Bureau annual meeting.
The same day, Richard Brzozowski was at the United Farmer Veterans annual meeting talking about veterans farming in Maine.
Even while they're not on the clock, Maine AgrAbility staff share information and stories about the value of the AgrAbility program - sharing with medical professionals, friends, and others they encounter during their off hours.
Michigan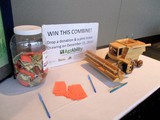 Michigan AgrAbility received broad-based support for their program and efforts during Michigan Farm Bureau's state annual meeting. More
To celebrate Veterans Day, Michigan AgrAbility posted photos of all the veterans served by the organization on their Facebook page. More
Missouri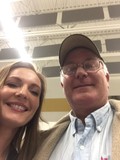 David Middleton, Missouri AgrAbility outreach worker and collaborative partner from Lincoln University, attended the Newton/McDonald Counties agriculture banquet sponsored by the Neosho Chamber of Commerce in Neosho. More
Several Missouri AgrAbility staff members and David Middleton, Level II AgrAbility Onsite Assessor, with assistance from vocational rehabilitation (VR) case managers, facilitated four rehab tech/engineering consults combined with making successful referrals to USDA Farm Service Agency (FSA) to access their services.
To meet their goal of building statewide service capacity and to address the specialized needs of AgrAbility's clients, Missouri completed an external programmatic review process that also included soliciting feedback from farmers and ranchers with disabilities. More
Cooperation and collaboration between the Missouri AgrAbility Project (MAP) and Missouri Division of Vocational Rehabilitation (Mo DVR) has recently been greatly enhanced. More
2017 was a very productive year for the Missouri AgrAbility Project marketing and networking efforts of the Brain Injury Association of Missouri (BIA-MO). More
North Carolina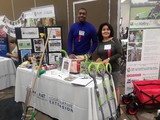 NC AgrAbility participated at the 32nd Annual Sustainable Agriculture Conference November 3-5, 2017, in Durham, NC. More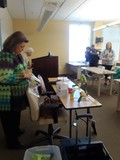 NC AgrAbility presented a program at Lenoir Rhyne University Hickory Campus on November 13, 2017. The lecture was presented at the McCrorie Center to the occupational therapist students; More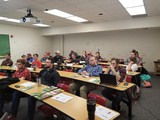 NC AgrAbility presented at NC State University in Raleigh, NC, November 29, 2017. The lecture was presented to 25 students of the Agriculture and Environmental Technology Program at the Farm Safety class.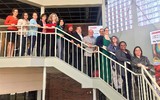 NC AgrAbility participated at the Cooperative Extension Latino Advisory Council Meeting, November 29, 2017, in Raleigh. This was the last meeting of the CELAC group which is now transitioning to a "New Audiences Advisory Board." More
Nebraska
Watch a client in action who is featured in this television story highlighting Nebraska AgrAbility: AgrAbility Keeps Passions Alive for Farmers and Ranchers with Disabilities
November was packed with outreach events for Nebraska AgrAbility. Emily attended the Nebraska FFA Pathways to Careers Conference in Grand Island to talk with FFA members about the AgrAbility project and the different disabilities encountered. More
Emily also attended the Midwest Rural Agricultural Safety & Health (MRASH) Conference in Pella, Iowa. More
The Nebraska team attended two farm and ranch expos during November, as well as the Ag-Ceptional Women's conference in Norfolk. More
Rod and Emily have been very busy helping clients, and a University of Nebraska-Kearney student will soon be shadowing and helping with projects to earn 120 community service hours toward her OT major.
Emily has been very active on the Nebraska AgrAbility Facebook page.
Ohio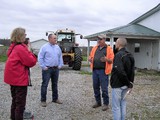 In November, Ohio AgrAbility hosted two professional international low-vision specialists from the US State Department's Professional Fellows Program. More
The greatest impact within the scope of client-centered support is continual and increasing relationship with Opportunities for Ohioans with Disabilities (Ohio vocational rehabilitation services agency) to impact the lives of farmers with disabilities. More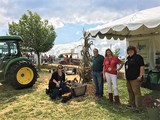 The second greatest impact for OH AgrAbility is their growing peer-to-peer network and the relationships that have been built there. More
A unique impact from 2017 was Ohio AgrAbility's participation in Farm Aid. More
Pennsylvania
AgrAbility PA has launched a new website at agrabilitypa.org. More
Field Notes, AgrAbility PA's printed newsletter, was mailed earlier this month to more than 2,000 contacts across Pennsylvania. The issue highlighted all things dairy. More
Pennsylvania AgrAbility participated in an assistive technology awareness day hosted by the DuBois district Office of Vocational Rehabilitation (OVR) on November 9th. More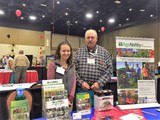 The Pennsylvania Farm Bureau invited AgrAbility to participate in their 18th annual Health & Safety Fair on November 14th. More
The eXtension Ag Safety and Health Community of Practice and the Enhancing Educational Programming for Beginning Farm and Ranch Women group are working together to provide a "one-stop" for resources about agricultural safety, health, and mechanization information specifically for women. More
Tennessee
TNAP celebrated Veterans Day with the opening of a new University of TN Veterans Resource Center. More
TNAP attended the TAAA&S (Tennessee Association of Agricultural Agents and Specialists) Regional East TN meeting. More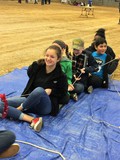 TNAP participated in the annual Calloway County Safety Days for middle and high school students. More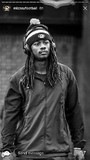 TNAP staff member and TSU Extension Specialist Finis Stribling III's son recently made the news in the Missourian. It's a special story about a special young man. To read his story, click here.
Website of Interest: TNAP found a great new resource for beginning farmers or newcomers to TN - the TN Farm Link: helping farm seekers and farmland owners find each other. More
Texas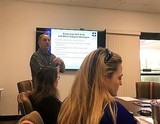 Rick Peterson, Texas AgrAbility Project Director, trained Texas AgrAbility staff in Mental Health First Aid. The training educated staff on signs of crisis and methods for supporting individuals with mental illness and in crisis.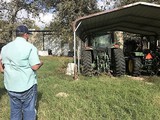 Texas AgrAbility conducted a farm assessment for a local ag producer that produces hay and has a small cow-calf operation. Staff members Doug Kingman, Erin Kimbrough, and Makenzie McLaurin, conducted the farm assessment.
Utah
AgrAbility of Utah staff were on hand during the Stotz Customer Appreciation Day events held in Beryl on November 9. Staff met one-on-one with area farmers to provide information on the AgrAbility program and services.
In November, AgrAbility of Utah staff concluded the series of educational presentations to Utah State Office of Rehabilitation (USOR) districts with a presentation at the Eastern District VR office in Price on November 20. More
Virginia
One of AgrAbility Virginia's prospective clients in Loudon County, VA, is Rob Johnson, a Marine vet who lost both of his legs to an IED in Afghanistan. He recently ran 31 consecutive marathons in 31 days. More
Vermont
Vermont AgrAbility continues to work diligently with the Vermont Farm Health and Safety Coalition. The Vermont Department of Health has just released the first-ever farm-related injuries data briefs. From 2014 to 2016 there were 187 reported injuries that occurred on a farm in Vermont to Vermont residents. More
Vermont AgrAbility has started working with Blue Cross Blue Shield to prepare for the 2018 Vermont farm show coming the last week in January. More
Wisconsin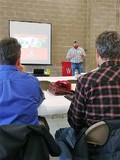 AgrAbility of WI (AAW) staff presented to agriculture educators, UW-Extension agents, and Biological Systems Engineer (BSE) Bootcamp held November 2-3. The two-day bootcamp covered important topics on the farm, including farm safety methods.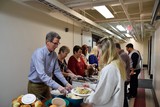 AgrAbility of WI (AAW) is grateful to be a part of the University of Wisconsin-Madison Department of Biological Systems Engineering and enjoyed helping them with the annual Thanksgiving feast. More
AgrAbility of WI (AAW) was recently featured as the #TakeoverTuesday hosts on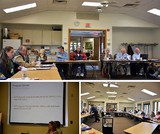 WI Farm Bureau's (WFB) social media sites, Instagram and SnapChat. More
At the beginning of November, AgrAbility of Wisconsin (AAW) staff met with a wonderful group of media, professionals, and clients involved in the agriculture industry that make up the AAW Advisory Council. More
West Virginia
WV AgrAbility met with WVU Extension Service communications and technology personnel and is working to make improvements to the West Virginia AgrAbility website to meet Section 508 compliance. More
WV AgrAbility attended the West Virginia Farm Bureau annual meeting in Sutton, WV, November 10-12, 2017. More
WV AgrAbility contributed to the WVATS fall newsletter, providing information on accessible winter gardening and its benefits. Information was given on accessible products, where to buy them, and who could benefit from winter gardening.
Staff Changes
Missouri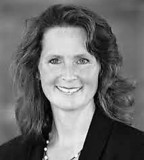 Congratulations to Maureen Cunningham, Brain Injury Association of Missouri (BIA-MO) Executive Director and nonprofit collaborative partner with Missouri AgrAbility, for receiving well-deserved national honor and recognition! The Brain Injury Association of America (BIAA) recognized her outstanding leadership. The national recognition was awarded to Mrs. Cunningham during the BIAA Annual Leadership meeting on November 9th, 2017. Maureen received the State Association Leadership for Chief Staff Professional of the Year 2017 award. This prestigious award is in recognition of Maureen's success in the financial stability of the BIA-MO. In addition, services and programs have expanded to include concussion-related education, a return of the Survivor & Family Seminars to Western Families, distribution of more educational scholarships for persons with brain injury to continue their post-secondary education, and the development of a partnership with the Missouri AgrAbility project.
AgrAbility in the News
Click here for news stories featuring AgrAbility projects.
USDA invests in safety, health of farmers
AgrAbility keeps passions alive for farmers, ranchers with disabilities
OOD and AgrAbility work together to help farmer
New Program to Help Veterans, Others Who Want to Become Farmers
Farmers to make case for AgrAbility funds
Ag banquet includes guest speaker
AgrAbility Outreach Meeting
Working from a wheelchair: Colorado State University program helps Colorado man farm despite being paralyzed from the waist down
NCCRAHS presents at national FFA expo
AgrAbility: Is Farming For Me?
NTV's GROW: November 26, 2017 - Segment 4
Delta Theta Sigma Spaghetti Dinner - In support of AgrAbility
Portland-based Cultivating Community gets grant to help farmers
Other News
Click here for other news of interest to AgrAbility staff members.
Veteran resources launched at USDA
Enrollment is open for safety net coverage
USDA helps veterans acquire agriculture skills
Immigrant-dependent growers face reality
Programs will help new farmers & ranchers
More 'hobby farms,' more growers maimed, killed
Massive opioid impact in farm country
Support for tribal extension, research
Survey reveals a generation ready to defy odds
5 steps to get NRCS assistance
Upcoming Events
Click here for professional development events related to AgrAbility
.
Problems? Contact Chuck Baldwin, National AgrAbility Project, baldwi19@purdue.edu