November 2015
National AgrAbility Project News
Join us for the 2015 AgrAbility Virtual National Training Workshop on December 1-3. The schedule has been set, and registration is now open. More
The recording of the AgrAbility All-Staff Meeting from October 21 has been archived at http://agrability.org/Extranet/resources.cfm.
The AgrAbility webinar Rheumatoid Arthritis is now archived at http://agrability.org/Online-Training/archived/index.cfm.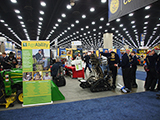 The NAP continued its long-standing presence at the annual National FFA Convention with an extensive display of assistive technology and program information October 28-30. More
The Assistive Technology Community of Interest met via conference call on October 15, 2015, to discuss the various aspects of liability connected to providing assistive technology services. More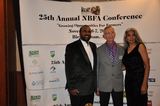 Chuck Baldwin, NAP's special populations outreach coordinator, attended the 25th annual conference of the National Black Farmers Association (NBFA) as a presenter and exhibitor, November 6-7, in Birmingham, AL. More
Amber Wolfe continues to serve as the facilities chair for the Midwest Women in Agriculture Conference, and spent a full day on Oct. 8th in meetings related to the conference, women's initiatives in agriculture, and safety program planning.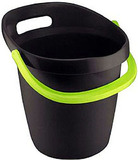 Toolbox Spotlight: With its asymmetric design, ergonomic handle, and other unique features, the 3.5-gallon, plastic Big-Gripper All-Purpose Bucket is designed to be more balanced and easier to lift, grip, and pour than similar-size conventional work pails. More
Click here for the schedule of upcoming Community of Interest and Standing Committee call information.
State and Regional AgrAbility Project News
California
On October 5, CalAgrAbility attended the Binational Health Conference in Oakland, CA. More
From October 5-16, CalAgrAbility attended the Binational Health Week Fair at the Mexican Consulate in Sacramento, CA. More
CalAgrAbility attended numerous and varied fairs across the state during the month of October. More
CalAgrAbility gave presentations at three different venues in October. More
CalAgrAbility completed the UC Cyber Security Awareness Training on October 29.
CalAgrAbility is contacting farmers to encourage and assist them to apply for the California Small Farms Conference scholarship.
Colorado
Colorado AgrAbility was an attendee and presenter at the VA medical center Jewell Vision Clinic Disability Expo. More
Two veteran clients of the Colorado AgrAbility Project made the news in Colorado Springs. More
The Colorado Office of Rural Health once again invited CO AgrAbility to attend their annual conference as a vendor. This statewide event was attended by about 250 rural health professionals.
Candy and Jim are just finishing up with an internship level-one experience for two excellent young ladies who are students in the Colorado State University occupational therapy program. More
Georgia
Staff attended the NAP 1890 conference held Oct. 7-8, 2015, at Tuskegee University in Tuskegee, AL. One of FarmAgain's active clients, Miss Ruby Davis, attended with us.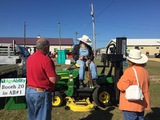 Staff had extensive involvement in the Sunbelt Agricultural Exposition in Moultrie, GA, on Oct. 20-22, 2015. More
Staff met with two potential donors during the month.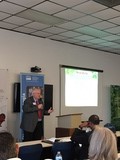 Staff presented AgrAbility at an NRCS conference with over 90 personnel attending. NRCS in Georgia is appointing a staff person to coordinate disabilities issues.
Staff met with a tractor dealer who is very interested in assisting clients with disabilities who have tractor and/or UTV needs.
Staff has been assisting several clients by linking them with the state VR agency by providing documentation and other information consistent with VR policy and procedures. More
UGA Interior Design students have been visiting AgrAbility customers during the month to make their homes more accessible. More
Indiana
Indiana AgrAbility exhibited at the Purdue Extension Showcase of Excellence during the Professional Development Conference for Purdue Extension educators. More
Amber Wolfe, Arthritis Foundation, took part in a three-workshop series, beginning Oct. 28, called Social Media, Blogs, and Online Networking, hosted by the Indiana Soybean Alliance and Indiana Corn Marketing Council. More
The Arthritis Foundation-Heartland Chapter (Indiana office) has had several unique events over the past few months, all of which promoted the partnership with Purdue University and the Indiana and National AgrAbility Projects. More
Kentucky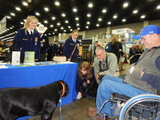 Kentucky plans a busy holiday season to wind out the year with the UK Extension Agent Update and FFA National Conference in Louisville. More
The November schedule got going with the Western Kentucky Extension Agent Update. More
The North American Livestock Expo will be going on in Louisville for most of November with KY AgrAbility setting up a booth to talk to the attendees and inform those not only from Kentucky, but from around the world, about AgrAbility.
In October, KY AgrAbility was in contact with farmers in New South Wales, Australia, about accessible farm equipment and modifications.
The Kentucky State University, partner in the KY AgrAbility grant, will have AgrAbility as the main focus at its Third Thursday Event on November 19. More
The Farmer Veteran Coalition Conference in Sacramento, CA, will have Mike Lewis and some Kentucky veterans in attendance.
December gears up with the Kentucky Farm Bureau Conference at the Galt House in Louisville, KY. Several KY AgrAbility partners will be hosting end of year events.
Maine
Maine AgrAbility worked at the Fryeburg Fair as part of the 4-H booth, talking with farmers and families about the program and about working safely.
ME AgrAbility staff presented an overview of Maine AgrAbility efforts in the past year to 65 people at the Franklin County Annual Extension Meeting.
Through the efforts of several hard-working farmer veterans in Maine, and the support of the National FVC, the Maine chapter of the Farmer Veteran Coalition was finalized November 5, 2015. More
The work of Maine AgrAbility and one of its clients was showcased in the Sunday edition of the Oxford Hills Sun Journal. More
Michigan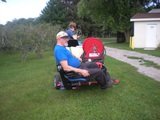 Michigan AgrAbility staff consulted with the Russell family and helped the Russells obtain and install a safe, comfortable seat for the sprayer as well as a new seat with arm rests for the tractor so Carl will be better able to pull himself up on the tractor. More
Missouri
Karen Funkenbusch co-presented a plenary session, Resources: Post-Acute Care through Independence in the Community, on October 15th.
On Saturday, October 17th, Karen Funkenbusch was a member of the Ask the Specialists Panel during the Survivor and Family Seminar at the 11th Annual Statewide Brain Injury Conference hosted by the Brain Injury Association of Missouri, nonprofit disability partner with the Missouri AgrAbility Project. More
Karen Funkenbusch received the University of Missouri Vice Provost's Diversity Award: Individual. More
Willard Downs, Karen Funkenbusch, Linda Geist, Jason Vance, K.B. Paul, and Maureen Cunningham, presented a poster, Implementing a Successful Media Plan, during the 2015 MU Extension Summit, October 27th- 29th. More
The Brain Injury Association of Missouri presented Julie Harker, reporter with Brownfield Ag News for America, and its parent company, Learfield Communications, with the Service Excellence - Public Relations Award. More
North Carolina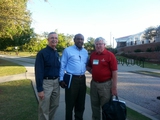 The North Carolina AgrAbility Partnership (NCAP) sent two representatives to the 1890s AgrAbility workshop at Tuskegee University October 7-8, Drs. Fletcher Barber and Paula Faulkner, both from NC A&T State University. More
The North Carolina AgrAbility Partnership (NCAP) participated in the North Carolina State Fair in Raleigh October 16-26. More
Nebraska
October is National Disability Employment Awareness Month. The Metro Community College and the Ability Fund - Nebraska Self Employment Services promoted the month by hosting Main Street Unplugged in Omaha to showcase the achievements and to promote awareness of exceptional entrepreneurs with disabilities. More
"Protect your hearing" was the message for a health fair exhibit and TV spot during the month. Sharry Nielsen, Extension educator, staffed the Nebraska AgrAbility booth for the Franklin County Health Fair with displays promoting ways to protect hearing, PPE to try on, and free earplugs for participants. More
Ohio
Ohio AgrAbility staff was able to secure a second grant from the Ohio attorney general to purchase assistive equipment for Ohio farmers with disabilities. More
Pennsylvania
AgrAbility for Pennsylvanians staff participated in two focus group meetings with the Pennsylvania Department of Agriculture. The first focused on rehabilitation through agriculture. The second focused on veterans and agriculture. More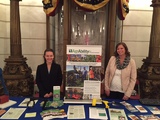 Dozens of statewide organizations, non-profits, and departments gathered in Harrisburg, Pa., at the main capitol rotunda on October 20, 2015, to participate in a Disability Awareness Day, organized by Pennsylvania State Senator Christine Tartaglione (D-Phila). More

Tennessee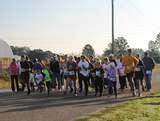 The Tennessee AgrAbility Project (TAP) started October off by volunteering at the first annual TLC Therapeutic Riding Center 5K/1 mi Fun Walk. More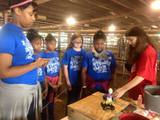 TAP was involved in two school farm days for 600 5th graders from Weakley and Fayette Counties. More
TAP w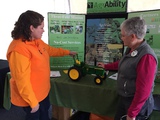 as busy wrapping up 2015 field days in TN. More
TAP exhibited at the Northeast Tennessee Beef Expo in Greenville, TN, and at the Ag in the Foothills Field Day in Walland, Tennessee. More
Texas
Texas AgrAbility has launched their new website. Check it out at http://txagrability.tamu.edu/
Utah
AgrAbility of Utah participated in the Disability Rights Fair on October 8. More
Virginia
AgrAbility Virginia is finishing up its first semester practicum with the Deming College of Health Sciences. More
Marketing and networking have been the focus of attention with AgrAbility Virginia's newly formed advisory committee. More
Vermont
Vermont AgrAbility helped to support the annual Vermont Farm Bureau meeting at Jay's Peak Resort November 5-7. More
The Vermont Center for Independent Living conducted a training workshop on October 30 and has planned another on February 5, 2016. More
Wisconsin
The Easter Seals Wisconsin FARM program was recently awarded $496,914 by the USDA for a three-year project, Securing Beginning Farmers Through Succession Planning. More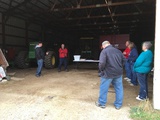 The first fall Neighbor-to-Neighbor meeting was held Tuesday, October 27th at Kevin Buswell's farm in Fountain City, WI. More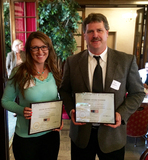 AgrAbility of Wisconsin has been named a Silver Spirit of the Americans with Disabilities (ADA) award winner through Disability Rights Wisconsin (DRW). More
West Virginia
WV AgrAbility continues to participate in the Assistive Technology Community of Interest. More
The WVCEOS (West Virginia Community Education Outreach Service) Annual Conference was held at Jackson's Mill State 4-H Camp from October 6- 8. More
WV AgrAbility continues to provide information and resources to farmers requesting assistance. More
On October 16, 2015, farm safety was the main topic showcased at Mercer County Elementary School in WV. Experts from WV AgrAbility also highlighted the topic of disability awareness. More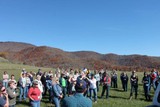 The second annual WV Women in Agriculture Conference was held October 23-24, 2015, at Canaan Valley Resort and Conference Center in WV. More
AgrAbility in the News
Click here for news stories featuring AgrAbility projects.
West Virginia, Virginia share in 'AgrAbility' grants
Goodwill's AgrAbility Project helps injured, disabled farmers
Adaptive equipment makes Sweden farm accessible to all
Senator Stabenow Applauds Investment to Help Michigan Farmers With Disabilities
Agriculture program for military vets, others to be held Nov. 7 in Desoto
Know dangers on farm for safe harvest
Nov. 7 workshop set for active duty, military veterans
USDA Awards 21 AgrAbility Grants to Expand Access to Farming for Americans with Disabilities
AgrAbility Workshop
Tragic Harvest Part 3: A job for life, and death
Farmers with arthritis
AgrAbility workshop to be held in Mancos
USDA Awards AgrAbility Grants to Penn State, 20 Others, to Expand Access to Farming for Americans with Disabilities
AgrAbility Harvest Newsletter
WI Farm Center, Easter Seals Wisconsin, and AgrAbility to partner on Beginning Farmer Project
10-28-15 CO AgrAbility announces Winter Workshop schedule...
Disability Awareness Day at the Capitol
Other News
Click here for other news of interest to AgrAbility staff members.
Grain storage and handling safety
Meet the 'PHARM' Dogs Helping Disabled Farmers Run Their Land
Veterans turned farmers harvest help from agencies
6 Food and Farming Success Stories From Native Communities
Black Farmers' Lives Matter: Defending African-American Land and Agriculture in the Deep South
Former Ag Secretary talks women in agriculture
Blind pig raised by blind girl wins big at fair
Deadliest Workplace: The Farm
On Farms Across the U.S., Refugees Are Going Back to Their Roots
Ag lenders encourage business plan, partnerships
NSAC on new farmer announcements
Make a plan, tell your story, finance your farm
Do industrial agricultural methods actually yield more food per acre than organic ones?
"Common Market" Offers Innovative Solutions to Fresh Food Distribution Problems
How to survive the good, bad and ugly realities of farming: escape
Teaching Kids to Be Safe on the Farm
Big data brings new rewards, new risks
The End Of Organic Farming Might Be Sooner Than We Thought
The Bad News About the Organic Industry
How to Invest in America's Farmers
Community joins together to help a farmer in need
P.H.A.R.M. Dogs Help Farmers Get Back to Work
Upcoming Events
Click here for professional development events related to AgrAbility
.
Problems? Contact Clifford Racz, National AgrAbility Project, racz@purdue.edu